First Videos from the 2014 Labor Notes Conference
UPDATE: Check out the photo gallery, and additional videos, here.
Need an inspiration fix? Here are a few video highlights for those who couldn't make it to the record-breaking 2014 Labor Notes Conference—or those already ready to relive it.
Karen Lewis and Tim Sylvester
Troublemakers were officially welcomed to Chicago by someone who helped put the city on the map for nine days in September 2012 with a historic strike: Karen Lewis.
Lewis has been president of the Chicago Teachers Union since 2010 and was reelected by an 80 percent margin after the strike. Before that she was a chemistry teacher and a founder of the Caucus of Rank and File Educators (CORE), the group of rank-and-file teachers that had the audacious idea they could take on Mayor Rahm Emanuel and the 1%ers for education reform.
Another Friday highlight was longtime reformer Tim Sylvester, president of Teamsters Local 804 in New York, whose members work for the meanest, leanest company in America. UPS began practicing "management by stress" before the phrase was even invented.
Sylvester came into office in 2009 out of a rank-and-file movement called 804 Members United. Lately his local has been in the national spotlight in its fight to defend 250 fired UPS drivers—you can check out the latest video from that campaign, featuring customers supporting the drivers, here.
Here are Lewis and Sylvester speaking in the Friday night session, video by Labor Video Project:
Mark Dimondstein
The new president of the American Postal Workers Union (APWU) addressed the crowd Saturday morning. His election last fall as part of an activist slate was a ray of hope for all four postal unions, not just APWU.
For years the postal unions haven't been able to get on the same page—even though they're in the fight of their lives. The Postmaster General seems intent on killing the U.S. Postal Service, imposing wave after wave of severe cuts. Maybe you've noticed slower delivery and longer lines at the post office.
But since Dimondstein and the others on his team took office, the APWU and the other postal unions have finally formed an alliance and are planning an April 24 coordinated national day of action against outsourcing postal work to Staples. Hundreds of conference-goers got a preview protesting at a nearby Staples (see a quick video of that here). Video of Dimondstein's talk by Labor Video Project:
Shannon Ryker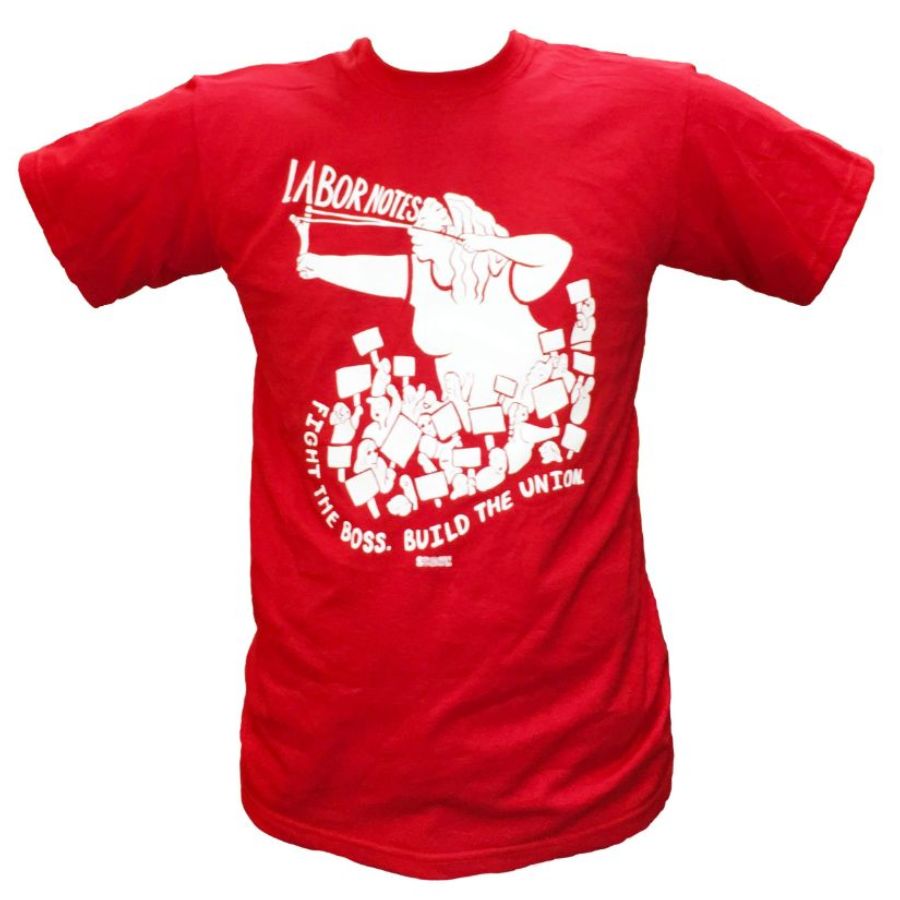 Each conference, Labor Notes is proud to honor grassroots activists with our biennial Troublemaker Awards. These were presented during the Saturday night banquet to the Brooklyn Cablevision workers of Communications Workers 1109, the Korean Rail Workers Union, the Portland Student Union, and Boeing worker Shannon Ryker.
Ryker is an example of a rank-and-file worker who stands up and says, "If the union isn't doing it, I will." Last December Boeing put a blackmailing contract re-opener on the table—give up your pensions or your job—and workers voted it down 2 to 1.
But when Boeing and the Machinists International came back for another try, Shannon decided to create a Facebook page—which grew from eight members to 3,000. The Rosie's Machinists 751, named after Rosie the Riveter from World War II, became the place people could go to organize the "no" vote.
The concessions passed narrowly, but the outrage has boosted the momentum of a reform slate's bid for the union's top seats. Now Rosie's Machinists 751 is a caucus dedicated to holding union leaders accountable and training rank-and-file activists.
Here's Ryker receiving the award at Saturday night's banquet, video by Jon Flanders:
You can watch a longer interview with Ryker, conducted at the conference by Labor Video Project, here.
"All the Union Ladies (Solidarity)"
Cultural highlights at the conference included performances by the Cablevision Tech-22 rappers, the Seattle Labor Chorus, Quinto Imperio, and DJ Mwelwa, plus karaoke, exhibits of New Deal Art and contemporary photographs of immigrant workers, and more. Sunday's final session included this reboot of a Beyoncé hit, new words and performance by Julian Gonzalez and Al Bradbury, video by Joel Bradbury:
That's all for now, but there was so much more... Look for more conference videos and photos soon.