On Eve of Union Vote, Chattanooga VW Workers Describe Rampant Workplace Injuries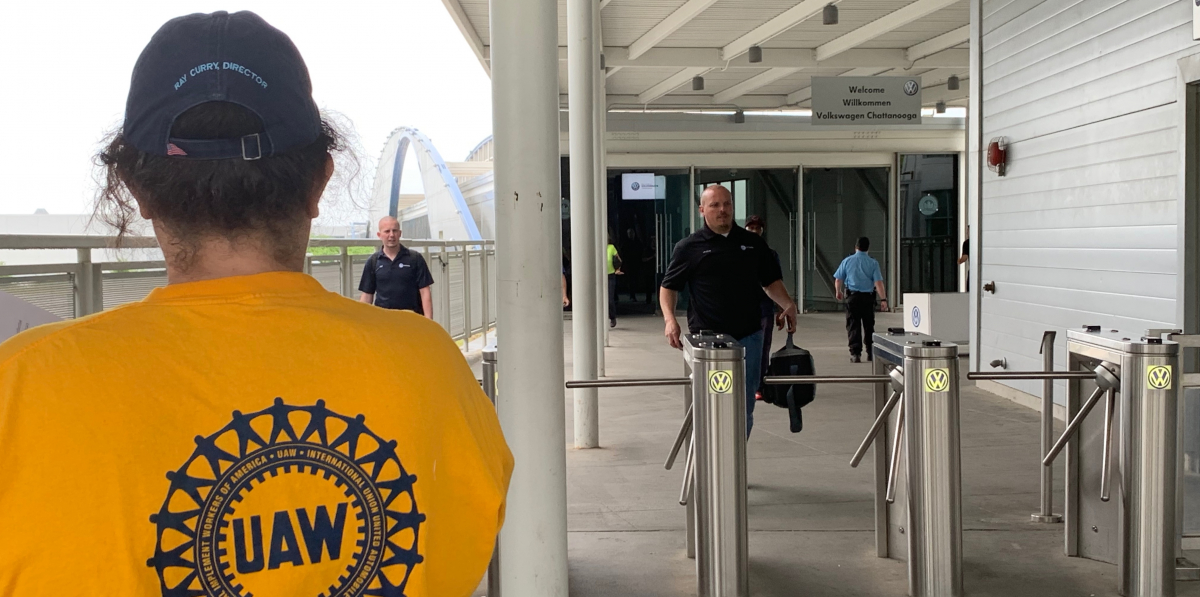 "I'm only 33 and I can't see myself working here for another 10 years," said Ashley Murray. "I would be disabled by then. We need a union because they are a multibillion-dollar company and they treat us like shit."
Murray is a production employee at the Volkswagen plant in Chattanooga, Tennessee, one of 18 hourly employees there I interviewed for this story. Comments like hers were almost universal.
According to these workers, on-the-job injuries are among the top issues at the sprawling plant nestled in the Appalachian mountains of East Tennessee. The union authorization election runs Wednesday through Friday this week; 1,700 workers are eligible to vote.
Many workers told variations of the same story. For the first time in their lives, they're making good money—but they're trapped in a job that's chewing them up.
"My co-workers are getting hurt, I've been hurt, there is constant threat of injury, and if it doesn't change, none of us will survive," said one worker who's been at Volkswagen for eight years but asked to remain anonymous for fear of management retaliation.
"I shouldn't have to give Volkswagen my body in exchange for the house that I live in and the lifestyle I try to provide for my family."
Workers described a plant where high turnover and dangerous conditions lead to serious injuries, most commonly in the hands and shoulders. Some of the workers I met now suffer from lifelong disabilities. (Click here to read one plant worker telling her own story.)
"When I went and told my supervisor I had a problem with a hand, I was called a liar. I was told I was faking," said Daniel Maddox, who has worked at the plant for eight years. "I was told I'm a nice-sized Black guy and I should be able to deal with the pain." He ended up having surgery for carpal tunnel syndrome.
These conditions are not unique to the German automaker. They pervade the nonunion manufacturing industry in the U.S. And to remain nonunion, companies like Volkswagen, Nissan, and Boeing have chosen to locate their production facilities in the South, where the union density is 5 percent—less than half the rate of unionization for any other region in the country.
ARE THESE GOOD JOBS?
Volkswagen was wooed to Chattanooga in 2008 with a $554 million subsidy package from the state and local governments.
It was the largest taxpayer handout ever given to a foreign-owned automaker up to that moment, and remains the largest subsidy deal in Tennessee history. The deal came free of any job or investment requirements.
"The only commitment that was made to the state was to keep the plant nonunion. It wasn't to be safe or pay well or provide a great work environment," said maintenance worker Gary Swafford. "It's flabbergasting."
The current starting wage for a production worker at the factory is $15.50 an hour and pay tops out at $23 an hour, or around $48,000 per year without overtime.
Volkswagen provides the lowest pay and benefits of any automaker in the U.S., according to a 2015 report by the Center for Automotive Research.
But there are no other automakers in low-wage Chattanooga. Wages at the plant are better than you'll find in most local jobs that don't require a college degree.
'LITERALLY RUNNING'
What causes so many injuries? Workers I spoke with pointed to increasing line speeds, understaffing, and high turnover—all hallmarks of the company's lean production model.
"They've cut the staffing down to bare minimums," said production worker Drew Hall.
For instance, every line has team leads, highly experienced production workers who train new employees on the different "pitches." A pitch is a segment of the assembly line in which a worker is responsible for performing a specific series of tasks in a set amount of time.
Team leads are not supposed to be assigned pitches of their own. That way they're available to train new employees, step in for a worker who needs to use the bathroom, or help out if the line gets behind.
But staffing is so low that teams leads are being permanently placed into pitches on the line, Hall said.
Adding to the pressure, the company is constantly speeding up the lines, or removing a worker and redistributing the work among those who remain.
"The people who determine how much time you have in each pitch will sit there with a stopwatch and time you, and then time your downtime," said a worker who asked to remain anonymous.
"But they don't take into account having to grab a drink of water or having to grab tools or new materials. They will time it out so you are literally running."
STRESSED ON PURPOSE
Workers said they're supposed to rotate to a new job on the line every couple hours. This is supposed to help alleviate repetitive motion injuries, but it isn't happening.
"You get stuck in the same pitches," the same worker said. "You work eight to 10 hours a day for three days in a row and they don't move you. The jobs are too much."
"Some lines are still on a one-job rotation all day or all night," said a paint shop worker. "We've gone from lean to starving."
"They push, push, push," said another worker who also asked to remain anonymous. "They overload the pitches to make the job impossible, and when you are rushing to catch up, that is when you get injured."
Why would the company do this? "They stress the pitches to weed out the weaker team members," the same worker said. "That's Volkswagen in a nutshell."
GRINDING YOU DOWN
Injuries that aren't considered acute—if there's no blood or broken bone—are reported to an in-plant medical team that's notoriously dismissive.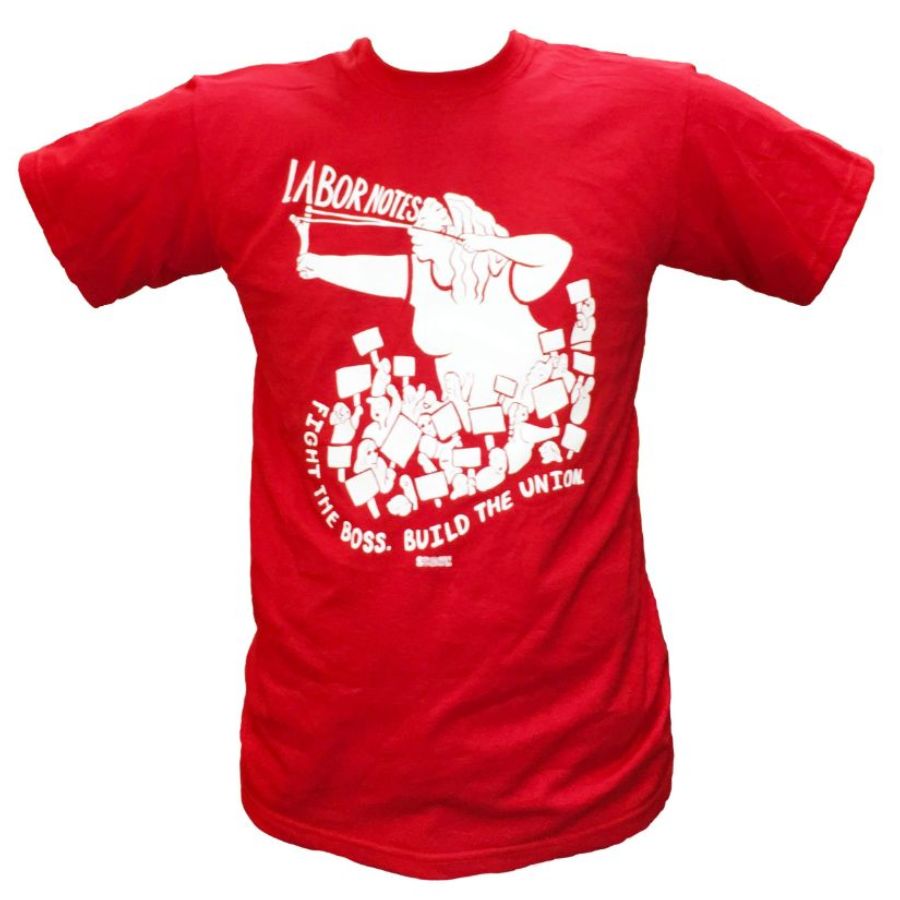 "They are essentially sports medicine practitioners," said a worker who recently had surgery for carpal tunnel syndrome on both of his hands. "It's a running joke on the job—they tell you to ice, stretch, and ibuprofen. They expect you to work through the pain."
Many workers are required to return to the same jobs that injured them.
Temporary employees of Aerotek, a staffing agency, make up between 30 and 40 percent of the workforce, by worker estimates. Among the temps, turnover is constant—their wages are lower, and many didn't realize what a difficult job they were getting into.
"It's the hardest job I've ever had, and I used to dig ditches and do electrical work," said one worker on the door line.
"We joke that it's like the movie 'Platoon,'" said another. "It's not worth being nice to new people, because they may not be around long enough to be worth getting to know. You might as well as be hard on them at first to show them what it's like."
"People come in and work a month or two," said Kim Onofrey, who was an Aerotek worker for nine months before converting to a Volkswagen employee. "We could never keep people on the line I was on. We were constantly having to train someone who was new." (Read her story here.)
Since new hires can't work the more difficult pitches, the veteran employees get stuck in the hardest jobs every day.
"When new guys are hired, they put them on easy things to learn," said Matt Sexton, a production worker who has been at Volkswagen for seven years. "Everyone else gets stuck doing these ridiculous pitches all day long and are just being grinded into the ground."
"If you want to retire well, you have to do this for 20-30 years," another worker said. "I don't think anyone can do that."
OPERATIONALIZING DIXIE
Southern politicians have proven effective partners to the companies they lure to their states with massive subsidy deals.
"Political stability is one of the essential reasons that the South is attractive to business," said Priscilla Murolo, a labor history professor at Sarah Lawrence College and the University of Massachusetts. "The corporate class has the South wrapped up politically."
Boeing was already the largest and most profitable aircraft manufacturer in the world when it moved final assembly of its 787 Dreamliner to South Carolina in 2009 in order to browbeat Machinists union members in Seattle into accepting contract concessions. When the union tried to organize the new plant in 2017, South Carolina Governor Nikki Haley was featured on radio ads attacking the Machinists.
It's a very old story: businesses exploit nonunion Southern workers to undermine the gains made by organized labor elsewhere in the U.S. What Boeing did was no different from industrialists relocating textile mills to the South in the 1930s.
Like the Machinists, the United Auto Workers has suffered a precipitous drop in membership and has been unable to maintain its once-high standards due to the influx of foreign automakers setting up nonunion plants in the U.S., primarily in the South.
Adding insult to injury, the public is forced to foot the bill when state and local governments offer tax incentives for companies to relocate their operations to the South and take advantage of the region's punishing labor regime.
Now at Volkswagen, those very incentives are being used as a bludgeon to demobilize workers in a union drive.
BLUNT THREATS
The threats aren't subtle. State Representative Robin Smith told reporters last week that if workers vote in the UAW, that will make it "impossible to defend state incentives when they're going to a shop that benefits a labor union."
Volkwagen is slated to receive $50 million more in Tennessee tax incentives that are tied to expanding the plant and adding jobs.
Last month, Volkswagen's company newsletter noted that the state incentives tied to the planned production of an electric vehicle were still subject to approval by the governor. Just two days earlier, Tennessee Governor Bill Lee had led an anti-union captive-audience meeting with the plant's day-shift workers.
Workers I spoke with interpreted the newsletter item as an implicit threat that voting for the union could jeopardize the plant expansion and the 1,000 jobs that are promised to come with it.
When Volkswagen agreed to accept the record-breaking tax subsidy and open a plant in Tennessee, it was presented as a stroke of good fortune for the community that had beat out other bidders.
But urban planning expert Samuel Stein, author of Capital City: Gentrification and the Real Estate State, says these deals are designed to hold public money hostage to an ongoing anti-union strategy.
"The press coverage and politics around the decision to give subsidies has been completely misrepresented to the public," Stein said. "It's not a one-time decision, but the beginning of a long-term political relationship between the company and the state."
A BETTER PLANT IS POSSIBLE
A theme of the anti-union campaign is that unions are responsible for industrial decline—and that a vote for the union is a vote to close the plant.
Managers have handed out flyers tying the UAW to plant closures. In a captive-audience meeting, CEO Frank Fischer implied that the UAW was to blame for the 1988 closure of a Volkswagen plant in Westmoreland, Pennsylvania.
VW workers heard similar threats from Tennessee politicians during the failed union drive of 2014.
And Mississippi auto workers heard the same thing in 2017, when Governor Phil Bryant helped torpedo the UAW drive at Nissan by warning workers that voting in the union would "take away your job" and "end manufacturing as we know it."
But pro-union workers in Chattanooga see the potential results of unionization very differently. They want to finally get a handle on the dangerous conditions in the plant.
"This union fight is about you and me and that guy over there who is getting written up by a jackass who forced him to work overtime on a line that is going too fast and put too much on him," one worker said. "We are all in this together."