As New York Skies Darken, Delivery Workers Help Each Other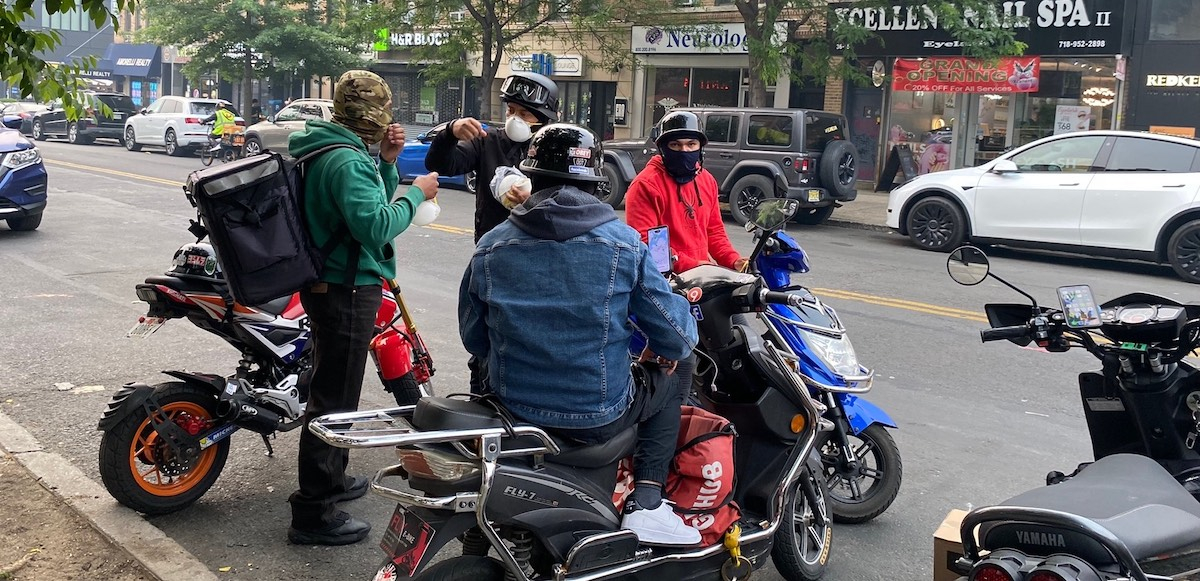 Wildfire smoke muddled the New York City skyline on Tuesday. Many people experienced the eerie threat mainly by scrolling through social media. But others experienced it in their bodies.
"My eyes were burning," said UPS package driver Matt Leichenger, who was making deliveries in Brooklyn. "My throat was scratchy. By lunchtime, I was feeling dizzy and nauseous."
Eventually, he got himself a surgical mask, he said, pausing momentarily to cough while we spoke on the phone. "It got a little bit better, but I was still blowing snot."
News stories showed a veil of smoke stretching from Wisconsin to Alabama—but UPS didn't say anything to its workers.
"The whole day the company never sent any type of message, even being like 'If you feel these symptoms, seek clean air inside,' which is something they say about extreme heat," said Leichenger. "It was just crickets."
Wednesday the atmosphere changed from a hazy silver glow to a sepia tone, the dystopian-looking smog the byproduct of 400 fires burning hundreds of miles away in Canada. The Federal Aviation Administration grounded flights at NYC's LaGuardia Airport because of low visibility.
But the clang of UPS trucks and whir of delivery bikes and motorcycles continued throughout the day. Gig workers fanned out delivering takeout to the city's neighborhoods for Uber Eats and DoorDash. City estimates put the number of gig delivery food workers at 65,000, with average earnings of $11.12 an hour, including tips and after expenses.
"The companies don't give us masks," said Antonio Solís, a DoorDash worker in Queens, NY and a member of the worker collective Los Deliveristas Unidos. "They don't give us anything." The companies classify the workers as independent contractors and offload all the costs of the job onto the workers themselves.
They also punt responsibility for the health and safety of workers. As smog painted the skies ochre, workers like Solís were left on their own—worried about the sting in their eyes and itch in their throats.
"When we ride our bikes, the air hits us directly in the eyes," Solís said in Spanish. Many of his fellow workers don't have high-quality N95 or KN95 masks. "We use masks that are made of cloth, which are not safe enough. It's difficult to work without the proper masks because your eyes become watery and it is hard to breathe."
BREATHING A BONFIRE
On Tuesday night, the irritation from the pungent smoke-clogged air hadn't been as bad. But on Wednesday, as more smoke from the blazes descended in a thick reddish veil filling the air with harmful pollution, delivery workers complained it was like breathing by a bonfire.
Wildfire smoke contains chemicals and fine particulates, technically known as PM2.5. Fine particulates can be inhaled through the lungs and enter the bloodstream, damaging the heart and other organs.
The air quality index in the city spiked to a record-setting 484 Wednesday evening, making New York City's air the most polluted of any major city in the world. AQI scores above 300 are categorized as hazardous.
"We saw how contaminated the air was and wanted to connect with workers on the street," said Willie Medina, an Uber Eats delivery worker and Los Deliveristas Unidos member in Queens, speaking in Spanish. "It was sad to see workers with bloodshot eyes and coughing."
Since the pandemic, Los Deliveristas Unidos have built delivery worker networks across the five boroughs. They tapped into these networks on Wednesday, getting the word out about the hazardous conditions through Facebook Live videos and via walkie talkies carried by the Queens food delivery worker committee.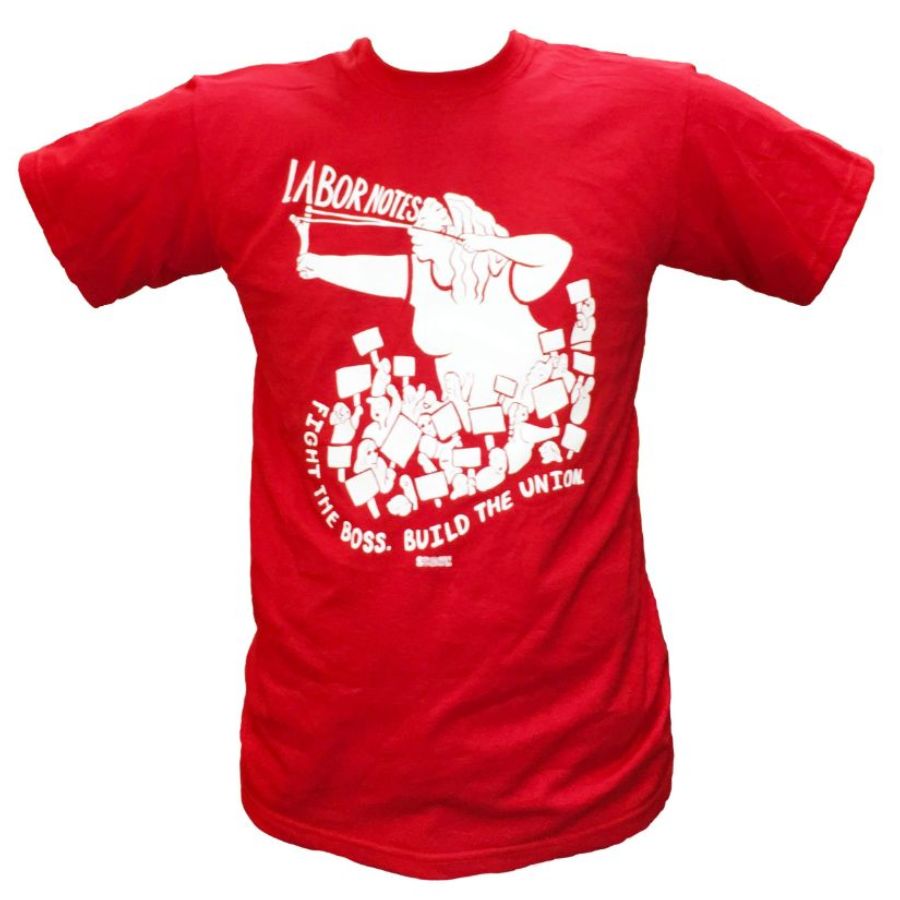 Medina and Solís met fellow workers on street corners. With support from the worker center Workers' Justice Project, they said they distributed 80 N95 or KN95 masks in Astoria, Queens, and planned to distribute more to other Queens, Manhattan, and Brooklyn neighborhoods.
CRAPPY MASKS, A STRIKE VOTE
UPS driver Leichenger met Anthony Rosario, a former UPS driver turned lead organizer for Teamsters Local 804, in Brooklyn where UPS Teamsters were holding a previously scheduled rally at the Foster Avenue hub ahead of 8,400 members taking a strike authorization vote. The Teamsters contract with UPS expires on July 31.
Rosario had heard from UPSers that in morning meetings the company hadn't even recognized air quality was bad and workers should take safety precautions.
"They didn't mention anything about air quality," said Rosario. "It was like it was like a beautiful day go to work. Everything's normal."
Rosario coordinated with Democratic Socialists of America activists to receive a donation of 10,000 KN95 masks from a company called Bonafide Masks in the Bronx. "All I had to do was do what I always did as a UPS driver—go pick it up and deliver it," said Rosario.
Back at the Brooklyn hub, workers helped unload the boxes and distribute the first 4,400 masks. "The funny thing is, as some of them were pulling out of the parking lot, they were saying that UPS inside was giving out the crappy paper masks," said Rosario.
The company's penny-pinching on masks became a talking point. "This is the kind of company we're dealing with," said Rosario. "This is why we have to send them a message and this is why you have to vote yes [for strike authorization]. Think about how UPS is treating you when you vote."
In the WhatsApp chat, Leichenger said workers seized on this as another example of how little the company cares about workers. "These crises can create unity. It's like with the pandemic, it sort of did that," he said.
NO MINIMUM WAGE
In Queens, gig delivery workers were also forging bonds of unity. Medina and Solís explained how N95 or KN95 masks protect them from fine particulates. The worker-to-worker outreach lifted up morale. "They got happy because we didn't abandon them," said Medina—unlike the app companies, which didn't even acknowledge that workers were outside on the street exposed to the hazardous air.
With New Yorkers cautioned to stay inside, food delivery workers reprised their pandemic role. "In times like these, it's really low-wage workers who become first responders, like Los Deliveristas—without a minimum pay, without safety protections," said Ligia Gualpa, executive director of Workers' Justice Project, noting that because they are misclassified as independent contractors, gig delivery workers are excluded from many of the legal protections that other categories of workers enjoy.
Their pay is subject to the whims of customers and the profit-maximizing imperative of the companies. During climate emergencies, gig food delivery workers can usually count on an increase in tips and company incentives to entice them to work, even when doing so can put their lives in danger.
"It's very unfortunate that we as workers have to be relying on these types of crises—a pandemic or snowstorms—in order to have more orders, with the hope of getting more tips," said Solís. "This is why we're fighting for minimum pay, so we don't have to rely on snowstorms or pandemics in order to make money."
And it wasn't even the case this time around; workers said their average earnings for 10 hours of work ranged from $120 to $140, which is similar to a typical day.
Gig delivery workers, with support from Workers' Justice Project, came very close to winning a minimum wageboost last November, which would have set their minimum pay at $23.82 an hour plus tips by 2025. The app companies, with support from Mayor Eric Adams, defeated the initial proposed wage hike, and negotiations with the city have stalled. But workers are still organizing.
"We don't want the fight to drag on, because workers keep asking when the minimum wage boost will take effect," said Medina. "Every day we are working harder to earn a living in this business."