Kaiser's Outrageous Two-Tier Wage Proposal May Provoke a Massive Strike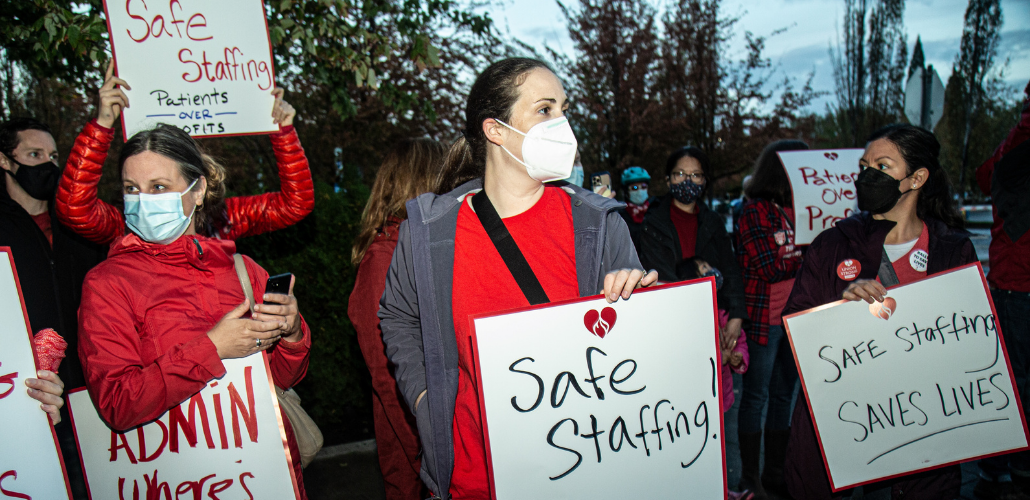 At midnight on September 30, the national agreement expired between Kaiser Permanente and the Alliance of Healthcare Unions: 21 locals representing 52,000 workers. Now 35,000 of them have authorized strikes.
The heart of the conflict is a two-tier wage proposal, a rarity in health care. The company wants to create regional wage scales for everyone hired after 2022—meaning a giant cut in pay.
Kaiser isn't hurting financially; last year it netted $6.4 billion, and it even returned $500 million in CARES Act funding to the federal government.
But the company claims the wage cuts are for you, the customer. According to management, wages are to blame for sky-high health care costs in the U.S.—and Kaiser employees with their hard-won union standards are the worst offenders.
Kaiser's claim is bogus. Health economists attribute rising U.S. health care costs to an aging population and out-of-control pricing. Big pharma and monopolistic hospital chains mark up their sticker prices wildly, and huge sums are wasted administering the complexities of insurance and billing.
Nevertheless, the company line is that Kaiser employees are overpaid by 26 percent on average, and in some cases 38 percent "above market levels." To redress this wrong, Kaiser wants "a market-based compensation structure for those employees hired in 2023 and beyond." In other words: two-tier.
Meanwhile current employees are being offered a piddling 1 percent raise per year.
On The Brink
While the Alliance's national agreement has expired, a strike can only happen where the local agreement has expired as well. These dates are scattered across the calendar.
Within the Food and Commercial Workers (UFCW), for instance, only Local 1996 in Georgia expired September 30; 10 other locals have dates in November or later. Local 555 in Oregon and Washington left the Alliance and returned to the Coalition in 2020.
Despite these fractures, though, there's a critical mass who could hit picket lines soon. Already 700 stationary engineers with Operating Engineers Local 39 in California are out on an unfair labor practice strike.
Members have authorized strikes at UNAC/UHCP, representing 24,000; Steelworkers Local 7600 with 7,400 in Southern California; and OFNHP with 3,400 in Oregon. A strike vote is underway at UNITE HERE Local 5, with 2,000 in Hawaii.
And two newly organized units of therapists with UNAC/UHCP in Northern California and Hawaii have just announced plans to take a strike vote for a first contract. Stay tuned.
BURGERS VS. MORGUE
Union workers point out that dropping the starting pay will make it harder to hire and keep staff—especially now that the pandemic has heightened the stress and risk of health care jobs.
The proposal would put some new hires at Kaiser behind the starting rates at McDonald's or Amazon warehouses, said Steelworkers Local 7600 Vice President Norberto Gomez, who has put in 23 years transporting patients around Kaiser facilities as a mobility technician.
"If given a choice between flipping burgers or moving Covid patients to the morgue for the same money, it's a no-brainer," he said.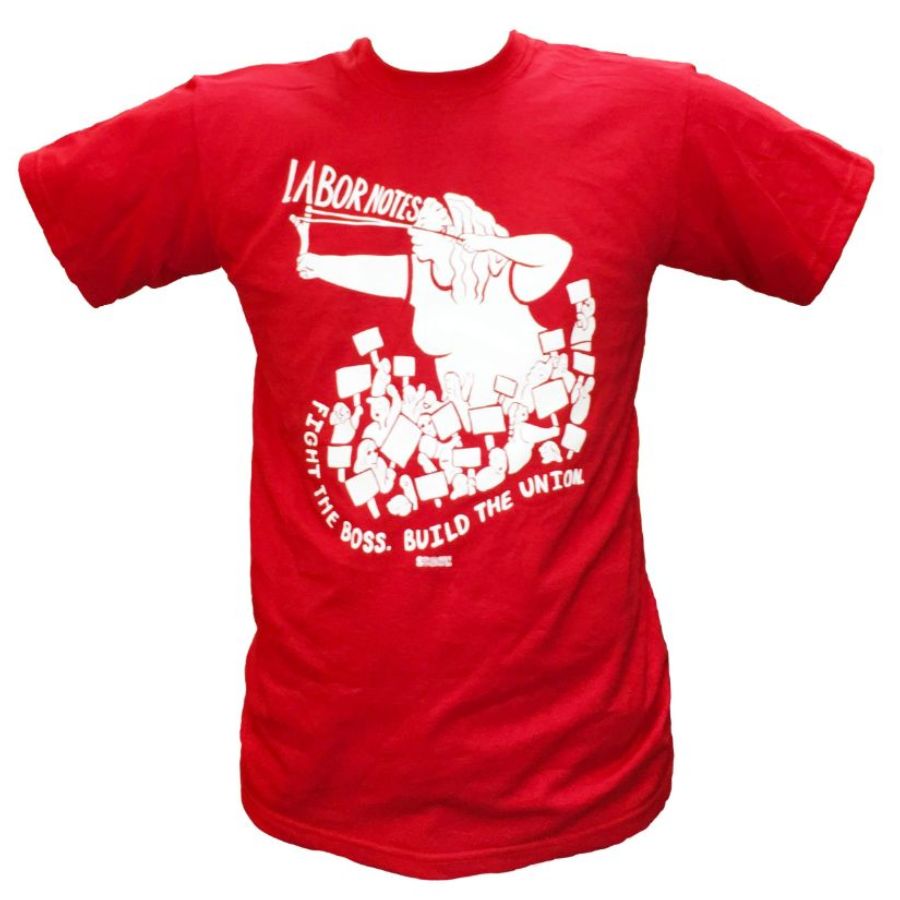 Nurse turnover has historically been low at Kaiser—strong union standards have spared the chain from the ravages of the nationwide nurse shortage.
But economist Jane Carter warns that two-tier wages will change that, and could backfire even from a cost-cutting perspective: "To recruit and re-train a new nurse to replace a nurse that leaves service can cost up to $98,000 per nurse," said Carter, a negotiator for United Nurses Associations of California/Union of Health Care Professionals (UNAC/UHCP). "Having low turnover rate saves the company a ton of money."
AS GOES KAISER…
If Kaiser wrested this concession from the Alliance unions, the impacts would reverberate.
"The two-tier system would be disastrous," said Jodi Barschow, president of the Oregon Federation of Nurses and Health Professionals (OFNHP), part of the Alliance. "It wouldn't just impact us and Kaiser. Kaiser is industry-leading."
Kaiser, based in Oakland, is the largest managed care organization in the U.S. It's an integrated health system that incorporates an insurance plan along with hospitals and clinics in eight states and D.C.
Liz Marlow is an Emergency Room nurse and UNAC member at Fontana Medical Center in San Bernardino County. Before this contract, she had never heard of two-tier in health care. "I've heard of it for grocery store workers," she said, "and how a two-tier system has slowly dismantled their unions, because it causes a divide."
The gradual erosion of solidarity is what worries her: "We won't see the effects of that for three to five years from now, or even 10." As Carter put it: "Two-tier finds a crack and creates a canyon."
PARTNERSHIP IN PERIL?
Three dozen unions represent Kaiser workers, mostly grouped into two giant bargaining formations, of which the Alliance is one.
The other is the Coalition of Kaiser Permanente Unions, with 85,000 members, mostly in various locals of SEIU. Its agreement won't expire till 2023.
UNAC led the unions that split from the Coalition in 2018 to form the Alliance. Both formations still champion the partnership model that has characterized Kaiser-union relations since a 1997 post-strike truce.
The Labor-Management Partnership is a formal organization—union-bargained, Kaiser-funded—where representatives of the unions and management meet routinely in each work area to hash out operational decisions.
Two feisty unions at Kaiser have stood outside the partnership: the California Nurses (CNA) and the National Union of Healthcare Workers. In 2015 they struck together and staved off a two-tier pension—arguably for all the unions.
In the run-up to strike action, UNAC/UHCP has formally "paused" its partnership activities. A press release from the union claims, "The largest, longest-lasting, most-comprehensive labor-management partnership in the United States is in peril."
Correction, October 28: This piece has been updated to reflect two corrections. We originally stated that UFCW Local 555 had stuck with the Coalition; in fact it went with the Alliance in 2018, then returned to the Coalition in 2020. And we wrote that Alliance unions had formally "paused" the partnership; not all the Alliance unions have done so, but UNAC/UHCP has.