Gearing Up for Bargaining, Canadian Union Pushes for a Greener, Better Postal Service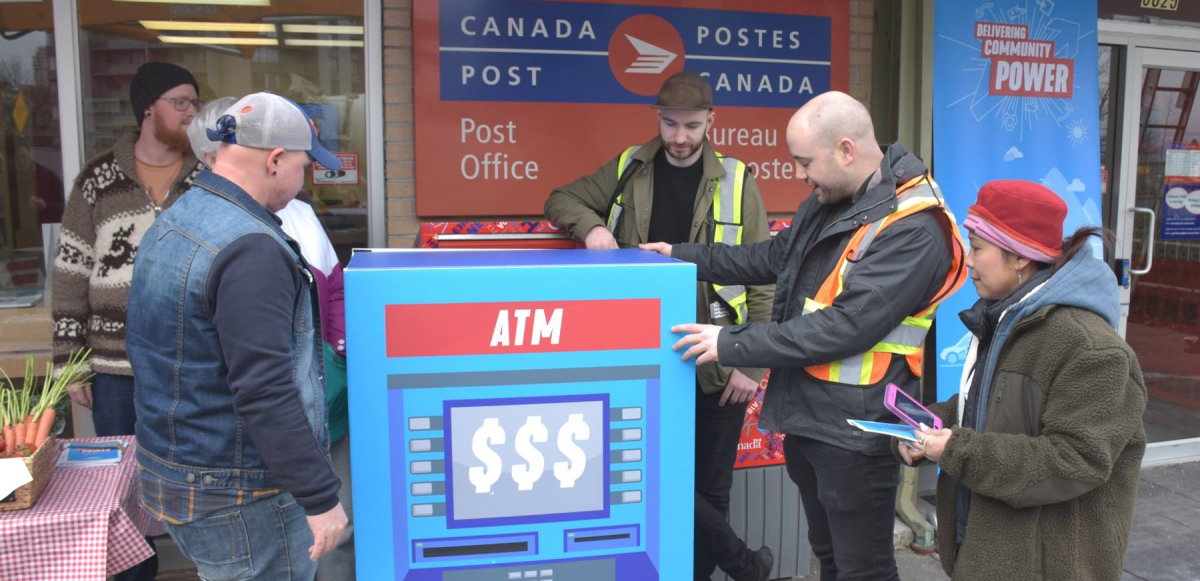 With its contracts expiring in 2022, the Canadian Union of Postal Workers is stepping up the fight for its own vision of the post office of the future.
It's a model for exactly the kind of Green New Deal campaign that U.S. unions should be launching now for a post-Covid economic recovery.
For several years, CUPW and its allies have proposed a visionary plan called Delivering Community Power. It advances a big but simple idea: take Canada Post, an institution that's already publicly owned and embedded in communities, and reinvent it to drive a just transition into a post-carbon economy.
The post office would help to jump-start green vehicle production and infrastructure; it would provide free Internet access for all; it would create a nationwide system of public banking. And all these measures would help to shore up and expand the post office as a unionized, community-centered alternative to the proliferation of Amazon delivery vans. (For more detail, see the box at the bottom of this article.)
FROM DEFENSE TO OFFENSE
The origins of the plan go back nearly a decade to CUPW's defense against austerity measures that aimed to privatize the postal service and crush its union.
In 2013, Prime Minister Stephen Harper's Conservative government backed a set of draconian attacks on Canada Post. The most polarizing was the replacement of door-to-door delivery with clusters of outdoor "community mailboxes."
Community mailboxes were justified as cost-cutting measures; they would have slashed thousands of postal jobs. They were extremely unpopular, especially with seniors, who didn't want to lose home delivery and have to make their way down the street in nasty weather to pick up their mail.
Postal workers fought back. CUPW's "Save Canada Post" campaign in 2015 galvanized Canadians and made the "reforms" a hot-button issue in that year's election. Candidates promised to "save home mail."
It was "one of the first times we were actually able to successfully put our agenda as a federal election issue," said Basia Sokal, a letter carrier in Winnipeg, Manitoba.
Shortly after Justin Trudeau was elected Prime Minister that fall, the conversion to community mailboxes was halted (though the ones that had already been introduced were never reversed).
A REIMAGINED POST OFFICE
Still, Canada Post faced major questions. With letter mail declining, where could the postal system find new revenue streams? The new government promised to conduct a review.
CUPW saw a major opportunity to propose a transformative, labor-driven vision for a reimagined post office. The result was Delivering Community Power.
DCP was introduced to the public in 2016. In a joint press conference with representatives of labor, environmental, and community groups, CUPW's then-president Mike Palecek called "for the interests of all Canadians, including seniors, people with disabilities, Indigenous peoples, rural communities, and lower-income families, to be taken into account" in the federal review.
Instead of cuts and privatization, he said, Canada Post should be reimagined to help society meet the challenges ahead.
MEMBER SUPPORT CRUCIAL
What will it take to win? The union's campaign for DCP has emphasized coalitions with the public, especially environmentalists—but also building support in the union's own rank and file.
"We focused on trying to mobilize the membership, going work floor to work floor all across the country," said former CUPW staff organizer James Hutt. "For me, just seeing the network of leaders that was built across the country was phenomenal."
CUPW tried to advance DCP demands in bargaining during 2018. As negotiations stalled, postal workers carried out rolling strikes; that November, the Canadian government passed legislation to force strikers back to work. Arbitration began in January 2019 and lasted nearly 500 days until June 2020. The DCP campaign slowed down.
But now CUPW is gearing up for a new round of negotiations next year. Brahm Enslin, the DCP campaign coordinator for the western Prairie region, says the union is trying to spread its public message far and wide.
"[T]here is a plan to hit it from different angles, whether that's advertising, through worker interaction, conversations through our labor groups, labor affiliates," he said. The campaign is also trying to win endorsements from municipalities and provincial and federal parties.
IT WILL TAKE STRIKES
To win these bold demands will require a willingness to take militant action that can provide leverage at the bargaining table, says Roland Schmidt, president of the CUPW local in Edmonton, Alberta. This means postal workers must prepare to confront back-to-work legislation.
"To win something like this transformative policy, it's going to take making a stand," he says. "If we want to be successful at the bargaining table and in enforcing our demands, we need our members to buy into what the union is doing."
Schmidt says his local's "organizing-first strategy" has helped DCP gain credibility with members in Edmonton. The union needs to "be present on the work floors, to educate members, to give them that training and those skills and that confidence to organize themselves."
It also helps, he says, that DCP is such a "solid program.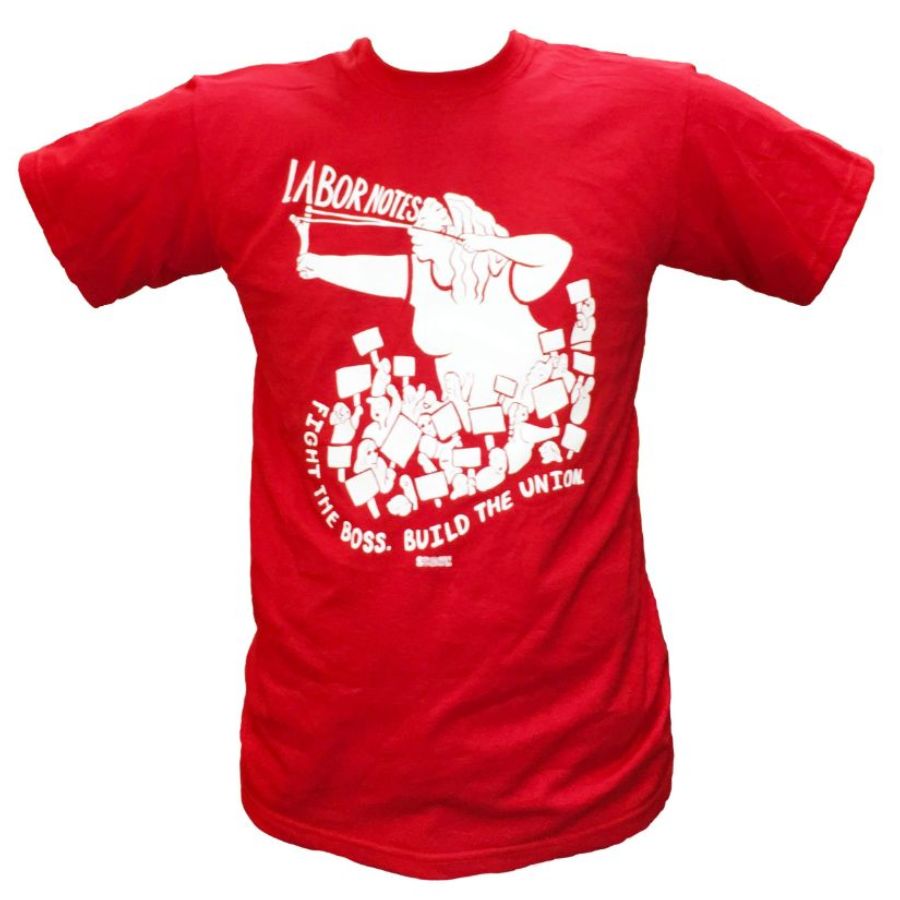 "It has tremendous implications not only for our members," he said, "but for all of Canada and the rest of the labor movement."
INSPIRING OTHERS
In fact, it's already inspiring others. When General Motors announced it was closing its Oshawa assembly plant in 2018, some auto workers and community activists there had a different idea: nationalize the plant so the government could procure battery-powered electric vehicles to support Canada's green transition and keep union workers employed.
They formed a new coalition called Green Jobs Oshawa, taking inspiration from DCP, according to auto worker Rebecca Keetch, one of the organizers. "It's really quite a visionary idea of what a just transition can look like on a larger scale," she says. "This campaign was really a little bit ahead of its time."
The idea of a just transition is that any plan to shift away from fossil fuels toward a sustainable, green economy has to include a fair solution for the workers and communities whose lives will be uprooted by the change.
Green Jobs Oshawa reasoned that auto workers could build the new electric fleet the postal union was proposing, and other government-owned fleets. The campaign has changed the conversation around what to do with the Oshawa plant, though it has not won its demand so far.
Labor has to propose its own solutions to the climate crisis, Keetch says: "It's not going to be to the benefit of workers if we continue to leave it up to corporations to plan a just transition for us."
Schmidt compares the CUPW's campaign to Los Angeles and Chicago teachers who brought community demands—such as more school nurses, social workers, arts, and music—into their bargaining.
"That idea is brilliant," he says. "We see that same sort of thing with Delivering Community Power through our union. Yes, it benefits us in some way, but by extending these demands to broader society, it brings more people into the struggle."
DRIVING A GREEN TRANSITION
A core idea of the Delivering Community Power plan is that Canada Post can become a leader in addressing our climate crisis through "greening the post office."
Canada Post has the nation's largest publicly owned vehicle fleet. (The same is true of the U.S. Postal Service.) DCP calls for this fleet to be converted to electric vehicles, powered by renewable energy. It also proposes green retrofitting of all postal buildings to add solar panels and increase energy efficiency.
These measures would put the post office at the forefront of addressing the climate crisis. And they would have the added benefit of creating new union manufacturing jobs in Canada.
The proposal would also establish public charging stations for green vehicles at post offices.
THE BIGGEST RETAIL NETWORK
CUPW likes to emphasize that what makes Canada Post such a great fit for these initiatives is that post offices already exist everywhere across the nation, and they're already owned by the public.
It's a campaign talking point that there are more post offices in Canada than there are Tim Hortons, the country's iconic coffee chain.
"We own the biggest retail network in the country," says a 2019 DCP pamphlet. "What will we do with it?"
This same logic makes postal banking another core plank. Offering basic financial services at post offices could be a win-win: providing revenue to finance green energy initiatives, while also offering non-predatory banking options to working people and marginalized urban and remote rural communities.
Edmonton local president Roland Schmidt sees postal banking as "the most inspiring aspect" of DCP. It "will be what subsidizes our parcel business in order to compete with Amazon and keep them out of our market share," he says.
INTERNET AND ELDER CARE
Post offices would also become hubs offering free, high-speed Internet access—especially vital for people in rural areas who lack reliable broadband access.
"We already have the public coming" to the post office, says letter carrier Basia Sokal. "Why not offer additional services? Sort of like the library does."
Door-to-door delivery is reimagined to include elder care, checking on seniors and delivering necessities to their doors, and improving services for First Nations and Inuit communities, many of whom are underserviced and remotely located.
Expanding door-to-door delivery and services—not just for mail and parcels, but for groceries and more—would strengthen the social fabric of communities and help cut down on traffic. It could bring in new revenue while countering the rise of private delivery fleets like Amazon's.
Derek Seidman is a researcher and union member in Buffalo, New York.