Lessons from the Amazon Tax Victory in Seattle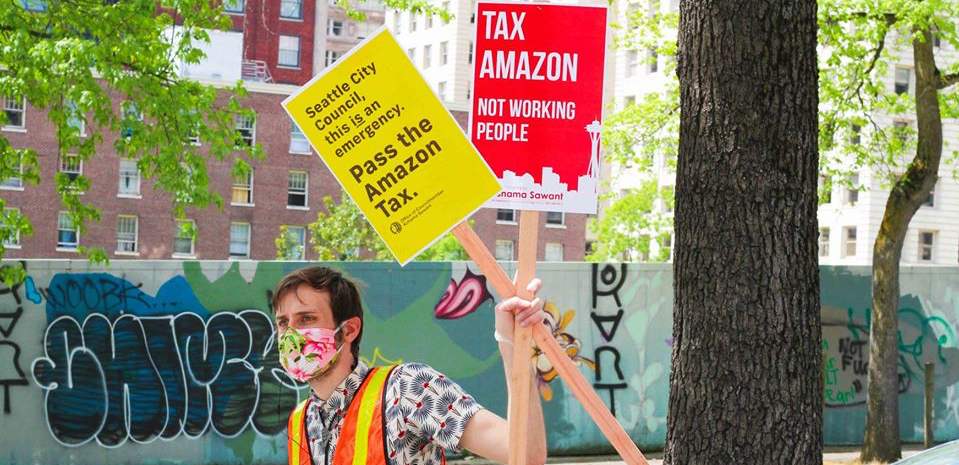 Pressed by a relentless working class movement, the Seattle City Council on July 6 adopted a first-time-ever tax on Amazon and other big businesses that will bring in at least $214 million a year to fund affordable housing, Green New Deal projects, and union jobs.
The win was a stunning turn of events: just two years earlier, Amazon, the Chamber of Commerce, the corporate-backed mayor, and several business-oriented labor leaders forced the city council to rescind a newly adopted tax on big business of only $47 million a year.
The dramatic victory shows how workers and activists can recover from a bitter defeat and organize successfully to beat austerity.
The brutal corporate beat-down of two years earlier centered on attacking socialist Seattle City Councilmember Kshama Sawant, whose organization had led the grassroots push for the tax. Big business deployed attack ads, push polling, a tax repeal campaign that paid signature-gatherers up to $6 for each signature, and a capital strike in which Amazon threatened to stop expanding in Seattle, its main headquarters. The attack was supported by right-wing talk radio shows, pro-corporate editorials, and a building trades union leadership that openly sided with Amazon.
Emboldened by success, the Amazon-led business coalition spent an unprecedented $4.1 million in last November's city council elections against Sawant and other progressive and socialist candidates. The brazen corporate election-buying aimed to remake city politics and teach working people an enduring lesson about corporate power.
They lost. Five out of seven business-backed candidates fell to defeat, and Sawant prevailed thanks to an unparalleled grassroots effort, with more than 1,000 campaigners knocking on 225,000 doors.
Sawant didn't shy from what the fight was about, declaring, "What's at stake this year is who runs Seattle—Amazon and big business, or working people."
CONFERENCES FOR ACTIVISTS
After she was re-elected, Sawant convened a series of Tax Amazon Action Conferences beginning in January, where hundreds of activists discussed, debated, and voted on a strategy and the elements of a new proposal: a $300 million per year tax on Amazon and the biggest 3 percent of businesses in Seattle, including tech companies, biotechnology firms, big international law firms, and international hotel and restaurant chains. The money would fund affordable, publicly-controlled housing and Green New Deal projects such as home weatherization, replacing oil- and gas-heating in homes with electrified systems, and installation of solar panels.
Not trusting the city council to enact the measure, they also launched a petition drive to place the measure on the ballot.
The onset of the COVID-19 crisis in late February escalated the organizing challenges for activists, as face-to-face rallies and signature gathering became difficult. Instead of collecting signatures at transit stops, farmers markets, college campuses, and busy streets, organizers were forced to mail petitions to activists, who would collect signatures from their households and immediate neighbors.
As the COVID crisis deepened, organizers set up socially-distanced signature stations in working-class neighborhoods, complete with hand sanitizer and pens cleaned after every use. But the triple crisis of COVID—the threat to health plus sweeping job loss plus threats of eviction—also stimulated tremendous public enthusiasm for the signature drive, emboldening the movement to demand that the city council act with urgency.
The Justice for George Floyd movement that exploded on the streets in late May also strengthened the drive. At the protests, speakers drew the connection between Black Lives Matter and the Amazon Tax by calling for funds to build affordable housing to counteract racist gentrification in Seattle.
As the drive approached the signature threshold to get on the ballot, and with hundreds of activists flooding city council offices with emails, phone calls, and public testimony, and with the Amazon tax demand being echoed in the street protests, the political establishment felt compelled to advance its own Amazon tax.
A SUBSTITUTE BILL
Insipidly rebranded as "Jumpstart Seattle," the substitute legislation was intended to avert a ballot initiative. Several large businesses—notably Expedia and major hospitality corporations—sensed the movement's momentum and embraced the establishment's plan. "Yes, harm mitigation was part of it," conceded one restaurant executive who fought against the Amazon tax in 2018 but came around to support the 2020 measure.
A last-minute push by the Chamber of Commerce to tar the proposal as a "tax on jobs"—as it had done successfully in 2018—fell flat this time because of the consistent organizing message over the last two years: the tax was on Amazon and Seattle's wealthiest businesses, not workers, jobs, or small businesses.
On July 6 the city council adopted the tax ordinance, which will bring in at least $214 million a year—less than the movement's $300 million initial demand but more than four times the tax that big business repealed in 2018. And on July 20, the Council adopted a plan for the Amazon tax money, largely along the lines that activists had ratified in the Tax Amazon Action Conferences.
LESSONS
Bosses never miss an opportunity to demand worker sacrifices to protect corporate power and profits, and the COVID-19 crisis is no exception. In state and local governments, this means not just job freezes and layoffs for public workers but also cuts in services like food, housing, child care, youth programs and recreation, worker rights enforcement, and repair of roads, bridges, and public buildings.
How should workers fight back? Seattle's Amazon tax fight, spanning more than two years, offers lessons for activists everywhere battling against austerity and for jobs and worker rights:
1. It's about power.
"The reason we won was because we built a powerful, independent movement that was democratically organized," Sawant told Jacobin magazine.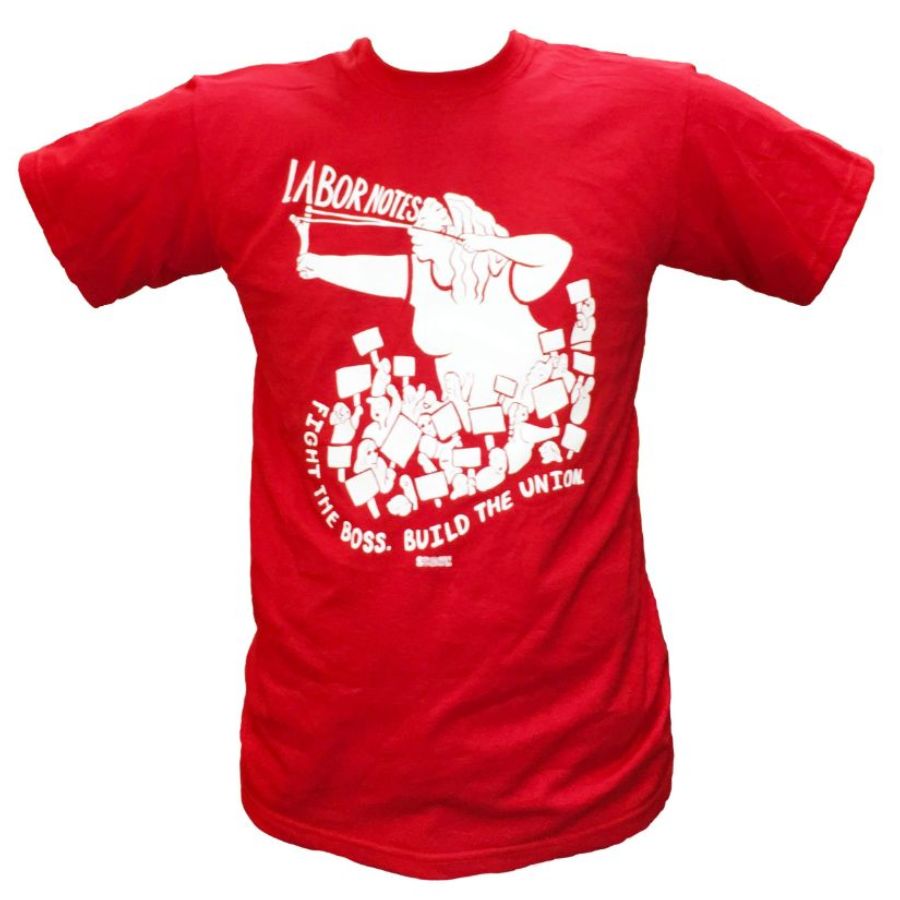 Politicians, even many who call themselves progressive, often frame political struggles as consensus-building exercises in which contending parties "come to the table" to hammer out differences and reach acceptable compromises, usually behind closed doors, away from the movement.
The Amazon Tax prevailed because organizers mobilized for a fight, continually framing the struggle as one between workers and big business. They resisted the calls from many quarters, including some progressive community leaders, to not "antagonize" Amazon, to tone down their campaign, and to negotiate a compromise.
Because the political fight is about opposing interests—just like in union negotiations—what workers win is always a function of the balance of power at the moment. The Tax Amazon activists recognized that the 2018 defeat was only a temporary setback, and by redoubling their organizing over two years, they changed the balance of power in the political arena.
2. Play offense.
Corporate executives and political leaders, reinforced by the mainstream media, continually try to tamp down worker hopes. They brand worker demands as "unrealistic" and "impractical" while insisting on austerity. The Tax Amazon organizers succeeded in electrifying working people and building a powerful movement by doing the opposite: they raised expectations, with a powerful vision of taxing Amazon to fund affordable housing, the Green New Deal, and public services.
3. Build a democratic, grassroots organization.
Building on the momentum of the massive grassroots 2019 re-election campaign, Tax Amazon built a strong, democratic movement. Sawant's organization, Socialist Alternative, and many unions, environmental groups, and other community groups helped organize the campaign and its conferences, where rank-and-file union members and community activists spent hours debating elements of the legislation and campaign strategy. And then they voted, with one vote per person, whether they were a top union officer or a first-time community volunteer.
That democratic process built a resilient campaign, able to withstand pressures and attacks from the political establishment.
4. In the political arena, as in union bargaining, you need a powerful weapon.
The Tax Amazon Action Conference made a critical strategic decision in January, one that proved decisive: rather than rely on the city council, they would simultaneously advance both legislation and a ballot initiative drive.
This was the equivalent of workers taking a strike vote: what the political establishment feared most was an expensive pitched battle in November over a ballot initiative that pitted workers against big business. They did not want to spend resources defending themselves against a popular tax measure, and they did not want to see even more focus on Seattle's glaring economic inequality, among the worst in the world.
When Tax Amazon campaigners announced that they had the critical number of signatures to file, that credible threat of going to the ballot in November placed extraordinary pressure on the political establishment to act.
5. Build movements that link our fights together.
Tax Amazon organizers recognized that racial, economic, housing, and climate justice issues are linked. The legislation and the initiative both called for the affordable housing to be built with union labor, with priority-hire and apprenticeship opportunities for people living in the neighborhoods where the homes are to be built. The new homes must meet Green New Deal standards, including a commitment to use renewable energy, and about $20 million per year is reserved for retrofitting existing working class homes to renewable energy—again, with union labor.
As thousands of people rallied against police violence during the final weeks of the Tax Amazon battle, leading Black clergy worked with Sawant to add an important detail to the bill: dedicated funds to build affordable homes in Seattle's Central District. The Central District is a formerly thriving Black community that has seen two-thirds of its African American population driven out over the years. The city's notorious Operation Weed and Seed was set up in the 1990s explicitly to gentrify the District while fast-tracking incarceration of young Black men. Corporate developers snapped up entire blocks in recent years, evicting long-time homeowners.
Backed by 229 faith activists, Sawant's amendment reserved a minimum of $18 million per year for the construction of affordable, publicly controlled rental homes in the Central District, with "community preference" for tenants who have been displaced from the neighborhood. It passed unanimously.
6. It's never over.
Even after winning the legislation, Tax Amazon activists recognize that the fight is not over. Now the movement will be challenged to force Seattle's pro-corporate mayor, who was elected with a record donation from Amazon, to fully implement the new law. That will require continued organizing and action. Just like a union contract, the Tax Amazon legislation will need to be enforced through continued collective organizing and demonstrations of worker power.
Jonathan Rosenblum works as a community organizer for Seattle City Councilmember Kshama Sawant. He is the author of Beyond $15: Immigrant Workers, Faith Activists, and the Revival of the Labor Movement (Beacon Press, 2017) and a member of the National Writers Union. Find him online at https://jonathanrosenblum.org/ or Twitter: @jonathan4212.