It's Caregivers vs. Privatizers in New York and New Jersey Hospital Wars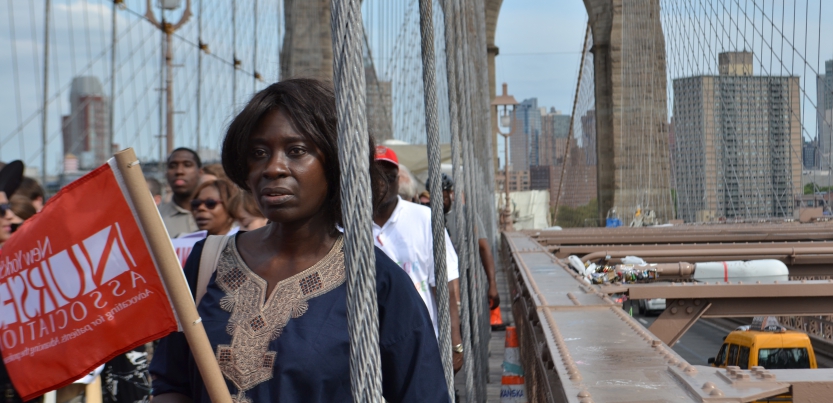 News websites began reporting the hospital dead July 19. Management at Brooklyn's Long Island College Hospital (LICH) owned up to a secret plan to ship out all remaining patients over the next two days and lay off all staff in 30 days.
But by evening, the tables had turned. Health care workers picketed in an emergency rally despite a heat index of 108 degrees. The crowd cheered the delivery of a temporary restraining order barring the closure.
When administrators tried to remove patients the next day anyway, workers called the cops on them.
It was one of several dramatic turnabouts in an ongoing war over the future of Brooklyn's hospitals.
"Governor Cuomo, is this all we are, is real estate to you?" asked Jeannie Siegel, a 23-year LICH respiratory therapist, at a rally.
Members of the New York State Nurses and 1199SEIU, along with doctors, community activists, and sympathetic politicians, rallied a dozen or more times the month of the heat wave, battling to save both LICH and Interfaith Medical Center.
Yesterday thousands marched and danced across the Brooklyn Bridge to the strains of a brass band, coffin props aloft, in a jazz funeral for Brooklyn health care. A dozen were arrested. (See Photo Gallery.)
WORTH MORE DEAD THAN ALIVE
LICH sits on prime real estate in a gentrifying part of Brooklyn. That's why its owner, the State University of New York (SUNY), wants to close it down, workers charge. To developers—who'd like to put condos there—the hospital would be worth more dead than alive.
Interfaith is in Bedford-Stuyvesant—another area where prices are spiking—just a mile from where Spike Lee filmed that quintessential New York heat wave movie, "Do the Right Thing."
"The people in the neighborhoods that surround Interfaith do not have bank accounts," said psychiatric nurse Charmayne Saddler-Walker. "They do not have hedge funds. They're low-income and they're people of color."
The hospitals have drawn some high-profile allies. Reverend Al Sharpton began leading weekly Tuesday night vigils to save Interfaith. Mayoral candidate and Public Advocate Bill DiBlasio (an elected watchdog position) secured the nick-of-time temporary restraining order for LICH. But the mayor and governor have been no help.
Other Brooklyn hospitals have teetered on the brink, too. SUNY Downstate Medical Center—technically LICH's immediate owner—is threatening drastic cuts and privatization, and another coalition of unions and community members is fighting there.
New York's hospitals are jam-packed. Brooklyn—which has 2.5 million inhabitants, almost as many as Chicago—is already underserved. And the emptying of LICH has made the situation worse.
Despite a judge's restraining order directing the hospital to maintain staffing levels, LICH is turning ambulances away.
Justice Johnny Lee Baynes, whose orders have been continually flouted, said angrily, "The last thing that should be closed is the emergency room, not the first, because somebody could be dying right now."
Other hospitals are feeling the ripple effects. As temperatures soared July 15, a second Brooklyn hospital had to start diverting ambulances, too. A third hospital barely managed to absorb the increase.
CONDEMNING A COMMUNITY
For someone who's been shot, a longer ambulance ride can be life-or-death, warned Kirsten John Foy, president of the National Action Network's Brooklyn chapter.
"Most of the cases of shooting are young men of color," she said. "You're not just condemning this community for today; you're condemning this community for tomorrow."
Meanwhile, LICH remains fully staffed—and much quieter than usual. Patients can't arrive by ambulance, but if you can get there on foot, you can get care with no wait.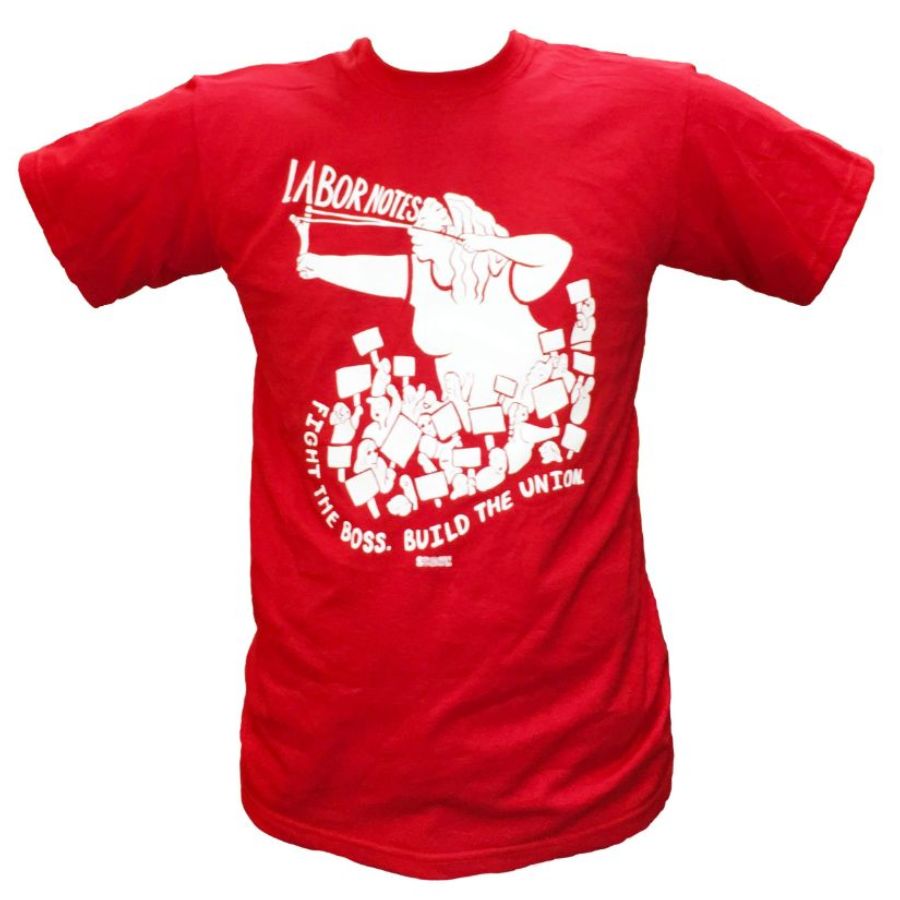 Hospital supporters want to find a new operator to take over LICH and keep it open—but the right kind of operator. They rallied in June against state legislators' efforts to allow private investors to take over certain hospitals. It's not currently legal for for-profit companies to own hospitals in New York.
One bill would have created five pilot programs for private equity to invest in New York hospitals. Another would have opened the door to for-profit ownership of Brooklyn hospitals specifically. Neither bill passed this session.
"For-profit health care kills," said nurse Jill Furillo, executive director of the New York State Nurses Association. "I've seen it in other states."
Private equity's business model is to borrow large sums, buy up companies, pay off the debt by slashing costs—especially workers' pay and benefits—and pay out big dividends with what's left over, then sell off the ruined husk of the company. It's a ruthless way of making a lot of money fast.
It's clear any for-profit hospital experiments will target LICH and other struggling Brooklyn hospitals in low-income communities of color, nurses say.
"We won't let our patients suffer so that Wall Street investors can make more money," Furillo said.
PRIME TARGETS
New York state has so far kept for-profit health care out, but across the Hudson River in New Jersey, it has a toehold—eight hospitals—and members of the Health Professionals and Allied Employees, a Teachers (AFT) affiliate, are fighting to block the profit-mongers from ballooning any further.
"These hospital conversions from not-for-profit to for-profit I believe are at a tipping point," HPAE President Ann Twomey told a state senate committee, "threatening to undermine access to care and affordability of care for our communities."
California-based Prime Healthcare Services is poised to buy up five more New Jersey hospitals.
HPAE wants New Jersey to tighten the rules: allow a conversion only when it's impossible for the hospital to survive as-is, require more financial transparency and a 10-year commitment to keep the hospital open, mandate a study of the sale's likely impact on community health, and up the requirements for charity care.
At Meadowlands Hospital, union members are in a big fight with the owner, a shadowy group of for-profit investors called MHA.
A June Labor Board complaint charged Meadowlands with unilaterally cutting union members' health and retirement benefits, surveilling union activity by video—and hiring 200 non-union nurses at minimum wage as "nurse interns," in an effort to circumvent the contract.
The hospital targeted newly graduated nurses and older nurses without hospital experience, presumably desperate for work in the down economy. The union says, as licensed nurses, they should have been covered by the contract rates, starting at $28 an hour.
The company also sold the land beneath Meadowlands to a real estate developer. These kinds of leaseback arrangements are on the rise: the owner sells the land, pocketing a short-term windfall, then leases it from the buyer, who gets long-term income from rent.
But workers and community members get nervous, wondering what such a scheme means for their hospital's future. Details of the contracts, like what happens if the hospital defaults on its rent, are secret. Twomey called such deals "totally opaque."
The IRS and the Health Department have beefs with Meadowlands, too.
Another for-profit, Community Health Systems, is still refusing to bargain a first contract with nurses at Memorial Hospital of Salem County—who organized and won their election to join HPAE three years ago.
"We once thought that if we set strong enough [union] standards and protections, we could maintain quality services, and safe staffing and working conditions," Twomey said. "But we now know that we need to strengthen our laws and strengthen our oversight.