Walmart Warehouse Strikers Return to Work with Full Back Pay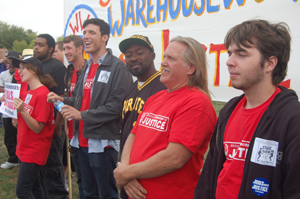 Strikers have returned to work with their heads held high and their wallets full at Walmart's largest North American distribution center. Warehouse workers in Elwood, Illinois, announced Saturday that they had won their key demand, reinstatement of all who were fired or suspended for on-the-job organizing, along with full back pay for everyone who participated in the three-week strike.
"I think there's been a hit in Walmart's armor," said Phil Bailey, one of the strikers who marched triumphantly back into the warehouse in matching Warehouse Workers for Justice t-shirts. "There's been this expectation that they can't be damaged at all. Not true!"
The returning workers also saw immediate improvements in safety conditions in the warehouse. They finally received shin guards, which they have been requesting for some time to protect them from heavy carts, and giant ceiling fans were installed to help cool the warehouse, which can reach 120 degrees. "[Management] kept coming around asking us if we needed any additional safety equipment," Bailey reported. "They're a lot more polite."
The average check for three weeks of back pay was around $900, said WWJ organizer Leah Fried. Even co-workers who had not struck, Bailey said, were proud and inspired—and envious of the back pay. Some told him they now wished they had gone out too.
"It's unprecedented. This shows you don't have to go through a card drive and recognition and negotiate a contract before you can take action," said Bailey. "Workers in one subcontractor shut the whole place down."
Clogging Walmart's Arteries
The week before the victory, workers and their allies had built pressure on the company by rallying 600 people for a rally that included civil disobedience and arrests and by delivering a support petition with more than 100,000 signatures. Management shut down the warehouse for a day.
Fried credited the victory to the financial impact of the shutdown, along with the big community mobilization and the strikers' pending legal case with the National Labor Relations Board (NLRB).
The huge distribution center in Elwood receives 70 percent of Walmart's imports and feeds smaller distribution centers around the Midwest and Canada to stock the shelves of Walmart stores. Trucks reportedly left the warehouse half-empty that day, contrary to regular company policy that they be packed tightly, "without any air." Bailey estimated the one-day shutdown cost the company $10 to $12 million.
"This place is very strategic," he said. "It's at the heart of Walmart. You clog it up, you can give Walmart a heart attack."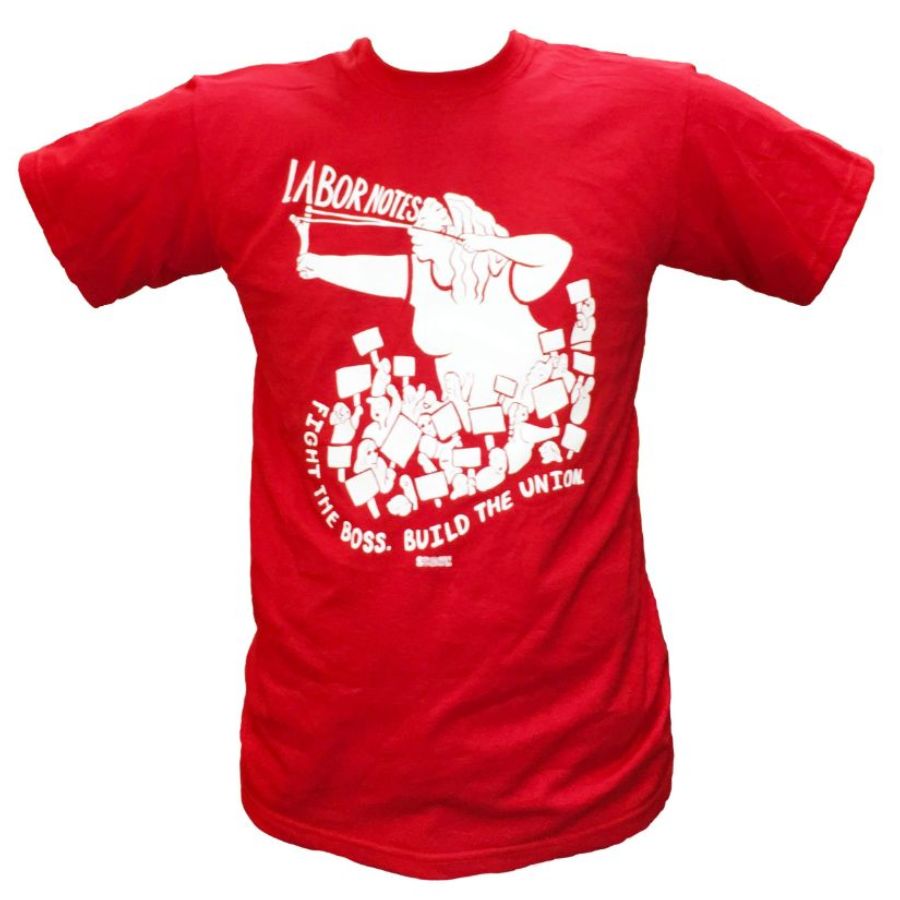 The remarkable victory by 38 strikers against one of the world's biggest corporations is "significant for temp workers everywhere," Fried said. The Elwood workers are employed by temp agency RoadLink, one of multiple staffing agencies contracted by Schneider Logistics, which in turn is contracted by Walmart to manage its warehouse. The multi-layered corporate structure is designed to insulate Walmart from responsibility and keep workers in a vulnerable and unstable situation.
Despite the risks, the past few weeks have seen an upsurge in labor actions under the umbrella of Walmart, the retail giant often considered U.S. labor's most powerful foe. The Illinois victory came on the heels of a two-week strike at a Walmart warehouse in Southern California and a one-day strike by retail workers at multiple Walmart stores in the same region.
Today, OUR Walmart announced additional walkouts by Walmart retail workers in the Dallas, Seattle, Miami, Washington, D.C., Sacramento, and San Francisco areas.
A joint delegation of warehouse and retail workers and their allies will travel to Bentonville, Arkansas, tomorrow to protest at Walmart's annual meeting for financial analysts. The workers will demand an end to retaliation throughout the Walmart system.
Organizing Without a Union
None of the workers involved in any of these job actions has a recognized union, though all are organizing through union-affiliated worker centers or organizations: Warehouse Workers for Justice (affiliated with the United Electrical Workers, UE) in Illinois, Warehouse Workers United (affiliated with Change to Win) in California, and OUR Walmart (connected with the Food and Commercial Workers) for the retail workers. The Illinois workers belong to the Warehouse Workers Organizing Committee.
"It's a long-haul strategy around a worker center," said Bailey. "Hopefully this model will spread."
Labor law protects non-union workers' right to band together to better their working conditions, and even to strike over unfair labor practices, like the retaliation the Illinois workers experienced for protesting conditions on the job. The NLRB is gathering testimony on the workers' charges that RoadLink fired, suspended, and refused to hire workers in retaliation for union activity. Although the company has already reinstated and repaid them, Fried said that if the board finds merit in the charges, possible additional remedies might include further back pay, postings advising workers of their rights, or changes to company policies.
Buoyed by their victory, workers in the Illinois warehouse plan to reach out to more co-workers and continue to organize for fair pay for all hours worked, safe conditions, and an end to discrimination and harassment on the job. "We have a long way to go here," said Fried.
But the workers have more tricks up their sleeves for Walmart, too. "They don't even want to know the things we were planning to do to them if this didn't work," Bailey said. "They're lucky they settled so soon."