The Jasic Workers' Struggle in China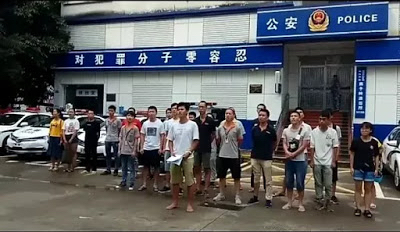 This summer, workers at the Jasic welding-equipment factory in China's manufacturing hub of Shenzhen were brutally repressed during their efforts to form a union. Their campaign drew support from university students and labor activists across the country, who flocked to Shenzhen to support the struggle. But Jasic and the Chinese government cracked down on both the workers and the students with firings, detentions, surveillance, and the threat of jail sentences.
The struggle of the Jasic workers has drawn national attention in China, with thousands of workers and students signing petitions in support of the workers and against government repression. In November, the government rounded up at least a dozen young activists, many of them recent graduates from the country's top universities, who they accuse of being involved in the Jasic campaign.
As of mid-November, four Jasic workers and one labor NGO activist have been in prison for over 100 days awaiting trial on criminal charges. Labor Notes is publishing a series of testimonies and stories from these workers and their supporters in English.
Testimonies from the Jasic Workers
Jasic Detainee #1: The Story of Worker-Poet Mi Jiuping
Jasic Detainee #2: Li Zhan: Standing with Workers through Thick and Thin
Jasic Detainee #3: The Story of Yu Juncong: Always Standing Against Injustice
Jasic Detainee #4: Liu Penghua: We Need a Union, Not Just Rights Defense
Take Action: Sign the Global Call on China to Release Arrested Workers, Activists and Students in Jasic Struggle
Further Reading
Effort to Form Union in China Meets Ferocious Repression from the October issue of Labor Notes
The Communist Party vs. China's Labor Laws from Jacobin
China's Student Activists Cast Rare Light on Brewing Labor Unrest from Reuters
Labor Activists Missing in China after Suspected Coordinated Raids from Reuters
It's Time to Get Loud About Academic Freedom in China in Foreign Policy