Steward's Corner: How AA Flight Attendants Scored a Huge Strike Vote
Flight Attendants at American Airlines voted to strike by 99.47 percent at the end of August, with 93 percent turnout.
The 26,000-member union, the Association of Professional Flight Attendants, has been in negotiations since 2019—and members have seen no raises since then. Understaffing and scheduling are also big issues. American, based in Dallas, is the largest airline in the world by passengers carried.
In some cases, said Miami flight attendant Laura Bries, "members wanted to strike yesterday," but because airlines fall under the Railway Labor Act, they face several more steps before they can strike. The union last struck in 1993.
I asked three flight attendants involved in the campaign how they got such an impressive strike vote. Besides Bries, I spoke with Alyssa Kovacs, based in Chicago, and Evelyn Konen, with nine years in, based in Los Angeles. They are Contract Action Team (CAT) Ambassadors, who on their off time walk their airport terminals in bright red union T-shirts talking to every American Airlines flight attendant they meet.
START EARLY
A group of six to seven started the CATs two years ago, Konen said, but they have grown to 60-70 "super-involved" people. Her first step was to get together an email list of L.A.-based members, and slowly build on social media. Members not on social media would update others.
After they did a town hall meeting about scheduling, an L.A.-based member came up to Konen saying she wanted to do more. Being new, Konen said, "Are you sure?!" But that member turned out to be her organizing buddy going forward. "Find the people who ask what else can they be doing," she advised.
The CATs were active in terminals long before the vote. "I think that really helped people [know] where do I go, who do I go to for information," said Bries. Then weeks before the voting opened, the union mailed all members a strike authorization vote booklet explaining how to vote and where negotiations stood in the circuitous Railway Labor Act process.
POPULAR PINS
By the time the vote started in August, the Contract Action Teams had grown to four to six flight attendants at each base airport, and with additional volunteers, they were able to cover up to 12 hours a day during the month-long vote. In a push to reach every member, flight attendants signed up in advance to work full days, or even for as little as an hour. American has 10 base airports, including Phoenix, Charlotte, D.C., Boston, and New York's LaGuardia.
The first week was the most intense, Konen said, because they didn't know how management would react or how members would react. But it was very positive. The union made red "WAR" pins, standing for "We Are Ready."
"In the beginning we had people chasing us down, 'I want my pin!'" said Kovacs. "I've never been so popular."
"You had to find an ambassador to get your pin," said Bries, "so that promoted engagement and interaction." Then seeing others wear the pins created a demand for the pins and promoted people wanting to vote, she said. They also distributed lanyards and bag tags.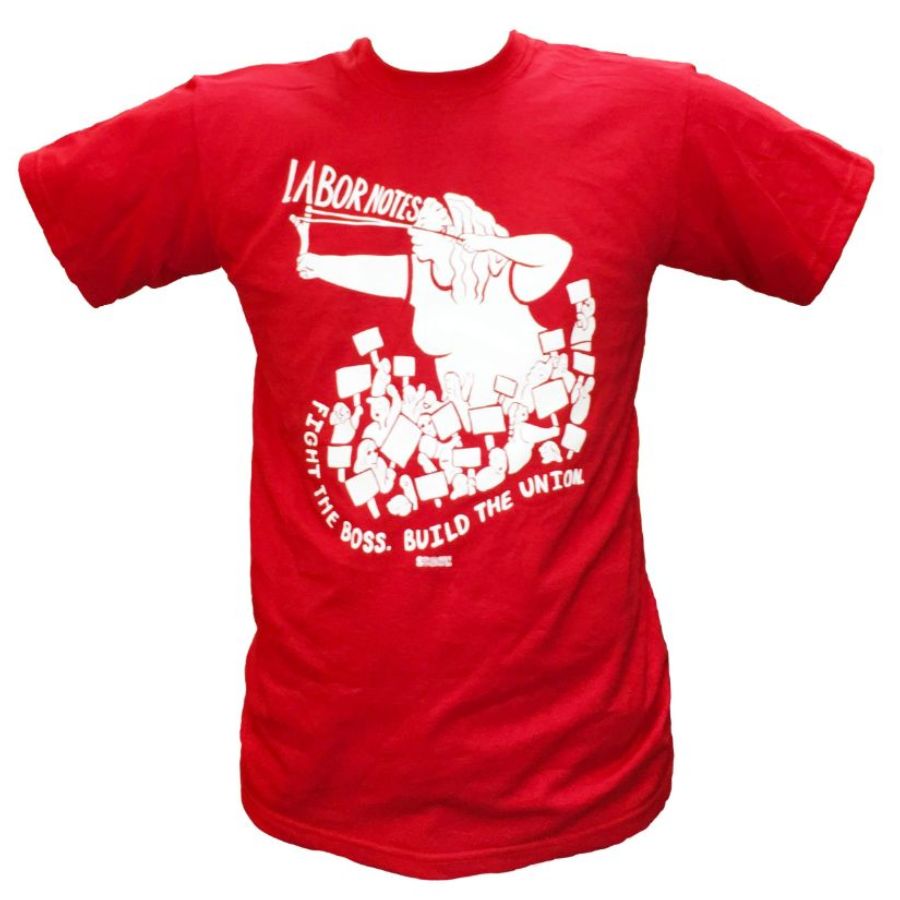 The strike vote was electronic through a web link, so all you needed to do was authenticate your membership. However, it was still helpful for Ambassadors to help people navigate voting. "We had some people who were misinformed over eligibility," said Kovacs. And some had trouble with passwords or other hoops. "In the past those people might not have voted because they couldn't get the help," said Bries.
In the terminal, "you would get a lot of people, 'Oh, I don't have time, I'm running to a flight,'" said Kovacs. But the CAT teams were mobile. "I will walk with you, here's my iPad, let's do this." A phone bank supplemented the in-person contacts.
By the last week, "it felt like everyone was so tired of seeing us in our red T-shirts," Konen said. "We would literally run after them."
CONNECTING MEMBERS
It took effort to get members in contact with each other. "Because of the nature of the job, we are typically very much kept apart. You only work with a crew of three to seven other people at a time," Kovacs said. But large groups have been able to meet each other in person at the half-dozen pickets the union has held simultaneously at all American's base airports.
In L.A., a picket had a full marching band, and other unions have joined including those who represent other air industry workers—Service Employees, the Transport Workers, the Pilots—but also SAG-AFTRA, the Writers Guild, and the Auto Workers. The next system-wide picket is November 16.
The union's revamped website breaks down details of the negotiations, showing the positions of both sides. Members "can see what's going on and not have to wait until a tentative agreement is put out for a vote," Bries said. Konen said the 2014 negotiations had been opaque. CAT Ambassadors regularly get briefed on developments and get a chance to ask questions so they can confidently answer member queries.
"It's one thing to put out the information in the name of transparency, but it's another to keep your membership engaged and informed and curious," said Kovacs. "We do that with social media, with our physical presence in airports, and then also maintaining a sense of openness, giving out my phone number, so people know, this is who I go to when I have these questions."
Members tossed a do-nothing union administration in 2016, but still, Konen said, "there's years and years of negative thinking" among members due to the experience of previous bad leadership. Her advice? "Don't let the haters get you down."
In addition, Kovacs said, "there's a little bit of impatience, because we have been doing this [negotiations] for a while. This is our time. We have to stay steadfast.
"I think that it's one of the first times our union has been so present in our workplace, so that spoke volumes to our members—we are here to listen and to help. And people had really good questions. We had a lot of really good conversations."