Puerto Rican Electrical Workers Union Fights Privatization of Island's Grid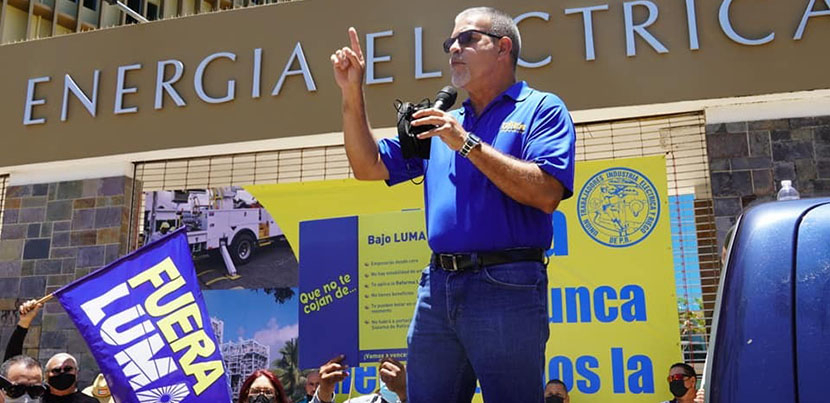 UPDATE, November 12: A response from IBEW has been added at the end of this piece.
UPDATE, January 14, 2022: A further response from UTIER has been added at the end of this piece.
The people and workers of Puerto Rico are suffering the consequences of the privatization of our electricity system, which has been handed over to a new company, LUMA Energy, a subsidiary of Houston-based Quanta Services and Canadian firm ATCO.
Our union, UTIER—the Puerto Rico Electric and Irrigation Industry Workers Union—has been fighting for months against the disastrous contract that the Puerto Rican government signed with LUMA to operate our electricity grid for the next 15 years.
Privatization has dismembered the electrical system's workforce in a transparent attempt to break up our union. LUMA was not required to hire employees of the Puerto Rico Electric Power Authority (PREPA)—the public company whose assets were privatized. Nor did LUMA comply with the existing collective agreements between PREPA and its unions. Instead, LUMA offered reduced benefits and job protections.
LUMA began its contract on June 1 with only half the number of employees PREPA previously had, many of them are untrained and unfamiliar with our electrical system. The result has been ongoing outages and customer service debacles. If a major hurricane had hit Puerto Rico this summer, the outcome would have been much worse.
WORKED DAY AND NIGHT
Puerto Rico's electrical workers worked day and night to turn the lights back on after Hurricane Maria devastated our island's electrical grid in 2017, while then-Governor Rosselló's administration was in disarray and help from the mainland took weeks to arrive. Now, more than 3,000 of us have been marginalized, removed from our jobs in the electrical system and arbitrarily transferred to other positions within the Commonwealth government. Instead of preparing for hurricane season, skilled linemen and other electrical workers are now drivers, nurse aides, office assistants, or maintenance workers.
Privatization has already cost the government of Puerto Rico $750 million just to fund the reserve accounts required under the contract. That's $750 million that could have been spent on our schools, public health system, or pensions, all of which have faced significant cuts thanks to austerity imposed by Puerto Rico's undemocratic Financial Oversight and Management Board (PROMESA).
Nothing in the contract protects the people of Puerto Rico from increases in electricity rates. LUMA is not required to generate savings, nor will it face financial penalties if it goes over budget. In fact, in the months it took preparing to take over the system, the company already went 20 percent over budget, more money paid by the people of Puerto Rico.
RENEWABLES PUSH
The contract also does not penalize LUMA if Puerto Rico's renewable energy goals are not met. Puerto Ricans spend more than a billion dollars each year paying for imported oil and natural gas, resulting in some of the highest and most volatile electricity rates in the United States. Together with environmental and community groups, UTIER advocates for a transformation to a decentralized grid based on renewable energy to achieve resilience and affordable electricity rates.
This contract highlights the lack of commitment of the Financial Oversight and Management Board to the economic recovery of Puerto Rico. In its push to impose austerity on Puerto Rican unions, the Board has defended a contract that will result in higher costs for our people and that does nothing to promote renewable energy on the island.
UTIER and all electrical workers, truckers, service employees, and teachers in the Puerto Rico labor movement are coming together to demand not only an end to this destructive privatization contract, but a true transformation of our electrical system, which is based on a commitment to 100 percent renewable energy.
UTIER members went on strike this spring with a strategy of refusing to apply to work for LUMA. Our goal is to return the electrical system to the public, and to get rid of LUMA and its intentions to raise electricity rates, undermine the gains of electrical workers, and destroy what took us 79 years to build. It is unacceptable that other workers, including some IBEW members from the United States, have decided to work as strikebreakers for LUMA in Puerto Rico. But we trust in the solidarity and support for our struggle to be able to take back our company with all of our rights, including the union that has represented us for the past 79 years.
Ángel Figueroa Jaramillo is president of UTIER, the Puerto Rico Electric and Irrigation Industry Workers Union.
Scabbing on the Island
by Mícheál Madden
Unions in the United States often make calls for solidarity, but sometimes it is the unions themselves who undermine that solidarity and participate in scabbing. This is the unfortunate case in Puerto Rico, in which IBEW Local 222 members from Florida have been brought in under the private contract with the Puerto Rican government in order to cripple the Puerto Rican UTIER national union and steal its right to the reconstruction of the electrical grid.
According to the San Juan Daily Star, LUMA reached a project labor agreement (PLA) with Local 222 in June "for all contracted, major construction [transmission and distribution] projects as part of the transformation of Puerto Rico's energy grid."
As Robert García Cooper, secretary of the Bayamón chapter of UTIER, put it: "Imagine that the government decides to unilaterally change existing laws in order to nullify your collective bargaining agreement and disband your electrical utility union by assigning you and your fellow electrical utility workers to work in other government agencies as security officers, heavy vehicle drivers, messengers, and other non-electrical-related fields. Imagine that while you are being displaced, demoted, and downgraded, and while the issue is being handled in Court, the incoming electrical utility concessionaire, instead of simply being willing to even recognize the local electrical workers union, decides to call upon another electrical workers union to work as scabs. I never imagined Local 222, or any local of the IBEW, would ever do the shameful work of playing scab-trader and be part of the scheme to dismantle a fellow electrical utility union."
What can you do to help UTIER and the people of Puerto Rico maintain their power, water, and sovereignty? Sign the petition from LabourStart supported by 30 million members of the Public Service Workers International. If you are a union member or electrical worker, speak out against the scabbing by IBEW Local 222 and the union's involvement in the privatization of the island's energy grid, and ask them to stand by UTIER in recognition of its members' sole right to work on the reconstruction of the power grid of Puerto Rico.
You can also pressure Congress to conduct a full investigation into the privatization. The office of Southern Arizona Representative Raúl Grijalva is going to be conducting a hearing on the LUMA contract next month, but this process needs to develop into a Congressional investigation if it is going to have consequences.
Mícheál Madden is a member of IATSE Local 16 and a representative on the San Francisco Labor Council.
CORRECTION: This article originally stated that Robert García Cooper, a chapter leader in UTIER, was also a member of IBEW Local 342. That identifier has been removed, since he is not a current member. García Cooper clarifies that he joined IBEW some years ago when he was considering moving to the mainland U.S., then ended his membership when he did not move after all.
by Bill Hitt
I am shocked that this unsupported accusation was published without so much as a call to me or any member of the IBEW.
I am proud to be the business manager of Local 222, and proud to have welcomed hundreds of Puerto Rican brothers and sisters into the IBEW earlier this year.
It is a highlight of my career that we were able to win a first contract in September, a contract that provides the first raise in a decade for the island's utility workers, imposes modern safety conditions and training, and joins them into a solvent retirement plan that will provide for them and their families long after they hang up their tools.
The IBEW and Local 222 have never, and will not ever, break a picket line. Show us a strike, and we honor it.
There is no strike at LUMA. There is no picket line.
We know there are strongly held beliefs about the existence of LUMA, and good people disagree about the wisdom of the policy decision. But LUMA exists, and its workers deserve representation. Anyone could have organized them, but no one did.
They created their own union and then came to us. We were honored to join their struggle.
We are not strangers to Puerto Rico, and Puerto Rican utility workers have been a common presence at Local 222 for decades. The men and women who work at LUMA today sought us out precisely because so many had worked with us before, and they wanted a change.
They wanted to form a modern, transparent, and professional labor union, a union with strength that they could trust would be used to benefit them and their families. It was our honor to back them up.
Bill Hitt is the Business Manager of IBEW Local 222.
by Angel Figueroa Jaramillo
For over 40 years, the Electrical Industry and Irrigation Workers Union (UTIER) has been fighting against the privatization of Puerto Rico's electric company. Meanwhile the state and private capital impose a wide array of strategies to justify their actions.
In June 2020 the government announced it was signing with a private operator to cover the transmission and distribution of electricity, which UTIER had always represented. In doing so, the government is weaponizing the context of bankruptcy, hurricanes, earthquakes, and now the pandemic.
The contract is with the Luma Energy company, created on January 17, 2020. Its parent companies are Quanta Service (U.S.) and ATCO (Canadian). The contract disappeared UTIER and annulled the collective bargaining agreements.
As a union, we organized a strategy to defeat the privatization. We noticed that the contract, which was to be implemented by June 1, 2021, established that Luma Energy had to have recruited the necessary personnel to guarantee the operation of the electric system. Luma Energy was going to perform all its operations from the same facilities and with all the equipment of the public company, because it had nothing of its own.
Given this, our strategy included not requesting work at Luma Energy to prevent them from complying with the provisions of the contract. Just like picket lines and strikes, the purpose was to prevent the company from operating.
We established communication with different unions asking for solidarity. On February 4, in a restaurant in Puerto Rico, we held a meeting with two officials from IBEW Local 222: Mr. William "Bill" Hitt and his lawyer. I was present, along with our lawyer. We explained the contract with Luma Energy and the consequences for our union. We gave him a document in English with a legal analysis of how bad the contract was for the people, the workers, and the union. And we explained some of the things we were going to do, including not applying for jobs with the privatizing company.
We also presented the union with an alternative: they could represent the workers who would carry out the reconstruction process using public funds from the U.S. government, and once each project was completed it would be turned over to the public company and we would continue the operation and maintenance. This proposal was also presented to the Puerto Rican government.
There was no response to our request for solidarity. Later we were informed that between April and May, retraining and evaluations were provided for workers from the public company at the Quanta facility in Texas as part of Luma's recruitment process. There was an employer-authorized presence of Local 222 officers at this training site.
We also sent letters in May to Lonnie Stephenson, president of the IBEW, and Richard Trumka, then president of the AFL-CIO (now deceased). There was no response.
When June 1 arrived and the company began operations, workers arrived from the U.S., especially from Florida, affiliated with Local 222, to begin the work. They were guarded by armed private police that Luma Energy had hired because of the labor situation. Do we really need to ask ourselves why armed security was provided to the brigades if there were no strikes or labor conflict?
On June 14, Luma Energy voluntarily recognized and publicly celebrated that Luma Energy workers would be represented by UITICE, a local union that had affiliated to IBEW Local 222 on June 5. It is unprecedented in Puerto Rico for an employer to celebrate the "great achievement" of voluntarily and quickly recognizing the union representation of workers.
Put simply, Luma Energy does not want to recognize UTIER, and it is attempting to cancel our collective bargaining agreement. Local 222 signed another agreement with Luma that all the workers rebuilding my country's electrical system would be members of the IBEW.
We are struck by the IBEW media campaign highlighting their image and projecting that they are the only ones who can do the job, discrediting the workers of the UTIER. For example, see the feature video, "IBEW Helps Enhance Puerto Rico's Power Grid."
Everything about Luma's behavior runs counter to the interests of the Puerto Rican people, not least the fact that the corporation's president received an arrest warrant for contempt of court in Puerto Rico.
In summary, while it is technically correct that there is no strike or picket line in Luma, the greater truth is that IBEW Local 222 had full knowledge of the strategy of our struggle, which was a different sort of strike: a strike by other means.
Angel Figueroa Jaramillo is the president of UTIER.
---
Labor Notes
asked IBEW for comment on these characterizations of the union's actions. IBEW Local 222 Business Manager Bill Hitt sent this statement:
"IBEW Local 222 has a project labor agreement to represent the employees of contractors hired by LUMA to restore the energy infrastructure of Puerto Rico that ensures that work is performed union and with highly skilled workers. The alternative would have been to continue a practice in Puerto Rico of having utility work contracted out to nonunion firms.
"UITICE is an independent union that represented employees formerly employed by PREPA who are now employed by LUMA. UITICE reached out to the IBEW and sought an amalgamation with Local 222. That amalgamation has been a tremendous benefit to UITICE and the represented employees, who have a professional, well-run, democratic union representing them."