Washington Carpenter Revolt Swells Picket Lines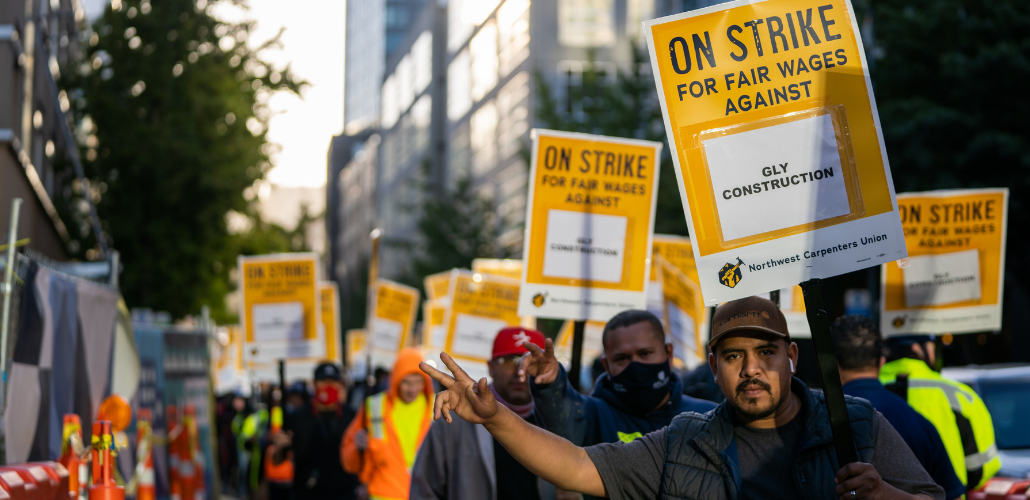 Two thousand Washington carpenters went on strike yesterday, out of 6,600 who currently work under the master agreement with the Association of General Contractors (AGC). Five jobs were picketed, including construction projects at Facebook's Building X, the Microsoft's Campus in Redmond, and Alphabet's Google.
"I didn't know what to expect. People can talk on Facebook, but you don't know until it's time for people to show up," said Joe Rice, a general foreman at Local 30.
Local 816 carpenter Bryce Owings was required to report to work, but he took the day off to stand on the picket line. "I'm a card-carrying carpenter" before anything else, said his superintendent at the jobsite, when Owings asked for a personal day to stand on the picket line.
"This is the beautiful part—now the membership is taking their union leadership and guiding them in the right direction," said Jimmy Castillo Matta, Jr., a delegate in Local 41, who spent his 25th birthday on the picket line.
The support has also come from other trades. "The fight they're having, we're all facing. The AGC isn't stupid," said H.M., a member of Operating Engineers Local 612 who asked to use only her initials.
DAY ONE
Those still working—10,000 out of the union's total membership of 12,000 in Central and Western Washington—are contributing two hours of their daily pay to a strike fund. Carpenters working under Project Labor Agreements and other agreements that include no-strike clauses number 4,600, and they reported to job sites yesterday, according to the union.
Striking carpenter Jason Bartos of Local 30 stood with roughly 70 workers on the picket line outside a 12-story Google office building that is being built in downtown Seattle.
"I'm hoping that we keep getting these guys to show up," he said. "But if we're not really being effective at shutting down a bunch of jobsites at once, and only getting four or five rather than 10 or 20 or 30, guys are gonna get kind of pissed off."
At the sites where carpenters are on strike but not picketing, the other trades are going into work.
Bartos wants to up the ante to keep members engaged. "We don't need to spend the rest of the seven hours marching and yelling at an empty jobsite," he said. "We can shut this whole city down, but leadership won't let us, to stay in the good graces of contractors.
"These guys are who you work for—not AGC. So you need to start listening to us."
TALKING STRATEGY
Executive Secretary-Treasurer Evelyn Shapiro appears to be listening; she was out on the picket lines talking to members, and had an impromptu strategy conversation with Bartos. He argued the union should hit other sites down the street to shut them down.
She said each day the union is coordinating with the other building trades on which handful of sites will have active pickets the night before and communicating that to members. The union's spokesperson confirmed the details of the conversation.
"When I'm on the picket lines, I'm having conversations with the members the whole time," Shapiro told Labor Notes. She has been in the union for more than 20 years and was an apprentice during the last strike.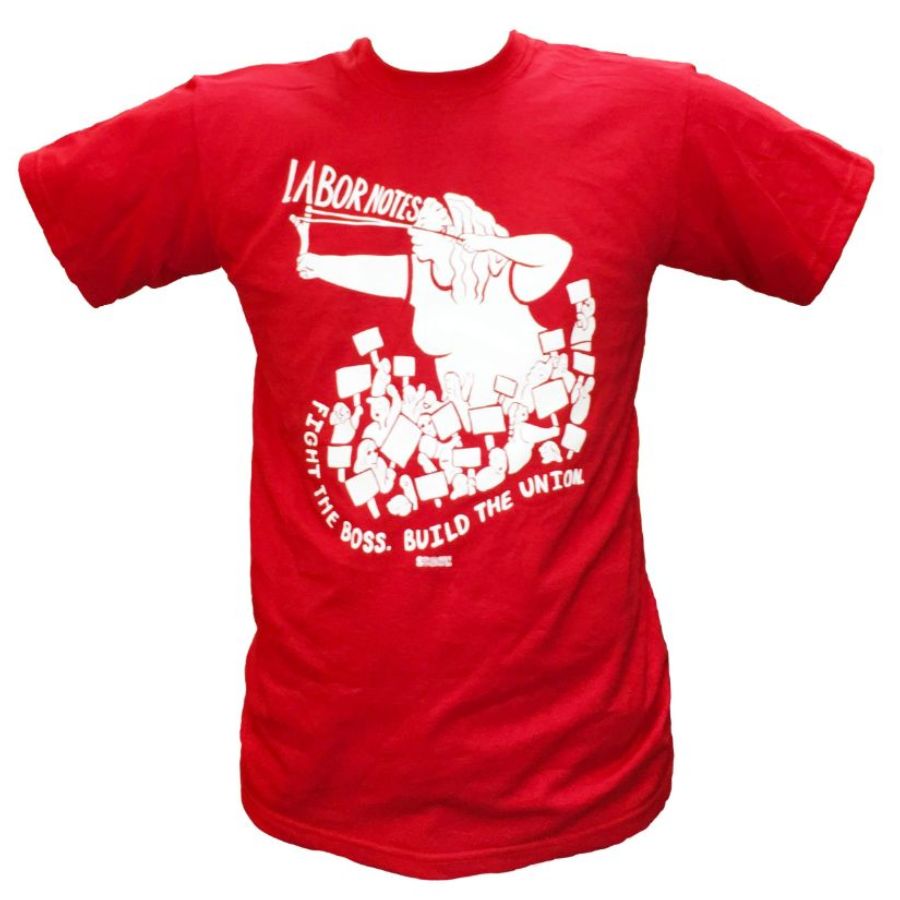 "We're gonna have a lot of conversations," she said. And she acknowledged that the last contract rejection puts "the bargaining team in a tough position to figure out really what's gonna work for a yes vote."
One proposal floated by outspoken no voters in the Peter J. Maguire Group on Facebook (named for the co-founder of the Carpenters union) is for a $15 hike in wages and benefits over three years.
"That is one of the ranges," Shapiro said. But "$15 over three years is something the bargaining team is going to have to work really hard at."
REJECTED PACT
Four tentative agreements have been voted down so far. The last one, which union leaders campaigned for a yes vote on, was rejected by 56 percent on September 11, leading to this week's strike. That agreement was for a four-year contract with total wage increases of $9.40 an hour, plus benefit increases of $3.85 an hour.
At a September 10 press conference in front of the Washington Convention Center, Shapiro had said, "We build office suites for billionaires and millionaires, and our carpenters make great family wages. Even with those great family wages, the wage gap between the ultrarich and workers grows and grows."
Shapiro also called the tentative agreement "historic."
Some members were angry to hear their current wages called great—one carpenter told me it gave the impression that carpenters would be "greedy" if they wanted more.
Asked how she responded to that criticism, Shapiro said, "I represent all of my membership. And I have to represent not only current contracts, and also future work opportunities. There's places in the country that have struggled when they have priced themselves out of the market."
COMING TOGETHER?
Some who voted no on the contract were frustrated with Shapiro's rhetoric beforehand and still feel the union has worked to limit the strike.
Others I spoke with credited her for joining them on the picket lines and hearing members out. "It's what you would expect from someone who aspires to be a good leader," said Rice. "But it probably takes a bit of courage to come and face those people."
"I'm hoping that I've seen another side of her," said Tom Nolan, a Local 30 journey worker. "Like she said it herself, we were all divided before, but now we need to come together."
While union leaders reached out to dissidents in the Peter J. McGuire Group this week, allowing them to nominate a representative to join the bargaining committee, the union also threatened one of the group's leaders, Arthur Francisco Esparza, with expulsion, issuing a cease-and-desist letter alleging that Francisco had been advocating wildcat strikes. The letter was publicly posted on social media with his home address visible (it has since been blocked out).
Disclosure: Jimmy Castillo Matta's father, a former carpenter, is an owner of a minority-owned contractor business. Matta confirmed to Labor Notes that he is a foreman in his father's contracting business.
Correction: This article has been updated to reflect that the proposal from the Peter J. McGuire Group was for a $15 hike in the total package over three years, not just wages.