Auto Companies Announce Closure Following Outbreak of Wildcat Strikes

Update 2:00 p.m. EST, March 18: Following a number of wildcat strikes bubbling up in auto plants with confirmed cases of the coronavirus, the Big Three automakers announced they will begin temporarily suspending production until at least March 30. Honda, a non-union company with several plants in North America, had already announced they were suspending production for a week at full pay. A spokesperson for Fiat-Chrysler's Sterling Heights Assembly Plant (SHAP) told The Detroit News that "employees did not walk out"—in direct contradiction to auto workers who spoke to Labor Notes (see the interview with one below).
Last night and this morning workers pulled wildcat work stoppages at Fiat-Chrysler's Sterling Heights Assembly Plant (SHAP) in Michigan, after learning that two co-workers had been quarantined with the coronavirus.
The second shift normally ends at 3:00 a.m., but the company ended up closing the plant at 10:30 p.m. Morning shift workers came into the plant but stood by and refused to work. Management gave up after three hours and sent them home.
United Auto Workers Local 1700 member Debra Glover wrote on Facebook about today's strike, "Employees showed up to work at 5am reported to their jobs as normal and the Protest began. Doorline lead the way and the rest of the lines followed suit refusing to touch a vehicle and deliver material to the line. Our Local Leadership stood with us the entire time, the company let production go at 8am because they were unable to run. 1 band 1 sound, we are now on standby for further instructions WAY TO GO SHAP."
See our interview below, conducted during last night's stoppage.
Management said it sent workers home "out of an abundance of caution" and that it would let workers know when next to report.
For the past few days, management had displayed the CDC's coronavirus recommendations on screens in the plant—but edited out the part that says "Stay home when you are sick."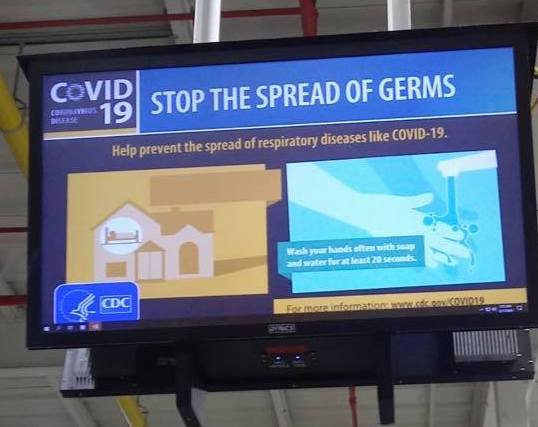 The UAW's contracts with the Big 3 allow the union to strike during the term of the agreement over health and safety issues, but no official strikes have been called.
Last week, workers at Fiat-Chrysler's Windsor Assembly Plant in Ontario walked off the job, and on Monday, 17 workers temporarily shut down the paint shop at Chrysler's Warren Truck Assembly Plant near Detroit.
As Labor Notes reported yesterday,the auto companies have responded with ludicrous "safety" measures such as putting plastic bags or cardboard over every other chair in the break room to encourage social distancing.
Unite All Workers for Democracy, a reform movement in the UAW, is collecting petition signatures to the CEOs of the Big 3 companies calling for "a complete shutdown of the plants and for workers to be paid their full wages during the quarantine."
TWO-WEEK SHUTDOWN DENIED
Meanwhile, the UAW International was bargaining with the Big 3 automakers for a two-week shutdown—but yesterday acceded to the companies' desire to keep production running.
According to the Wall Street Journal, analysts have determined that automakers are in a strong position to financially absorb several months of stalled production.
The union's top leaders announced on Sunday they were forming a new labor-management committee to jointly "implement enhanced protections" for the plants while production continues.
The International UAW's Facebook page quickly filled with hundreds of comments from angry workers who don't believe that the companies or the union are doing enough to keep them safe.
In response, yesterday afternoon UAW President Rory Gamble said on Facebook that UAW officials had "requested a two-week shutdown of operations to safeguard our members" but the auto companies "were not willing to implement this request."
Last night, the UAW issued another statement saying union officials had "strongly requested" that the employers close down, but after hours of talks with three of the world's largest manufacturing companies, the union just couldn't convince management to stop production.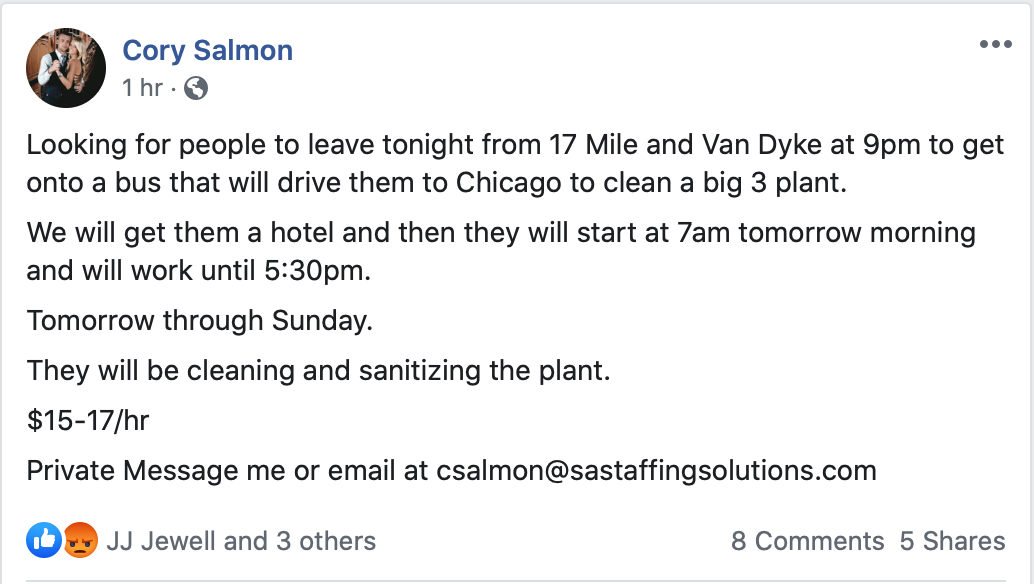 "All three companies have agreed to new measures that will increase adherence to CDC recommendations on social distancing in the workplace," the union wrote. "Most importantly, all three companies have agreed to review and implement the rotating partial shutdown of facilities, extensive deep cleaning of facility and equipment between shifts, extended periods between shifts, and extensive plans to avoid member contact."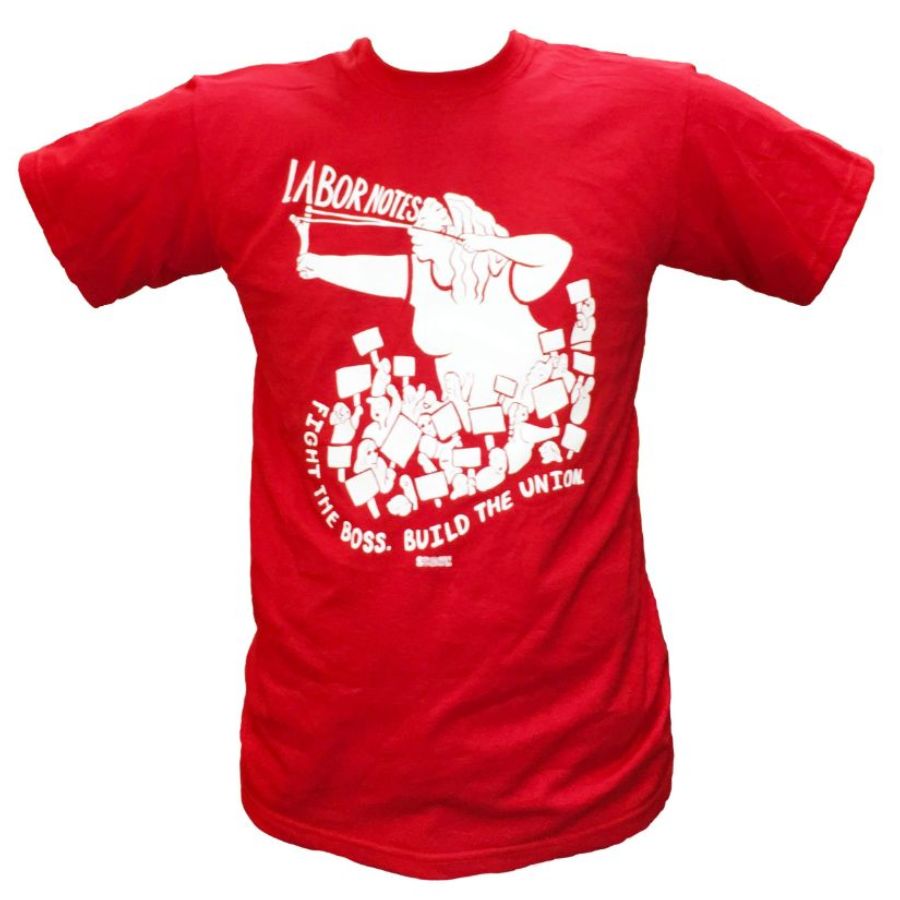 Before the UAW had even published the statement, Cory Salmon, a recruiter with S&A Solutions, a Michigan-based temp agency, published a public social media post to recruit random people off the internet, pack them onto a bus, and make the five-hour drive to Chicago, where they would be paid $15-$17 an hour to "clean a big 3 plant."
INTERVIEW: THEY CAN'T FIRE US ALL
I interviewed Marissa Williams, a UAW Local 1700 member who works on the door line, from inside the Sterling Heights Assembly Plant as the unauthorized work stoppage was happening.
Labor Notes: Can you describe what is happening?
Marissa Williams: Our break was at 7:45. About three minutes after it started I heard a ruckus. There was a group that gathered together, mostly from paint shop and trim, and announced they are leaving. Between 35–45 people walked out and just didn't come back after the break. It's a pretty big group, big enough to bring the union down here to the plant.
Then the union personnel showed up and we said, "we are trying to demand to go home." The union said not to leave, to go back to the line, but to not do any work.
LN: What started this?
MW: There have been a couple of confirmed cases of people who work here with the virus. We found out on Facebook and through the local news. One was a skilled trades worker and one was a production line worker, not sure where in the plant.
We're pissed. We have over 3,000 people that work here. We got sanitizing spray and cloth to clean our areas, that is about it. We shouldn't be here. We shouldn't be making new trucks. I think we need to shut down until we get this thing under control.
LN: How is the company responding to the action?
MW: The company is pissed. They are going around threatening writeups because people are refusing to do their job right now. But folks aren't working. We have confirmed cases here at the plant and they need to do the right thing and send us home so more people don't get contaminated. This has never happened before, not since I've been here.
LN: Has the company instituted any new safety measures to try and protect workers?
MW: We were handed a few forms around cleaning, but there was no real action other than disinfectant spray. They said they increased cleaning in the bathrooms and work areas but I have not seen that.
They did send white-collar people home. Said only the mandatory people had to show up to work here. How do you tell white-collar people to go home when they have way less people gathered together and we have thousands of people in here all coming together and interacting with each other? It pisses me off.
LN: Could you explain to folks who have never worked in an auto plant what it's like to work there? Some folks might have the idea that workers are really spread out and it would be hard to transmit the virus.
MW: There are some jobs where we are spread out, but there are others where we are three or four feet from each other. We aren't stationary, we walk with the line, we cross paths with each other trying to get these trucks done. Everybody is touching the same doors, the same body.
We make over 600 trucks a day. We touch a new truck every 50 seconds to a minute. There is no time to sanitize the area or wash your hands in between each truck. If somebody comes in with the virus, they will get somebody else sick on the line. That will happen.
LN: What do you think of the response from the International UAW to this moment of crisis?
MW: The UAW should be actually fighting for us to get off of work. The union and the company care more about making trucks than about everybody's health. I feel like they aren't going to do anything unless we take action. We have got to band together. They can't fire us all.
We need to get this done. But a lot of people are also afraid of losing their jobs or getting suspended. They don't think the union is going to protect us. Sadly, I think if we don't band together and refuse to do this work then we will eventually be forced to shut down because there is going to be a huge outbreak in the plant.