Northeast 'Joe Hill 100 Roadshow' Kicks Off in DC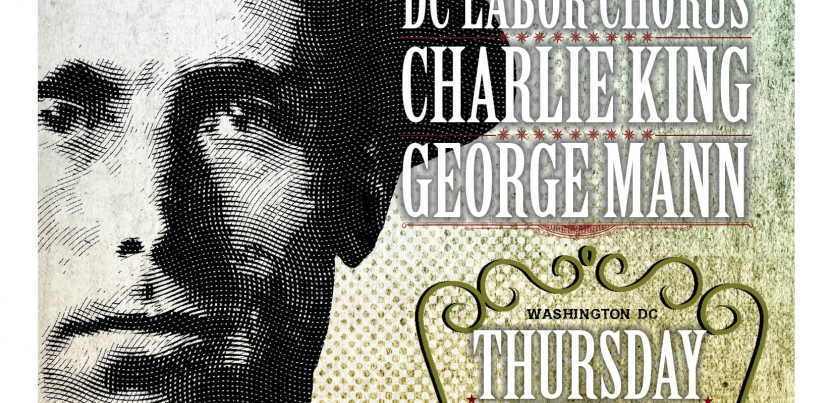 On a summer night, what could be better than laughing, singing, and toe-tapping your way through some radical labor history?
If you live in the Northeast, you're in luck. The second leg of the "Joe Hill 100 Roadshow" kicks off in Washington, DC, on July 23 with Magpie, Charlie King, and me among the featured artists. (You can sample our music in the videos below.)
It's part of a year-long celebration of the life and songs of famed Wobbly (Industrial Workers of the World) organizer and songwriter Joe Hill, who died 100 years ago but famously "never died."
"Joe Hill created a body of very practical, well-crafted songs that wear very well a century later," says Charlie King. "The 1% are as tenacious as then, and the 99% need the demystifying reminders found in Wobbly songs. An injury to one is still an injury to all."
Joe Hill 100 Northeast Roadshow
Washington, DC: Thursday, July 23, 7:30 p.m. Washington Ethical Society, 7750 16th Street Northwest, 20012. Magpie, Charlie King, George Mann, & the DC Labor Chorus. Doors open at 7. Suggested donation $10-$15, no one turned away for lack of funds. www.ethicalsociety.org
Baltimore, MD: Friday, July 24, 7:30 p.m. First Unitarian Church Baltimore, 12 West Franklin Street, 21201. Magpie, Charlie King, & George Mann. Doors open at 7, and a reception will be held after the concert. $15, $10 seniors/students, no one turned away. www.firstunitarian.net
Philadelphia, PA: Saturday, July 25, 7:30 p.m. University Lutheran Church, 3637 Chestnut Street. Magpie, Charlie King, & George Mann. Hosted by Crossroads Music. Sliding scale $10, $20, $30. Info at (215) 729-1028; tickets at www.crossroadsconcerts.org
Ithaca, NY: Sunday, July 26, 7 p.m. The Space @ Greenstar, 700 W. Buffalo Street, 14850. Magpie, George Mann, & special guests The Burns Sisters. A benefit for the "Fight for $15" living wage movement. Doors open at 6. $15 suggested, no one turned away.
New York, NY: Wednesday, July 29, 7:30 p.m. Local 1199 Union MLK Auditorium, 310 West 43rd Street. Magpie, Charlie King, George Mann, & special guests the New York City Labor Chorus. Doors open at 7. $10-$15 suggested, no one turned away.
Schenectady, NY: Thursday, July 30, 7 p.m. Proctors, in the Underground Theater, 432 State Street, 12305. Charlie King, Magpie, George Mann, & special guest Joe Jencks. Thanks to the Upstate NY James Connolly Branch of the IWW & Greg Giorgio. Doors open at 6:30. Tickets through the box office or online. $30 "gold circle," $20 advance tickets, $22 night of show. www.8thstep.org
Barre, VT: Friday, July 31, 7:30 p.m. Labor Hall National Historic Landmark, 46 Granite Street. Magpie, Charlie King, & George Mann. Doors open at 7. $15, seniors/students $12, no one turned away! oldlaborhall.org
Springfield, MA: Saturday, August 1, 7 p.m. Bing Arts Center, 716 Sumner Ave, 01108. Magpie, Charlie King, & George Mann. A lovely, small theater (100 capacity). $15, seniors/students $10, by phone or day of show: (413) 731-9730. bingartscenter.org
Cambridge, MA: Sunday, August 2, 8 p.m. Club Passim, 47 Palmer Street, 02138. Magpie, Charlie King, George Mann, & special guest Evan Greer wrap it up at historic folk venue. $20, $18 for members. This concert will also be streamed online through "Concert Window;" find the link at www.clubpassim.org.

LABOR NOTES RESOURCES
ORGANIZING IN A PANDEMIC
For news and guidance on organizing in your workplace during the coronavirus crisis, click here. »
The tour continues through Baltimore, New York City, and New England, ending in Boston on August 2. Special guests at some concerts include Joe Jencks, Evan Greer, and the NYC and DC labor choruses.
JOE HILL'S LIFE STORY
In these nine concerts we'll focus both on Hill's songs and on the story of his life and death by execution—after what he and many people claimed was a rigged trial.
Hill was executed November 19, 1915, for the deaths of a former police officer and his son in a grocery store robbery, though there was no direct evidence connecting him to the crime, and he denied he'd been involved.
Each night's program will include Joe's songs—among them "The Preacher and the Slave," "Casey Jones, The Union Scab" and "There is Power in a Union"—along with excerpts from his letters, accounts of the frame-up, and a reading of his last will.
The artists featured in the Northeast leg of the tour—Magpie (Greg Artzner and Terry Leonino), Charlie King, and me—are all longtime labor activists and union members. We produce original music of struggle, and we also interpret and keep alive the vast catalog of folk and labor songs from our movement's history.
Magpie and Charlie King have each been performing and recording for more than 40 years. They've brought their music to civil rights, labor, and environmental struggles around the country. I'm a longtime IWW member and former union organizer, and have been touring and producing protest music since the late 1990s.
If you haven't heard these songs before, you'll be surprised how funny and singable they are—and how much the lyrics ring true today.
"The IWW has always seemed to me to be remarkably free of ideological blinders," King says. "They were clear-eyed about the owning class and the working class, and knew that at times of crisis your worst enemies may be found among the latter. They have been consistently pragmatic in their strategies—and their songs reflect that."
A YEAR OF CELEBRATIONS
The first leg of the "Joe Hill 100 Roadshow" rolled through the Midwest in May, with most concerts featuring Lil' Rev, Bucky Halker, Anne Feeney, Jan Hammerlund, and JP Wright.
Two more legs are planned: one in the South in late September/early October, and one in the West starting November 5 in San Diego and ending November 20 in Salt Lake City, where Joe was executed.
Find the full itinerary under "Events" at www.joehill100.com, a website that has also info on many other commemorative events planned this year. We'll be sharing photos and videos from the tour on the "Joe Hill Roadshow" Facebook page.
Check out the featured performers' music at their websites—George Mann, Magpie, and Charlie King—and in the videos below.
George Mann:
Magpie:
Charlie King, with Karen Brandow and Roy Zimmerman: