Members Are Angry at the Union for… Wait, What?!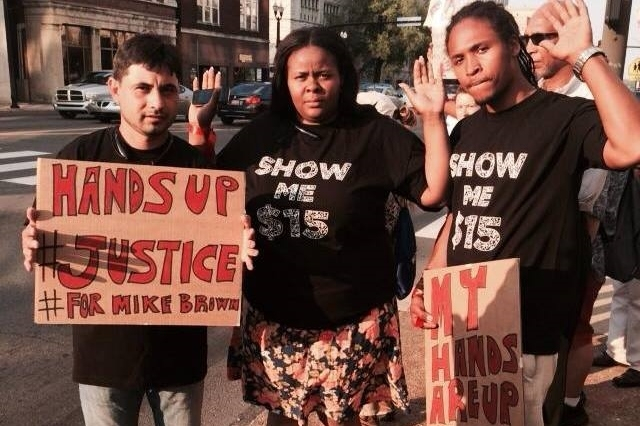 Union members, including newly-organizing fast food workers, were on the front lines in Ferguson, Missouri, where weeks of mostly peaceful protests riveted the country's attention to the police killing of Michael Brown (see 'Mike Brown is Our Son.')
But unions have hardly been united on Ferguson.
Some New York teachers started a petition to protest their local (UFT) joining a Staten Island march against the killings of Brown and of Eric Garner. In July, New York police choked Garner to death, on video.
Some of the objecting teachers have police officers in their families. Others don't see why their union should mobilize on something unrelated to schools.
"Mulgrew is dragging me unwillingly into the current racial and police issues," wrote paraprofessional Diane Morton-Gattullo, who started the petition calling for UFT president Michael Mulgrew to resign.
In St. Louis, Communications Workers Local 6355 President Bradley Harmon heard similar objections from white members when the union supported the protests in nearby Ferguson.
"They see coverage on the local TV talking about rioters and looters and they're scared," said Harmon. "It's an organizing project. You've got to agitate people and you have to listen to them."
Meanwhile, other members of his local who live in Ferguson "had tear gas shot at them while they were in their yards." Black members are beside themselves, Harmon said. "And they're not wrong in wanting change quickly."
TOO MUCH SILENCE
Worried about divisiveness, some unions have shied away. But when the union is silent or mealy-mouthed on an issue that's crucial to Black members, that threatens union cohesion, too.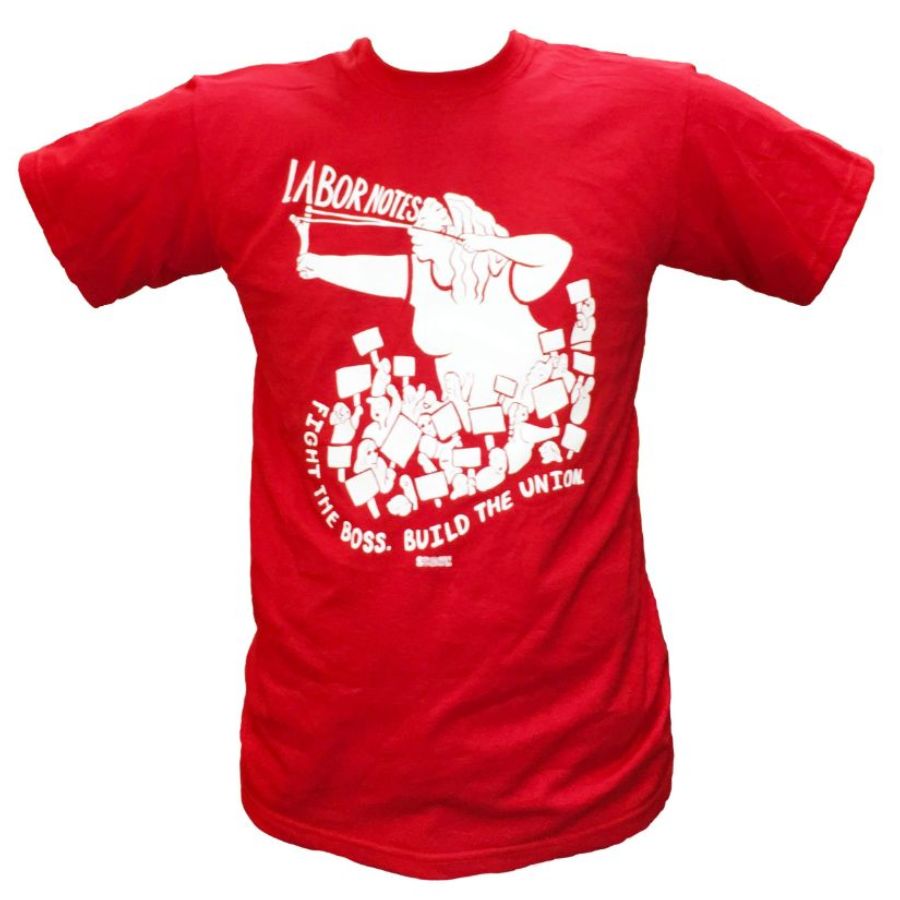 Justice "can't just be an issue of concern to Black union members," said Harmon. "Fat white guys like me have to care about it."
Lesley McSpadden, Michael Brown's mother, is a member of the Food and Commercial Workers. The union "[joined] her calls for a fair investigation and justice under the law" but stopped short of denouncing the killing.
Many unions worry about criticism from police unions, which, true to form, strenuously objected to the Staten Island march and lashed out at sponsoring unions.
Nonetheless, teachers, nurses, and 1199SEIU showed up in large numbers. Two other unarmed victims of New York police killings, Sean Bell and Ramarley Graham, had mothers in 1199, while Garner's mother is a train operator and a member of the Transit Workers. Graham's mother, Constance Malcolm, spoke at the rally..
New Jersey Rite Aid clerk Vanessa Emmanuelli marched because "I need to be able to wake up and know that my three children are safe."
BLACK OFFICERS SPEAK
We have come to expect objections from police unions, but it's worth asking why.
Chokeholds like the one police used on Garner were prohibited by the NYPD in 1993, after several people died of "respiratory distress" in custody.
Don't officers care when one of their number violates procedures, breaks the law, and commits murder? Police unions should represent members against management—not against the public, whom they're sworn to serve and protect.
Some officers do care. Listen to the 80,000-member National Black Police Association: "The police killing of unarmed African American males, females, and other persons of color has reached epidemic proportions in America." In an August resolution, the NBPA advocated that the Justice Department "aggressively prosecute police officers involved with the killing of unarmed persons of color."