U.S. and Colombian Auto Workers Keep GM in the Spotlight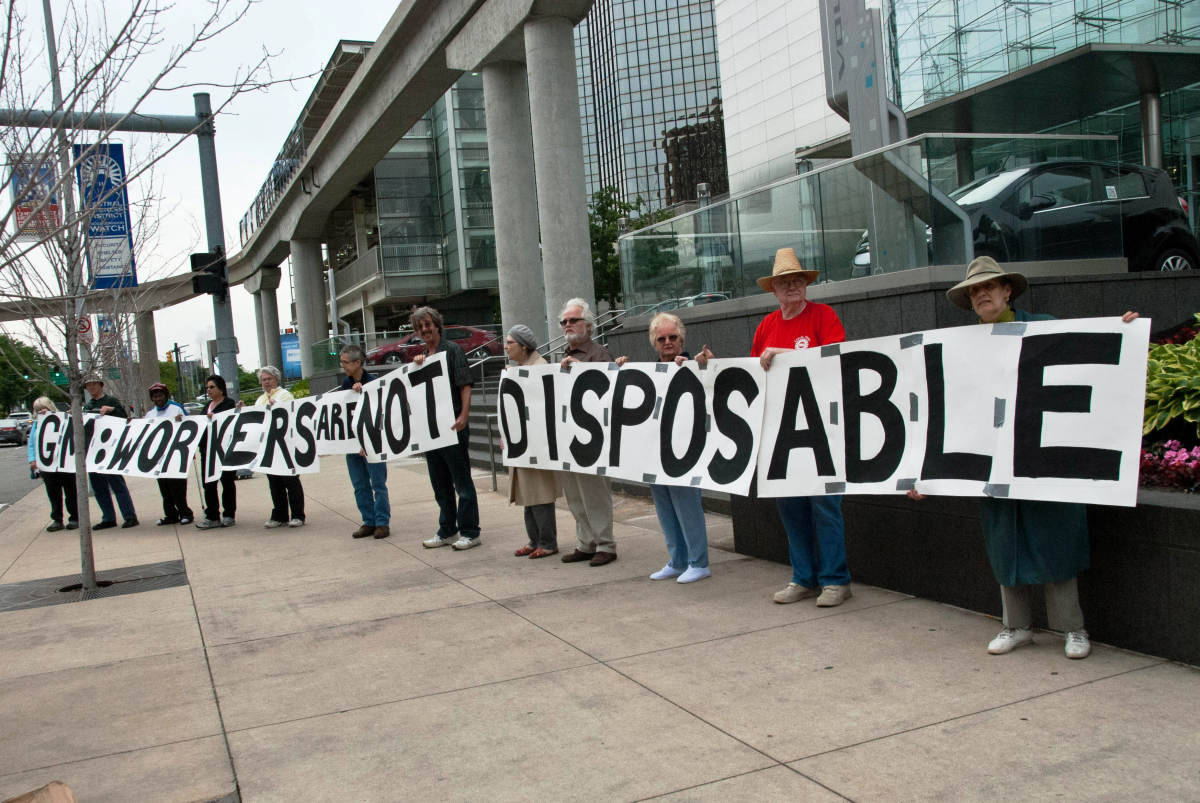 UPDATE: AUGUST 14: Last night ex-GM worker Carlos Trujillo came down off the cross across the street from the U.S. Embassy. Workers decided to suspend their action upon getting a commitment from GM to meet for the purpose of mediation, and after hearing confirmation that the police would not evict their tent encampment.
Multiple Colombian news outlets reported on the events, which included a tense standoff between police and the injured ex-GM workers and a defensive press conference by GM's Colombian branch.
Yesterday's action, and the recent presence of the U.S. grassroots delegation, along with growing interest and support in the U.S., Spain, and elsewhere, turned the events overnight from an imminent eviction into something with a lot more potential.
Workers say that in order for GM to take the mediation seriously, the company needs to feel more pressure. They ask that the calls, posting to GM's Facebook page, and sharing photos and articles through social media continue. Calls to Congressional representatives and the meetings set up seem to be having a great effect. There were shifts felt in Bogotá resulting from Congressional representatives making inquiries.
UPDATE: AUGUST 13: Injured and fired GM workers in Colombia have upped the pressure on GM this morning to try for a break-through in stalled negotiations. One worker is bound to a cross outside the U.S. embassy in Bogotá, in a symbolic crucifixion meant to highlight the slow death they have been suffering. Police may move to evict the workers' peaceful encampment.
Calls to the labor attaché in the Embassy should ask that the workers be allowed to stay and continue their struggle for justice.
Andrea Aquilla, Labor Attaché
011-57-1-275-2413
AquillaAL[at]state[dot]gov
More than a few GM executives probably suffered indigestion over their eggs Benedict and croissants that morning. Some might even have choked on their Canadian ham.
The photograph was in the center of the June 7 Detroit News Business page—amid glowing reports about the previous day's GM shareholder meeting.
Retirees stood in front of GM's global headquarters, holding a banner with the word "DISPOSABLE."
The caption read: "Retired union workers protest the firing of 200 workers who were injured at a GM plant in Bogota, Colombia."
"The way I figure it," chuckled Bob McCreavy, who held the banner, "the group of about 25 of us center-staged their big 'positive' full-page spread with the truth of how GM is treating Colombian workers."
Photos of the complete banner ("GM: WORKERS ARE NOT DISPOSABLE") were sent out all over the internet by Reuters and Getty Images. On news sites, they invariably appeared side by side with headshots of GM's CEO.
As McCreavy, a retired United Auto Workers member, put it: "They had to be really pissed off."
Cross-Border Solidarity Grows
The demonstration—in support of hundreds of Colombian GM auto workers who were severely injured at work, then illegally fired—came just a day after the Detroit News christened CEO Dan Akerson "Michiganian of the Year."
"How can anyone think this man is a humanitarian?" asked McCreavy.
The demo, organized by the Autoworker Caravan group, was the most recent expression of support by U.S. auto workers and community groups, who have been acting independently of the UAW's leadership.
For 22 months and counting, members of the injured GM workers' association ASOTRECOL have maintained an occupation in front of the U.S. Embassy in Colombia.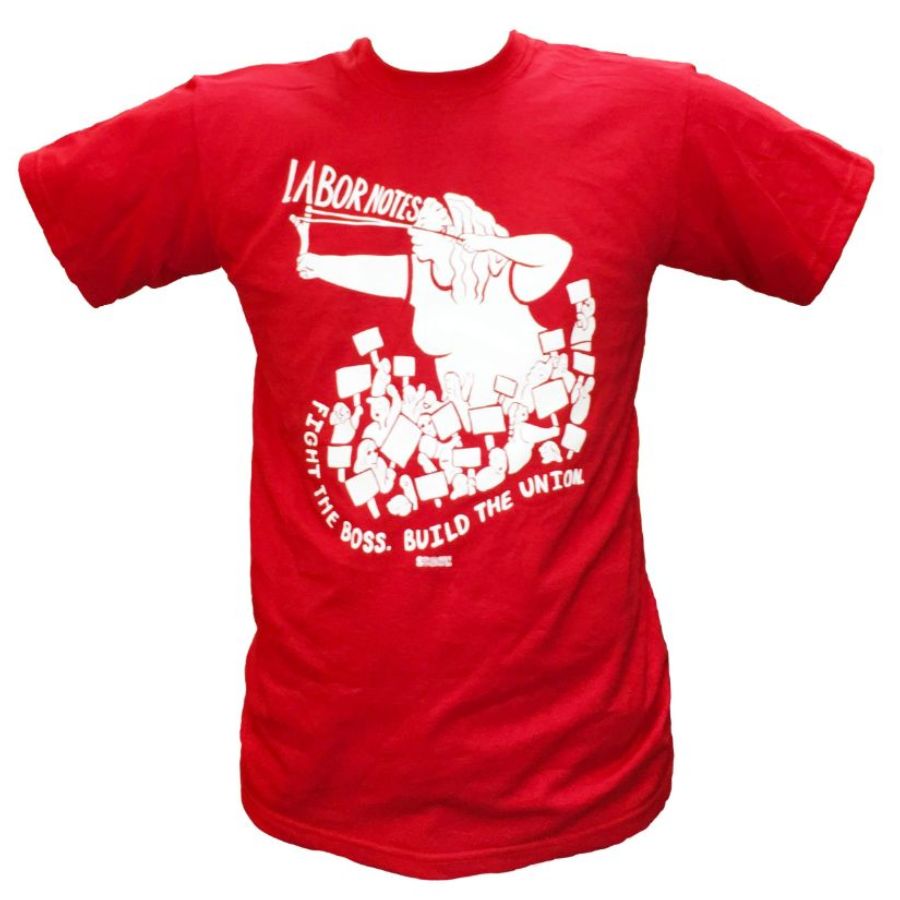 Meanwhile, their supporters in the U.S. are busy raising funds to help sustain the ASOTRECOL members and their families. At union meetings, collections at plant gates, and fundraising events, they have raised well over $8,000 from locals and retiree chapters at Chrysler, GM, and American Axle, as well as from many other union and community supporters.
"Today more than ever," wrote ASOTRECOL President Jorge Parra in a letter to the demonstrators, "we beseech you brothers and sisters, fellow workers in the U.S., to help us maintain the pressure through all these beautiful protests and expressions of support like today's, that ultimately are our only weapon of pressure and justice in getting GM to do right."
Parra returned to Colombia in March, with the expiration of his six-month visa, after ending his most recent hunger strike of 73 days.
The Michigan Coalition for Human Rights honored Parra in absentia as its 2013 "International Labor Activist."
Gains in the Colombian Factory
The pressure of the hunger strikers (some with their lips sewn shut), the uninterrupted encampment, letters by U.S. faith leaders, and solidarity actions in Detroit, Portland, and other cities have produced some important results at GM's assembly plant in Colombia:
As reported by Parra, these include:
• cessation of the practice of firing injured workers
• health and safety improvements on the shop floor, including an announcement that GM will invest $6 million for ergonomic improvements
• Colombian labor ministry inspectors being sanctioned for falsifying public documents and conspiring with GM lawyers to compel injured workers to sign "voluntary" dismissals
• a safety tour of the plant by a UAW representative
• an investigation by the Colombian government into the illegal use of private medical records by the plant's medical center
• removal of GM Colombia executives, lawyers, and medical center staff implicated in the illegal actions leading to the abuses experienced by the injured workers
• recognition of a new independent union inside the plant, formed by current workers and inspired by ASOTRECOL.
Labor Minister's Visit
ASOTRECOL recently received a boost from the Washington Office on Latin America, a human rights organization.
When Colombia's labor minister visited the U.S., WOLA representatives confronted him at a meeting about the ongoing labor rights violations the Colombian government is supposed to correct under the terms of the 2011 "Labor Action Plan." That plan was agreed to by the U.S. and Colombian governments in order to get the Colombia Free Trade Agreement passed. But Colombia remains the world's deadliest place to be a union member, with at least 20 unionists assassinated in 2012 Among the seven labor rights issues WOLA identified are the obstacles faced by ASOTRECOL members "in securing their rights and securing justice."
WOLA accused Labor Ministry officials of dragging their feet regarding "identified possible violations committed by [GM Colombia]." The charges against GM will, under Colombian rules, expire in August.
Another human rights group, Witness for Peace, marked the visit with a statement highlighting the U.S. government's failure to act: "The fact that General Motors received taxpayer money to ensure its continued viability makes U.S. government action toward resolution of these cases all the more necessary."
GM on the Defensive
General Motors public relations staffer Katie McBride continues to deny GM's culpability.
In an article in the Detroit alternative weekly Metro Times, McBride is quoted insisting that GM "took [workers'] concerns seriously and respectfully…When they walked away, we felt there was nothing more that could be done."
In truth, GM wouldn't negotiate with the ASOTRECOL members during the entire first year of their encampment in front of the embassy. It arranged mediation only after the workers dramatized their claims with a hunger strike, complete with lips sewn shut—and then offered such a meager settlement that workers felt compelled to turn it down. GM has ignored the workers' latest proposals for a form of cash settlement.
The eight ASOTRECOL members still sticking it out in their makeshift tent in Bogotá are determined not to leave until a just settlement is reached. However, they and their families are continuing to face mortgage foreclosure and evictions, and they lack medical care. See the story of Carlos and his family and of Ferney and his son Angel. Checks may be sent to Wellspring UCC, Box 508, Centreville, VA 20122 with the memo line "ASOTRECOL."
The Metro Times reporter asked Parra why people in Detroit should care what happens to injured workers in Colombia—and noted that Parra was in Michigan last year when the "right to work" law passed there.
"All you have to do is look at what's going on in Colombia," Parra replied, "and you can see what is gradually happening to you."
Frank Hammer is a retired UAW-GM international rep and former president and chairman of Local 909 near Detroit. See his interview with Real News here.