Auto Workers Kick Off Bargaining With 'Members' Handshake'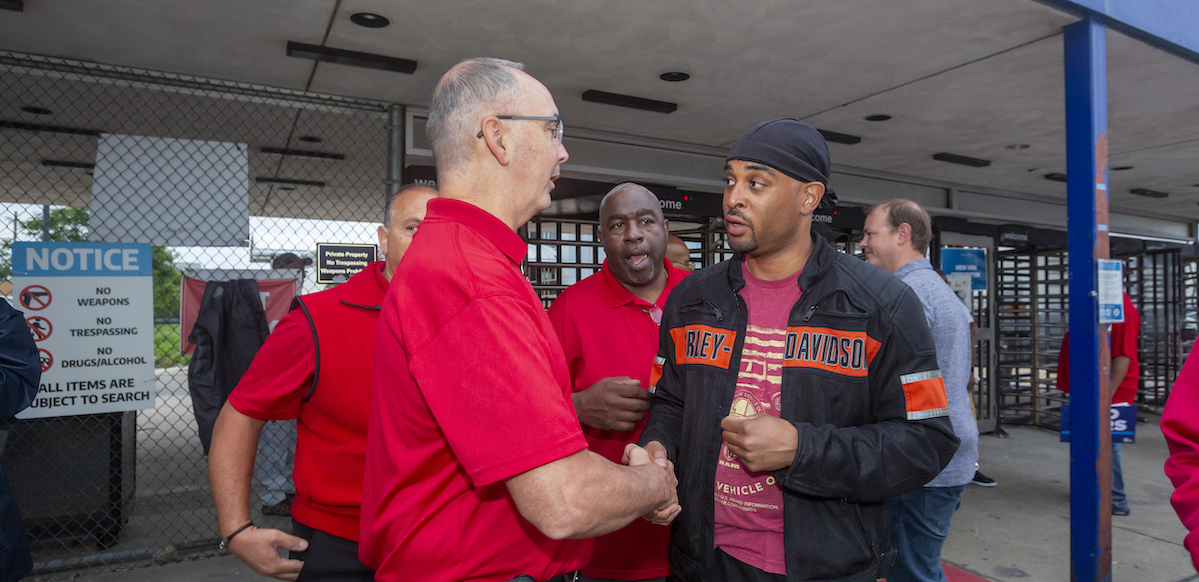 Bargaining between the United Auto Workers and Big 3 automakers is looking very different this year.
New UAW leaders ditched the public handshake ceremony with company executives that has traditionally kicked off bargaining. "I'm not shaking hands with any CEOs until they do right by our members," said President Shawn Fain in a Facebook live talk July 11.
Instead, officers—recently elected on promises of greater transparency and militancy, in the union's first-ever direct election for top posts—established what could become a new tradition: "the Members' Handshake." Fain and other executive board members spent July 12 greeting workers at the gates of three Michigan assembly plants.
Contracts covering 150,000 workers at the Big 3 expire September 14. The union's goals include ending tiers, winning back the cost-of-living allowance, and ensuring job security as the industry transitions from gas-powered to electric vehicles.
"What we do in this moment will be remembered for generations to come," Fain told members. "This is our defining moment, as a union, as working people, and we're taking a different approach every step of the way."
NO HUGS AND GIGGLES
Leaders started the day before dawn with members of Local 1700 outside a Stellantis plant in Sterling Heights. In a letter, Local 1700 leaders said the members' handshake event "will forever be seen as a turning point for our great Union. There were no hugs and/or giggling between our leadership and the company executives... Today's message was clear and precise, there will be no sell out contracts and/or backdoor escape clauses like we have witnessed before that rendered our contract language useless."
In the afternoon, hundreds of workers filed out the doors of General Motors Factory Zero, where workers make the GMC Hummer EV, and rushed to greet top officers. Even after working a 10-hour shift, they stood around waiting for a chance to talk with Fain and other officials, and signed the union's new "United for a Strong Contract" pledge cards.
"It's very approachable," said Kiren Huffman, an assembly line worker at GM's Factory Zero in Detroit, the second stop of the day. "You feel like they are not way up there in Solid House on Jefferson [Solidarity House, the UAW's headquarters] not paying attention to us people on the floor."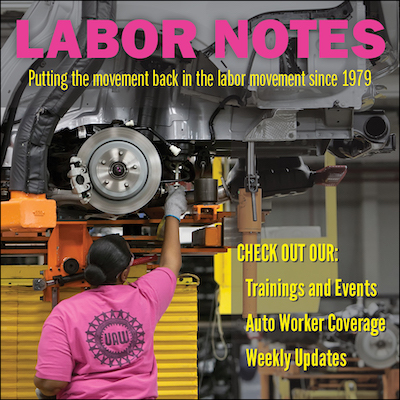 Huffman transferred to Factory Zero from the nearby GM battery plant in Brownstown, where the workers still make about half as much as assembly plant workers. Fain has blasted the low wages in battery plants in the run-up to negotiations.
"I would like to see COLA [cost-of-living adjustments] come back, wage increases, and organizing the battery plants for a good, fair UAW wage versus the subpar Subsystem stuff," Huffman said.
GM Subsystems is a company subsidiary that employs warehouse and material handling workers in several GM plants at much lower wages than assembly line workers. The union is concerned that GM will attempt to shift more work to Subsystems as part of the EV transition.
"I am very impressed with what I see and hear so far. I think we're going in the right direction," said another Local 22 member, Daniel Carpenter, as he waited to shake Fain's hand.
Carpenter works in final repair at Factory Zero; he's been at GM since 2004. "I've had surgery on my neck, carpal tunnel—it definitely takes its toll," he said. "It's a tough job."
He says ending tiers is a priority. "Everybody should be making a good wage, with full benefits—not just the Local 22 guys, but the guys who are in maintenance, the guys who are cleaning our bathrooms, in the cafeteria—this is a multi-billion-dollar company."
"I believe that this is a step towards breaching the disconnect that our top officers have traditionally had with the people on the floor," said Michael Brandimarte, who works at Ford's Michigan Assembly Plant, the third stop of the day. Two recent UAW presidents, Dennis Williams and Gary Jones, were sent to prison in 2021 for embezzling members' dues, which led to federal government oversight of the union and a referendum that approved the direct election of top officers.
'BIG 3 OUR STRIKE TARGET'
The changed-up handshake reflects the union's more transparent—and confrontational—approach to this year's bargaining, as the new leaders promised in their campaign for office last year.
"We told them that once we win, we will be back, we will stay engaged, and we will take your wants to the table," Secretary-Treasurer Margaret Mock told Labor Notes outside the gates at Factory Zero.
Mock was elected to top office straight off working the line at Stellantis's Warren Truck plant. "It helps that we're recently from the shop floor," she said. "I know intimately how the wages being different among the people who work next to each other brings division. And then you have temporary workers—they're treated horribly."
Since the 2008 auto bailout, the Big 3 have increased the percentages of temps at their plants, mirroring the practices of non-union automakers who maintain large temp workforces. Temps at the Big 3 currently make $16.67. Despite working full time, they are not eligible for raises, profit-sharing, or retirement benefits and get between two and five paid days off a year.
The union has typically chosen a lead company in bargaining, to set the pattern for the others. This time, "the Big 3 is our strike target," Fain said in his Facebook talk. "They've made a quarter of a trillion dollars in North American profits over the last 10 years and they can afford to make things right for our members."
Fain's approach is a 180 from the UAW's bargaining traditions under the long-ruling Administration Caucus, which kept members in the dark and sought to lower expectations. Fain hasn't held back in criticizing that strategy.
"I feel like the last 20 years, our leadership has been operating with a losing mentality," he said. "There's nothing that drives me crazier than when I hear people in our union tell me what we can't do. People have tried to tell me that we can't win cost of living, that we can't win for retirees, that we can't take on these companies. We need to eliminate the word can't from our union's vocabulary.
"As your president, you're not going to hear me speaking the company's talking points," Fain said. "The UAW once set the standard for the working class in this country... Those days are not over."
"It is going to be contentious," Vice President Mike Booth said at Factory Zero. "We've already signaled to the companies what we want. All three know what we're after."
Official negotiations with Stellantis started on July 13, with Ford kicking off the next day and GM on July 18. Fain told the companies, "September 14 is a deadline, not a suggestion."