Building Power in a Pandemic: Virtual Labor Notes Conference Draws Thousands
Chicago Teachers Union Vice President Stacy Davis Gates led off the first-ever Labor Notes Virtual Conference April 18, calling on workplace activists to "pivot from mourning into action.
"This is a moment that we won't get back, and if we're not careful this moment will dovetail into more austerity," she said. "I don't want to go back to 2008....I do not want to go back to what anyone has deemed normal, because normal was insufficient for everyone."
Between Zoom and Facebook 1,300 people viewed the session during its live broadcast on Saturday. By today it had been seen 20,000 times. (You can check out the videos of this plenary and all four workshop sessions, below.)
This was a substitute for the Labor Notes Conference in Chicago, originally planned to last all weekend; it was expected to draw 4,000 people, the biggest yet, but had to be postponed because of the pandemic. It has been rescheduled for one year later, April 16-18, 2021.
Nurse Kelley Cabrera-Adler, chapter president of the New York State Nurses at a Manhattan hospital, described how her co-workers came together to organize a protest. "It's a horrible time," she said. "But one positive thing is members are finally starting to realize that we are the ones who can change anything and the power can come from us."
Jia Lee of the Movement of Rank-and-File Educators caucus told how New York City had delayed closing schools in the early weeks of the pandemic. Teacher union leaders said they would "agree to disagree" with the mayor. With lives at stake, "that wasn't good enough," Lee said.
Her caucus organized a sickout that forced the city to close the schools. Since then they've teamed up with parent groups to make demands about how online instruction goes.
Organizing is attractive. Lee said the MORE caucus has seen a 20 percent increase in members.
Twenty thousand postal workers have joined a new Facebook group where they discuss the crisis. Retired letter carrier Jamie Partridge has been working with a core group to encourage organizing. Since management is tight-lipped about who has gotten sick, workers are using an emergency organizing plan to build their own phone trees and self-quarantine plans.
With the Postal Service at risk to run out of money by the fall, the group is now mobilizing to demand that Congress allocate funds to save it.
United Electrical Workers (UE) President Carl Rosen talked about how his union has sprung into action to support nonunion workers. "The Fight of Our Lives" is an online toolkit that "allows workers to start organizing without a union staff member to help them," Rosen said. "This is how they did it in the '30s."
UE has teamed up with the Democratic Socialists of America to respond rapidly to hundreds of online inquiries. Everyone gets a quick call back from a volunteer who can get them started; if it looks like a group can mount a full-fledged union drive, UE organizers will help.
Rosen urged the rest of the labor movement to follow suit. "There's more than enough organizing to go around," he said. "I hope many of you take that message back to your unions and push them to take up the challenge of our lives."
Here are some highlights from the afternoon's workshops:
Organizing a Stewards' Network
Each of the four workshops drew hundreds of participants, but the biggest one was this steward seminar led by Ashley Payne and John Pearson, both of Service Employees 1021. Participants peppered them with questions.
Among the key points they emphasized were these:
Stewards can't always anticipate what the issues are going to be; you need to have multiple conversations with members.
A good steward keeps an eye out for other good members who can be leaders too.
Stewards don't always have to wait for union leadership to handle problems—you can take action on the job immediately with co-workers—just have a plan!
Even good stewards need training: make copies of "Steward's Corner" from Labor Notes and hand them out.
A Steward's Council is a place for stewards to talk about issues together and strategize. It can build a mentorship program; newer stewards can shadow more experienced members and workshop issues together.
Payne and Pearson illustrated their points with handouts from the Labor Notes book Secrets of a Successful Organizer. Here's the link to browse and download all those handouts, all free.
Organizing for a Just Recovery
Lessons learned during earlier disasters helped organize for COVID-19. In Puerto Rico, where "the government is trying to privatize everything," said Mercedes Martinez of the Federation of Teachers of Puerto Rico, after Hurricane Maria in 2017 teachers organized the cleaning of schools and rebuilding of roofs because the government wanted to close the schools.
The teachers union opened medical clinics with a nurses union and delivered groceries. Now, through protest caravans, phone banking, and emails to legislators, they are demanding free internet, as many teachers in Puerto Rico do not have laptops or internet access.
In Houston the labor movement learned from past natural-disaster recoveries in New Orleans and New York City. "Did we want to rebuild the region the way New Orleans was rebuilt after Katrina, with low-wage jobs and little union support," asked Hany Khalil of the Texas Gulf Coast Area Labor Federation, "or like New York City post-Sandy, with good jobs and training in long-term construction careers?"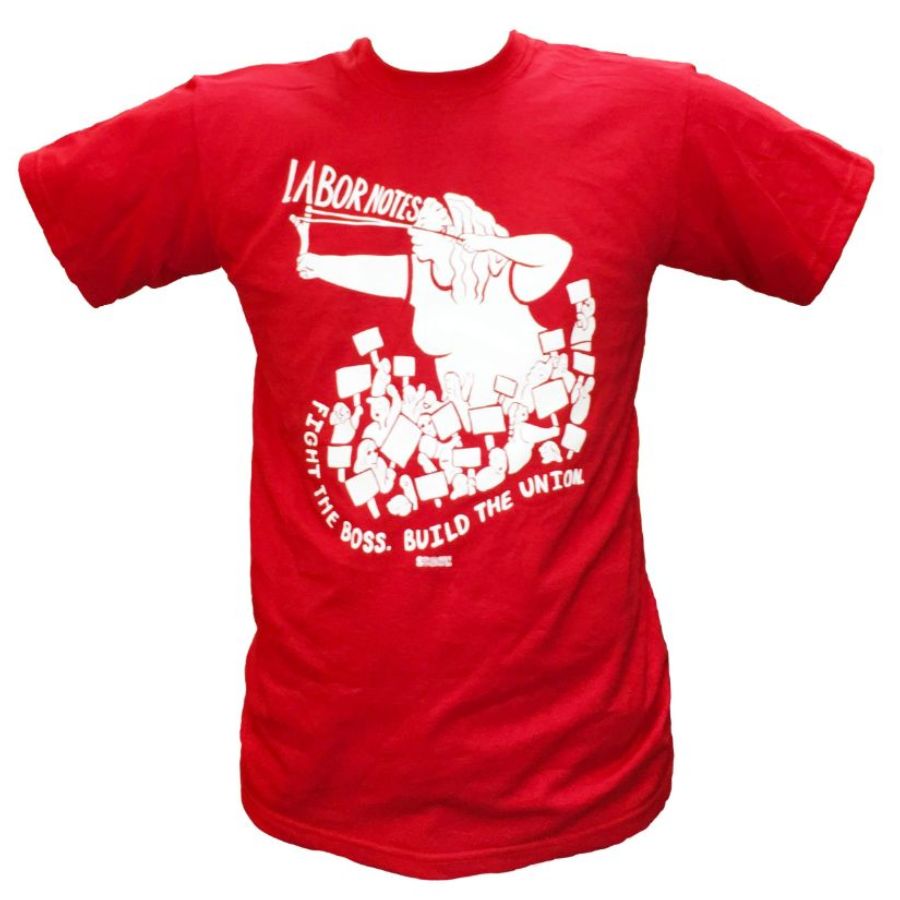 Unions brought together a coalition of the building trades, community allies, and affordable housing advocates to run a campaign for training and a pipeline to careers for construction workers. They won a $15 minimum wage, workers' compensation, OSHA standards, and the targeted hiring of low-income residents. They went on to use what they learned in their response to COVID-19.
General Motors workers in Oshawa, Ontario, took a lesson from fellow workers in Detroit and have been urging the government (so far unsuccessfully) to take over an abandoned GM plant to build electric vehicle batteries. When COVID-19 hit, they pivoted to demanding to produce personal protective equipment.
"We realized we should have started fighting earlier for a just transition for long-term sustainable jobs," said Tony Leah of Green Jobs Oshawa and Unifor Local 222. The crucial lesson was to look at bigger ideas and understand the root causes of problems, so you can build a vision.
The Jobs with Justice chapter in the North Bay Area, California, got involved in just recovery alliances after the 2017 Tubbs wildfire, when they saw cleanup contractors exploiting undocumented workers with little regard for worker safety or environmental impact. "Corporations like Ashbritt [which had one of the biggest cleanup contracts] see disaster as a profit-making opportunity," said Mara Ventura of North Bay JwJ. The coalition fought for long-term policies to protect labor standards in construction, affordable housing, and local hiring.
When COVID-19 came along, they were able to build on that work—but "things need to move a lot faster to keep up with this pandemic," Ventura said. They have a core group of 10 organizations that meets daily and makes decisions using Slack, Google docs, and Podio.
Organizing for Health and Safety
It's the underpaid, underappreciated workforce that's now dying for us. In New York City more than 50 transit workers have died from COVID-19 and over 2,200 have tested positive. At least 10,000 health care workers have become ill.
"This is an emergency but it's also an opportunity to reduce hazards and build power," said Nancy Lessin, retired from the Steelworkers.
Just because the curve has flattened somewhat, that doesn't mean there won't be thousands more cases. The more pressure to "open up," the more new people will be exposed.
The government and employers had failed to prepare. When the focus is on every workplace being lean, you can't be ready for an emergency. "The whole idea that you might have a warehouse and store tens of thousands of N-95 masks—that concept goes out the window under the economic circumstances that we've been living under," said David Pratt of the New York State Nurses.
We need to push for an emergency infectious disease response plan—to avert the next crisis.
For more, view the Powerpoint from this workshop and an article by Lessin: "Saving Workers' Health and Lives in the COVID-19 Pandemic: Tools for the Fight."
Talking with Your Co-Workers about Trump
"For right-wing populists in the U.S.," said Bill Fletcher Jr. of globalafricanworker.com, "the 1950s is the golden era—men were men, women were girls, and people of color knew their place. It's a movement against progress, in response to progressive movements."
We don't win people over by making Trump the focus, the panelists agreed. We win people over by talking about the issues that are important to us.
Neoliberal globalization is a bipartisan project of Democrats and Republicans with giant corporations over a 40-year period to create one global marketplace where capital is safe from restrictions. That puts workers in competition with each other around the world.
Trump's election is in part due to a reaction to this globalism, with his appeal to economic nationalism and "America First." He claimed he would bring jobs back, but in fact he's done nothing to save jobs. The trade deficit in 2019 was 19 percent higher than in 2016. Jobs have been lost at GM, Boeing, Honeywell, Electrolux, Kohler, Intel, AT&T, Verizon—all before the pandemic. So Trump is not even protecting the jobs we have.
The Buy American idea dates back to the 1970s, but in all this time, it hasn't worked. "It defines our allies as American corporations, but what today is an American corporation?" asked labor educator Judy Ancel. "We fight them every day on the shop floor, and yet under economic nationalism somehow they and we have the same interest."
The only solution is to organize along global production chains, to build ties with workers along those chains.
How can unions educate members? Margarita Hernandez of the Communications Workers described her union's "Reversing Runaway Inequality" training, which has reached 4,000 members. "It's not enough for members to learn how to do internal organizing or lobby politicians if we're not doing the political education," she said. Leaders may have to take risks to have these conversations.
Katie Ferrari and Zack Pattin contributed reporting to this article.