Amazon Warehouse Workers Deliver Christmas Walkout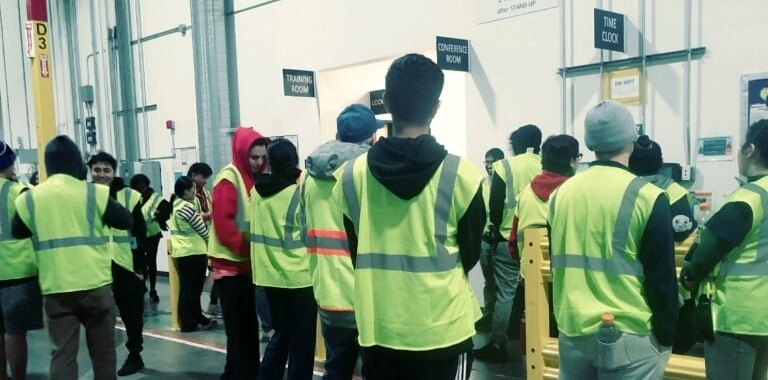 Workers at Amazon's DSM1 warehouse in Sacramento celebrated Christmas in their own fashion—by walking out. It was the latest move in their campaign for paid time off.
Night-shift workers delivered a petition with 4,015 signatures to management during their 2:30 a.m. break on December 23. After reading out loud their demands for a meeting with management and paid time off, 36 of the 100 night-shift workers clocked out at 2:45 a.m. and walked off the job mid-shift.
"A lot of people were scared, but it was encouraging to see how many people came through," said one of the workers who walked out. (The organizing committee has agreed that members won't identify themselves individually.) "That was the best result from the action, showing ourselves and our co-workers we can all do this.
"We didn't cause any major disruptions necessarily to deliveries, but it was good to show people we can stick together," the worker added.
GOT TWO WORKERS UN-FIRED
Sick of Speed-Up
Like workers at other Amazon facilities, the DSM1 workers are frustrated by the company's ever-increasing productivity goals.
One common job at DSM1 is to sort packages coming off of a giant conveyor belt that runs down the center of the warehouse. Workers take items off the belt, scan them, and place them in aisles of racks behind them, where they are then picked up by delivery drivers. Managers recently increased the rate of expected scans per hour from 180 to 300, while at the same time gradually lowering the number of workers in the warehouse.
"The increase in rates and lower headcount mean that the stress level is so much higher," said the worker, who works at DSM1. "The company is intensifying every part of the labor process to get the same amount of volume done with fewer people."
A group of workers at the facility, calling themselves Amazonians United Sacramento, went public with their organizing in September of this year. Their name is a nod to DCH1 Amazonians United, a similar organization based at a warehouse in Chicago. Neither one is affiliated with a formal union.
The Sacramento group first took on the company over the most blatant effects of its strict time-off policies, which allow workers to take just 20 unpaid hours off per quarter. In September, a worker at the warehouse was fired for going one hour over her allotted unpaid time off while her mother-in-law was dying in the hospital. Her co-workers quickly put together a petition demanding that she be rehired and circulated it around the facility.
While talking to other workers, the petitioners discovered that another worker had been fired for a minor violation of the time-off policy, and demanded that he be rehired as well. The group delivered 80 signatures to management. Within 24 hours, HR contacted the first worker to tell her that she would be rehired with back pay; the second worker received his notification a few days later.
Getting these two workers rehired through collective action appears to be the first example of such a win by Amazon workers in the U.S.
HOURS CAPPED AT 30
While getting them rehired was an important victory, it didn't address the core problems that led to the firings in the first place.
DSM1 is what Amazon calls a "delivery center," which make up a rapidly growing part of the Amazon network. These facilities are the last stop in the chain the e-commerce giant has been building up parallel to UPS, FedEx, and the U.S. Postal Service. Packages delivered by drivers in Amazon-branded vans (who work for third-party subcontractors) and workers driving their personal vehicles (who are independent contractors) pick up their loads at these centers. Around 500 people work at DSM1, though the number fluctuates seasonally.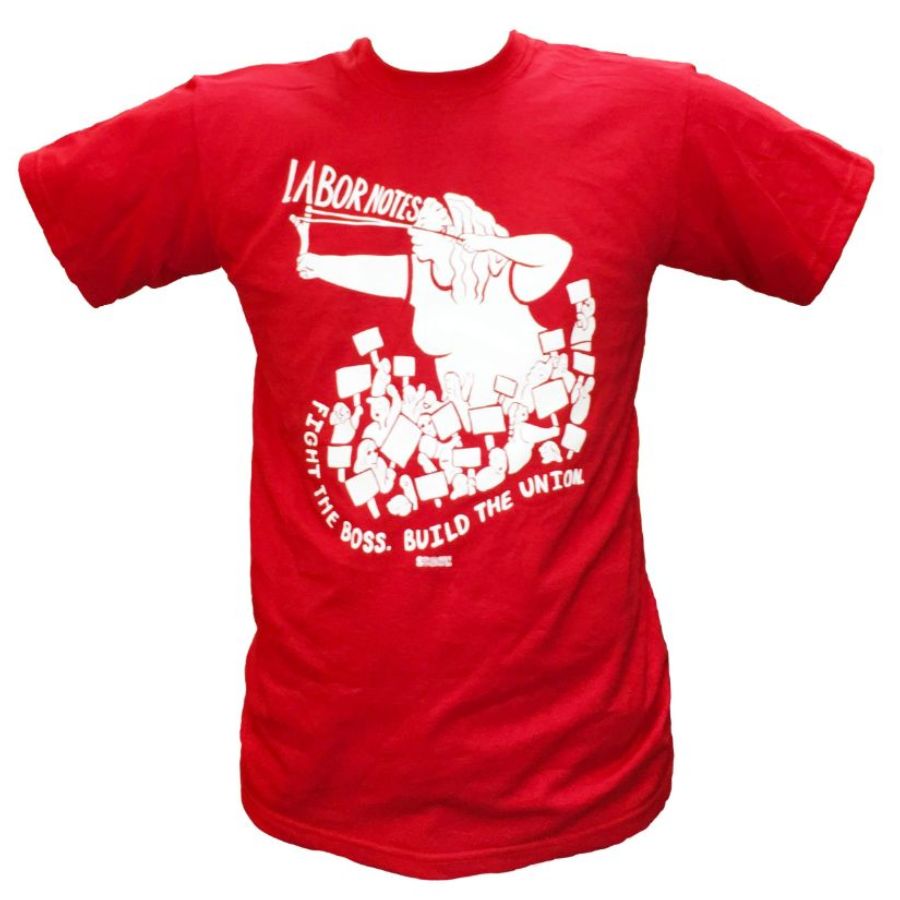 All of the warehouse workers in Amazon delivery centers are part-timers, with their hours capped at 30 a week. That's how management avoids being on the hook for health insurance. Additionally, unlike warehouse workers at other types of Amazon facilities—including part-timers—delivery center workers receive no paid time off. Instead, they are given the option to take a certain amount of time off unpaid. They do receive sick time in accordance with California state law, which mandates that employers provide one hour of paid sick time for every 30 hours worked.
Turnover is a major organizing challenge at any Amazon warehouse. "By my estimates, the turnover rate is over 100 percent per year," says one worker. "Management has said that they're only concerned about it when it's over 2 percent per week." In spite of this, the organizers have maintained a solid core of leaders in Amazonians United, though individuals come and go. And as they've taken more action, the overall number of people participating has grown significantly.
MYSTERIOUS 'CLASS Q'
Minnesota Amazon Workers Push the Company on Safety
Workers at Amazon warehouses get injured at alarmingly high rates. A recent report from Reveal shows that the company's workers get seriously injured at a rate more than three times the national average for the private sector, and twice as often as other warehouse workers.
In Shakopee, Minnesota, Amazon warehouse workers have been organizing—with the help of a worker center, the Awood Center, based in the local East African community—around inhuman production quotas, which they say contribute to high accident rates. Through walkouts earlier in the year and worker forums, they pushed Amazon to expand the warehouse's safety committee to include more workers, after a previous management-selected iteration stopped meeting last spring. Management at the facility finally announced meeting times for the committee on December 17.
When Amazon didn't agree to their demand that the committee be elected by the workers in the facility, the organizers decided they would hold their own elections!
Organizers saw the fight against the firings as their first step in a campaign to address the broader issue of time off. "Time off is something everyone has to deal with because the policies are so strict," said the worker. "Parents have to choose between taking care of their sick children or keeping their jobs."
To push for paid time off, organizers decided again to start with a petition as a tool to talk to as many of their co-workers as possible. To bolster their case, they had a secret weapon: Amazon's own handbook. The policy manual says that in California, part-time workers are supposed to accrue roughly 12 paid days off per year. When confronted, Amazon management told workers that delivery center workers are not regular part-time, but "Class Q part time," which meant that they weren't eligible. The company refused to define "Class Q," according to workers.
Their previous win made talking to co-workers easier this time. "It was good for morale and talking to people," the worker says. "It was easier this time around to get more people to sign a petition." Organizers quickly got 220 co-workers to sign their second petition.
They delivered it on a Sunday in the beginning of December, during the "stand up" meeting at the start of their shift. Management tried to dodge the delivery. "They tried to prevent us from talking during the meeting by saying, 'If you have any concerns, speak to management or HR individually after the meeting,'" said the worker. "We handed them the petition, [and] let everyone in the meeting know what it was about and why we were doing it."
Around 100 workers in the facility have also begun wearing buttons that say "Amazonians United for PTO."
Managers have responded by telling individual workers that if they want paid time off that they should transfer to a different type of facility in the Amazon network. For Amazonians United, that's not a satisfactory answer. "To us, Amazon is denying us paid time off so that we're cheaper than other types of workers," said the worker. "But we have the same demands on our lives as other workers."
Do you work at Amazon? Here's how to join the fight: "To win paid time off, we are going to need Amazon workers in other places fighting for it with us," say organizers with Amazonians United Sacramento. If you work at Amazon and want to organize where you work, please reach out to them at amazoniansunitedsacramento[at]gmail[dot]com
Chris Brooks contributed to reporting for this article.