Erie Locomotive Workers Avert Strike with New Contract at Wabtec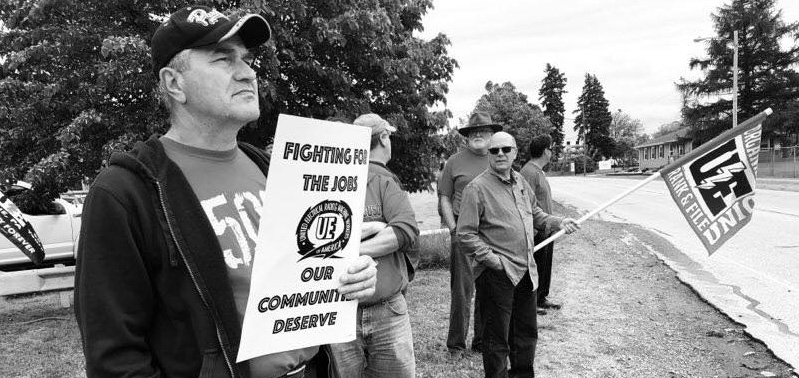 Three months after the largest manufacturing strike of the Trump presidency so far, locomotive plant workers in Erie, Pennsylvania, have a deal. Electrical Workers (UE) Locals 506 and 618 ratified a four-year contract on June 12.
In a qualified victory, the 1,700 members conceded a two-tier wage structure with a 10-year progression for new hires to reach parity with current workers, but beat back the company's demands for a harsher version of two-tier and numerous other concessions.
"We've managed to preserve a lot of what we had," said UE Local 506 President Scott Slawson. He added, however, "There were some gives on the union side for sure—there's no two ways about it."
Wabtec, which took over the plant in February following its purchase of GE Transportation, had threatened to move work out of Erie if the union refused a lower wage scale.
Thousands of jobs have been eliminated at the plant since 1955. In 2017, GE vowed to move all locomotive production to Fort Worth, Texas, where it opened a nonunion plant in 2013. But those plans never panned out, as the Fort Worth plant struggled to hire and retain enough skilled workers, with quality suffering as a result. Work has been moving back to the Erie plant over the last year.
The new agreement not only maintains the existing jobs at the plant but also guarantees 100 new positions in the Erie factory by the end of the contract. UE also beat back Wabtec's demands to institute mandatory overtime and hire up to 20 percent of the plant's workforce as nonunion temps.
Four hundred sixty previously laid-off workers will be given preferential treatment in hiring as jobs come open—an important gain in the face of Wabtec's claim that it had no obligation to workers who were laid off by GE, not Wabtec. However, while they will maintain their seniority, they will come back on the new, lower pay scale.
The company and the union compromised on reorganizing to 31 job classifications; previously, workers had 43 classifications, which Wabtec was attempting to reduce to 17. UE argued the reduction would endanger worker safety.
The union maintains the right to strike based on transfer or subcontracting of work that results in permanent layoffs, or on a failure by the company to resolve grievances in a timely manner.
WABTEC TAKEOVER
Wabtec—short for Westinghouse Airbrake Technologies—bought the $4 billion-a-year GE Transportation division last year, doubling the size of the company overnight.
The purchase led to the early termination of UE's national contract with GE. The Erie plant was the last factory covered under the 70-year-old agreement; GE had spun off the other factories' work in an ongoing series of corporate reconfigurations, or outsourced it, largely to nonunion plants in the U.S. or overseas.
When the sale was finalized in February, the new owner unilaterally stopped offering a pension and retiree health care, and imposed a host of other concessions, including mandatory overtime and two-tier wages starting as low as $16.75 an hour. That prompted a nine-day strike by Locals 506 and 618, ending with a 90-day interim agreement which restored the terms of the union's previous contract with GE while the parties negotiated the new four-year deal.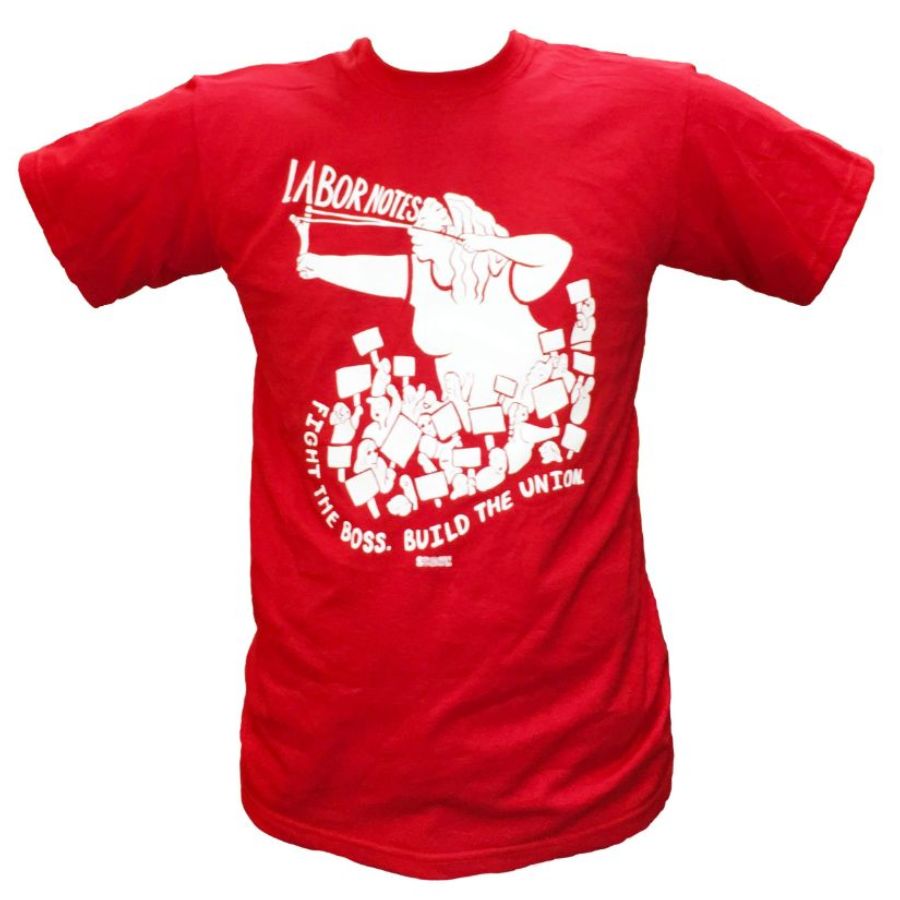 During those three months, Locals 506 and 618 took a number of actions to pressure the company. Workers decorated their lockers with numbers counting down the days until the end of the interim agreement. They held pickets before work. They joined forces with UE Local 610, which represents workers at other Wabtec facilities, to rally in Wilmerding, Pennsylvania, where Wabtec is headquartered. And the union and its allies picketed Wabtec's shareholder meeting in Pittsburgh.
Wabtec eventually moved off its demand for a permanent second tier. The company's revised proposal would have started workers off at $17 an hour, with an 18-year progression to reach the top tier. But ultimately, with the threat of another strike looming, the union was able to shrink the progression to 10 years, and boost starting pay to $20.47 for the lowest classification. Existing workers on the lowest job classification currently earn $31.49.
This decade-long grow-in is similar to the Auto Workers' compromise with the Big 3 automakers, where hires after 2007 take eight years to reach wage parity with pre-2007 hires. A key difference, though, is that these auto workers remain in a permanent Tier 2 when it comes to benefits. Everyone at the Erie plant will get the same benefits, and those in the lower tier will actually pay 20 percent less in premiums.
JOBS SORELY NEEDED
"The 10-year progression is not something that people wanted to happen, but the company would not let that go," said UE General President Peter Knowlton. He believes that if the union had held out on the issue, it would have been forced to go on another strike—this one self-defeating. The union would have lost community support, he said, and ultimately would have left 460 already laid-off workers without a job to come back to because Wabtec was claiming it had no responsibility to them.
The good-paying jobs at Wabtec's Erie plant are crucial not only to union members and their families, but also to the community.
Located between Buffalo and Cleveland, Erie falls squarely in the Rust Belt, and its fortunes mirror those of similar cities. It was once a proud manufacturing hub, but factory relocations and closures have sapped jobs and people. The population is 96,000, down from a peak of 131,000 in 1950. And the city is poor, with a median household income of just $35,800.
"Wabtec is one of the area's largest manufacturers and it still pays a family-sustaining wage," said Slawson. "I think there's a relief in the community—we found a way, we found a path, hopefully for the future of Erie and Erie County."
He is careful to note that this is the union's first contract with a new employer, and the union will have to stay on its toes with Wabtec.
"We had 82 years of interpretation with GE," he said. "I think both sides are going to go through some growing pains over the next four years."
Still, he's optimistic about the plant's future, citing the highly skilled workforce and the possibility that Wabtec could shift additional work to the 4 million-square-foot complex.
Correction: An earlier version of this story misstated the size of the complex as 4.5 million acres. It is 4 million square feet.