Inspired by West Virginia, Teachers Spread Red for Ed Movement across Arizona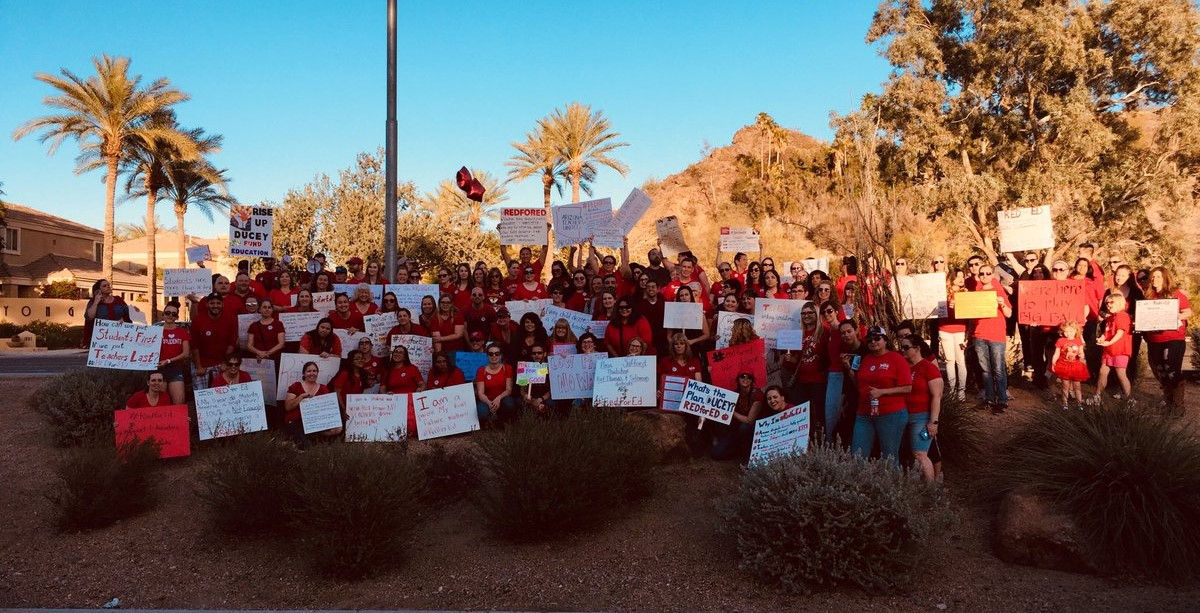 While Oklahoma teachers and school employees gear up for a possible statewide strike starting April 2, a teacher uprising is also brewing in Arizona. Teacher pay in Arizona ranks last in the country by some measures. Educators there, inspired by their counterparts in West Virginia, are rapidly organizing to change that. Within the last 10 days, 30,000 Arizona teachers have flooded into their own Facebook group, Arizona Educators United, and begun a series of highly visible actions, sporting their "Red for Ed" T-shirts wherever they go. Labor Notes interviewed Phoenix, Arizona, seventh-grade math and science teacher Rebecca Garelli, a leader in the group.
This all got started two Fridays ago, March 2. I had become friends with Jay O'Neal from West Virginia, who helped start the teachers and public employees Facebook group there, and he let me into their group. I'd been hanging out, just watching things, thinking, "Why is nobody in Arizona doing this?" So my Chicago blood got boiling, and I said, "I'm just going to spark the fire, I'll be the catalyst."
I had been communicating with some folks on the Arizona BATS page—Bad Ass Teachers. I had been posting some things coming out of West Virginia, and others would get fired up too, so we started a dialogue. And then one of the admins of that page said, "Anybody else think Arizona should do something like that?" I said, "Yess!!!"
I and another teacher started a Facebook group that day: Arizona Teachers United. There was no mention of striking, no mention of action. Overnight—I woke up and we had 1,500 members. It was a secret group—one person invited another, invited another.
I have three kids, I was at the park all weekend, and I didn't see any of this going on. There were hundreds of comments. The page blew up. I panicked a bit. We had lawyers on there from the Goldwater Institute [a right-wing think tank/lawyers' organization], and a couple of people who made me nervous. I said, "I think we need to pull the plug and do this more privately." And when I posted that everybody said, "No!!! We have momentum, don't let the momentum die!"
Derek [Harris, a Tucson middle school teacher active in the group] said: "Wait. Don't shut it down. We have a vision for this." Dylan [Wegela, another Phoenix middle school teacher] said: "Don't do this! Everybody needs this!"
By the time I had gotten to all this, Derek had started a new group: Arizona Educators United. That's how we all met. I asked to be an admin. Other people stepped up. We ended up with a little group of nine people administering the group. We had never met each other in person. Now we are constantly collaborating.
RED FOR ED
Our first big event was "Red for Ed" on Wednesday, March 7, when we asked teachers throughout the state to wear red T-shirts to school. The idea of Red for Ed day, that's from Noah Karvelis, another teacher. We needed a way to connect with our communities and show them the reality of what we're living.
We put Red for Ed day on Twitter. We had an event set up on Facebook. I put it on my personal page because I'm friends with everybody I work with. We spread the word on social media. People got it—people showed up in their red shirts. They were taking pictures, showing: "here's my school," "here's my school." That got people really fired up. And that got people motivated to join the next action—"Why I'm Red for Ed"—on Friday of that same week.
We said, "Everybody's got a story. Let's make those stories public." We asked people to make signs with three reasons why they're joining our movement, and to take pictures and post them on social media.
The media's finding us through all this—we've gotten coverage in major papers and TV stations throughout the state. We're not even the ones directing it. The media's looking for us.
PICKETING THE GOVERNOR
We want to have events occurring as frequently as possible. We want to close the gap and keep the momentum building. We have to keep people engaged and involved. So we came up with the idea to go down to the radio station on Monday.
The governor goes on the radio every Monday at 5:15. I put signs up on my house over the weekend. I put signs and decals on my car. I showed everybody what my poster was going to look like. We marketed through the live video: "We're going to have some signs, we're going to keep it peaceful, professional." People want to know what's the expectation. This is why using Facebook's "live" video is crucial to our movement. We can give people direction, so they know what to expect.
At the radio station in north Phoenix, we had hundreds of teachers. Some people brought their kids. We had all kinds of supporters. The majority sounded like teachers. Some ESPs [education support professionals] and other support personnel. The media came down—we had a helicopter from Fox News! Everybody was really nice and kind and respectful and it went really well.
I was on the megaphone, since I've been through this before—I had some chants in my back pocket from Chicago. It was wonderful. People started making up things on their own. I found some more people for my action team. Then we took a group photo at the end, and put that up on Facebook to say, "What's next?"
We just had a Red for Ed rally at the Capitol on Wednesday morning, during our spring break. We were there to oppose SB 1467, a bill that would take funds away from public education and give it to private schools through school tuition organizations (STOs), which provide scholarships to attend private schools.
But we're also asking people, take a picture with your Red for Ed shirt on. Whether you're at a restaurant, or you're out hiking, snap a photo, so that we can all be together even though we're on spring break.
That'll be continual: Red for Ed every Wednesday from here on out.
LESSONS FROM ALL OVER
Before I got to Arizona, I was a Chicago public school teacher for 11 years. I was a part of the Chicago Teachers Union—just a member, but I was totally active in everything we did. It gave me a few pointers.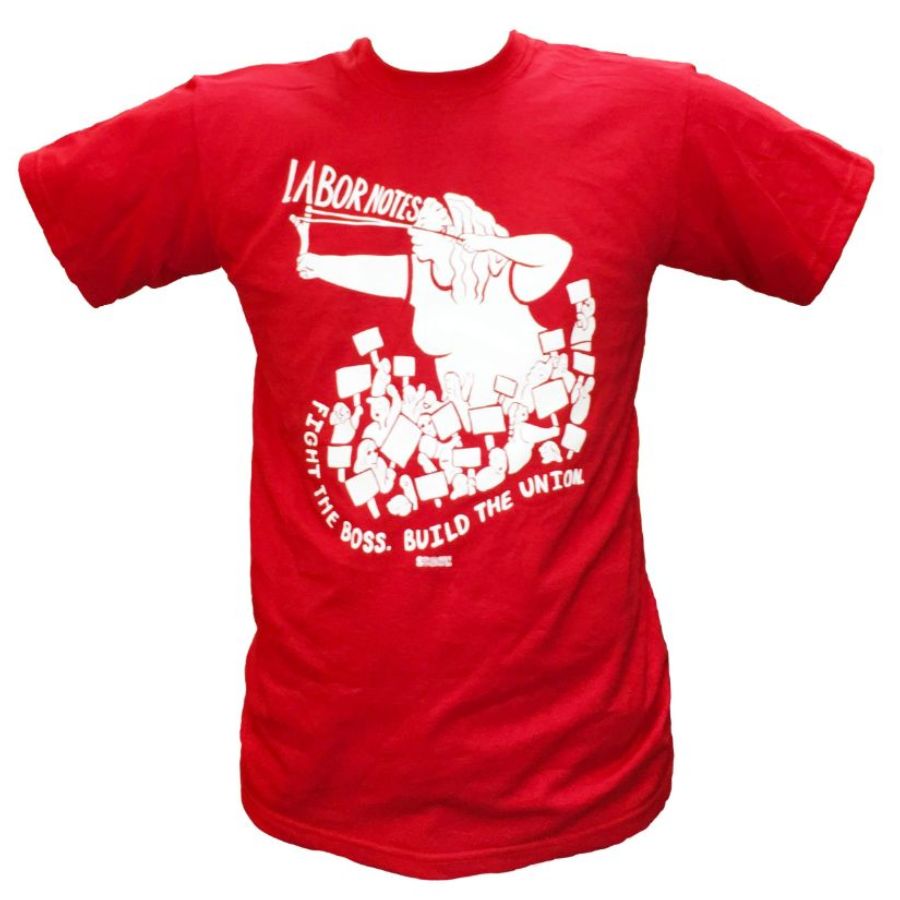 When we were starting to organize, I called upon my previous experience with the CTU to mention the idea of having site liaisons at all the school sites. In Chicago we had not only our union representative at the school, but we also created an additional person in case that person was unavailable. I mentioned that to the group and they said that's a great idea. So we started our site liaisons based on that model, to build an in-person network in the schools. In our case, some of the site liaisons are union reps.
AEA [Arizona Education Association] has been supportive the entire way: "Look at you guys—this is amazing." Our relationship is parallel. We are building this grassroots movement, Arizona Educators United. We are a teacher-driven, educator-led organization. But we have the support of AEA. And we can communicate with them if necessary on ideas, timelines, laws and regulations, that kind of thing. But they want us to run the show—we are in the forefront, and they are riding alongside us. The best word we came up with was "parallel."
I'm new to Arizona, but what I've gathered about the union is that membership has been low in the past. Just from talking to teachers, they don't feel like we have any power, so why am I going to join the union? But I think that's starting to change. People are saying, "Maybe I should be a part of this union, because there is power in numbers."
I'm motivated because I come from a big union in Chicago. I was paid well as a teacher. I'm used to having this supportive community of educators and people willing to fight for us. [Editor's Note: See How to Jump-Start Your Union: Lessons from the Chicago Teachers, to see how a fighting union won community support.] But when I moved here and I tried to find a job, I interviewed all over the place—I must have had 15 different districts I interviewed at—and almost none of them would accept my credits. I was about to take a $35,000 pay cut if I accepted positions at one of these schools. Fortunately I found the one district that accepted all my years and all my credits, but I have to drive 60 miles a day to go there.
Teachers are fired up here because we actually have momentum this time. I heard a lot of comments: "I think it's going to stick this time. I think this time it's for real." They've just seen this explosion of support, this explosion of membership on the page—and they can see it.
MATERIALS TO USE
To help the site liaisons, we created some materials for them to use. We created a Google form that we sent out to everybody to gather members' contact information. Personal email, personal phone number if they wanted to provide it, their name. So we can tally how many members we've reached so far.
The liaisons get the Google form data from us—then they hold meetings. We've asked them to hold one meeting so far; we call them 10-minute meetings.
We also gave them information on what to do:
First fill out the Google form.
Then have everybody sign up on Remind to get the reminder for your event.
Here's what your first meeting should look like.
Then we gave them a PowerPoint with every piece of information they needed—slides of all the things they needed to know, so that if somebody asked a question, it was there. "Why are we wearing red on Wednesday?" "Why are we here?" "What can you do?" "Rules and guidelines for communication: don't use your school materials; don't use district emails." Instructions for our actions are also in our Google slides.
And then of course a thank you, a little inspirational blurb.
If somebody comes to the site liaison with a question, the information is there, in the slides. That way they don't have to look it up themselves.
I'm the site liaison at my school. I had nine people at my meeting, out of the 41 teachers I have in my school. But it was the day before spring break!
We are at 344 site liaisons. At our event Monday, we went around with a megaphone and said, "If you're not a liaison, come talk to me." From Monday to Tuesday, we increased by like 125 people—we need two of us just to go through all the emails for site liaisons!
The Facebook group now has 33,000 members. We've been doing Facebook Live videos giving updates, and people really like that. We're using those to show teachers: here's the people running the group, showing them we're constantly working, constantly giving next steps.
We have organizational roles: marketing, communications, etc. I'm on the action support team. We've been looking at people's posts, scanning for leaders—you can tell a leader by the way they communicate. We've been reaching out and asking people to step up. And now we're asking site liaisons to set up "Educators United" Facebook groups for their own schools, to discuss internal organizing.
ALLIES
The March for Our Lives, the students organizing against gun violence, is coming to Phoenix on March 24. I'm assuming a ton of us are going to be there.
Then we're joining up with a grassroots group here called Save Our Schools Arizona, which is an anti-voucher group. We're going to do a joint event with them, a day of action March 28. We really want to get the community involved. We're going to team up and do a rally down at the Capitol.
I had some folks reach out to me and ask for our logos because they wanted to start an "Arizona Parents United" page. They just sent me the link for their new page, for parents!
About a strike, nothing is determined yet. We're considering more statewide action. But we are in the beginning stages of planning.
Rebecca Garelli is a seventh-grade math and science teacher in Phoenix, Arizona, and a leader in the Arizona Educators United group.
A group of Arizona teachers will be joining us at the Labor Notes Conference, along with teachers from West Virginia, Kentucky, and (we hope) Oklahoma!