West Virginia Teachers Launch Statewide Strike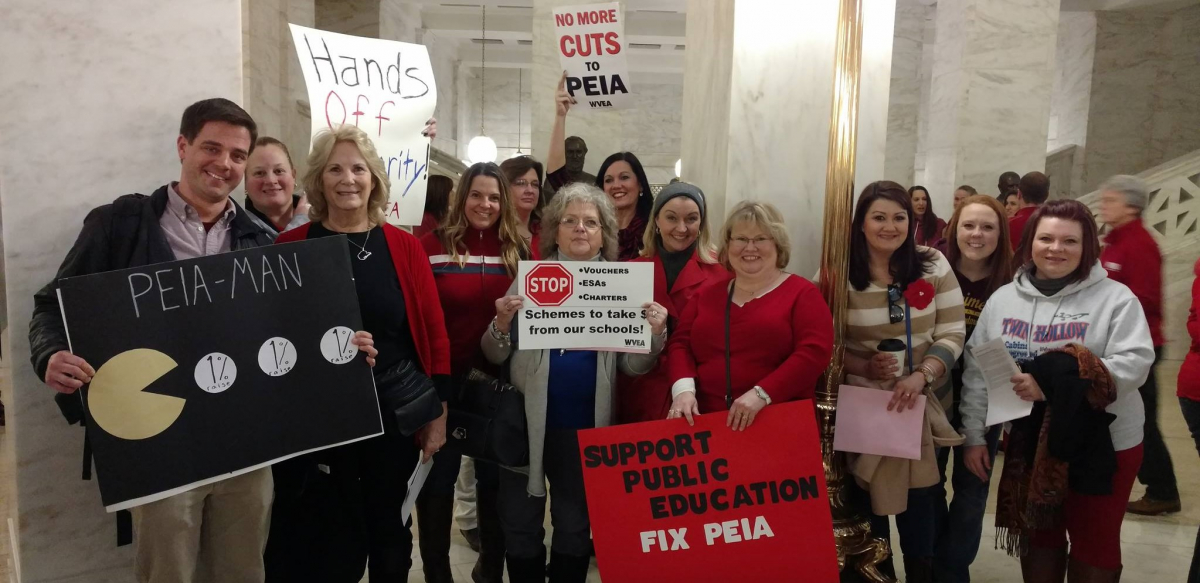 Teachers and school service employees in West Virginia have launched a two-day statewide strike, riding a wave of indignation that has washed over the state.
They're protesting health insurance changes that would result in pay cuts for many state employees. Governor Jim Justice's initial proposal would have provided raises of just 1 percent a year for the next five years—while health insurance costs would rise significantly.
Pay for West Virginia's teachers ranks 48th in the country, and the state is constantly losing teachers to its neighbors, where they can earn much higher salaries.
The first rumblings began late last year, when a group of teachers formed a secret Facebook page and started planning a "lobby day" at the state capital on Martin Luther King Day, when they knew the legislature would be in session. Word spread, and soon the West Virginia Education Association, the state's NEA affiliate, was planning an official rally.
"This was almost completely a grassroots movement," said Erica Newsome, an English teacher in Logan County. "The unions kind of followed us."
Organizers estimate 150 people showed up. "The rally was kind of small," said Ashlea Bassham, a teacher at Chapmanville Regional High School, "but then it just sort of happened."
PACKED STATEHOUSE
Teachers and school service employees started holding walkout votes county by county. West Virginia has two statewide teachers unions, affiliates of the AFT and NEA, which often compete for membership. There is also the West Virginia School Service Professional Association, or WVSSPA, which represents bus drivers, cafeteria workers, custodians, and clerical workers. But teachers and school service employees decided that in this case, any school employee could vote—whether they were a member of any one of the unions or no union at all.
At Bassham's school, the walkout vote was conducted by paper ballot, all in one day, and the response was resounding: 49 yes, 9 no. So on February 2, Chapmanville Regional High walked out—along with the rest of Logan, Mingo, and Wyoming Counties. Other counties organized "walk-ins" before school.
Strikers converged on the capital again. This time there were 1,000 teachers, public employees, students, and parents at the statehouse. Wyoming County teachers had so much support that they rented county school buses to make the 90-mile trip.
"The gallery filled up too quick for me and some co-workers to go in," said Bassham, "So we waited in the breezeway to talk to our state legislators. Some of our representatives were willing to talk and take a minute and listen, and some of them had their heads down, walking really quickly."
The legislature responded by announcing a temporary freeze to Public Employees Insurance Agency (PEIA) premium increases, and offered a two percent pay raise in the first year. But that wasn't nearly enough to satisfy West Virginia teachers, who want a more permanent fix to the PEIA and the state's low salaries.
There is no collective bargaining for public employees in West Virginia. Salaries are set by the state legislature, though some counties supplement them through local levies.
OUTRAGEOUS CUTS
"When I first started teaching, I understood that our salaries weren't going to be great, but that it was good benefits," said third-grade teacher Wendy Peters, the president of her union local in Raleigh County. "Our insurance was kind of like the gold standard for health insurance."
But for years the PEIA has been struggling and underfunded. Late last year, the governor and the PEIA board proposed several changes that would undermine health benefits, which incensed public employees.
Teachers and school employees would see instant increases in their prescription costs and in premiums—which would be recalculated based on their total family income, instead of a flat rate based on a single employee's salary.
An initial proposal would also have hit retirees with a two-point premium increase, but after an outcry this was walked back. Still, the chronically underfunded PEIA is forecasting even harsher changes in the near future.
One particularly contentious proposal, which has since been withdrawn, was a wellness-incentive program called "Go365." Teachers and other public employees would have to earn "points" by, for example, sending the state photographic evidence of their healthy behavior and tracking their steps.
If they failed to meet certain benchmarks, their monthly premiums would increase by $25 a month. Those who opted out would have $500 added to their deductibles.
IN SEARCH OF JUSTICE
By February the secret Facebook group, West Virginia Public Employees United, had over 20,000 members. Inspired by the first three counties, more local unions began holding their own walkout votes, alongside a surge of grassroots actions.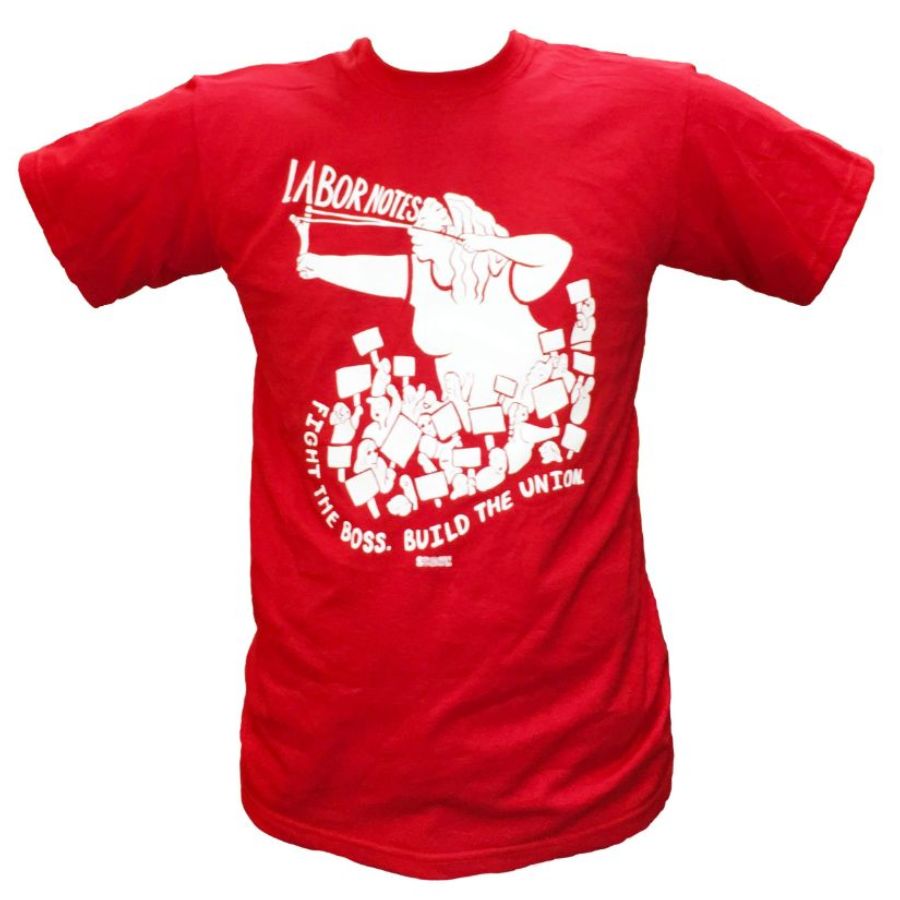 Governor Justice, who got the WVEA's endorsement when he ran as a Democrat in 2016—but has since switched back to the GOP—has drawn particular ire.
"You feel like, 'Gosh, we helped you get elected, and you were talking about how education needed to be the centerpiece of our state, and you've since switched platforms,'" said Peters. "You feel betrayed."
While in office the governor has continued to coach a girls' high school basketball team; the games now draw regular protests from teachers.
MOMENTUM BUILDS
In the first week of February, AFT-WV and WVEA leaders asked the locals for each of the state's 55 counties to ballot employees on whether to authorize a statewide walkout before the March 10 end of the legislative session.
An overwhelming majority of counties voted in favor.
While state union leaders discussed whether to call a statewide action, the rolling walkouts continued. Mason and Cabell Counties voted to go out Friday, February 16. The next day, three more counties signed on, and a sixth had joined in by the time teachers and school employees arrived at the capital Friday morning.
February 17, a Saturday, saw the biggest action yet. An estimated 10,000 teachers, service employees, and allies gathered outside the statehouse. Leaders from the United Mine Workers and the Teamsters spoke.
When the leaders of the two statewide teacher unions took the microphone to declare that negotiations were "getting nowhere" and announce a shutdown of "the entire state," the crowd erupted.
The walkout was on.
PROUD 'REDNECKS'
West Virginia has a long history of militant union fights, especially in the coal mining regions in the south of the state—including the three counties where this year's walkouts kicked off. Many teachers at the statehouse have been wearing red bandanas, a tradition that originated in coal miners' union battles of the 1920s, one place where the term "redneck" originated.
"Unions are what we're raised on," said Bassham. "The Battle of Blair Mountain [a 1921 confrontation between 10,000 armed coal miners and 3,000 lawmen and strikebreakers, and eventually the U.S. Army] was 15 minutes from my house."
Parents have held informational pickets before and after school, and even some school boards and superintendents have issued statements of support.
When Logan County walked out, at first the district sent out text messages and robocalls to parents and teachers, stating that school would be closed "due to an illegal, unauthorized employee walkout/work stoppage."
But a week later the board came around and passed a resolution declaring that it "supports our employees in their efforts to receive higher wages and medical benefits commensurate with their commitment to our children."
To maintain public support, teachers and school employees have organized food drives ahead of the two-day walkout, to make sure students who rely on the school for lunch won't go hungry.
Striking is illegal for public sector employees in West Virginia, but there doesn't appear to be much fear on the ground, thanks in part to the 700 teaching vacancies in the state.
"There's a sense of, What are they going to do, fire us all?" said Jay O'Neal, treasurer for the Kanawha County local. "Who would they get to replace us?"
Dan DiMaggio is Assistant Editor of Labor Notes. Jonah Furman is a labor activist in New York City. Hear directly from West Virginia teachers at the Labor Notes Conference, April 6-8 in Chicago. Register today!