Strikes Sweep France, Opposing Labor Law Rollbacks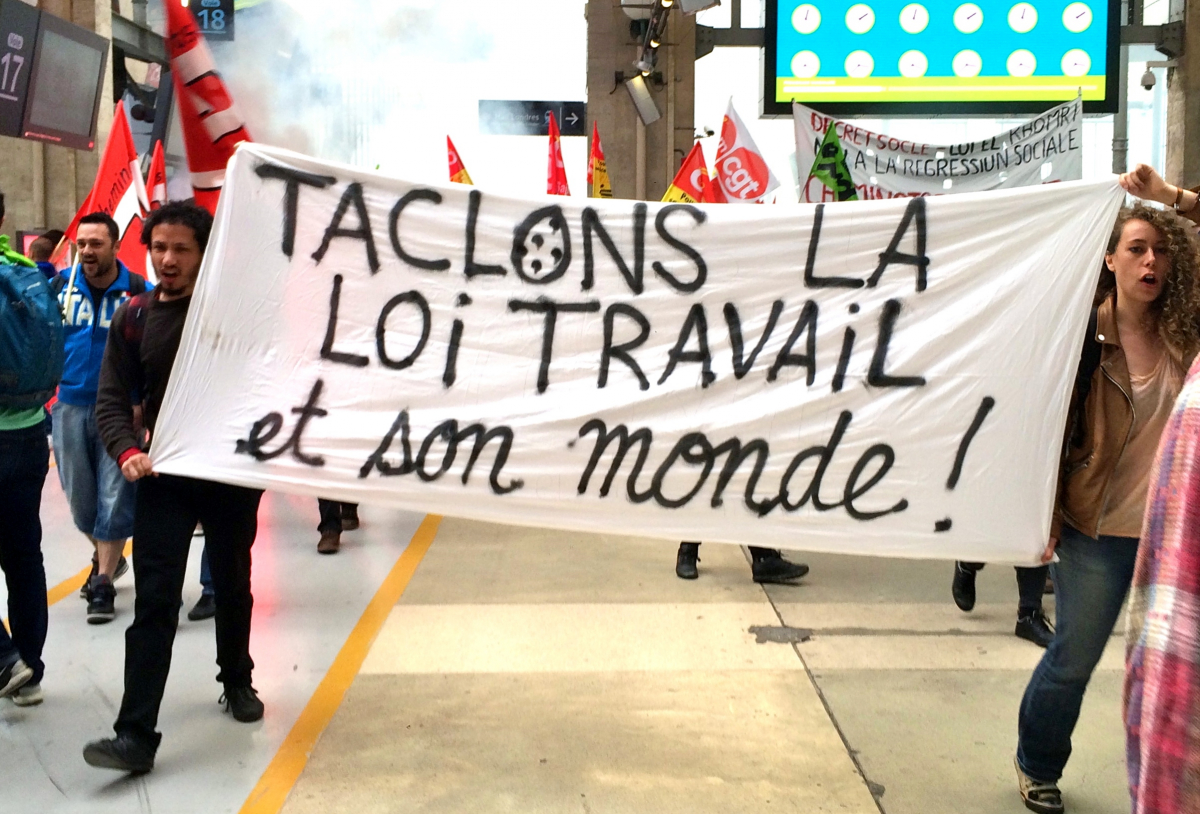 Just as the tourist season is starting in France, strikes are preventing half the trains from running. Fuel is in short supply, as workers blockade oil refineries. The news is full of riots, burning tires, and police attacking protesters.
Strikes across multiple industries are shutting down transportation across France, as workers protest a labor reform bill that would strip them of certain basic rights, such as ceilings on overtime hours and job security.
Rail workers with the General Confederation of Labor (CGT) and Solidaires union federations began their eighth strike in three months on May 31, and they have no end date in sight. The CGT is also leading blockades at oil refineries, docks, and nuclear power plants.
Paris metro workers are expected to join the strike on June 10—as massive numbers of tourists enter the country for the European soccer championship.
Labor reforms proposed by President Francois Hollande would increase the number of hours employees could be expected to work, reduce overtime pay, make it easier to lay off workers, and undo certain national rights, such as maternity leave.
Unions and much of the general public strongly oppose the reforms because they would undermine the high labor standards that French activists have worked so hard to win—standards that are models for unions across the world.
Rail workers are on strike for two reasons—against the proposed national law, but also against changes to their specific working conditions, according to Manue Bigot, a member of Rail SUD, a local union within Solidaires. The rail system is proposing changes to the numbers of days they work per week and per month.
"We have more and more people who are working for one day, and we don't want that kind of thing anymore," Bigot said. "We have no solution but to go on strike." It's good, she says, that the changes are proposed at the same time as the law—because now they can strike for both.
PROPOSED REFORMS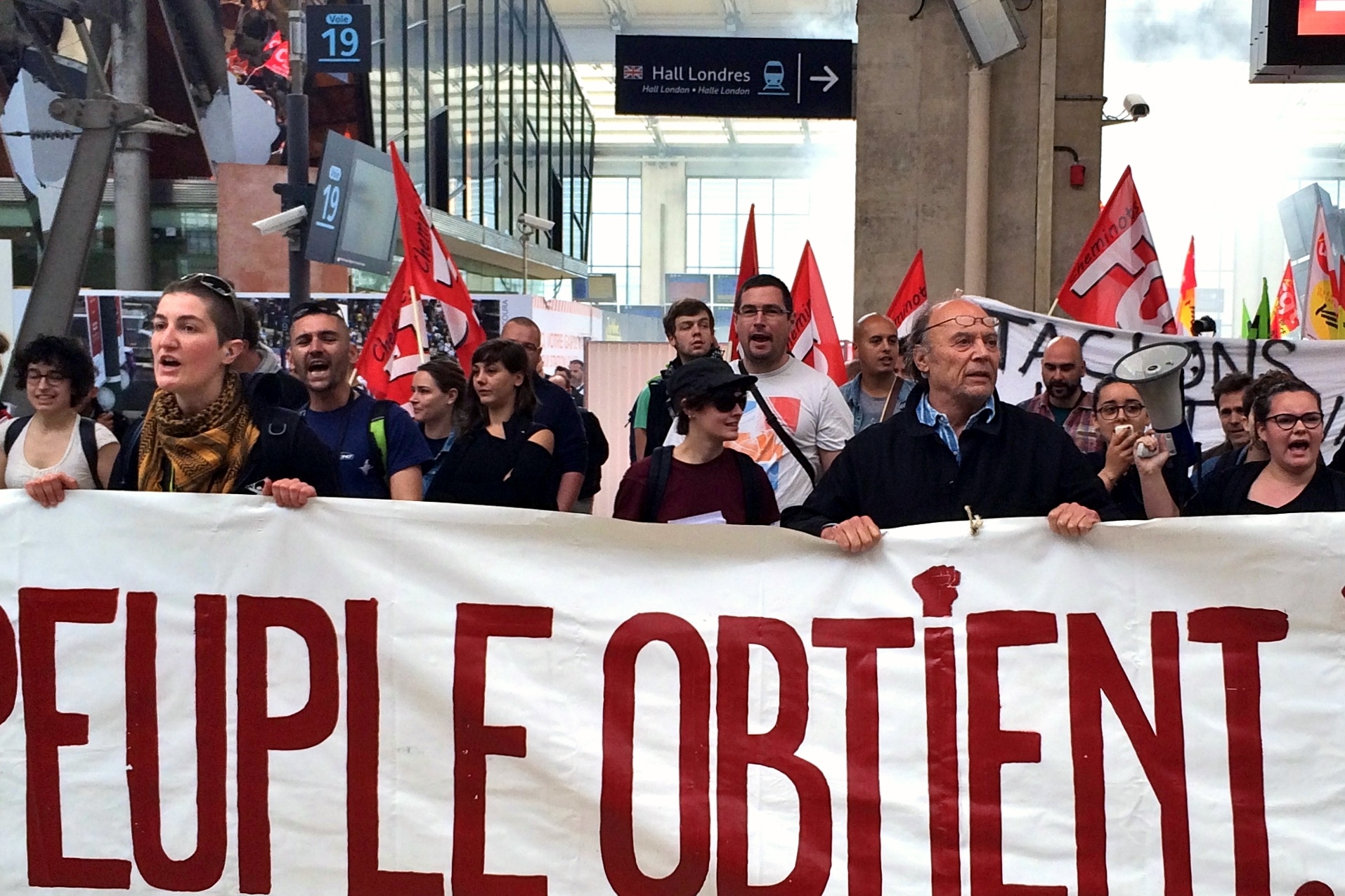 French unions strike more often than their American counterparts. But the current strikes are larger and have more public support than usual, because the legislation they oppose would so drastically change French work life.
Under current French law, workers in both the public and private sectors enjoy certain basic rights, what Solidaires National Secretary Stéphane Enjalran calls "social minimums."
A 35-hour work week, job security, and overtime premiums of 25 percent to 50 percent are among the items that are considered basic worker rights, Enjalran explains, and thus guaranteed by national law.
Under the proposed law changes, these rights would no longer be guaranteed. Instead, employers would negotiate them—with unions or with individual non-union workers. In the case of overtime premiums, the employer would be allowed to negotiate down to as little as 10 percent.
The elimination of these basic rights is the worst of the proposed changes, because it would give employers so much power, force unions to start from a weaker bargaining position, and divide workers to fight their separate employers to regain these rights. Unions would have to demonstrate incredible leverage just to negotiate terms that used to be given by law.
The reforms would also allow employers to request more hours of work and reduce overtime pay. The upper limit on work hours would be raised from 10 to 12 hours a day and from 48 to 60 hours a week. The premium for overtime—hours past 35 a week, the standard in France—is currently 25 percent for the first eight overtime hours and 50 percent after that. Under the reforms, employers would have the option to reduce that premium to just 10 percent.
Employers would also be allowed to lay off employees without showing evidence of economic need, and to pay less severance than was previously required. Unemployment is already 10 percent in France.
STRIKES AND PUBLIC SUPPORT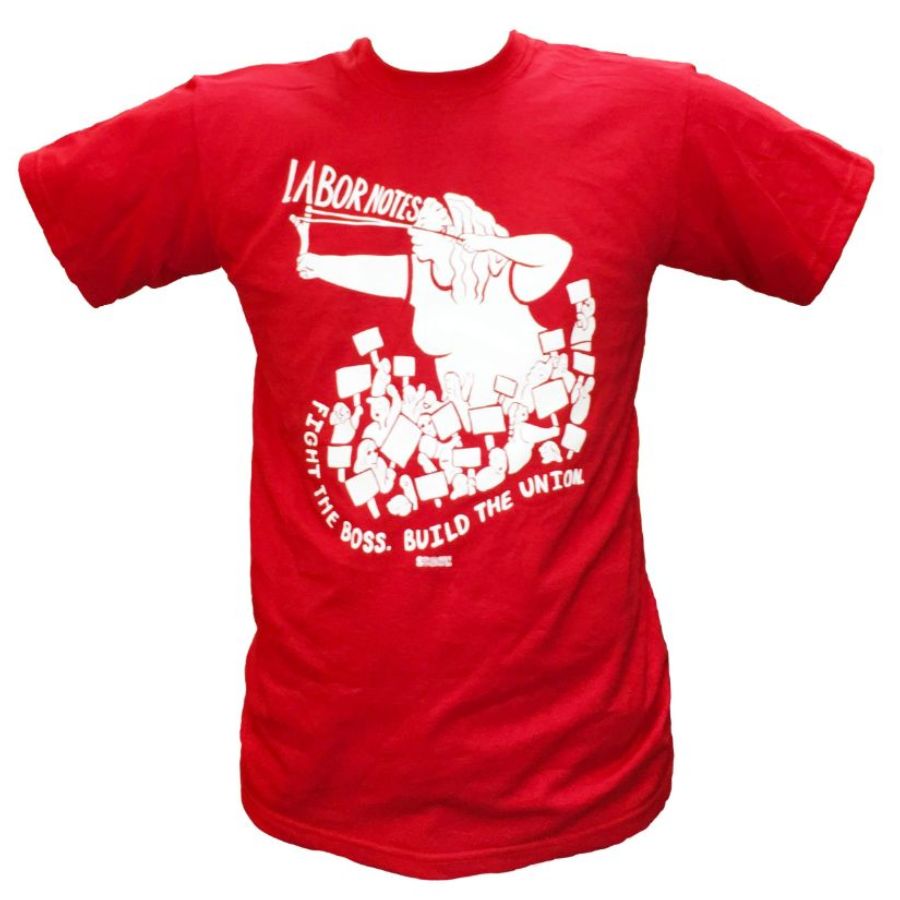 Workers and student allies are reacting to the proposed reforms with a militant energy that has revitalized labor.
The Nuit Debout social movement—born out of opposition to the bill and aimed at creating public discussion on this and other economic issues, such as gentrification—has organized nightly assemblies and helped mobilize allies for street protests.
Even though union membership in France is down to just eight percent, and even though the strikes have disrupted commutes, polls have repeatedly shown public support at 50-70 percent.
Enjalran believes the support is so strong because people don't like to see power concentrated in the hands of politicians. "Collectively we are saying, 'They were not elected for that,'" he said. "They are acting in the name of the people who own large businesses and not in the name of the people."
The public was especially angry that President Hollande prevented discussion of the reforms in the Assembly, relying on a law that's constitutional but undemocratic.
Police violence against the protesters has only fueled public support, Enjalran says. When hundreds of thousands demonstrated in Paris, Bordeaux, Grenoble, and Nantes, the police used tear gas and water cannons against them.
Tensions between police and protesters continue to escalate, to a degree that France hasn't seen since 1968—when students and workers staged a general strike so large that President Charles de Gaulle briefly fled the country.
French workers also filled the streets in mass strikes and protests in 1995 (when they halted a government plan to cut back public pensions), in 2006 (when they reversed a law that would have made it easier to fire younger workers), and in 2010 (when they fought in vain to stop then-President Nicolas Sarkozy from raising the retirement age).
GLOBAL INSPIRATION
The process by which the workers decide to strike is very democratic; it requires group decision-making on an almost daily basis.
"We have General Assemblies every day but Saturday or Sunday," Bigot said, "where we vote on whether we want to strike the next day or call it off. After the assembly, we usually make some demonstration."
Solidaires and other unions will stage a national demonstration in Paris on June 14, with representatives of unions from many countries.
In the meantime, activists are working to build greater support among unionists in the public sector. "The current laws are mostly aimed at private workers," Enjalran said. "But actually the private sector laws tend to get applied to them [public sector workers] within a few years."
A public school teacher himself, Enjalran finds inspiration in the Chicago Teachers Union strikes. After talking with CTU members at a Labor Notes Conference, he brought back their stories and told French teachers, "If American teachers who rarely strike can do it, then French can too."
Dawn Tefft is an organizer with the Graduate Employees Organization of the University of Illinois at Chicago. Unions in the U.S. can send statements of solidarity with the ongoing French strikes to senjalran[at]yahoo[dot]fr
Correction: This article has been updated to correct the spelling of Manue Bigot's surname.