In North Carolina, Fast Food and Moral Mondays Movements Build Ties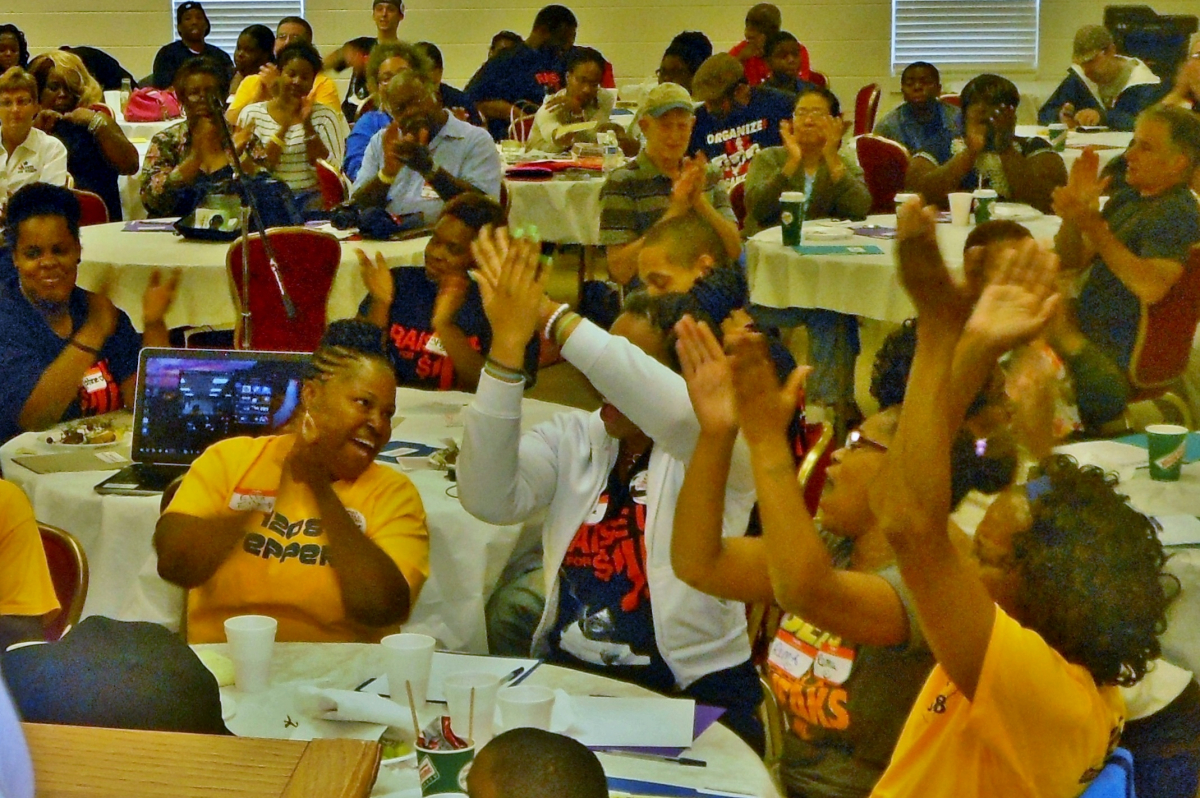 It was the rare meeting of Southern workers that struck a note of optimism.
More than 150 gathered August 9 for Solidarity City, a day of strategy discussions and skills-building exercises in Goldsboro, North Carolina. Pointing to recent victories and heightened solidarity between campaigns, they believe there's new reason for hope in the South.
Two recent developments have done much to fuel that optimism. Moral Monday demonstrations since April 2013, led by the North Carolina NAACP State Conference, have targeted the conservative policies of the state legislature. Nearly 1,000 protesters have been arrested for acts of civil disobedience.
And a few months after the start of the Moral Monday protests, the Southern Workers Organizing Committee launched a drive to organize fast food workers for a $15-an-hour minimum wage and union recognition.
New Generation
Organizers of both campaigns take a broad approach to movement-building and solidarity.
Lindsey Ware was recruited into the "Fight for 15" movement out of her Taco Bell restaurant in Charlotte. She has participated in several fast food strikes over the past year—and was arrested June 16 in Raleigh during a labor-themed Moral Monday protest.
"It was very liberating and it felt great to be involved with people [who are] not just low-wage workers," Ware told the Solidarity City gathering at Goldsboro's First African Baptist Church. "I mean people that work in the farm industry and the teachers who are getting pay cuts."
"You guys are probably in the generation that is on the precipice of a change in the labor movement," United Food and Commercial Workers Local 1208 President Keith Ludlum told the assembled workers, most under 30.
"Us old guys and some of us who have been around awhile, we can advise you on things, but don't be afraid to push the envelope," Ludlum said. "Don't be afraid to do things a little bit different. Be radical. Go after them hard and don't ever stop."
He and a dozen union members from the Smithfield hog processing plant in nearby Tar Heel came to Solidarity City to "prove to you that it can be done."
Ludlum was reinstated to his job at Smithfield in July 2006, after being fired 12 years earlier for union organizing. Three years after that, the Smithfield workers won union recognition, culminating a 15-year struggle that included a national boycott and solidarity campaign.
Wins Already
The momentum generated by the Moral Monday protests and the fast food strikes has produced immediate successes, says Nathanette Mayo of the United Electrical, Radio, and Machine Workers Union, Local 150.
She believes recent pay raises for UE 150 members at the Rocky Mount Engine Plant came about because of the rising spirit of protest in the South. "The victories that we've seen with the Raise Up for $15 and the inspiration that you have given us has helped us win the victories throughout the UE 150," Mayo said.
City workers in Charlotte and Durham represented by UE 150 also received significant raises for the first time in several years.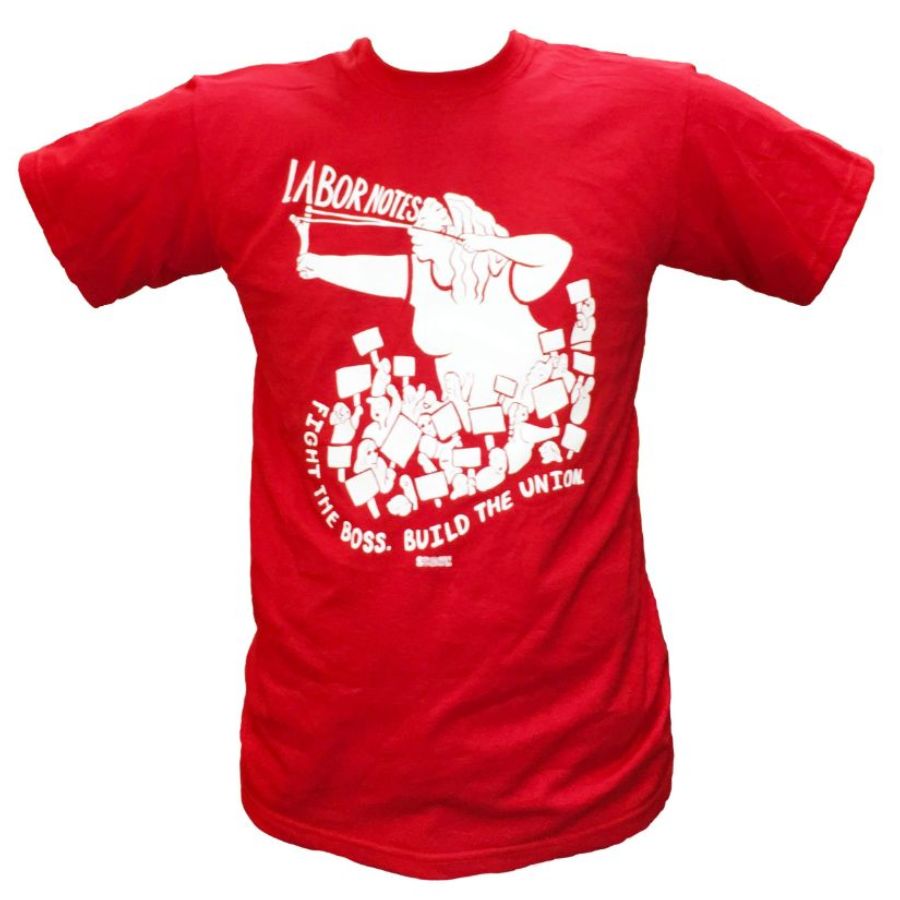 There's a great deal of overlap among the movements. Many workers at Solidarity City reported that in recent months they had protested police brutality, attended labor history and cultural forums in Durham and Charleston, and organized demonstrations on behalf of unorganized health care workers.
The day of their May 15 strike, fast food workers in Charleston found time to occupy the board of trustees meeting at the Medical University of South Carolina to protest hospital reprisals against pro-labor employees.
And in Winston-Salem, 30 fast food workers joined health care workers at a July 22 march focused on workers' rights at the Forsyth Medical Center. Their presence was "inspiring" to the health care workers, said Will Cox, a radiology technician there.
"The food workers have been really good at linking these things and saying we'll be your ally," Cox said. "They're looking for allies as well. We're not only allies, we're the same. Just like a patient is a worker and the worker is a patient."
Proud History
Both the fast food and Moral Monday campaigns have also been deliberate in their efforts to draw on the historical legacies of Southern civil rights and labor struggles.
Solidarity City, for instance, took its inspiration from the 1968 Poor People's Campaign initiated by Martin Luther King, Jr. shortly before his assassination—an attempt to fuse the energy of the civil rights movement with economic justice goals. That campaign featured the establishment of Resurrection City, a community of protest on the Mall in Washington, D.C.
To commemorate the 50th anniversary of Mississippi Freedom Summer, the North Carolina NAACP organized Moral Freedom Summer, sending 40 young organizers across the state to register voters and recruit new members.
Rebekah Barber—the daughter of Rev. William Barber, the leader of the state NAACP and the Moral Monday movement—is among those summer volunteers. When not registering voters, the younger Barber has been reading books about legendary organizer Ella J. Baker and the three martyred summer volunteers from 1964.
A junior at North Carolina Central in Durham, Barber also recently took part in the first national conference of fast food workers in Chicago, which brought together workers from 30 states. The meeting "was just amazing because people are out here willing to fight for what they deserve," she said.
Civil Disobedience Pledge
Will all this protest activity result in the establishment of new local unions? Will it reconfigure Southern politics?
The Service Employees (SEIU), which has provided most of the financing for the fast food organizing, is betting on it. Workers at Solidarity City like Ty-Eisha Batts, who joined the first wave of fast food strikes in New York City in November 2012, are similarly optimistic.
"Look at Seattle, they got $15," said Batts, who recently moved to Greensboro and works at Hardees. "What makes you think North Carolina can't?"
At the conclusion of the Solidarity City program, organizers honored 18 workers and activists who had been arrested during the Moral Monday protests. Then workers pledged to do whatever is necessary to win a $15 hourly wage and a union—including engaging in civil disobedience.
Kerry Taylor teaches history at The Citadel: The Military College of South Carolina and is vice president of the Charleston chapter of CAFÉ—the Carolina Alliance for Fair Employment.