House of Labor Needs Repairs, Not Just New Roommates
As AFL-CIO leaders packed up to leave their Los Angeles convention last Wednesday, they basked in the glow of favorable media coverage. Cribbing from Labor Notes' own 30-year-old slogan, a union president told the New York Times that the federation had finally "put some movement back in the labor movement."
Writers Guild of America-East President Michael Winship claimed he had just witnessed the "the most radical restructuring of labor since the AFL and CIO merged nearly sixty years ago." Washington Post columnist Harold Meyerson agreed that the AFL-CIO had made a "strategic shift."
Feedback was also quite positive from the hundreds of invited guests from worker centers, labor support coalitions, public policy groups, student, feminist, and community organizations, and "social change" foundations—present in larger numbers than ever before.
These enthusiastic "solidarity partners"—from constituencies younger and more diverse than the delegate body—got to make "action session" presentations, hold press conferences and side rallies, and network with unions and foundation funders. Sometimes, rank-and-filers from "alt-labor" groups like worker centers even got airtime on the main stage, for moving celebrations of their difficult organizing work among fellow immigrants.
Who wouldn't like to believe that a more exciting convention format prefigures a turning point for labor? Unfortunately, greater inclusiveness, closer ties with non-labor allies, and the adoption of pleasingly progressive resolutions only begin to address the real organizing challenges facing labor, whether "alt" or traditional.
Missing from the festivities were strategies for defending and re-energizing labor's existing members.
Given the extreme attacks both union and non-union workers are suffering, the convention's heavy emphasis on conventional political strategies and growth through diluted forms of membership was not "transformative" enough to meet the challenges of the day.
Post-Convention Rebuff on Obamacare
AFL-CIO President Rich Trumka had hoped to avoid an embarrassing convention outbreak of public criticism of Obamacare. But irate labor leaders, mainly from unions with multi-employer (Taft-Hartley) health plans, insisted on having their say.
Delegates passed a compromise resolution detailing the "fixes" needed in the Affordable Care Act. Without these changes, union-negotiated health coverage will be "regressed to the mean," as one congressional staffer predicted in a meeting with D Taylor, president of UNITE-HERE.
Two days later at the White House, though, Trumka, Taylor, and other labor officials received an embarrassing post-convention rebuff. The administration still intends to deny union members in multi-employer plans the access to income-based subsidies that will be offered to other lower-income workers through state insurance exchanges.
The same AFL-CIO media operation that was going full-blast for five days in Los Angeles—and for six months before that—suddenly fell silent on Friday. The AFL-CIO had "no comment" on the White House dismissal of labor's concerns.
DÉJÀ VU?
The proceedings did have a progressive buzz and grassroots sheen not seen since "New Voice" candidate John Sweeney won the federation's first contested presidential election in a century, in 1995. Sweeney's team, which included now AFL-CIO President Rich Trumka, pledged to promote new organizing and political initiatives, community-labor alliances, and anti-globalization efforts, while expanding the role of women, immigrants, and people of color.
Yet, as former AFL headquarters insider Bill Fletcher reported in his book, Solidarity Divided, these reform efforts ran out of steam as early as 1998. For the next decade or more, AFL-CIO restructuring was more rhetorical than real.
Last week, with two younger-generation staffers (both in their 40s) on Trumka's new leadership team, the convention re-adopted New Voice ideas from 20 years ago. Delegates again embraced the need for community-labor coalitions, greater independence in politics, and, of course, more members—preferably in the millions.
It was taken as given that these additional working Americans can't be recruited into traditional bargaining units. The new thinking is that labor can boost its membership stats—and political clout—through closer structural ties to the Sierra Club, NAACP, National Council of La Raza, or MomsRising. This would enable the house of labor to count as members people on those groups' mailing lists, too.
The other method is to count as new members anyone ever solicited on their doorstep by a canvasser from the AFL-CIO's own, soon-to-be-expanded alt-labor vehicle, Working America.
This outfit, set up originally for political action purposes, now claims 3.2 million "members." Almost none pay dues or have any workplace connection to each other. The federation spends more than $10 million a year on Working America, which is also subsidized by national and local union donations.
GETTING OFF MESSAGE
To keep convention messaging on track, AFL headquarters prepared helpful "talking points." The most frequently heard refrain was, "This convention will be the most innovative and diverse in history. It's an exciting time as we open our doors and engage with allies and the non-union community as never before."
Unfortunately for federation spin-doctors, some avatars of the AFL's more traditional labor organizations didn't stay on message, and their political influence was still much felt behind the scenes.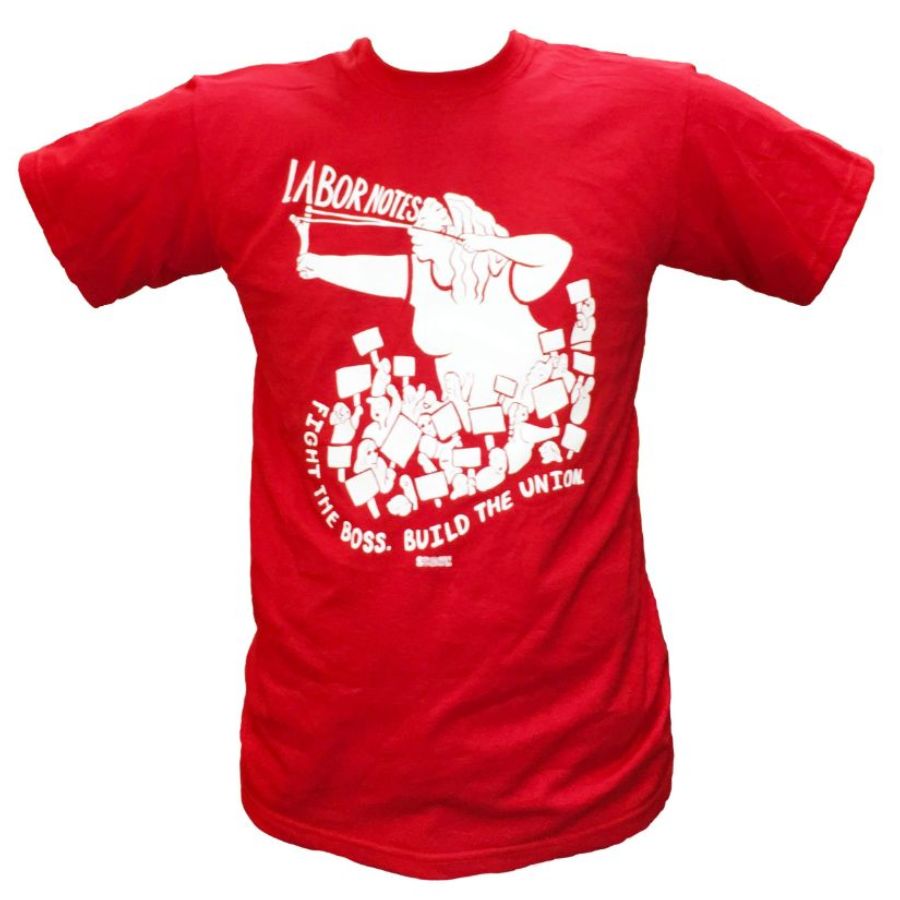 For example, Fire Fighters President Harold Schaitberger warned, in an interview with The Nation, about the AFL becoming "the American Federation of Progressive and Liberal Organizations." Schaitberger didn't want a labor movement that's "an extension of one ideological part of our society."
Terence O'Sullivan of the Laborers ranted at length about the Sierra Club's betrayal of labor, because it opposes the Keystone XL pipeline favored by the building trades and the Teamsters.
But O'Sullivan did make one constructive suggestion: "We came here to talk about a new movement," he said. "But let's not forget about the old movement."
MOST IN NEED?
Trumka has made his questionable new focus quite explicit. "The labor movement needs to be not where we've been but where workers are most in need," he told a conference of labor academics in June.
The federation's de-emphasis on union members' workplace problems was reflected in what proposed workshops were scheduled (or rejected) at the convention. Judging by the content of the "action sessions," dealing with employers in traditional workplaces is barely on labor's to-do list at all.
You could learn much about the health and safety needs of workers in Bangladesh, but there was no brainstorming about strengthening local safety committees here. Fighting givebacks and speed-up, organizing strikes, mobilizing members on the job, creating a "stewards' army" face to face (as opposed to online) were all given little play.
Labor's most important public sector struggle since the 2011 "Wisconsin Uprising" was allotted a single presenter on the one panel (out of 50) that dealt with contract campaigns. Chicago Teachers Union organizer Matt Luskin recounted how reformers won office, rebuilt their local, and worked with the community as a precursor to last fall's successful nine-day strike against Mayor Rahm Emmanuel and his school board.
As dissident academic Stanley Aronowitz noted several months ago, "Organized labor is still more than 15 million strong…. Why not seek reform of the existing unions?" Encouraging this course of action is, of course, not part of the AFL-CIO agenda, this year or any year.
ALT-LABOR ORGANIZING NOT EASY
One thing is certain. U.S. unions aren't going to meet the challenges they face by further abandoning the workplace terrain still occupied by their own members or by workers strategic to the future of important industries like telecom.
Generic "associate member" programs, like Working America, may be useful for building political mailing lists, conducting voter registration, and doing voter education and turnout. Maybe next, promoting labor-endorsed insurance plans in the state insurance exchanges?
But dumbing down the concept of membership, in the process, is not a "strategic shift" so much as a shell game. It has little in common with existing serious, long-term efforts to build workplace organization in the absence of employer recognition and bargaining rights.
One instructive example—the decade-long "minority union" campaign at T-Mobile—was given some airtime in L.A. last week. The plenary and workshop presentations by fired T-Mobile worker Josh Coleman and Communications Workers President Larry Cohen provided a much-needed reality check: building and sustaining TU, a voluntary membership organization of T-Mobile workers, has not been easy.
Even with help from the German union at T-Mobile's parent company and much CWA local union and member-organizer involvement, it has taken 10 years of work to recruit 1,000 TU supporters in a union-eligible workforce of 20,000.
Only 15 T-Mobile workers in Connecticut have been able to win formal bargaining rights thus far. But workplace education, cross-border networking, direct action, publicity, legal complaints, and community support have produced some important non-contract gains.
For similar union-building candor, plus in-depth discussion of organizing, bargaining, and strikes, readers should consider attending Labor Notes' national conference, April 4-6 in Chicago. It won't change the world of labor all by itself either, but it will have the workplace perspective so MIA from the AFL convention.
Alt-laborers and "old union movement" members alike will find common ground—more solid than labor's official terra firma in La La Land last week.
As a longtime staffer of the Communications Workers, Steve Early assisted CWA-backed alt-labor experiments like the Massachusetts High Tech Workers Network, the Alliance @ IBM, and WAGE at General Electric. His new book, Save Our Unions, forthcoming from Monthly Review Press in November, contains an account of CWA's ongoing "minority union" campaign at T-Mobile.
For debate on the significance of the AFL-CIO Convention, look here and here.