'Law and Justice' on Strikers' Side, Nursing Home CEO Finds
What's a growth industry in the U.S.? Making decent jobs into bad ones. Daniel Straus, CEO of HealthBridge and CareOne nursing home chains, is a textbook case, imposing a contract that sent 600 outraged Connecticut union members out on strike July 3.
Don't have a union, and want to improve your working conditions by getting one? Straus has an answer for that, too. CareOne nursing home workers in New Jersey voted in SEIU 1199 nearly two years ago—they were "dying for a union," said stressed-out workers. Now 10 are on the street, illegally fired, with no contract in sight.
With employers like Straus leading the race to the bottom, it's no wonder the Center for Economic and Policy Research said recently that fewer than 25 percent of jobs in the U.S. can be called "good jobs," and the Census Bureau reports that median household pay has fallen to that of 17 years ago.
Employers think they can exploit high unemployment and a weak economy, said Deborah Chernoff of SEIU 1199 New England. "They think it's a good time for the rich to get richer," she said. "They're betting workers aren't willing to fight in a way that would put their jobs at risk."
Flaunting the resulting concentration of wealth, Straus is putting $1.25 million a year into a vanity project, a law institute at New York University named after his parents.
On the other side of the ledger, striking workers calculate that under Straus's contract, they will lose $8,000 a year. The company even eliminated their half-hour paid lunch, their uniform allowance, and half their sick days.
BURDEN OF DEMOCRACY
Workers showed up in Manhattan's Greenwich Village in mid-September to protest the Straus Institute for the Advanced Study of Law and Justice. Inside, there was a luncheon for institute fellows, who get $100,000 a year to ponder themes like "The Burden of Democracy."
Outside, 150 union members and supporters stood across the street yelling "Shame!" while two dozen anti-union demonstrators organized by the company formed a phalanx in front of the luxury townhouse. Counterdemonstrators are a new feature of protests at the institute, so apparently union criticism has hit a nerve.
Straus's imposed nursing home contract eliminated staffing ratios, making what should be care work more like a rushed assembly line, workers said. In one shift, a worker is expected to bathe, dress, and twice feed 12 patients, some of whom are bedridden.
Strikers said the contract imposed on them would also destroy their own access to health care. Gary Davis, a cook, said that health coverage for his family would eat up three-quarters of his paycheck under the new plan. But with 20 years in, the youthful father of seven said his top concern was the conversion of his pension. The company announced it was pulling out of the union's pension fund, and imposing a 401(k) with a laughable 1 percent match.
Eloise Powell, a nursing assistant, said health coverage for a single person amounted to $400 a month, not easy for workers making $13 an hour and working the 37 ½-hour weeks in the new contract. "We work, and then give them back the money," she said.
Around one-fifth of the workforce sat in on bargaining, so they knew what the company had planned for them. Meanwhile, managers tried to terrify patients and their families with letters saying the nursing homes would have to close unless the union buckled under.
The company also announced that the union was going to strike long before the workers had made any such decision, Powell said.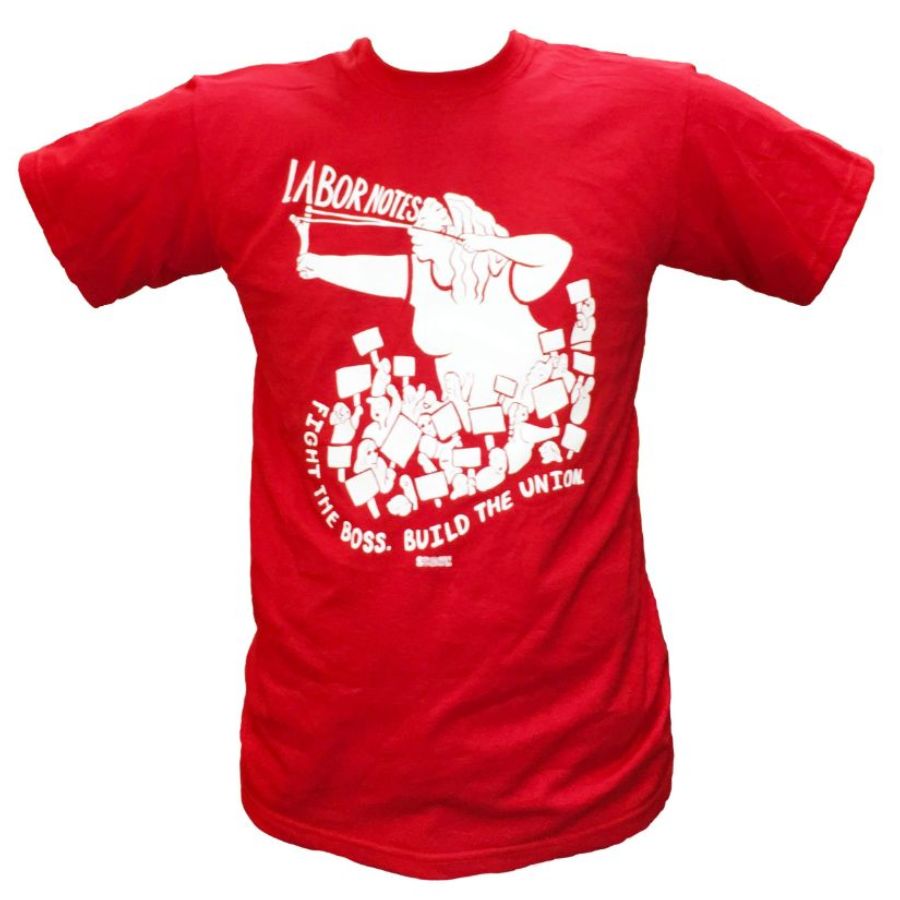 At one point management negotiators said the goal was to make conditions the same for union and non-union workers in the chain, which has 70 facilities in nine states. The company's ratchet only goes one way, down.
LAW AND JUSTICE?
Of course, it's illegal to impose a contract unilaterally, and it's illegal to fire workers for organizing, as the funder of a law institute surely knows.
His 14-week lockout of 110 workers in Milford, Connecticut, early this year didn't have the intended effect. In fact, it made workers even more angry and united, said union staff. Eventually, National Labor Relations Board complaints gained traction and the company ended the lockout, fearing a court order.
Management also fired 50 housekeeping and laundry workers who were working through a staffing agency, only to rehire them directly at much lower pay. When a judge called it a ruse and threatened to force the company to restore wages, managers backtracked and paid workers their back wages.
Chernoff said that although the company tried to force workers to strike, the union kept bargaining, throwing the company off stride. Finally, HealthBridge sent the union a midnight email saying it was imposing the contract the next day.
Workers walked out after a required 10-day waiting period, striking against the company's refusal to bargain, an unfair labor practice.
According to the workers, their positions were initially filled with temporary agency workers, but now they are being filled with scabs who have been told their jobs are permanent.
That is unlikely. The union keeps getting favorable court decisions, although company appeals have delayed enforcement. A trial on four more unfair labor practice charges started September 10.
Now the union is arguing that the company is benefiting from its illegal behavior, and therefore all workers should be returned to work under the old contract while appeals crawl through the court system.
The NLRB agreed. In a rare move, it filed for a 10(j) injunction against HealthBridge. A hearing is set for late October. If a judge agrees, the company could be ordered to reinstate the workers under their old contract and continue bargaining. Any appeals would happen while the workers were back on the job.
The company is stacking up considerable liability for back pay, although union staffers said they thought the company was dragging out proceedings in hopes of a more employer-friendly labor board under a potential Romney administration.
"There are tough negotiations because the company is trying to save a buck," said Chernoff, "and then there are tough negotiations because they're trying to get rid of the union. This was the latter."
But with the HealthBridge workers, she added, the company miscalculated.