Chicago Occupation Challenges Corporate School Agenda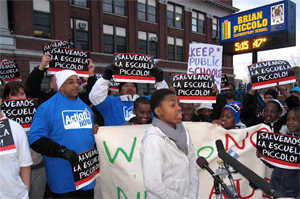 Parents raised the stakes in the ongoing battle over school closings and the corporate takeover of education when they occupied a classroom inside a Chicago elementary school Friday night.
Brian Piccolo Elementary School, serving 550 black and Latino students in grades pre-K through 8 on the city's west side, has been targeted for "turnaround" by Mayor Rahm Emanuel and his appointed school board.
The plan includes firing all the staff—from principal to lunchroom workers—and reopening the school under control of a private contractor, Academy for Urban School Leadership (AUSL). The 13 occupying parents and allies, who held the site for nearly 24 hours, didn't win a reversal of the turnaround.
But the occupiers did force all seven school board members to each engage a team of parents and community members in intensive discussions on the future of the school, cracking a wall of silence from city leaders and dramatizing parent and community opposition to the corporate education agenda sweeping the city—and the nation.
Piccolo is one of 17 Chicago schools targeted this year for turnaround, closure, or phase-out. The school's occupation came amid a wider community and union fight against the city's school privatization program. So far, two months of marches, rallies, school board presentations, and a five-day sit-in at city hall haven't turned back the mayor's plans.
Activists and officers from the Chicago Teachers Union (CTU) came to support the occupation, though it was led by parents and the community group Blocks Together.
Scores of schools nationwide have closed or seen "turnarounds" in the past two years, including in Kansas City, Detroit, Philadelphia, and Washington, D.C.
Increasingly vocal protests have met the bid to privatize education. In New York City, thousands of parents, students, and teachers protested this month as the mayor's hand-picked education panel approved another 23 closings, lifting the number of schools shuttered in the city to 117 in the last decade.
'Bring Them to Us'
Chicago's occupation was the brainchild of Latoya Walls, whose seven-year-old daughter and 12-year-old nephew attend Piccolo.
"They're used to having rallies in front of downtown, just another thing going on," Walls said. "I said no, bring them to us, and let's occupy this building. I didn't know it was going to turn out to be this big."
The occupiers planned to hold the Piccolo site in rotating shifts. When the first shift hunkered down, police cars began arriving. Two dozen police gathered in the street watching as more than 100 supporters—parents, teachers, students, Occupy Chicago members—linked arms on the school's front steps singing a version of "Ain't Gonna Let Nobody Turn Me Around."
The square in front of the school was filled with tents for a planned encampment, and big signs declared "We Do Not Need AUSL."
AUSL isn't a charter school operator. Instead, it operates schools within the district, and the teachers are covered by the CTU contract. Parents distrust AUSL, however, because like charter schools, it has a reputation for pushing disadvantaged or difficult children out of school.
AUSL's backers include Boeing, Dell, Bill Gates, venture capitalists—and the U.S. Department of Education.
The police chose not to force matters Friday night, and a Chicago Public Schools representative advised the occupiers that they could stay. At the same time, CPS and police prevented the occupiers from getting food and medicines, and prevented other parents from entering the building to provide relief.
"Rather than arresting us, they took a strategy of starving us out," says Ana Mercado, a youth organizer with Blocks Together, a community group that works with parents and students at Piccolo and other schools.
After intense negotiations with school board Vice President Jesse Ruiz, the occupiers exited the building Saturday afternoon—hungry, but satisfied.
CPS agreed to have the occupiers discuss the proposed turnaround of Piccolo and a neighboring elementary school, Pablo Casals, with each of the seven school board members individually Monday and Tuesday. Speedy action was essential because final decisions on all of CPS's proposed school actions are due at Wednesday's school board meeting.
While the one-hour consultations may not re-orient the board's overall strategy toward closures and turnarounds, the Piccolo occupation won the community better access to decision makers.
As Blocks Together Co-director Cecile Carroll explained in a post-occupation press conference, CPS had ignored parents and community for two months.
Parents and allies had developed a counter-proposal to the Piccolo and Casals mass firings, drawing from a wider strategic school plan developed by the West Humboldt Park Community Action Council over the past year.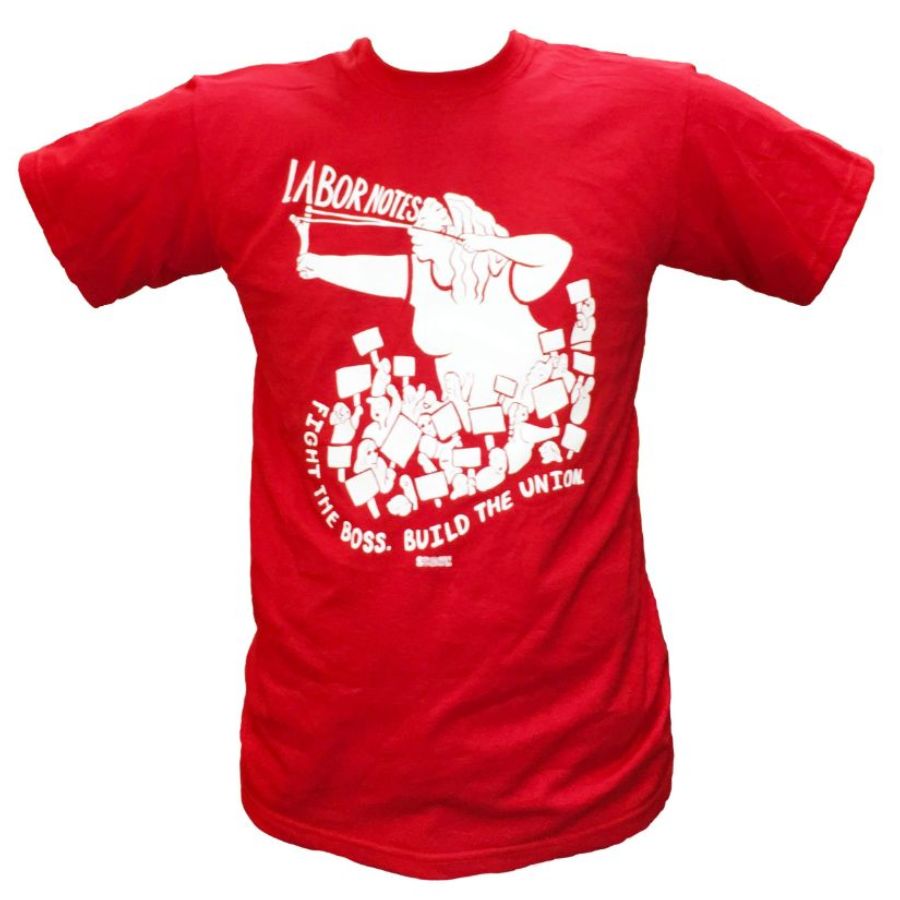 Latrice Watkins, a parent volunteer and school council chair at Piccolo, said their school plan includes keeping the new principal for a minimum of two years, increasing parent engagement, and funding more cultural programs and better security. They want to bring in a consulting organization, Strategic Learning Initiatives, to do a genuine turnaround.
Carroll noted that parents at both schools voted overwhelmingly against handing the schools to AUSL. The schools chief and board members each received the parents' plan. "But no one ever got back to us," she said.
Contractor Pushes Students Out
Chicago communities have fought school closings and corporate turnarounds for years, sometimes successfully, sometimes not.
About 100 of the city's public schools have been shuttered since 2004, when former mayor Richard Daley unveiled the Renaissance 2010 school privatization plan, drawn up by Chicago's corporate-driven Commercial Club.
All of the schools targeted this year are in Chicago's predominantly black and Latino south and west sides. The transition from open-access neighborhood schools to selective-enrollment schools is tied to the goals of real estate developers, who seek to displace low-income communities of color to sell condos to more affluent, predominantly white buyers.
CTU President Karen Lewis observed that Chicago is entering an "era of educational apartheid."
Parent opposition to the Piccolo and Casals turnarounds owes, in part, to AUSL's bad reputation in the Humboldt Park community where the schools are located.
When AUSL was handed the nearby Orr High School in a 2008 turnaround, it promptly established a practice of pushing out struggling students, says organizer Ana Mercado.
Students told her that the school's principal, addressing students at a fall 2008 orientation assembly, warned that "300 of you are not going to make it back this year."
Many students, instead of receiving their class schedules, got notes directing them to see their school counselor. The counselors advised them: "This school is not for you anymore. Here is a list of alternative schools."
The counselor would cite students' behavioral problems from the year before, or lack of credits, poor grades, or poor attendance. AUSL denied that it was pushing out students.
Counselor Leslie Gordon, who came to Orr in 2009, estimates that 100 students were dropped by the school in November and December.
"The principal picks a random number of absences—20, 30, whatever it is—and instructs the attendance office to drop those students," she said. "What really bothers me is that there's no due process, no attempt to remediate."
Students complain about the rigid discipline policies at Orr. "If you say a cuss word, you get two days' suspension," says 11th grader Malachi Hoye. "If you don't have your ID, you get suspension."
Says another Orr student: "The fights are almost every day. Many of us are homeless, in foster care. If you want us to learn, you have to try to understand us, not try to suspend us or turn us away."
AUSL takes the "push out" and "counseling out" methods that have become so familiar within charter schools and applies them directly to traditional public schools. Students with special needs, difficult home lives, or other disadvantages are weeded out, and a military-like discipline imposed, in the attempt to boost the school's test scores.
Despite such practices, AUSL is politically favored by the mayor, who appointed former AUSL board chair David Vitale as school board president. The organization currently operates 19 schools within CPS, and hopes to double that by next year, according to the Chicago Tribune.
Yet opposition to corporate turnarounds goes beyond the problems with AUSL.
Watkins, school council chair at Piccolo, says teachers are communicating more with the parents, and the parents are communicating more with teachers. She ticked off improvements: better attendance, a more respectful culture, a more responsive principal, parents involved in hallway patrols and invited into the classrooms.
"We do not want AUSL to come to our school," Watkins said, "because we are already doing our own turnaround."
---
A Chicago-based writer and organizer, Howard Ryan is writing an organizing book for teachers.