'One Nation' to March on Washington Oct. 2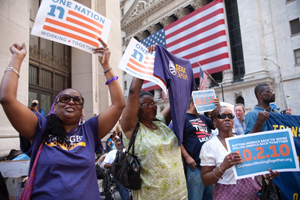 If Charles Jenkins and Don Trementozzi have their way, tens of thousands of poor and working class people will descend on Washington October 2. Unions and allied organizations have begun work organizing a rally, called One Nation, to show their numbers and demand fair, decent jobs.
It takes place exactly one month before the November Congressional elections.
Jenkins, director of special projects and organizing for Transport Workers Union Local 100 in New York City, and Trementozzi, president of New England's Communication Workers (CWA) Local 1400, are each spearheading their local's organizing efforts.
"People have a lot of interest in getting on a bus," said Jenkins, who is helping to build a website and bus seat reservation system for the rally. "We're getting a lot of responses from church, student, and union groups that just feel hopeless in terms of what this country is able to afford them."
1199SEIU President George Gresham is credited with having the idea for One Nation, along with NAACP Director Benjamin Jealous. "We are going to be marching for jobs for all," said Gresham, "and an economy that works for working people; funding for education and health care, not warfare; clean, renewable energy; civil, women's, labor, and LGBT rights; and comprehensive immigration reform."
He added that his union is pouring "massive resources" into this mobilization, and will be turning out "tens of thousands" of members from New York, New Jersey, Massachusetts, Florida, Maryland, and the capital itself. 1199SEIU is a 350,000-member health care local that spans the East Coast.
Organizers in New York state say they have already reserved more than 3,000 buses.
QUESTION OF TIMING
Gresham did not mention the election, but labor historian Nelson Lichtenstein thinks the rally's timing is significant.
"This thing could be big," said Lichtenstein, who directs the Center for the Study of Work, Labor and Democracy at the University of California Santa Barbara. "The problem is that it should have been in February."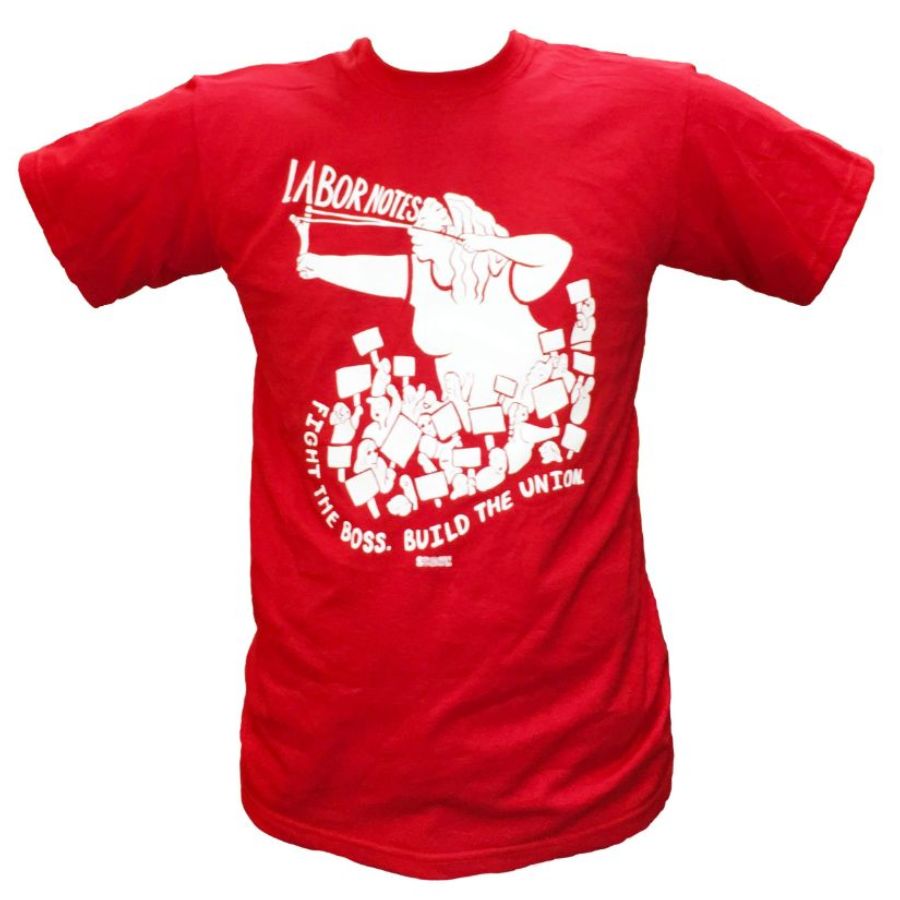 With just 30 days to go before the elections, said Lichtenstein, "should you spend lots of energy getting people to the march on Washington, or ringing doorbells in Canton, Ohio? I'm sure the message will be, 'OK, return to your hometown and start knocking on doors.'"
The AFL-CIO has thrown its support behind One Nation, and appears to view it as one way to get out the vote.
The federation's Executive Council issued a statement backing the rally that said the march "will charge up an army of tens of thousands of activists who will return to their neighborhoods, churches, schools and, especially, voting booths, with new energy to enact our common agenda. And on the same day, the labor movement will walk door-to-door in targeted states around the country."
Under the slogan "Win the change we voted for"—a phrase that could just as easily be on a Democratic get-out-the-vote poster—1199SEIU and the NAACP are co-chairing the One Nation effort. Fact sheets and flyers are available on both organizations' websites.
Other unions that have signed up to turn out members include CWA and the Teachers (AFT). Foster Stringer of the AFT said it's "too early" to say how many of his union's members will hit the streets for One Nation. "We are fully committed but no one has decided on a number," he said.
Whatever its political ramifications turn out to be, One Nation's organizers are passionately committed. "In 1981 we marched on Washington after Ronald Reagan fired the air traffic controllers," Trementozzi said. "I was there and I marched. This time the march is because fair jobs are getting killed and jobs are going overseas. [It's about] getting fair and equitable jobs and putting America back to work. We're all in this together."
Despite his reservations, Lichtenstein says unions, with their potential to be at the "core of progressive politics in this country," are the right group to organize One Nation—"and the Democrats who fail to understand that are cutting their own throats."
---
Mariya Strauss is media coordinator at the International Labor Communications Association.