Oakland Teacher Strike Forces District Back to the Table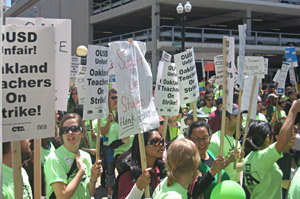 Teachers formed picket lines at 5:30 am outside every Oakland district school on April 29. The district's $300-a-day scabs were unable to fill the classrooms as 90 percent of the Oakland Education Association effectively shut down the district for a day.
The 2,800-strong local has been locked in a dispute with the Oakland Unified School District for more than two years, working without a contract since June 2008. On April 21, the OUSD ended negotiations and moved to impose harsh terms.
The district's bullying only rallied support amongst teachers for a work stoppage. Though non-teaching staff represented by other unions mostly reported to school, only a handful of students were in class. They joined parents, strikers, and other union members at a lunchtime rally downtown.
Parents told teachers they would lead efforts to recall the school board unless the board returned to the table. As the strike neared, board members did an about-face, announcing their desire to re-open talks. The schools superintendent scrambled to restart negotiations the day before the walkout, but the strike went off anyway. A week later, both sides agreed to resume talks in mid-May.
High Stakes
The school district attempted to impose higher class-size caps, up to 27 students in kindergarten and 30 in 1st through 3rd grade. It also sought larger class sizes for 9th grade and special ed classes. OEA is pushing for 20 to 24 students in K-3 classrooms. The district already upped caseloads to 700 students per counselor in 2006, an untenable workload which the union wants to lower to 500.
And OUSD has been phasing out adult education—an indispensable program serving 25,000 students, many of them immigrants, single mothers, and high school dropouts. In the last year, the district laid off virtually all its part-time adult ed teachers, and has pushed to divert nearly $9 million from the program to fill other holes.
Oakland teachers, already earning $12,000 a year below county and state averages, would get no raise. Last fall the district's adopted budget fell $35 million short of a state mandate requiring 55 percent of a district's expenses to be spent on compensation for classroom teachers and instructional aides. The district has acknowledged that low salaries are a big reason why it has one of the highest teacher turnover rates in the country.
Outside Mandela High, in the heavily Latino Fruitvale area, English teacher Randall Bustamante led chants with students and teachers. Several would-be scab substitutes were turned away by picketers.
The Takeover
Though local control was nominally returned to the Oakland school board last year after the state's six-year takeover, teachers know who's still calling the shots. State officials retain veto power over all district financial decisions, and the local media reports that state officials instructed local officials to impose terms on the OEA. "The Board has to stand up for quality public education, not act like enforcers for the state," said Bustamante, a leader of the Association of Raza Educators.
Oakland schools endured the takeover, aimed ostensibly at getting the district's finances in order. But under the state's watch school debt tripled, from $37 million in 2003 to $110 million in 2009. Oakland schools became a laboratory for downsizing, outsourcing, and privatization. Salaries of teachers and school workers were cut 4 percent, libraries were closed, and the number of students attending non-union charter schools quadrupled, giving Oakland the highest percentage of students in charter schools of any urban school district in California. By the end, 20 percent of the district's budget was being spent on consultants and other contractors.
In better economic times, the state raided OUSD finances and ballooned the debt, handing out rich contracts to friends and patrons. Today, state officials are using the budget crisis as an excuse for continued attacks: they say there's no money.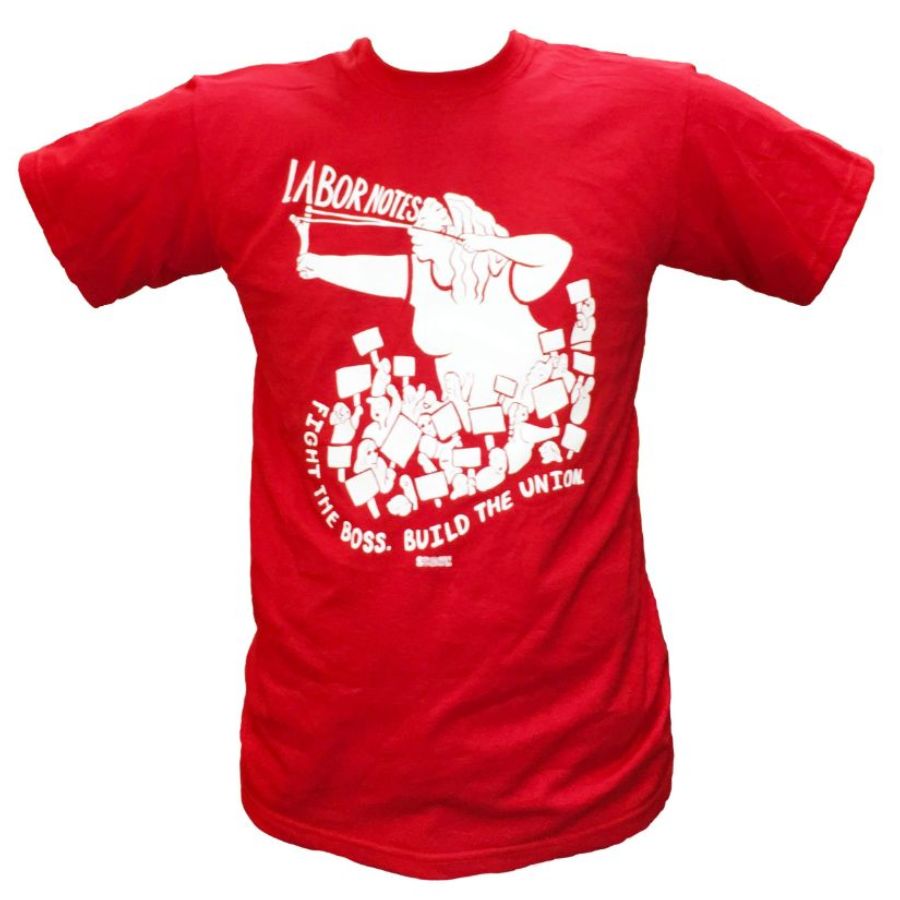 But OEA has shown that the money is there. Oakland schools receive $3,000 more per student than the average California school district—well over $100 million a year, and more than enough to balance a budget, restore programs, and meet OEA's demands.
The district spends twice as much as the average California school district on contracts, many of them nonsensical. Last year OUSD adopted the most expensive math textbook series available for elementary schools. Before these books arrived, the district spent $3.2 million on a self-contained elementary school math program which is incompatible with the district's new books, which now sit in the closet. If Oakland schools spent just 10 percent of its budget on contracts, the average for other districts, it would save more than $40 million each year.
OUSD also spends twice as much on site administrators as the average California school district. In 2006-07, it employed 78 more administrators than allowed by the state education code. The district is spending $10 to $20 million per year on administrators and the central bureaucracy.
Meanwhile, Oakland pays $6 million per year in debt service to the state—for the debt that the state itself ran up! As a point of reference, OEA's contract demands would cost about $25 million per year.
Strike to Win
If OEA is to win, it has to break the state's stranglehold on the schools. This needs to be the focus of a coalition effort against the cuts to public education and other vital services. Energy from the March 4 statewide Day of Action endures. Dozens of organizers from Berkeley and other Bay Area colleges bolstered teacher pickets outside the district administration building.
Other school worker unions need to play a stronger role. The leaders of other school unions—AFSCME, representing clericals and custodians; SEIU, representing school safety officers—sat on the fence. These unions have no-strike pledges in their contracts, making sympathy strikes illegal. Their leaders couldn't tell members to honor OEA's lines, but they could have let members know not to do anything that puts their health or safety at risk—like trying to cross a picket line. Some custodians, clericals, and instructional aides honored OEA's picket lines, but most did not.
While OEA may be able to show where the money is in this contract fight, it will likely find itself in the same boat as other public sector unions facing enormous budget shortfalls that can't be solved by one union or in one city. The fight over priorities reaches to all levels of government. California's tax structure needs an overhaul to close huge corporate tax loopholes and raise the disgracefully low property taxes paid by corporations. The California Federation of Teachers has launched a campaign to restructure taxes that deserves labor's support.
That campaign won't provide money for this year's contract fight—but it could ease a lot of future ones. This won't be a quick fight, but it's an essential one.
The Oakland strikers and their supporters have the district's attention. Now they face the tall order of winning a fair contract alongside an ongoing battle to remove the state's grasp on school finances. Soon after pickets ended on April 29, OEA members geared up for more action, authorizing a longer strike.
---
Jack Gerson is an Oakland teacher and a member of the OEA bargaining team.