Our popular book Secrets of a Successful Organizer, is now available in Spanish! (For the English version of the book, click here.)
Nuestro manual popular, Secretos de un organizador exitoso, ya está disponible en español.
¿Hay problemas en su lugar de trabajo? A lo mejor la paga es muy baja, las condiciones son inseguras o su jefe tiene a alguien con quien usted trabaja en la mira… y usted está listo para hacer algo al respecto.
Este libro le mostrará cómo luchar en su lugar de trabajo y ganar. Aprenderá a identificar los asuntos clave en su lugar de trabajo, construir campañas para abordarlos, anticipar los trucos y trampas de la gerencia e inspirar a sus compañeros y compañeras de trabajo para luchar juntos a pesar de sus miedos. Este es un manual que lo guiará paso a paso para construir su poder en el trabajo.
Descuentos por volumen
Hay grandes descuentos si quiere comprar copias de Secretos por volumen:
5-10 copias = 10 por ciento de descuento
11-50 copias = 25 por ciento de descuento
51 copias y mas = 40 por ciento de descuento
Se puede comprar copias con un descuento en nuestro sitio de web. Solamente ponga la cantidad de libros que quiera en su carrito de compras y el descuento se aplicará automáticamente.
Save Big When You Buy in Bulk
Interested in buying a Labor Notes book for your whole study group or steward training conference? Big discounts are available:
5-10 copies = 10 percent off
11-50 copies = 25 percent off
51 copies and up = 40 percent off
You can order discounted purchases online. Simply add the number of books you want to your shopping cart and the discount will be applied automatically!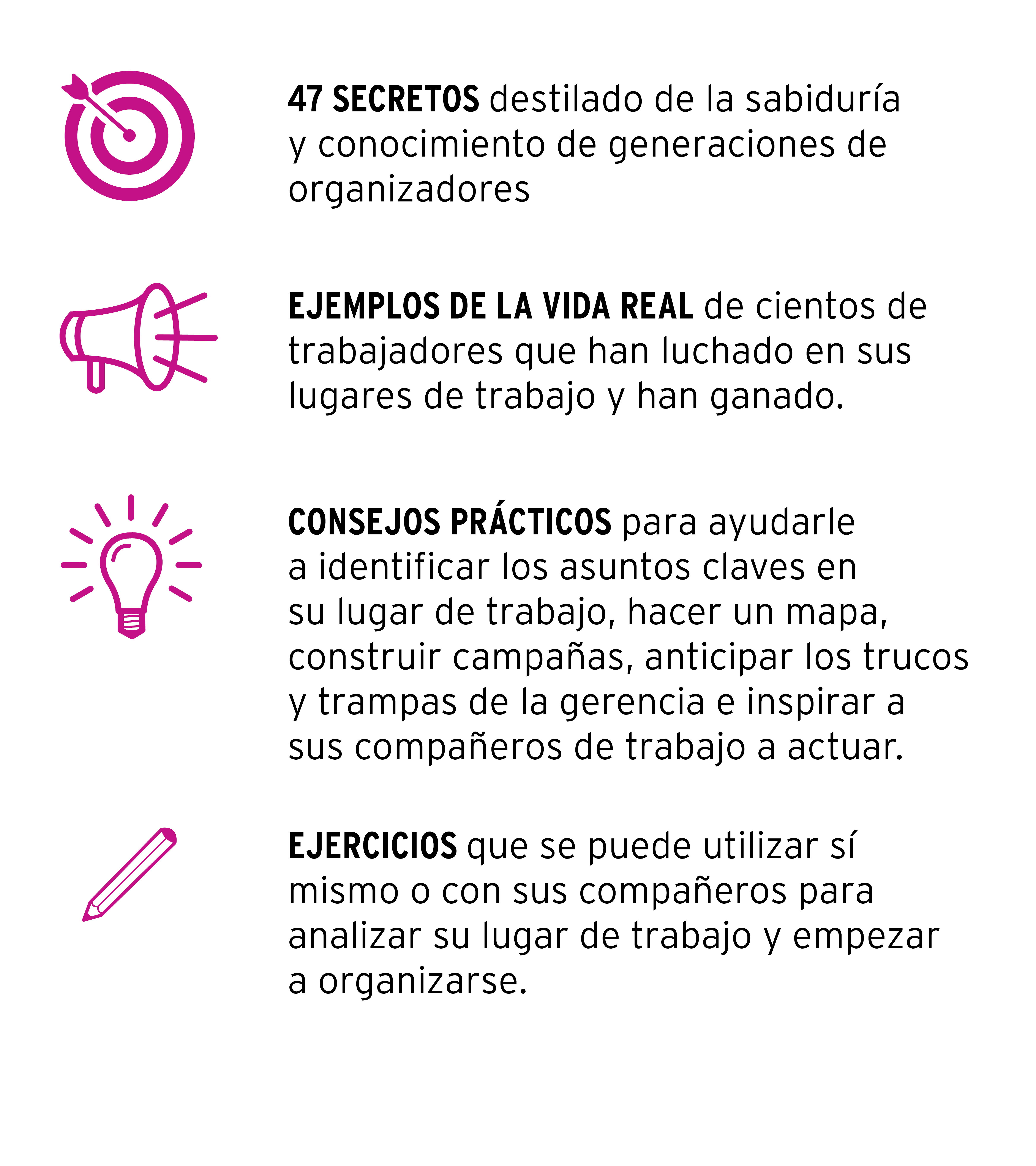 CAPÍTULOS DE MUESTRA / SAMPLE CHAPTERS
Secreto #2: La apatía no es real
Secreto #3: Apunte para dar en el blanco
Secreto #5: No trate de ser un héroe
Secreto #11: La gente se mueve poco a poco
Secreto #21: Haga un mapa para guiarse
Secreto #24: Escoja un asunto que se pueda ganar
FOLLETOS / HANDOUTS
Haga fotocopias de lo que le guste. Para su conveniencia, tenemos una selección de materiales que están disponibles para descargarse gratuitamente en formato tamaño carta, el cual es fácil de imprimir y compartir.
Photocopy whatever you like from the book. But for your convenience, we've made selected materials available for free download, in a letter-sized format that's easy to print and share.
Cómo el patrón nos mantiene desorganizados
Apunte para dar en el blanco
Saber escuchar
Cualidades de un buen organizador
Ejercicio: Haga un mapa de su lugar de trabajo
Diez preguntas a hacer al dibujar un mapa de su lugar de trabajo
Ejercicio: Haga también una tabla
Un buen asunto para organizarse
Tenga un plan estratégico
Suba la temperatura: Termómetro de acción
Escoja tácticas adecuadas para la campaña
Ejercicio: Coloque estas tácticas en el termómetro
Responder a preguntas difíciles
Vacune a sus compañeros contra las tácticas del jefe
La gente organizada tiene poder