Nov 24 /
Imagine being removed from your workplace for misconduct—without being told what you did wrong. Imagine waiting years to find out whether you can return.
»
Nov 18 /
Postal management is whittling down to the bone the infrastructure that serves first-class mail—catering instead to big corporate customers. Phase two hits January 5.
»
Nov 14 /
Walmart retail workers in Southern California held the first sit-down strike in the company's history yesterday. The workers are getting ready for nationwide actions on Black Friday, the day after Thanksgiving.
»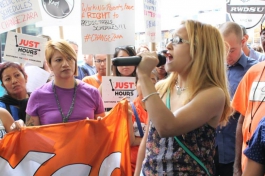 Oct 29 /