UNITE HERE Won't Concede to Big Hotels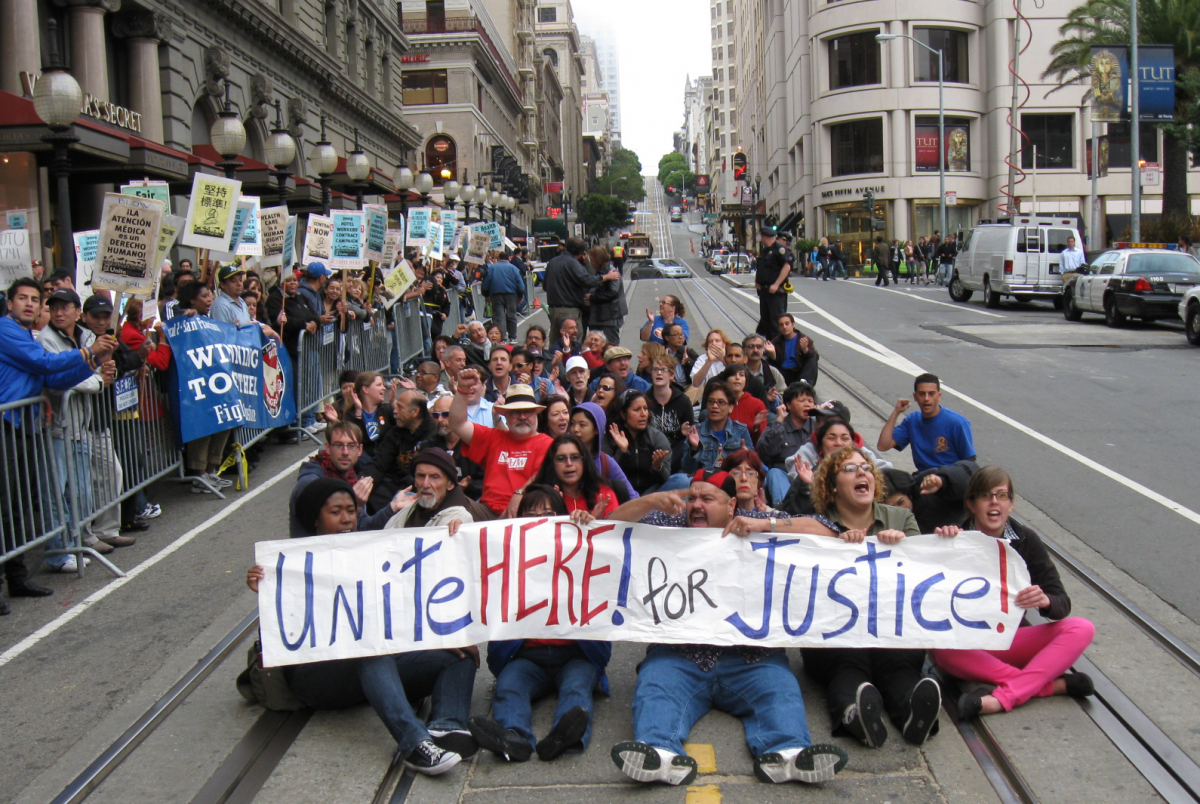 As dozens of contracts with hotel giants Hyatt, Hilton, Marriott, and Starwood expired in three cities in late summer, UNITE HERE launched another round of battles over health care, pay, and working conditions. The union's nationally coordinated contract campaign—known as Hotel Workers Rising—centers on building "bargain to organize" deals in its Chicago, San Francisco, and Los Angeles hubs that will allow it to expand while raising contract standards.
The union scored bargaining and organizing victories in 2006 after fighting to line up contract expiration dates for 60,000 workers in six cities.
This year's showdown finds hotel workers, and their union, at a moment of truth. The hotel giants are making unprecedented attempts to cut health benefits and up workloads in the recession, while the union is opening new organizing fronts that highlight stark contrasts between union and non-union working conditions.
The campaign this year has been hampered, though, by the March split in UNITE HERE, as its former laundry and textile division left and joined the Service Employees (SEIU). The resulting convulsion of raiding and counter-raiding has forced UNITE HERE to siphon staff from Hotel Workers Rising, most recently to battle over cafeteria workers in Philadelphia.
BOSTON'S HYATT 100
This year's target, Hyatt hotels, hasn't done much to bolster its public image lately: in late August it replaced 98 housekeepers at three non-union Hyatts in Boston with workers hired through a subcontractor at half the pay.
The company wasn't banking on non-union workers resisting nor on their getting the support of UNITE HERE Local 26. Nearly all the workers met with the union, which strongly backed their fight. Within weeks of the firings, UNITE HERE had held protests nationwide in front of Hyatt hotels, demanding the "Hyatt 100's" reinstatement.
The company scrambled, offering workers health care through the end of the year and one-year jobs with a temp agency at their former wages.
Workers rejected the offer, saying they didn't want to replace other workers just as they'd been replaced. Instead, they joined 1,000 demonstrators who gathered in a Jobs with Justice-sponsored, bagpipe-led "march for jobs" October 1 that culminated outside the downtown Hyatt.
Massachusetts Governor Deval Patrick called a statewide boycott of Hyatt, echoed by Boston's city council and heeded by the city's cab drivers' union and dozens of others who switched their reservations in protest.
NATIONAL TOUR
While Local 26 targeted organizations that had events booked with Hyatt, Boston workers hit the road. The nationwide tour of six cities where the union is organizing began at a rally in Long Beach, where housekeeper Corpornia Belis wept recounting her abrupt dismissal after 25 years of service.
"My shoulders, my back, my knees stayed in that hotel," she said. "And what did they give me? A garbage bag so that I could empty out my locker."
The tour dovetails with contract fights in Chicago and San Francisco, where the union staged civil disobedience actions as a first escalation over dozens of contracts in the two cities.
Hotel business is off during the recession, but companies are hardly in line for a bailout. The industry has garnered $200 billion in profits in a decade. Hyatt is squealing about a $36 million loss in early 2009, but raked in $1.3 billion over the last four years. Starwood, Marriott, and Intercontinental are all still making money while asking workers to pony up.
NOT AFRAID IN CHICAGO
Boston workers arrived in Chicago, where Local 1 is fighting over 30 hotel contracts. "Me-too" rules dictate that the city's smaller hotels, also with open contracts, follow the agreements hammered out by the major chains.
Hours after Chicago filled several police buses, San Francisco's Local 2 followed in kind. At two downtown hotels, 1,700 showed up for an action that has sparked a series of smaller pickets.
After rallying outside the Grand Hyatt, Lorna Villanueva and dozens of her co-workers pushed further, taking over the lobby before getting locked up. Ninety-two were arrested, including Villanueva, a 36-year veteran room inspector—who chalked up her fifth protest arrest. This time, she says, the action was to protect future workers from the companies' two-tier proposals. "We don't leave anybody behind," she said.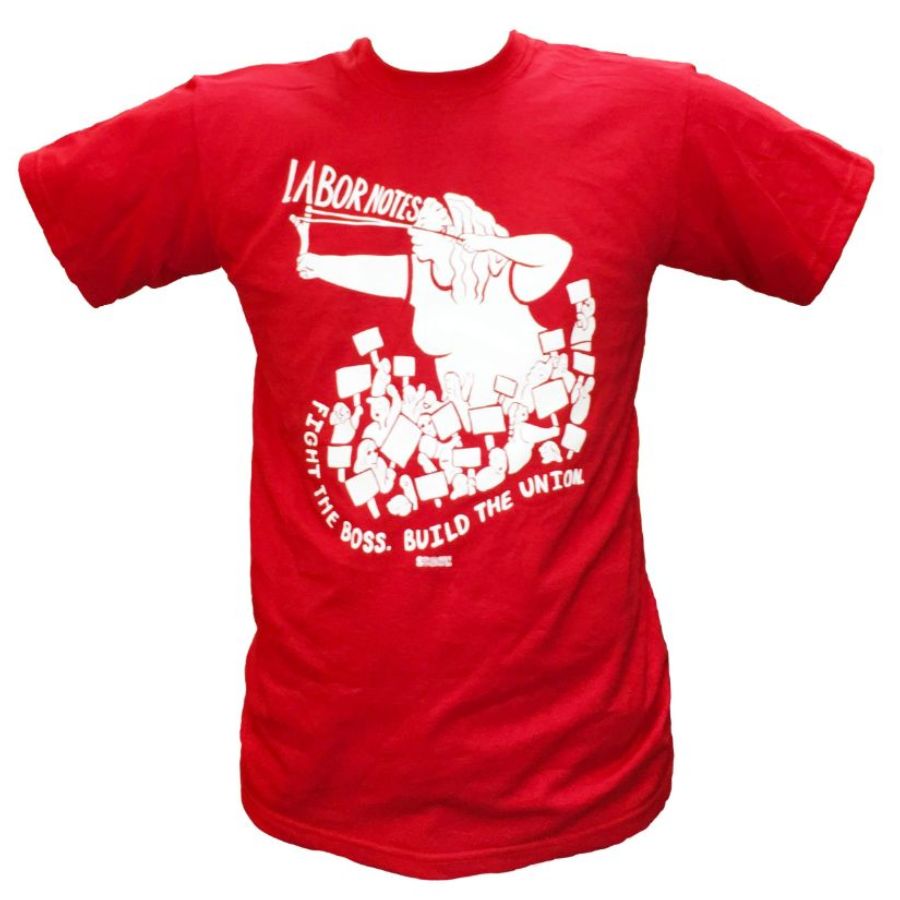 Talks over a citywide contract continue; it would cover 14 unionized hotels employing 9,000 workers. One goal of the campaign is to win organizing rights at three city hotels, where drives are at a tipping point.
Hotels are putting the squeeze on. Ringo Mak, a veteran room service attendant, says the Hilton raised prices for the service so high that customers won't use it—and then cut the department staff in half. "Everyone in the hotel besides the CEO is hurting," he said.
Mak's picking up extra hours serving in the hotel restaurant, and, for now, can maintain his family's medical coverage even with reduced hours. Hilton wants to freeze its pension contributions and eliminate retiree health care.
Villanueva says frontline managers are playing nice while company negotiators lay down a hard line—a strategy that members recall from their 2004 strike and lockout, when a general manager brought breakfast to the picket lines. "Nobody touched the coffee or the donuts," says Villanueva. "We buy our own food."
Members continue their increased contributions to the strike fund, as they have for months. "The hotel lost a lot of money in the last contract fight," says Mak. "I hope they learn their lesson."
EXPANSION PLANS
UNITE HERE has achieved 90 percent density in New York and San Francisco through deals ensuring card check at newly built hotels. The union is also devoting resources to several "breakthrough markets" with low union density: Phoenix, Denver, Atlanta, and San Antonio, and those with none: Long Beach and Indianapolis.
The Boston workers made a stop in San Antonio, where a tumultuous organizing drive has stretched out over a year. Worker-leaders who haven't been fired are getting assigned higher workloads than co-workers. If company intimidation weren't enough, SEIU showed up to disrupt the drive.
UNITE HERE presented cards from a majority of workers last spring, but SEIU organizers flew in, claiming to be the real bargaining representative—despite having no contact with the worker committee. Hyatt happily obliged SEIU's request for closed-door meetings, which drew worker protests inside the hotel.
Eventually the NLRB called an election with both unions and "no union" on the ballot. SEIU pulled its staff out before the election, and in July UNITE HERE called off the vote.
Back to square one, Hyatt workers are pressuring the city council to support unionization at the hotel, which was constructed with city incentives on city land. They're also hoping the nationwide campaign will tip their drive over the top.
While local committees build muscle and multiply, the International is trying to swing organizing deals with the chains. The union reached agreements in 2006 with Starwood and Hilton (where it has the highest density), laying out a broad framework for new organizing rights. This year's target, Hyatt, is not amenable to such talks.
UNITE HERE researchers say that upwards of 80 percent of hotel workers are still without a union, but 14,000 have joined in 35 metropolitan areas in the last five years—a 14.5 percent gain.
The union is challenged on three fronts: battling global corporations in a recession, keeping a rival union at bay, and creating a culture where hotel workers are at the fore of a democratic union.
Though a loyal membership has repeatedly shown its willingness to confront management, some of the union's former organizers are raising concerns about the degree of rank-and-file involvement in decisions shaping local campaigns.
In a public letter, a group of ex-organizers at San Francisco hotels challenged UNITE HERE to make good on its professed "bottom-up" strategy, decreasing staff's role and opening more space for worker control as contracts expire in several major cities next year.