Healthcare Cost Shifting and Two-Tier Fights Draw New Battle Lines in Grocery Industry
For two years now the strike weapon has been in decline as a tactic in the United States.
Strikes and lockouts are at record lows, with less than 46,000 workers involved in mass work stoppages in 2002-a full 348,000 fewer striking workers than in 2000.
But the increasingly wide-scale attempt by employers to exact concessions in contract fights may finally be forcing unions to draw up the lines for battle.
In one of the biggest strikes in recent years, over 70,000 grocery workers walked off the job October 11 at 859 southern California stores.
The dispute centered on two trends that have reared their heads in many of this year's contract battles-health care cost-shifting and a two-tier system for new-hires.
BUZZ SAW CONCESSIONS
California's three largest grocery chains-Vons/Pavillions, Ralph's, and Albertson's-have sought givebacks from the seven United Food and Commercial Workers local unions in the area.
Citing the need to compete with low-cost, non-union Walmart, the companies' last offer proposed concessions in what the union calls a "race to the bottom":
• Workers would pay $260 more per year for individual healthcare and $780 for family coverage. The UFCW says this would shift close to $1 billion in costs annually from the employer to workers.
• A new tier system would place new-hires at $2.80 an hour less than current workers, with substantially lower pensions.
• Most workers would take a wage freeze in the first two years of the three-year contract.
All three chains negotiate with the union in a Master Contract. The "me too" agreements of smaller regional chains, such as Gelson's and Stater Bros., are modeled after this contract, underscoring for the union the importance of not caving in to "concessions of this degree."
Union officials originally aimed for a fairly conservative approach to the concessions drive.
Bob Bliweiss, the UFCW's press spokesperson for the strike, told Labor Notes that the union had agreed to some concessions, such as a small increase in members' healthcare co-pays, but were put off by the severity of company demands.
"The companies came at this thing with a buzz saw, not a scalpel," said Bliweiss.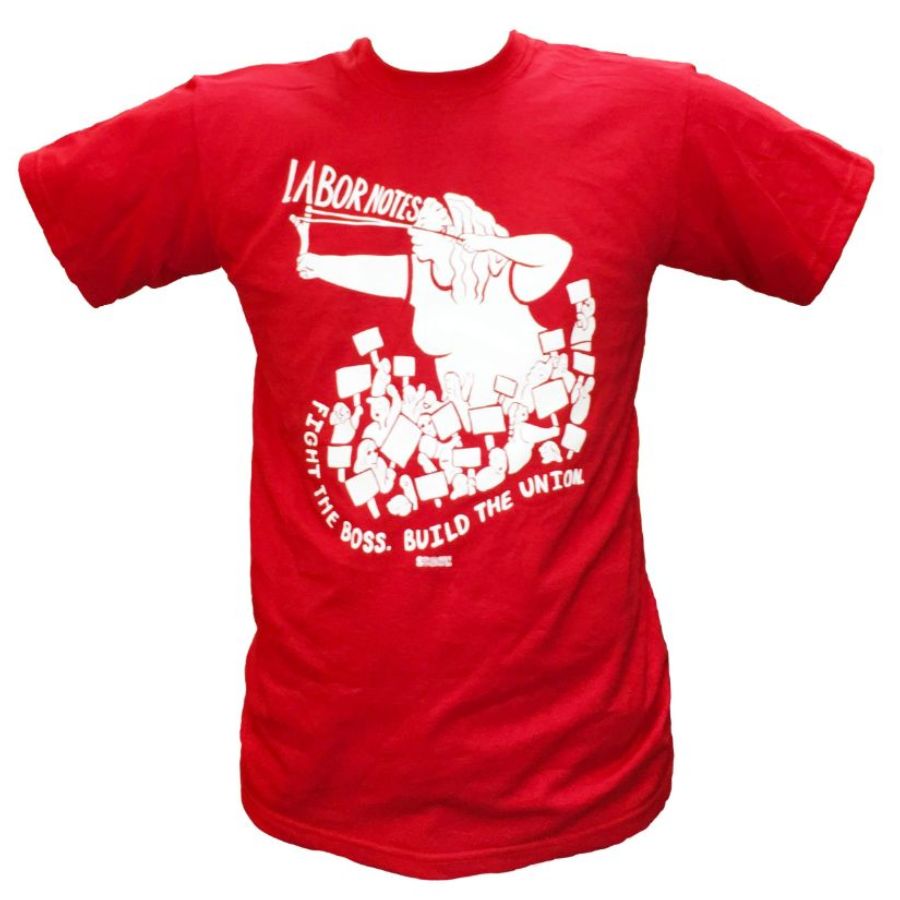 Furthermore, UFCW leaders had sought to limit the strike to just one part of the Master Contract, the Safeway-owned Vons and Pavillions stores. Union officials asked the two other chains not to lock members out.
The two other companies, however, were quick to rally around their collective interests and proceeded to lock out some 49,000 union members at their stores shortly after the strike deadline fell. Albertson's lockout does not extend to its pharmacy staff, due to the difficulty of finding replacement workers.
The UFCW has responded to the lockouts with pickets and a lawsuit challenging the lockout as a violation of California's Mass Layoff Notification Law.
A WIDENING STRIKE
In a fortunate turn of events for the striking grocery clerks, the strike has spread beyond southern California stores to other states and, importantly, to vital distribution warehouses.
Responding to mounting sentiment from local unions and members, Teamsters Joint Council 42 announced October 14 that close to 5,800 Teamster truck drivers and loaders at affected sites would honor UFCW pickets at the warehouses.
According to Palm Springs' Desert Sun, the UFCW has plans to picket 10 distribution warehouses in the area.
As Labor Notes went to press, Teamster sources said that only two warehouses had been picketed and had work halted to date.
Teamster drivers have been honoring pickets at stores by refusing to make deliveries, forcing managers and scabs to drive rigs across the lines.
In the last major California grocery strike in 1978, grocers were forced to concede defeat when Teamster drivers refused to cross picket lines and stores could not be restocked.
In a related development, the roughly 3,300 grocery clerks in UFCW Local 400 struck Kroger stores in West Virginia and in bordering areas of Ohio and Kentucky. Kroger, which owns Ralph's, has been seeking health care concessions in that region as well.
Jim Lowthers, Local 400's president, declared, "Kroger's policy apparently is 'Billions for Profits, no Benefits for People'.... If Kroger gets away with this, other employers will try it."
WAR OF ATTRITION
Both the union and the chains are predicting that the strike will be a long, costly one-a notion echoed by business analysts. The affected stores comprise an estimated 14-18% of the total business of Kroger, Safeway, and Albertson's nationally.
Both sides prepared extensively for the strike right up to th deadline. The grocery chains began hiring scabs weeks in advance. By the first week of the strike Von's had brought in an estimated 17,800 scabs to replace its 23,000 clerks and baggers.
The UFCW also seems ready for a long fight. The local unions and the International have amassed a fairly sizeable strike fund. Members walking pickets full-time are allotted up to $300 a week, an amount higher than most unions' strike benefits.