How's Partnership Working for Teachers?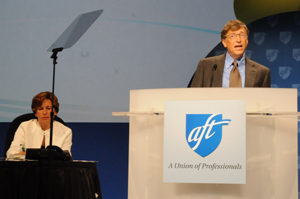 With a few local exceptions, America's teachers unions—the American Federation of Teachers and the National Education Association—have met billionaire school reform with surrender, accommodation, and ill-advised partnership. The AFT's largest local is a case study in the turn-the-cheek approach.
New York City's United Federation of Teachers is a mammoth union in a mammoth school district, with 87,000 teachers serving 1.1 million students. While union responses vary from city to city, the UFT's posture is representative of national trends and, by virtue of its size and sophistication, strongly influential. It is no accident that AFT President Randi Weingarten led UFT before rising to the helm of the national union, as did two of her predecessors.
UNDER THE MICROSCOPE
Given the philosophy of teacher-blaming that guides today's schools, it is inevitable that performance evaluations of teachers are front and center.
Traditional evaluations relied on principals observing teachers in their classrooms. Nowadays teacher performance is increasingly measured by student performance—a measure many teachers consider unfair, since so many factors beyond teachers' control affect student performance.
UFT, however, fully accepts tying teacher evaluations to student performance. It's developing such an evaluation system with New York state's department of education (DOE). The union is actively selling the new system to teachers, pointing out that it relies on several performance measures, not just tests.
"Whether it's tests or other aspects of performance, we shouldn't be rated by student performance," says Marian Swerdlow, a 21-year high school social studies teacher who is active with Teachers for a Just Contract, a reform caucus in UFT.
Labor Notes Special Report:
School Wars
Swerdlow teaches at one of 11 high schools where testing of the new evaluation system will soon be under way. A union vice president came to her school, she said, and announced that student improvement throughout the year will be the basis for 40 percent of each teacher's ratings.
Swerdlow takes strong objection: "What if the kid comes into my class and is struggling to learn English? A year may not be enough time for him to acquire enough English, and he won't make that much progress."
In effect, the union and the DOE are jointly setting up a system that promises widespread teacher failure.
GIVING UP JOB SECURITY
Step by step, New York schools have been weakening teachers' job security—with the union's acquiescence. When combined with the new evaluation system that threatens any teacher whose students struggle academically, the changes could result in a firing frenzy.
The union has allowed without protest new rules that make it harder for new teachers to get tenure. Opponents of teacher unions have made tenure a chief point of attack, painting it as giving lousy teachers a job for life. In reality, tenure is equivalent to completing probation, with due process rights over discipline or dismissal.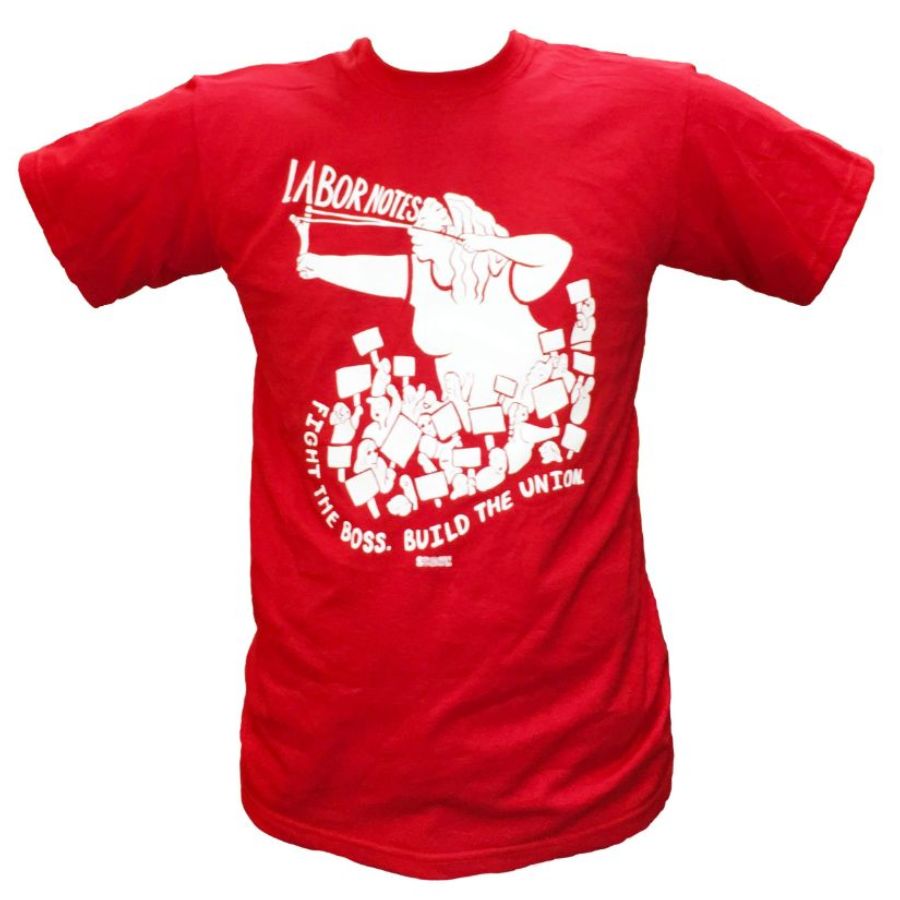 In the past, a teacher with three years of satisfactory ratings got tenure, Swerdlow said. But now the principal has to make a case to the New York City DOE. It's a complicated process, with data and value-added algorithms. Now, the default is that the teacher doesn't get tenure.
Tenured teachers are also losing job security, as the city's education department eagerly looks to cut higher-paid senior teachers. In the past, teachers who lost their assignments due to a school closure or program cut were automatically placed in the nearest available vacant position.
That ended with UFT's 2005 contract. Now "excessed" teachers must apply for vacant positions, and schools have no obligation to take them. If they have high seniority, their higher pay makes them unattractive to principals.
The 2005 contract did provide a safety net: laid-off teachers are placed on "absent teacher reserve," with full pay and benefits. But now the DOE is demanding that time in reserves be limited to one year, as is the case in Chicago schools.
A limitation on New York's reserve time is very likely on the horizon, Swerdlow believes, which will lead to massive job loss, as seen in Washington, D.C. and Chicago after school closures and purges of "underperforming" teachers there. Shortly after this school year began, there were about 1,800 teachers in New York's reserve pool and about 1,200 vacancies in schools.
A new time limit on the reserve teachers will likely come out of deadlocked UFT contract negotiations, which are awaiting a fact-finding panel's recommendations.
If the reserve teachers lose protections, Swerdlow says it's because the union relied on fact-finding instead of organizing members for a vigorous contract campaign.
SCHOOL CLOSINGS AND CHARTERS
The billionaire reform agenda proposes to shut down public schools deemed to be failing and replace them with charter schools. Pushed by Mayor Michael Bloomberg, who wields full control over city schools, dozens have been closed and replaced with privately run but publicly funded charters, most of them non-union.
The UFT is pro-charter. The union's website hails charters' "innovation and promise" and boasts about forging a "collaborative relationship" with "progressive charter advocates, such as Green Dot." The union says it opposes charters only when they promote "ideological goals: privatizing public education and breaking the power of teacher unions." But dismantling public education and breaking unions is precisely the effect of the charter school movement.
UFT is caught in a vise, struggling to organize some charters while recognizing that the charter movement is privatizing teacher jobs and draining education budgets faster than it can keep up.
Meanwhile, UFT's partner Green Dot has been one of California's leading predators of public schools.
Green Dot sponsored California legislation that grants parents living near an academically struggling school the power to force that school to become a charter, through petitioning. At the same time, Green Dot founder Steve Barr launched an organization called Parent Revolution, which uses paid organizers to press parents to sign petitions to privatize neighborhood schools.
UFT delayed some New York school closures through court challenges. But closures have continued apace, with 26 planned this year. (An educational panel convened by the mayor, who controls city schools, voted to close 10 schools Tuesday night.) The union's quiet, lawsuit-oriented approach can only slow the juggernaut.
Progressives within UFT, including the Grassroots Education Movement and Teachers for a Just Contract, have pressed the union to aggressively oppose closures, to no avail.
UFT's acquiescence to the billionaire agenda increased with President Obama's "Race to the Top" school funding program in 2009—a trend across teacher unions nationally.
The program invites states to compete for funds based on how thoroughly they have adopted the billionaires' education policies. UFT's support for tying teacher evaluations to student performance, and its decision not to protest legislation that almost doubled the number of charter schools in the state, helped New York win about $700 million last August.
Race to the Top accomplished its goal. In exchange for short-term injections of badly needed money, UFT and other teacher unions cooperated with policies that undermine teachers and unions and threaten public education.