How We Turned Our Backs on an Abusive UPS Manager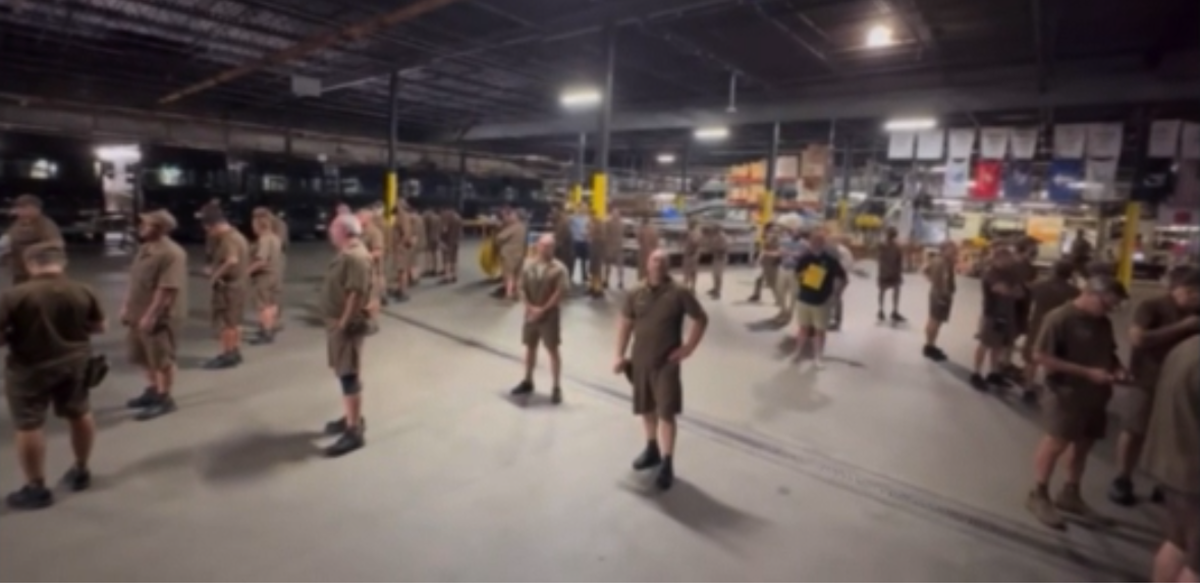 I'm a 34-year Teamster and package car driver for UPS, and I've been a steward for the past seven years. Since I've been with UPS for so long, I am very used to the constant harassment and intimidation this company has thrived on.
I had the honor to be put on the national negotiating team for the UPS contract by my local union—one of the strongest in the country, Local 25 in Boston. After UPS walked away from the negotiating table in early July, I was at barns helping to run practice picket lines.
The UPS center in Westwood, a suburb of Boston, has a new center manager from New Orleans named Brian Newman. He seems to believe that every driver should have at least one warning letter or notice of suspension letter to their name.
One day at the end of the morning meeting, the supervisor rattled off 16 names to go into Brian's office for discipline.
The first driver I went in and represented was a 24-year driver who was told he was getting disciplined for calling in sick on July 5. Knowing this driver well, and knowing he's always at work and does not have an absentee problem, we asked for his monthly records. Not only did he have four sick days left in his bank, but also, the last time he had called in sick was seven months before.
So after an hour of Brian dragging in innocent, hardworking drivers for frivolous discipline, I decided that maybe we should teach him a lesson. I thought maybe that Friday, after our practice picketing demonstration, we should all turn our backs on him as a group at the morning meeting.
37 BACKS TURNED
I mentioned it to the drivers, and everyone was excited and on board. I told them I would be front and center at the meeting that Friday morning, and when I turn my back, please follow.
Brian said "Good morning," and with zero hesitation, like dominos, we all turned. Thirty-seven Teamsters showed huge solidarity by turning their backs on a center manager who thinks he's the guy that runs the building.
We kept our backs turned as Brian introduced the Liberty Mutual agent who spends his days following our drivers and stopping them mid-delivery to tell them how unsafe they are. This agent is at the Friday morning meeting so he can lead the meeting off with a morning stretch.
UPS Teamsters from Local 25 turn their backs on supervisors during a prework communication meeting in Norwood, Massachusetts today. Workers are fed up with management harassment. pic.twitter.com/ROqYGYN1VU

— Luis Feliz Leon (@Lfelizleon) July 21, 2023
Liberty Mutual Mike tried to engage the group with a "How's everyone feeling today?" which got zero response. He did the stretch by himself, then threw it back to Brian.
Brian spoke to the group like nothing was unusual. But guys like Brian have to start to realize that we are the ones out on the front lines, while the Brians of the world sit in air-conditioned offices and spend their days watching our every move on their computers.
When everyone dispersed from the morning meeting, the smiles on the drivers' faces were priceless. Even though it had only lasted two minutes, it felt so satisfying and victorious.
YEP, HE NOTICED
Later, I was in the cafeteria writing up a grievance and Brian walked in and asked me if it was "national turn your back day." My response was "Nope, only in your center it was."
He asked "Why only in my center?"
I said, "You are writing frivolous warning letters every day," to which he replied, "Okay, that's how it's going to be?"
I said, "Yes it is."
That same night a driver called me to tell me that his supervisor told him that Brian, who usually only leads the morning meetings on Fridays, will now be leading the morning meetings every day—showing the arrogance of this manager and the arrogance of this company.
BRIAN BACKS DOWN
This company will most likely promote this guy Brian. UPS thrives off of management who can intimidate and abuse common hardworking people who make this company billions of dollars a year.
However, in the following weeks, not only has Brian not given one morning meeting, he has now given the discipline role to a supervisor below him. From more than a dozen disciplinary actions a day, they have now creeped below a dozen a week.
I am so proud of my union brothers and sisters for standing up to this corporate bully. It has made this group more unified than ever.
John Capodanno is a Teamsters Local 25 shop steward and a delivery driver in Norwood, Massachusetts. He served on the union's national UPS bargaining committee this year.