Academic Workers Join Push for One Member, One Vote in the UAW
While the 10,000 United Auto Workers members on strike at John Deere have drawn the national spotlight over the past three weeks, several thousand UAW members have also struck at two other billionaire employers: Harvard and Columbia Universities.
At Harvard, graduate student members of UAW Local 5118 walked out for three days from October 27 to 29; they are in the midst of battling for their second contract with the world's richest university. They were followed this week by members of the Student Workers of Columbia (SWC-UAW Local 2110), who hit the picket line on November 3. At both universities, student workers are fighting for wage increases, better benefits, and improved protections for survivors of sexual and other forms of harassment.
UAW'S CAMPUS MEMBERSHIP
Of the 80,000 existing academic members in the UAW, 51,000 are student workers, mostly (though not entirely) graduate students, 14,000 are postdoctoral or academic staff researchers, 5,000 are contingent or non-tenure track faculty, and the remaining 10,000 are white-collar and blue-collar staff.
But higher education workers aren't just joining their UAW brothers and sisters on the picket lines. They're also on the front lines of the struggle to win direct elections of top UAW officers and break the decades-long one-party control of the union's leadership positions. Ballots are due back November 29 in a referendum that will decide whether the UAW moves to a one-member, one-vote system for electing its 13-member International Executive Board (IEB).
ONE-FIFTH OF THE MEMBERS
After a wave of organizing among graduate students and other academic workers over the last three decades—as well as the UAW's failed efforts to organize any foreign-owned auto plants—campus workers now comprise one-fifth of the union's 400,000 active members. That makes them a significant voting bloc in the referendum.
Thirty-five UAW locals now represent academic workers of some type, from postdoctoral scientists to undergraduate workers, as well as clerical, technical, maintenance and service staff. The UAW is now the largest union among graduate students and postdocs, and the fifth-largest union in U.S. higher education in general after the American Federation of Teachers (AFT), National Education Association (NEA), the American Association of University Professors (AAUP), and the Service Employees (SEIU).
LARGEST UAW LOCALS
(by number of represented workers)
600 - 26,800 - Dearborn, MI Ford
6000 - 22,000 - State of Michigan public employees
2865 - 19,000 - University of California academic student employees
862 - 13,600 - Louisville, KY Ford
5810 - 12,000 - University of California postdocs and academic researchers
12 - 10,700 - Toledo, OH amalgamated
4123 - 10,000 - California State University academic student employees
974 - 9,700 - East Peoria, IL amalgamated but mostly Caterpillar
249 - 8,000 - Pleasant Valley, MO Ford
Other large white-collar UAW locals:
4121 - 6,000 - University of Washington academic student employees & postdocs
7902 - 5,000 - Academics Come Together (ACT) New York University and New School adjunct faculty and New School student employees
5118 - 4,500 - Harvard Graduate Students Union (HGSU)
2320 - 4,500 - National Organization of Legal Services Workers (NOLSW)
2110 - 3,000 - New York University Grad Student Organizing Committee (GSOC), Columbia University and Mercy College staff, many museum workers (some only recently certified), among others, and the 4,000 strong Student Workers of Columbia, bargaining for their first contract since 2016.
Data from the federal Office of Labor-Management Standards and UAW local websites.
That's before adding in Student Researchers United's ongoing union recognition campaign among 17,000 workers at the University of California and similar UAW-affiliated campaigns by graduate students at Washington State, Northeastern, and Boston College and research staffers at the University of Washington.
This wing of the union organized in response to a creeping neoliberalism on campuses: insecure jobs with low pay and few (if any) benefits, and a vanishing belief in "shared governance" or a voice on the job.
Graduate student workers at wealthy institutions previously acted as apprentices for six years and then moved to tenure-track faculty jobs. But 70 percent of teaching positions today at U.S. universities are contingent, according to the AAUP. With uncertain futures and declining labor standards, these workers have been organizing to turn back the tide of job insecurity.
NOT JUST ABOUT ELECTIONS
The referendum follows the convictions of 16 former Fiat Chrysler Automobiles (FCA) executives and UAW officers—including former UAW presidents Dennis Williams and Gary Jones—for corruption, with charges ranging from stealing members' dues to bribery from the automaker.
Under a consent decree signed by the UAW and the Justice Department to avoid the union's being put under government control, a mail-ballot referendum on union officer elections began in October. Under the eye of a neutral UAW Monitor, 400,000 active members and 600,000 retirees are eligible to vote on whether to shift from a delegate system to direct elections of top officers on the IEB, with ballots due back at the end of the month.
Breaking months of silence on the ballot, the UAW's ruling Administration Caucus earlier this week published a website staking out a strong position against direct elections, arguing that "a delegate structure is not undemocratic." While many unions use delegate systems to elect top leaders, the Admin Caucus has maintained one-party rule in the UAW through its control of delegates and the vast appointment powers the caucus's members have through their positions on the IEB.
A recently formed reform caucus, Unite All Workers for Democracy, has been pushing in the opposite direction, campaigning for one member, one vote as a way to increase accountability and break the Admin Caucus's vice grip on the union's top positions. Academic workers have an important force behind the UAWD caucus, and have been organizing their own calls of UAWD supporters in their sector since the spring.
Academic workers who support one member, one vote say the push for direct elections is about more than democracy; they're hopeful it will pave the way for other reforms they'd like to see in the union. That includes more organizing—both via stronger contract campaigns and a renewed commitment to new organizing—on the part of the UAW international.
The corruption of top UAW leaders has been a barrier to organizing efforts, said Brandon Mancilla, president of the Harvard Graduate Students Union (Local 5118). "When we were just trying to get authorization cards signed for recognition or strike authorization," he said, "people often said things like, 'I support unions but I don't support the UAW. They're corrupt.'"
Recently campaigning for the referendum on the picket line, Andrew Bergman, a Harvard Physics PhD candidate and member of the UAWD steering committee, noted, "Every one of our members raises their eyebrows when they hear two former UAW presidents have been convicted." But, Bergman added, "people aren't passionate about election procedures. We've built a movement in support of one member, one vote on campus because our members believe that social justice unionism runs through building a democratic union, which requires leaders to be accountable to members' demands to support more militant strikes and new organizing."
Many grad locals have also put an emphasis on more internal organizing, making sure that they have a robust presence in all departments. "The idea that we need to get the developing organic leaders building up strength across every possible department on campus—that resonates with the idea that rank-and-file members need to have a say with the direction of our union at the top," said Keith Brower Brown, a Geography PhD candidate at the University of California, Berkeley, and steward with Local 2865.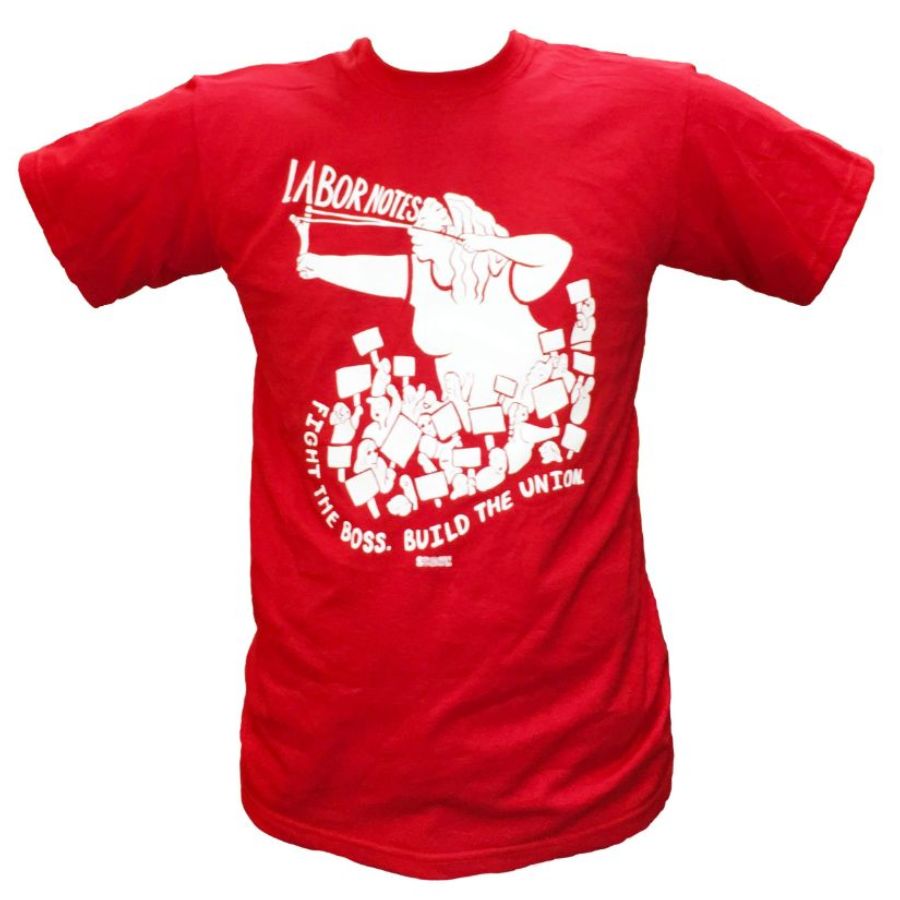 For grad workers, there is also the issue of representation on the International Executive Board, which sets priorities for new worker organizing, contract bargaining, and political endorsements. "It would be great to have an academic worker or local leader on the IEB," said Mancilla. "Short of that, [we'd like the leadership to recognize] the fact that academic workers are a key constituency now, and we're a pretty militant constituency. We mobilize a lot. We strike. We're not a majority by any means—but we're a force."
Local 4121, which represents 6,000 student workers at the University of Washington, passed a resolution last year urging members to back one member, one vote. But, the union stated on its website, "we also recognize that One Member, One Vote is not sufficient on its own to ensure greater democracy and transparency in our union. ​​The continuing work to build a fighting, democratic union necessarily requires a comprehensive approach that's rooted in deep organizing and structural practices that enhance member-driven decision-making."
The local has been part of a push along with other West Coast UAW locals, including Local 2865 at the University of California, for smaller regions. In the wake of the corruption scandal, the UAW executive board dissolved the scandal-ridden Region 5, which stretched from Louisiana to Washington—only to divide it up among Regions 4 and 8, each already massive. Region 4 now stretches from Illinois to Alaska, while Region 8 spans California to Florida and reaches as far north as Pennsylvania.
"Local 4121 was once part of the 17-state Region 5, the massive size of which enabled corruption to go undetected by members," the local said. "Smaller regions would enable much stronger membership decision-making and oversight."
CONNECTING ACROSS THE UNION
Academic workers have joined auto workers in campaigning in favor of one member, one vote. Local 2865 was another of several academic locals that passed resolutions in favor of direct elections this spring, before subsequent rules released by the monitor said that locals cannot take a position or use resources to campaign around the referendum.
More recently, grad workers who support the referendum have been phone banking, text banking, holding town halls, and canvassing and putting up flyers in labs and grad student offices.
Brower Brown said he appreciated the one-member, one-vote campaign as a way to build solidarity across sectors and occupations. "In the UAWD caucus I've gotten to meet auto workers from all over the country, and I've learned that two-tier in auto with temps on the assembly line and two-tier in higher ed with adjunct faculty—it's the same problem at heart," he said in remarks during a webinar organized by the UAW Monitor in early October in which members could speak in favor or against direct elections.
"The boss uses two-tier to divide and conquer us and pockets the money we earn," said Brower Brown. "Instead of a union that fought back from the rank and file up, we had top leaders who were accountable, mostly, to their own golf trips."
Cora Bergantiños-Crespo, president of Columbia Postdoctoral Workers (CPW-UAW Local 4100), the union of post-doctoral researchers at Columbia University, said she was hopeful that the referendum can help build more solidarity between academic workers and auto workers.
"What this specific referendum has the potential to do is to create a little bit more of those connections that I feel are missing," said Bergantiños-Crespo. "I have no idea what's going on in Region 9, our neighbor, and way less on the West Coast. This disconnection is a good way for the Administration Caucus—who have connections with everyone—to stay in power.
"If we could make a challenge to that, we could do something that gathers everyone from other regions of UAW. If this referendum makes an effort to initiate that type of conversation, it seems to me it's the first time in a long time that all the members of UAW are doing something together, and have to make a decision together," she said.
The sense of being out of touch with the auto worker base of the union is part of why Bergantiños-Crespo supports the initiative. "It was one of the most disappointing things to me, upon joining the UAW, to realize there was not that connection," said Bergantiños-Crespo. "Probably auto workers have no idea who we are, and the same, we don't really know their situations. It's disappointing."
"The convention delegates voting in leadership in secret is no way to get rank-and-file members involved and energized in our union," said Brower Brown. "If we go to one member, one vote, every member will be a part of deciding where we go as a union. Every member on the assembly line, at the chem lab, at the blackjack table, will have power and responsibility in how we end two-tier and organize the unorganized. Leaders will know that they have to win our support, not just win the support of insiders."
HOW THE UAW ARRIVED ON CAMPUS
Following shrinking membership from automation, factory closure, and non-union foreign plants opening across the South, in the late 1970s, the UAW decided to give campus organizing the old college try. Aside from smaller staff bargaining units (Locals 1979 and 2071) at Wayne State University (the main campus in the UAW stronghold of Detroit), UAW District 65 (now Local 2110) organized staffers at Columbia University in 1983, as a part of the office worker-focused feminist labor movement. Stemming from the commitments of the previously independent District 65 (which affiliated with the UAW in 1979) to small and non-traditionally unionized shops (with a base in New York City), the relationship between the UAW and coastal non-unionized graduate student employees begins to make sense.
The grads at the University of Massachusetts Amherst, looking at their otherwise nearly wall-to-wall organized campus at the end of the 1980s, turned to the UAW for support. In 1990, the Graduate Employee Organization (GEO-UAW Local 2322) won recognition, with the University of Massachusetts Lowell GEO-UAW Local 1596 following three years later, together bringing about 2,400 student workers across many disciplines into the larger union.
Following decades of boom-and-bust organizing drives and strikes, bargaining units representing 10,000 Academic Student Employees at the University of California system voted to join the UAW in 1999 and became Local 2865. This was the second largest successful organizing drive in the 1990s (after SEIU's 74,000 Los Angeles County home healthcare workers in 1997). The union has now grown to represent 19,000 graduate and undergraduate workers across the state, making them one of the UAW's largest locals.
This spark led to an explosion of UAW campus union growth over the past two decades. UAW Local 1596 added another 700 members at the University of Massachusetts Boston in 2000; UAW Local 2110 won bargaining rights for another 2,000 at New York University through the Grad Student Organizing Committee in 2000 (the first private university grad union); undergraduate workers at UMass Amherst formed the first recognized undergraduate-worker specific union with Local 2322 in 2002 (500 workers across two bargaining units); UAW Local 4121 was formed by a recognition drive for 4,500 Academic Student Employees at the University of Washington in 2004; UAW Local 4123 added another 10,000 Academic Student Employees at the California State University system also in 2004; and 2,200 grads at the University of Connecticut formed Local 6950 in 2014. Student workers had become 10 percent of the UAW's membership.
The biggest burst of new campus union representation, indeed one of the largest increases of union representation in any industry recently (particularly in the private sector), was to arrive in 2016. The Student Workers of Columbia-UAW Local 2110 (previously the Graduate Workers of Columbia) won a National Labor Relations Board ruling that re-established that graduate students at private universities who do waged work as employees are covered by the National Labor Relations Act; that reversed the Board's 2004 Brown ruling that said graduate students were not eligible to unionize under the NLRA. SWC-Local 2110 then won a union certification election for 4,250 workers. It was followed the next year by the 900 Student Employees at The New School (SENS-UAW Local 7902). In 2018, 4,500 workers won representation with the HGSU-UAW Local 5118 (the largest NLRB campaign victory since UNITE's 5,000 textile mill worker Fieldcrest Cannon win in 1999). Finally, the Student Researchers United (SRU-UAW) campaign has, in the last few months, been certified to represent 17,000 student researchers at the University of California previously carved out of Local 2865.
Not to miss out on the wave, postdoctoral researchers, some fresh from graduate unionization campaigns, formed unions at the University of California (Local 5810, representing 6,600 workers) in 2008; at the University of Massachusetts (joining Local 2322, another 300 workers) in 2010; at the University of Washington (Local 4121 added 1,000 workers) in 2018; and Columbia University (the new Local 4100, including staff scientists and postdoctoral researchers, is around 1,650 highly skilled workers) in 2018; and Local 5810 also added another bargaining unit of 4,500 academic researchers in 2018.
Trent McDonald is an English PhD candidate at Washington University in St. Louis and organizes with the WashU Undergraduate & Graduate Workers Union. Jonah Furman is a staff writer and organizer at Labor Notes.