Can Postal Vehicles Help Us Fight Climate Change?
The question of whether the Postal Service acts as a business or as a public service is playing out once again—this time in the discussion over fighting climate change.
The Postal Service has more than 200,000 delivery vehicles, many of which are 30 years old and overdue for replacement. They expose workers to exhaust fumes that are a rarity elsewhere in 2021. Hundreds have caught fire, in part due to age. The question of what to replace them with has become a topic of debate.
The Postal Service has a large carbon footprint, starting with its vehicles. While it set ambitious "goals," such as decreasing petroleum use by 20 percent from 2005 to 2015, in fact it increased petroleum use by nearly 20 percent during that period, and another 10 percent by 2018. Then there's the contract fleet of over-the-road truckers who haul mail long distances—these trucks used three times as much gas or diesel as the Postal Service's own fleet did.
The Biden administration's January Executive Order on the Climate Crisis called for a transition to zero-emission vehicles for all government vehicles, including the postal fleet. But in February the Postal Service made its long-awaited decision to award the contract for replacement vehicles—accepting the proposal of military contractor Oshkosh Truck for a 90 percent gas-powered fleet, rather than the competing all-electric vehicle proposal from Workhorse Group.
The decision to stick with mainly fossil fuel-powered vans would be a missed opportunity to reduce the Postal Service's output of the greenhouse gases that cause climate change. Thirteen Congressional representatives have called on the Postal Board of Governors to delay implementation of the contract until there is a full review, citing in part Biden's call for zero-emission vehicles.
The Postal Service's 10-year plan, released in March, states that it would need $8 billion in Congressional funding to enable the Postal Service to transition to a completely electric fleet by 2035. The Biden administration's newly released infrastructure proposal does provide funding to electrify government vehicles, but at this point it is unclear whether a divided Congress would approve that proposal, or in what form.
GREENING OUR UNIONS
In testimony before Congress, Mark Dimondstein, president of the American Postal Workers Union, responded by advocating for a $25 billion modernization grant for "long overdue investments in a clean postal fleet" and "funds to modernize postal facilities and to outfit local post offices with electric vehicle charging stations." The APWU represents mechanics who would service the vehicles, as well as short-haul postal truck drivers.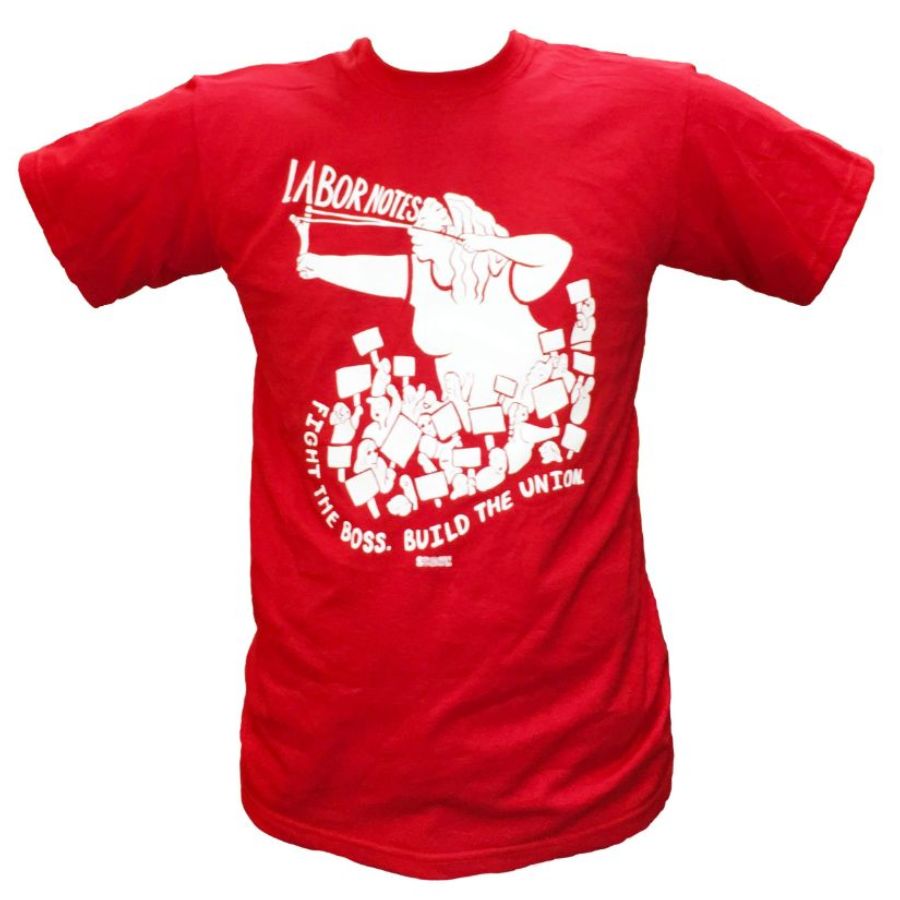 The National Association of Letter Carriers, whose members would be operating the delivery vans, has previously passed a resolution in support of electric vehicles at its national convention. A similar resolution at the APWU's 2016 convention stalled, however—in part because of objections from mechanics who feared that lower-maintenance electric vehicles would mean fewer jobs, and who complained that the employer was neglecting training even for the current vehicles they are required to service.
The APWU has done some internal education on climate change, including a special meeting on the topic at its 2018 national convention. Hundreds of delegates filled out surveys, based on a template from the Labor Network for Sustainability, to assess their knowledge of and personal experiences with the effects of climate change. Many had stories about losing houses to floods or fires. Survey results were reported in the union's national magazine.
Subsequently, my local and state APWU have passed resolutions in support of a Green New Deal, as have letter carriers in nearby Oregon (national conventions being postponed due to the pandemic).
A PUBLIC GOOD
The choice to sink billions into a fleet run on fossil fuel was no doubt based on the lower initial purchase cost. However, a different conception of the Postal Service—as a public good rather than merely a business—would dictate that the responsible path is to electrify the postal delivery fleet, with government funding. There should also be at least a promise of neutrality toward the union aspirations of whatever workforce builds that fleet.
Investing in an electric fleet would be a very visible commitment to a renewable energy future. On the practical side, the banks of chargers used to refuel the fleet could also become part of the public charging infrastructure that is needed to encourage electric vehicle use overall.
Amazon has contracted to buy 100,000 electric-powered delivery vans to be phased in through 2030, and it will no doubt tout this to green-conscious consumers. This company, notorious for pressuring its delivery workers to the point where peeing in a bottle is a workday reality, may one day be offering those delivery services in direct competition with the unionized Postal Service and United Parcel Service.
David Yao is a full-time lead clerk and the vice president of the Seattle local of the American Postal Workers Union.