New York Teamsters Block Union-Busting Move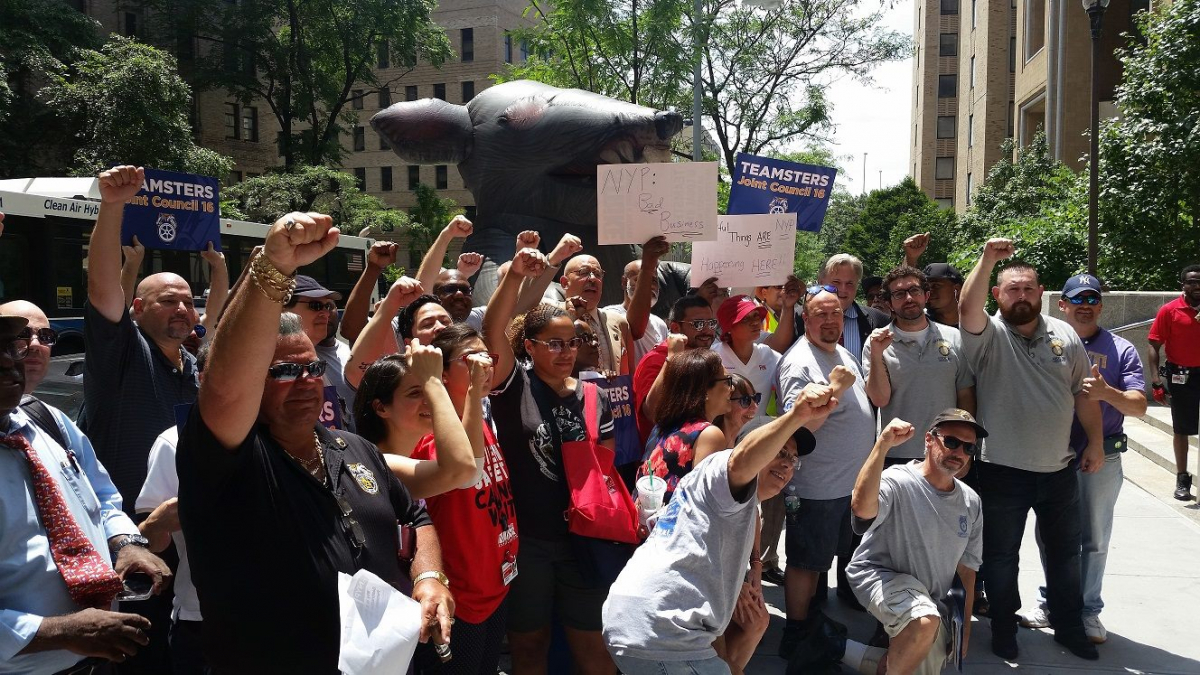 New York City-area movers packed up the inflatable rats—all three of them—and declared victory in late August. For two months, while members of Teamsters Local 814 were locked out of their jobs, they had mobilized in the streets to protest a local company's decision to drop its unionized movers and warehouse workers.
Forty Teamsters could have lost good union jobs with benefits this summer. But per the agreement members ratified August 30, while the company, Waldner's Business Environments, will no longer directly employ moving workers, it committed in writing to use subcontractors that pay fair wages and benefits and employ Local 814 members, with fines imposed for not adhering to the terms. Former Waldner's employees will still have access to the same pension and health care plans and will receive a severance package, which for some will total 30 weeks' pay.
Long Island-based Waldner's, an office furniture dealer, had employed union movers for more than half a century. Workers deliver office furniture for large public and private clients including the City and State Universities of New York, Columbia University, Macy's, and the Metropolitan Transportation Authority.
The company is one of three area dealers for Steelcase, a large office furniture manufacturer. Another Steelcase dealer, AFD Contract Furniture, is under contract with Local 814, so there was much at stake. If the Teamsters completely lost out on Waldner's business, union leverage over the industry would take a big hit.
"It was really a fight for standards in our industry and future folks in our business," said Local 814 organizer Julian Tysh.
A union contract in the moving industry guarantees workers solid wages, benefits, and safety protections in an industry rife with labor law violations. During the last few years non-union New York City moving companies have been sued several times by the state's attorney general. Employers failed to pay overtime (for work sometimes totaling close to 80 hours a week), illegally deducted from paychecks for parking tickets, uniforms, and damage to company trucks, and improperly classified workers as independent contractors. Settlements reached in 2012 and 2013 gave hundreds of workers a total of more than $1.5 million.
CRUEL MOVE
Local 814's contract expired on June 30. By July 5, Waldner's had begun subcontracting its moving and warehouse work, which effectively eliminated 40 Local 814 jobs. Workers charged Waldner's with an illegal lockout and filed a charge with the National Labor Relations Board, which eventually substantiated the charge.
Waldner's insisted it was still using union movers, as its new subcontractor employed workers represented by the Brotherhood of Amalgamated Trades (BAT). But Tysh characterized the organization as a "fake union, boss's union, yellow union. It's not a workers' organization."
The Teamsters tried swatting away the BAT earlier this year. In March, Local 814 workers, along with several New York state and local public officials, spoke out against MetLife, Inc. for using a New Jersey-based company linked to BAT.
The dispute with management was full of personal intrigue as well. Two Waldner's executive team members are former Teamsters. The company describes itself as "a third generation woman-owned enterprise and a family-operated organization." Meredith Waldner Stern, the owner and president, is the wife of Suffolk County (Long Island) Legislator Steve Stern, who ran on the union-backed Working Families Party ballot line in 2015. During the dispute, Stern did not speak out against Waldner's union-busting move, although many of his fellow Suffolk County legislators endorsed a letter urging management to return to the table and bargain in good faith.
UNPACKING THE CAMPAIGN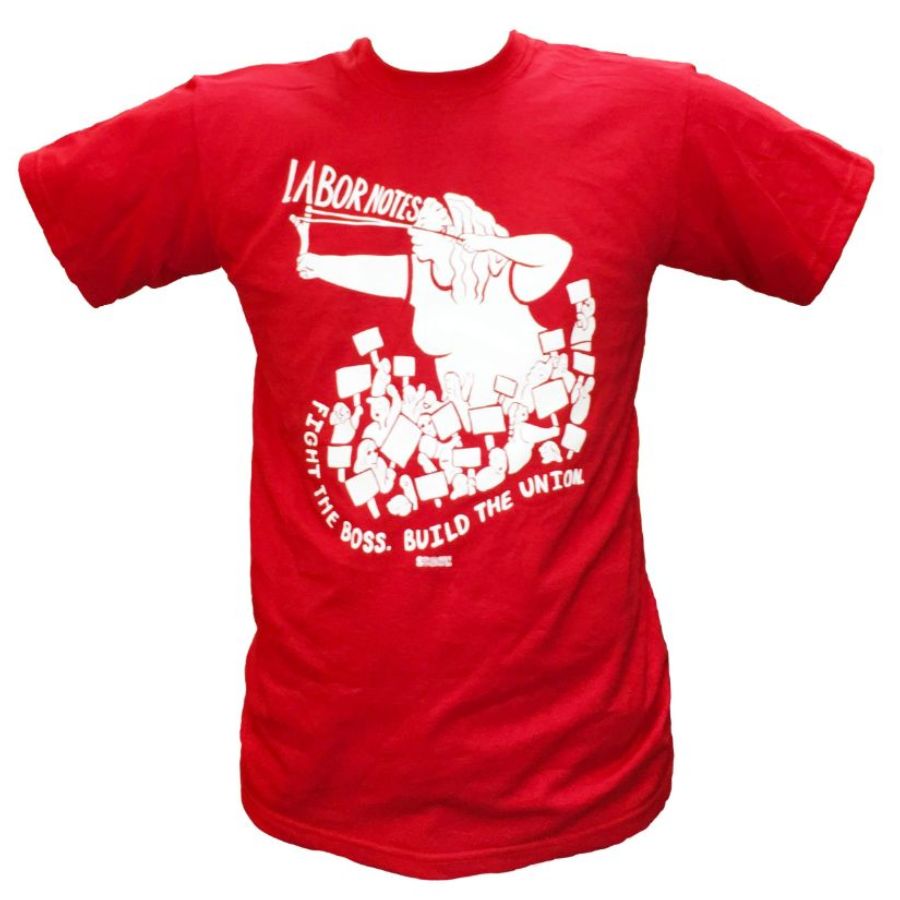 Despite the forces aligned against Local 814 members, the union ran a solid campaign that urged customers to drop Waldner's until the company resumed bargaining. And they did it with solidarity both inside and outside the union.
Tysh summed up the approach as "a corporate campaign strategy and ground game at the same time. Those two things together were a winning formula, something other unions might want to consider. You can't just hold a corporate campaign, you have to have disruption."
Thanks to the campaign, New York City's Economic Development Corporation decided to drop Waldner's and work with other vendors until the company came back to the table.
Workers and allies also urged NewYork-Presbyterian Hospital, one of Waldner's biggest clients, to drop the company until Local 814 workers had a contract. The hospital refused, so workers staged daily pickets at the medical provider's main location. Construction workers at a NewYork-Presbyterian site in development on Manhattan's Upper East Side (financed by anti-union billionaire David Koch) turned back several deliveries by Waldner's subcontractors. After scab deliveries at Weill Cornell Medical Center, Columbia University, and Rockefeller University, picket lines went up there as well.
"We needed a lot of help from other Teamster locals, the construction workers, nurses, postal workers," said Kevin Roach, a steward who's worked at Waldner's for 33 years. "We got the help. We even had people who were coming off the street.
"We talked to anybody who would give us the time of day. We had a groundswell of support. That and the tenacity of my brothers who went out are the two biggest factors."
The win has Local 814 members feeling energized and looking toward the future. The local's "Take Back Our Work" campaign will continue to draw attention to bad actors with low labor standards in the lucrative furniture delivery industry. The campaign seeks to show the faces of those who bring furniture to countless offices across New York City.
For Tysh, the fight shows that "working people do have power, and working people acting in concert have even more power. We can bring major targets to their knees."
"We fought for that kid in his 20s, who just got a job, a union job, with good wages, good benefits," concluded Roach. "We did it for that kid so that 30 years from now, he doesn't have to go through this."
Zachary Smith is a union data systems analyst in New York City.