Beyond $15: New Book Shows Why Community Allies Are Crucial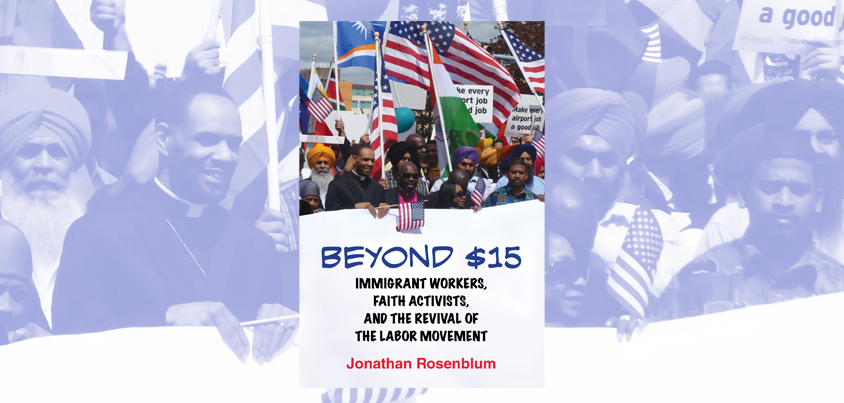 Editors' note: The nation's first successful fight for a $15 minimum wage ordinance was won in the small city of SeaTac, Washington, in 2013. A new book by one of the campaign's leaders, Jonathan Rosenblum, tells how they did it.
If there was any doubt that unions can't go it alone, that community allies need to be an intrinsic part of the fight, Rosenblum dispels it. In Beyond $15: Immigrant Workers, Faith Activists, and the Revival of the Labor Movement, he shows how one union's decision to stand by its Muslim members, despite blowback, led to a tight alliance with ministers and congregations of several faiths down the road. That alliance eventually raised workers' pay enough to make a startling difference in their lives.
One of workers' main opponents was Alaska Airlines, which controlled the SeaTac airport where they worked. In this excerpt, Rosenblum shows how activists overcame their fears and their deference to authority to challenge a profitable corporation. —Jane Slaughter
In early September 2012 more than a dozen faith leaders marched at the front of a parade of five hundred people—airport workers, community allies, and home-care workers attending a nearby union convention—down the main boulevard in SeaTac to the headquarters of Alaska Airlines. In their hands the ministers and imams carried a letter signed by more than sixty area clergy and lay activists, calling on CEO Brad Tilden to fulfill his May promise to meet with the activists.

The Reverend John Helmiere was one of the ministers at the front of the march, having been deputized by his colleagues to deliver the letter to Tilden. But as Helmiere marched he was feeling uneasy in the leadership role. A young, newly minted minister, Helmiere had arrived two years prior with the goal of building a progressive spiritual congregation from the ground up. He had grown up in Tampa, Florida, where in church they encouraged you to feed the homeless but never discussed why there were homeless people in the first place.

So walking at the front of the march, surrounded by ministers and imams who each could count many years of pulpit time and flocks in the hundreds, Helmiere felt ill-equipped to the task of leading this delegation. They turned into Alaska's corporate parking lot, and there he encountered another obstacle. A lone security officer waved Helmiere down and told him the group wouldn't be allowed onto the private property. "I remember thinking, 'Oh, I guess we can't go on,'" Helmiere told me later. "I'd always operated in the world where there are rules and structures and laws and that's just how everything works."

Go on, I urged Helmiere, and then it occurred to the young minister that perhaps he didn't have to follow the established rules. "There's five hundred of us and there's one security officer. Seeing the force of human organization was exciting." Helmiere stepped forward. The crowd followed, surging around the security officer and to Alaska's front door.

Flanked by airport workers, Helmiere knocked on the glass door. An Alaska manager came out, carefully shut the door behind him, and announced—no surprise—that Tilden was unavailable. But, he continued, Alaska's director of public relations was eager to talk with a small number of clergy—inside, apart from the crowd. Did a delegation want to come in?

Helmiere recalled scripture for his response. "It was like the temptation of Christ in the moment, like, 'Oh, you can come in and have special access and be treated different.' I said, 'No, we go together or we don't go in. You're not going to split us off.' It was a really insightful experience for me. It revealed a lot to me about how they saw us and the power of being together."

Helmiere and the workers delivered the clergy letter to the manager outside, shook his hand, turned around, and left. The new minister had just gleaned an important union lesson about the power of collective action. A synergy was developing between the union organizers and faith leaders. And before September was over, we had a date scheduled with Brad Tilden.
Excerpted from Beyond $15: Immigrant Workers, Faith Activists, and the Revival of the Labor Movement, by Jonathan Rosenblum (Beacon Press, 2017). Reprinted with permission from Beacon Press.