New York Taxi Workers Strike Back Against Muslim Ban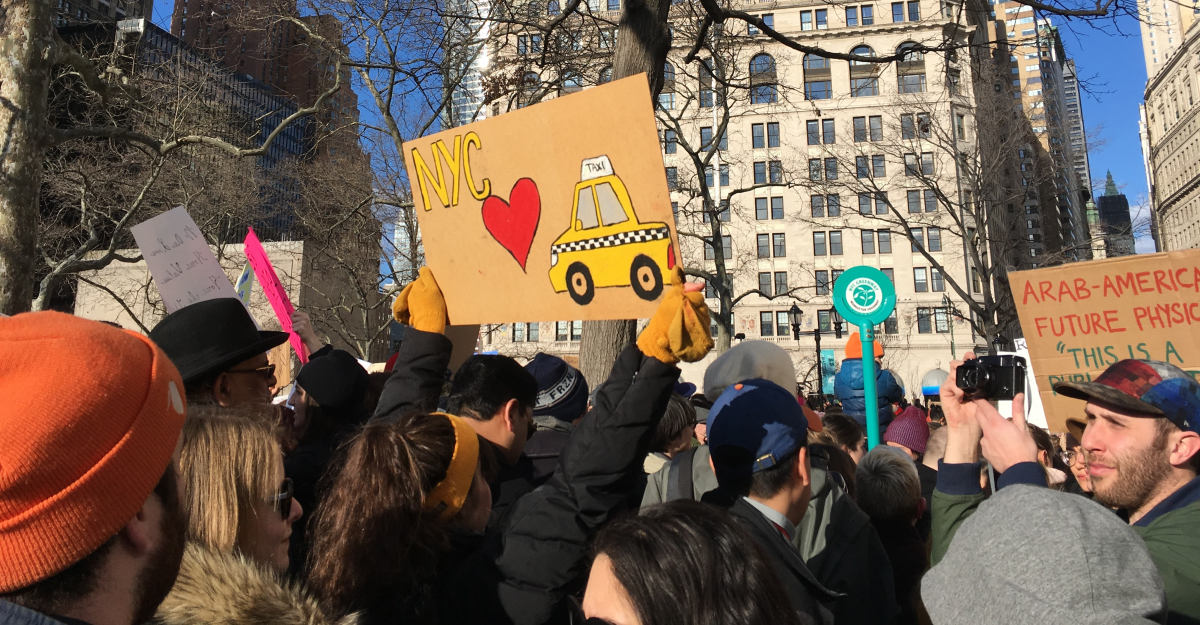 In solidarity with a massive protest that erupted at New York's JFK Airport January 28, the city's Taxi Workers Alliance organized a one-hour strike at the international terminal.
New Yorkers flocked to protest after President Donald Trump's Executive Order banned legal immigration from seven predominately Muslim countries and refugees from anywhere.
Hundreds of immigrants were detained that day by border agents upon arrival at international airports across the U.S., including dozens at JFK.
The New York Taxi Workers Alliance represents more than 19,000 drivers in the city. "Ninety-five percent of cab drivers are immigrants, from over 100 countries," said co-founder Javaid Tariq. "Sixty to 70 percent of our members are Muslim."
According to the taxi union, racist policies like Trump's Muslim ban fuel anti-immigrant violence, putting for-hire drivers at increased risk.
"We had this experience after 9/11," Tariq said. "Many Americans don't know the difference between the Sikh and Muslims religions. Sikh and Muslims were the victims of many hate crimes.
"Since President Trump signed the Executive Order, there was a bombing of a mosque in Texas, and we are worried that there is going to be more violence against drivers."
RAPIDLY ORGANIZED
The Taxi Workers organized quickly to get the word out to members in just a few hours.
"We sent a robo-call and email blast and sent messages to our members," Tariq said. "Our members and organizing committee members went to the dispatch lot—where they dispatch cabs to the different terminals—and asked drivers to not go pick up passengers there for the duration of the strike."
The work stoppage was a success. The airport's taxi cab pickup line sat empty during the 6:00 hour.
UBER TAKES ADVANTAGE
That night the app-based ride company Uber conspicuously announced over social media that its "surge pricing" pricing was no longer in effect at JFK, in essence lowering the cost of a ride from the airport during peak hours.
Almost immediately #DeleteUber started trending on Twitter, as protestors around the country decried the company for encouraging drivers to cross a picket line. Though the announced strike had technically just ended, there were still no taxis around, and the protests were still growing.
Uber CEO Travis Kalanick has been advising Trump as a member of the administration's 16-member business policy committee, which also includes corporate executives from Walmart, IBM, General Electric, Disney, General Motors and several Wall Street investment firms.
MORE STRIKES NEEDED
By the next day, Uber was backpedaling. The company claimed it wasn't attempting to break the taxi strike. Kalanick even issued a statement offering to provide three months' compensation to Uber drivers impacted by the ban.
But taxi workers aren't buying what Uber is selling—and they don't think you should be either. "Uber is a greedy company with very close ties to Donald Trump," said Tariq. "Everyone should delete Uber and give their business to professional drivers."
Looking to the future, Tariq believes that the overwhelming member participation and public support the strike attracted are clear signals that unions should escalate their actions against the administration.
"In the future, we might engage in similar strategies," he said. "We need to keep working against these unfair executive orders."