Farmworkers March across New York State for the Right to Organize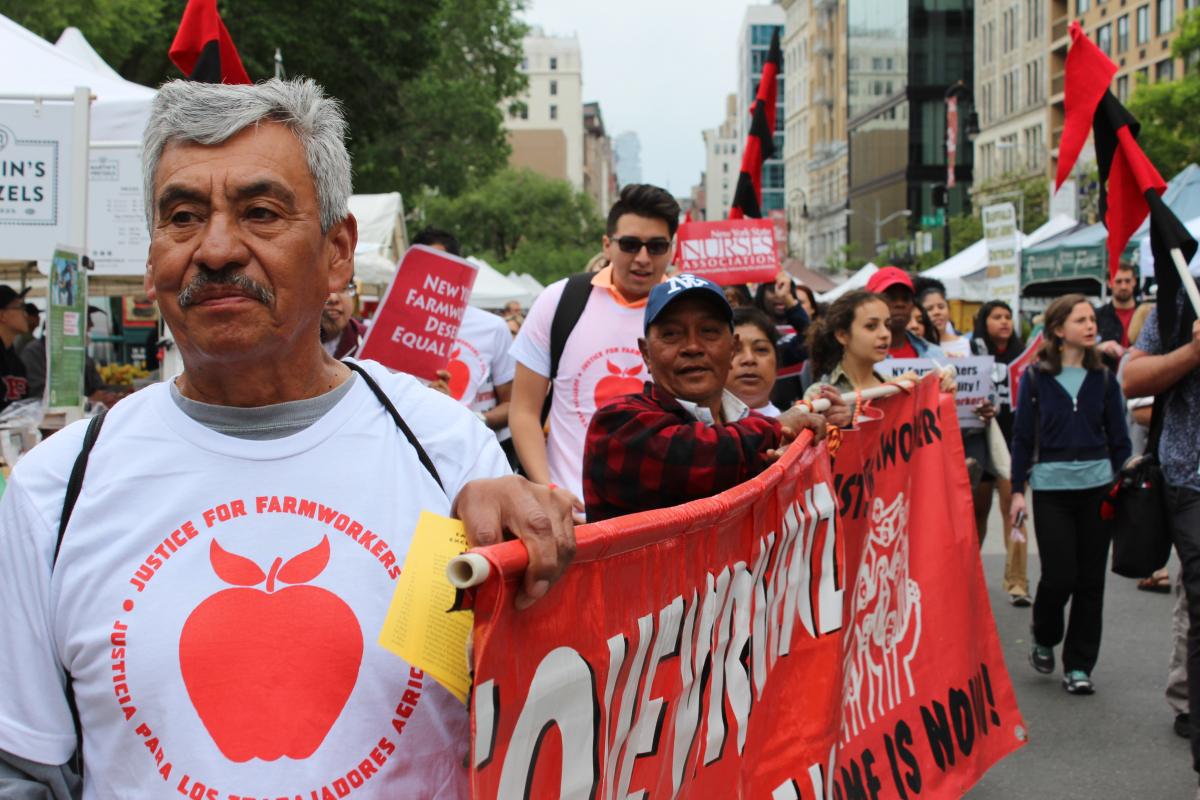 Pablo Cruz did not slow his pace as he led marchers across the Brooklyn Bridge on May 21—although he had been marching for seven days straight.
Cruz, who has worked on farms for 20 years, is one of dozens of people who've spent the past two weeks marching from Long Island to Albany to demand the same rights already guaranteed to workers in other industries. They are closer than they've ever been to getting a farmworkers' bill of rights passed in New York state.
The 18-day march is scheduled to wrap up today with a big rally in Albany.
"The goal of this march is so that those who harvest vegetables and flowers are treated the same as any other person," said Cruz. "We are all human beings, and we need better treatment."
LEFT OUT
When the National Labor Relations Act and the Fair Labor Standards Act were enacted in the 1930s, farmworkers and domestic workers were explicitly excluded. At the time, the majority of farmworkers and domestic workers were African American, and Congress bowed to pressure from Southern lawmakers to keep these workers out.
Nationally, farmworkers still have no protected right to organize, to a fixed workday, or to overtime pay.
"Even if you work 100 hours, it's still just the regular salary," says Cruz, who left his latest job harvesting tomatoes to participate in the march. It staggers him to think how much employers are saving by not having to pay overtime to farmworkers, who often are required to work long hours.
Cruz does the math aloud and calculates that, with a 14-hour work day, growers are saving at least $175 a week in unpaid overtime.
"That's what employers are pocketing from just one person every week. With eight people, how much are they walking away with?"
CLUSTERED ON BIG FARMS
Agriculture is a multibillion-dollar industry in New York. With a growing dairy industry upstate, New York is now the nation's leading producer of yogurt, cottage cheese, and sour cream. Orchards and vegetable farms are booming in the Hudson Valley; so are nurseries and vineyards in Long Island. After California, New York is the second-largest producer of wine.
While the majority of farms in the state are small, the majority of workers work on large farms, says Katia Chapman, an organizer with Rural and Migrant Ministry, the principal sponsor of the march.
Workers often live in farmer-provided housing, crammed into tiny quarters with little privacy. Health and safety is another key issue, in an often dangerous industry.
"When they spray pesticides, workers get sick," says Cruz. "But the boss won't pay. You have to pay the doctor yourself, because workers don't have insurance."
Rural and Migrant Ministry does outreach on farms, inviting workers to come to community events and then attend follow-up trainings. The group also partners with local churches and other community groups to set up outreach tables.
Through this ongoing work, the organization has built up a core group of farmworker leaders. But it's hard to keep building momentum when there's a lot of turnover, Chapman says. Key leaders have had to go back home, or migrate to other states in search of work.
Although farmworkers have no legal protection against retaliation, Cruz says his co-workers do still raise concerns with the boss. But the response is always the same: "If you don't like it you can leave."
BILL OF RIGHTS
The marchers hope the Farmworker Fair Labor Practices Act will finally level the playing field. The bill would establish an eight-hour workday, ensure overtime pay, and grant farmworkers a day of rest. It would also require employers to ensure that worker housing meets basic standards, and to provide workers' compensation benefits.
Perhaps most importantly, the bill would grant farmworkers the right to bargain collectively.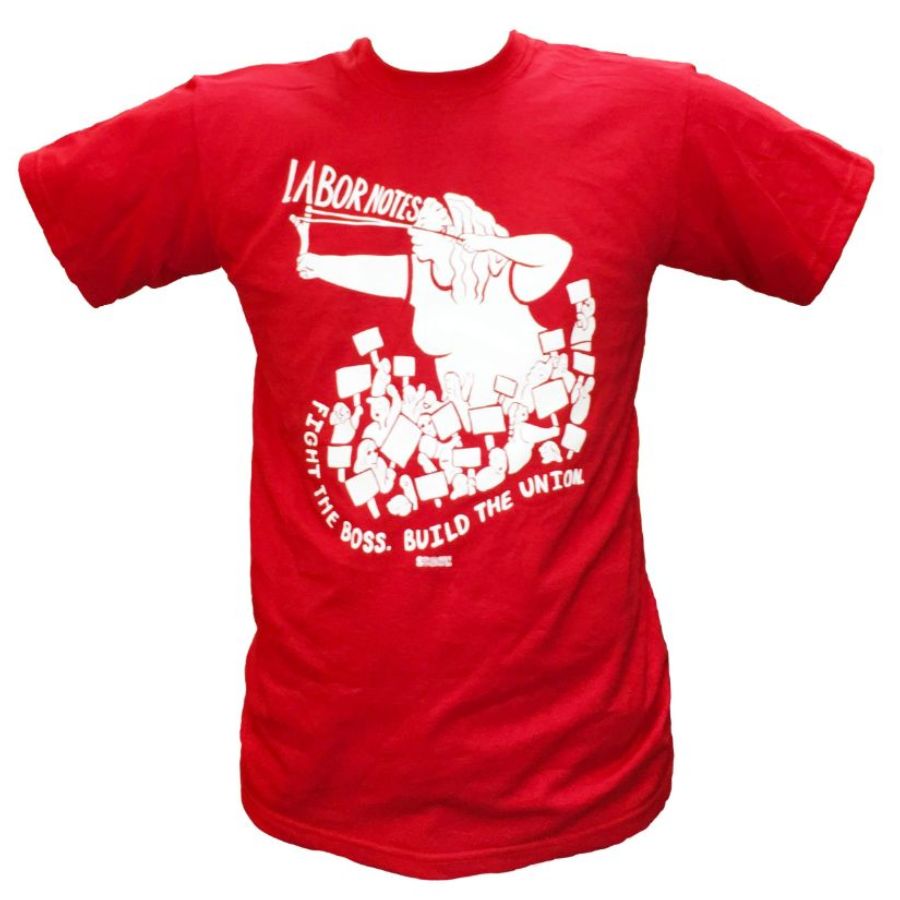 Along the march route, Rural and Migrant Ministry is visiting specific senators, and delivering petitions calling on them to support the bill. Speaking at a rally outside New York's City Hall, sponsoring Senator Adriano Espaillat estimated the bill is just one vote short of passing.
A recent lawsuit by the New York Civil Liberties Union gave the marchers a big boost. The lawsuit, filed May 10 on behalf of a New York farmworker who was fired after meeting with an organizer after hours, calls out the state for discriminating against farmworkers.
The New York constitution states that all workers have the right to organize and bargain collectively. But the state's Labor Relations Act exempts farmworkers—unconstitutionally, NYCLU argues.
Governor Andrew Cuomo has declared the farmworker exemption unacceptable and pledged not to fight the lawsuit. Chapman calls this endorsement huge: "It really is his most public statement of support for farmworkers." Only a handful of states grant farmworkers the right to organize.
But farmworkers and allies want Cuomo to go further and champion the bill.
It's been a long struggle. Rural and Migrant Ministry and other groups have been trying to get a farmworker bill of rights passed for 16 years, battling a powerful grower lobby. The last time the bill was brought to a vote in 2010, it lost by three votes.
STANDING TOGETHER
Marchers are hoping this time they can keep momentum building to get the bill passed. They are gathering support from community and faith allies, and from unions.
Churches have been hosting and feeding marchers along the route. Worker centers, community organizations, and unions have been joining the march in solidarity.
Cardinal Timothy Dolan, the archbishop of New York, marched with farmworkers across the Brooklyn Bridge. Espiallat believes the cardinal's support will sway at least two senators.
At a rally in Manhattan, marchers were joined by President Judy Sheridan-Gonzalez of the New York State Nurses.
"We take care of people injured on farms. We take care of farmworkers who suffer from diseases," Sheridan-Gonzalez told the crowd. "Why is it that one group of workers does not have the same rights as everybody? I want you to know that the nurses are with you."
The march stopped regularly at Verizon picket sites along the route, too. In Manhattan, Verizon strikers joined the march from Union Square to Washington Heights.
The Civil Service Employees Association is another union that's been supporting farmworker organizing, with members joining marchers along the route, pitching in to make picket signs and postcards, and lobbying legislators.
"We have workers throughout the state of New York, in a lot of the areas where farmworkers work and live," said staffer David Galarza. "These workers are fighting for the same dignity and respect that all workers are already entitled to in the public sector."
The law, Chapman says, would just be a first step. Supporting farmworker leadership and organizing will be "a long term mission."
If farmworkers win the legal right to organize, Cruz believes, many will find the courage to sign union cards, despite the fear factor in typically small workplaces.
"If there are five workers, if there are six workers, they will have a union, whether the boss likes it or not," Cruz said. "And farmworkers will have the same rights all other workers enjoy."
Some quotes in this story have been translated from Spanish