At Multinationals, Chinese Factory Workers Strike for Layoff Compensation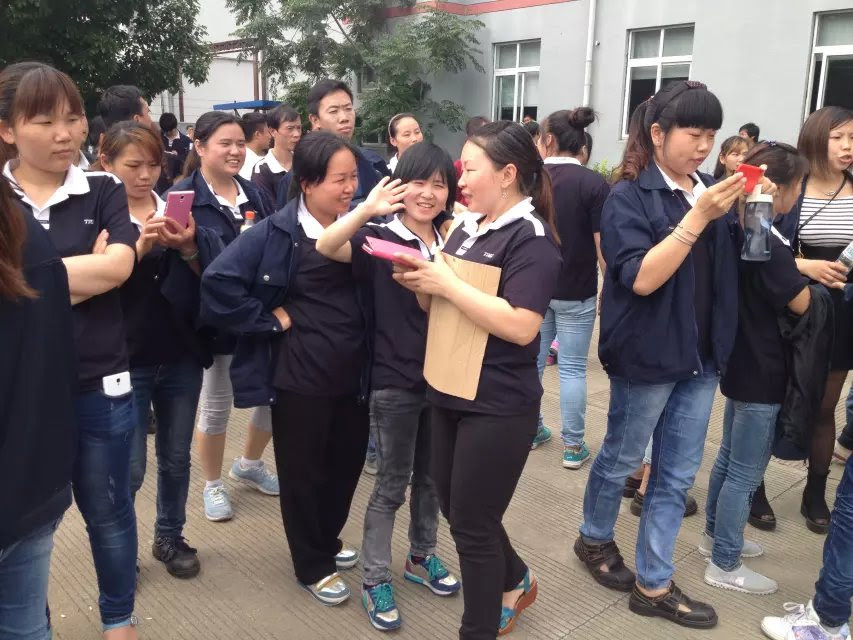 Big strikes broke out in May at two plants in China owned by multinational firms—the German-owned auto parts manufacturer ZF TRW, which is headquartered in Michigan, and Wisconsin-based giant Ashley Furniture.
Both plants had seen orders decline in recent months, as China's economy slows. Managers were trying to pressure workers to resign so that the companies wouldn't have to pay proper compensation for layoffs. Chinese workers are legally entitled to one month's severance pay for every year worked. Bosses often ignore this legal obligation, though—workers have to fight to make them comply.
While China has, on paper, moved toward a more rights-based system of labor relations, with many labor laws on the books, rampant violation of these rights persists. But so does workers' self-organization. So far this year, China Labour Bulletin has recorded over 1,000 incidents of strikes and other collective actions.
PEANUTS AT THE FACTORY GATE
In mid-May, hundreds of workers struck at an auto parts plant in Ningbo, in Zhejiang province. The plant is owned by ZF TRW Engineered Fasteners & Components, which makes various pieces for cars, such as arm rests, center panels, ash trays, and glove compartments.
Its parent company ZF, formed through a merger this year, is now the second-largest automotive supplier in the world, providing parts to Ford, GM, Volkswagen, and others.
ZF TRW is headquartered in Michigan, with factories in 20 countries. Three are in China—and despite the declining orders at the Ningbo plant, the company plans to open three more plants in China by 2016.
In the months leading up to the strike, ZF TRW tried to pressure workers to resign, by reducing working hours dramatically and lowering salaries to the local minimum wage of $267 a month.
But as the pressure increased, workers at the plant—which has 300 employees—decided to organize for fair compensation for layoffs.
They spread the word through in-plant flyers and social media. Despite the heavy censorship and government monitoring of China's Internet, it's still common to use it to communicate about organizing.
When the strike began May 19, the atmosphere was relaxed and optimistic. Workers posted pictures of themselves gathered at the factory gate, eating peanuts and sunflower seeds together.
They kept circulating flyers over the days of the action—encouraging co-workers to stand strong together, discussing daily developments, and analyzing their options and the possible risks of continuing the strike.
Chinese reporters claimed the strike was costing the company 1 million RMB ($161,000) per day.
OFFICIAL UNION SIDES WITH BOSSES
The strike prompted talks between management and China's official union, the All-China Federation of Trade Unions (ACFTU). Local branches are generally controlled by management and reflect their interests. Still, according to flyers, workers saw the talks as a sign that their actions were having a positive effect—and might improve management's offers.
But in a memo written on TRW letterhead, management and union reps agreed that workers who had caused a disturbance were subject to termination. The third day, police swooped in to arrest suspected leaders.
Several workers tried to prevent the arrests. Police responded violently. A number of workers were injured; one suffered a miscarriage.
After the crackdown, at least 80 workers returned to find their punch cards wouldn't work, effectively locking them out. (During the strike, workers were still punching in every day, but then refusing to work.) Those who remained were forced to sign an agreement promising, under threat of dismissal, never to strike again.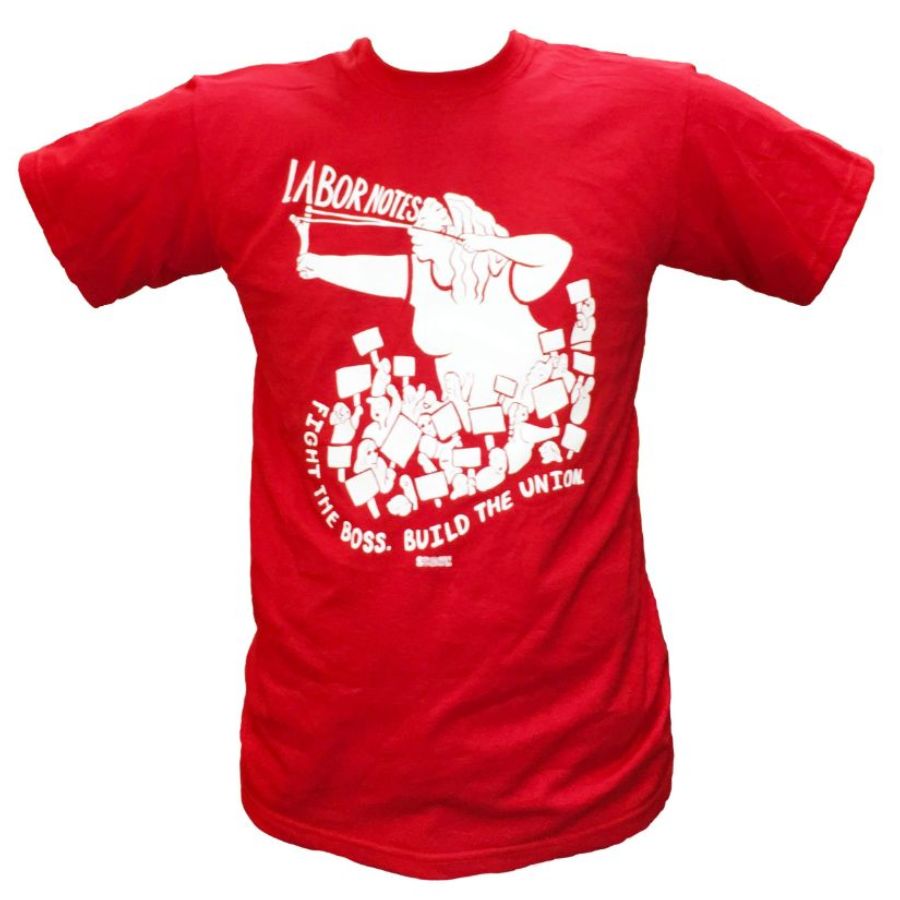 Ironically, the same day the Ningbo strike began, 275 workers went on strike at another plant owned by the same company in St. Catharines, Ontario, Canada. They had voted down a tentative agreement negotiated by their union, the Thompson Products Employees' Association, that lacked wage increases. By the weekend, that strike ended with workers and management settling a new, improved collective bargaining agreement.
#SOLIDARITYISSTRENGTH
Another May strike was at the Wanvog Furniture plant in Kunshan, in Jiangsu province. Workers there sew upholstery for U.S.-based Ashley Furniture.
Ashley, the world's largest furniture producer, has labor troubles at home too. It's facing $1.77 million in OSHA fines after an inspection of its Arcadia, Wisconsin, plant found more than 1,000 worker injuries in three years. The Arcadia plant is non-union.
Ashley has had a manufacturing presence in China for two decades. In recent years it's also opened its own retail stores, targeting China's fast-growing consumer markets. The company aims to open 1,000 retail stores in China.
But Wanvog too had been experiencing slow orders in recent months. Managers began imposing excessive fees for minor infractions, hoping to push workers to resign. Several thousand went on strike May 3 to demand proper compensation.
Again workers banded together through social media and circulated flyers at the factory.
"[This is] so satisfying," remarked a worker with the screenname "Princess Six" (六公主) on the instant messaging site QQ, after the first week on strike. "I hope we continue on Monday."
Another worker with the screenname "Flower Girl" (花儿一样的女孩) circulated an article that analyzed strike tactics, criticized the state union, and discussed how workers might directly elect co-workers to represent them in the conflict, as Chinese law allows.
A SMALL VICTORY
On the tenth day, managers fired six workers and increased private security inside the plant, along with a heavy police presence outside. A local ACFTU representative arrived at Wanvog to persuade the workers that management's position was "reasonable and legal."
The workers responded defiantly, sharing satirical pictures of the union rep on social media and encouraging workmates to continue the strike with the hashtag "solidarity is strength."
On May 19, Wanvog workers marched to the local government building, hoping to get support and answers from local officials. Instead, they were met with police violence.
Still, strike action continued for several more days. On May 25 the company finally changed its tune, conceding the workers' demands by agreeing to lay off 271 employees with compensation.
"What officials don't realize is we are all overjoyed," wrote Flower Girl. "This is what we had hoped for in the first place—compensation and getting out."
But elsewhere, the fight for layoff compensation goes on. In late May, China's financial press reported that at least three furniture factories in Dongguan, Guangdong, closed in the span of a week. In all three, the bosses changed their phone numbers and disappeared completely—leaving workers with no jobs and owed back wages.
Keegan Elmer is a labor researcher at China Labour Bulletin, where he manages both the Strike Map and the Work Accident Map.
CORRECTION: The text above has been corrected to reflect that the Wanvog factory is in Jiangsu province, not Zhejiang province.