A Rank-and-File Appeal: 'No More Tiers!'
Sean Crawford, a second-tier auto worker at GM's Lake Orion Assembly Plant north of Detroit, sells T-shirts that say "NO MORE TIERS!"
Members of the United Auto Workers are encouraged to wear red union T-shirts every Wednesday to show a general spirit of union solidarity. The "NO MORE TIERS!" shirts, Crawford says, are a way of making that activity "more relevant to second-tier workers who are new to the labor movement." (You can order one at the Rust Belt Rising Facebook page.)
He took a shirt around during his recent campaign for alternate union committee person, getting co-workers to sign it. Once it was filled with signatures, he told them, he would send it to the president of the UAW with a letter explaining second-tier workers' situation.
Crawford works in "probably the lowest-seniority district in my plant," he says, "so it was well received." He ran for alternate committee person because "I wanted to show folks that a second-tier guy, who cares about their issues, could be elected."
He won. "In fact, every Alternate Committee Person on second shift (the low-seniority shift) is now second-tier," Crawford says. "Change has to start somewhere—it may as well start at the bottom."
And the T-shirt? "As we have a newly elected president, I thought it would be an opportune time to send it off, so I did last week." Here's the letter; we'll keep you posted as to how new UAW President Dennis Williams responds. –eds.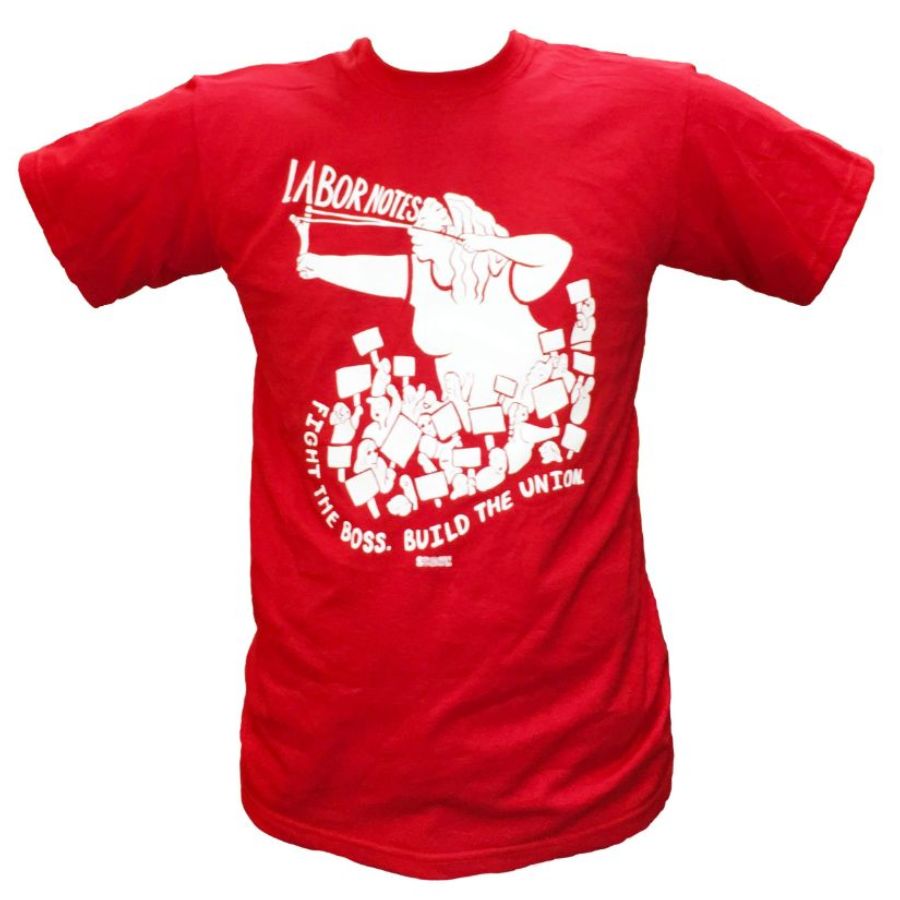 President Dennis Williams,
I am writing on behalf of my co-workers and myself to address an issue of great concern. I am referring to the divisive tiered wage structure that has corrupted our recent contracts. Two tier has created a palpable wedge in our great union. With solidarity and collective action as our most powerful weapons, this only serves to weaken what should be our greatest strength. We're simply tired of doing the same jobs (if not more difficult ones as a result of our lower seniority) for a lesser wage. Times have been hard for a long time and many of us have no other recourse but to rely on our union jobs to support ourselves and our families. Lowering our wages hurts UAW families while bolstering the profits of the rich.
For many generations the UAW has set the standard for good manufacturing jobs. When we accept lower wages and benefits in our own contracts, it lowers the bar for workers in the rest of the economy as well. The company wants a race to the bottom. We need to fight to reverse this trend and give other workers something to aspire to. Coupled with a more aggressive organizing strategy and a global vision, I believe that we can turn the tide in favor of working people everywhere.
While GM has been gorging itself on record profits, many of us on the floor are struggling. Our buying power is slowly eroding and we're all feeling the pinch. As tier two workers we can scarcely afford to buy the vehicles we build! I believe that it's time for us to come together, regardless of tier, and demand not only full wage equality, but also a full reinstatement of what we have lost. We want a pension to provide a secure and peaceful retirement in old age; we want COLA to guard against unrelenting price increases. It's time for the workers to share in what is rightfully ours, that which our sweat and sacrifice has created.
We are ready to fight and to win. We are ready to stand up and be counted as the 2015 contract approaches. One of the ways that we've been building momentum is by celebrating Solidarity Wednesday every week by wearing red shirts that proclaim "NO MORE TIERS!" on the front and "SOLIDARITY" on the back. We do this in order to show support for wage equality in our ranks. I took one around and had it signed by the majority of workers in my department. The response was overwhelmingly positive. Please accept it as a gift and as a symbol of our desire for a better future. We present it to you in the hopes that you'll fight with us and commit our great union to regaining wage equality.
In Solidarity,
Sean Crawford, UAW Local 5960