On Occupy Anniversary, Unions Rally to Tax Wall Street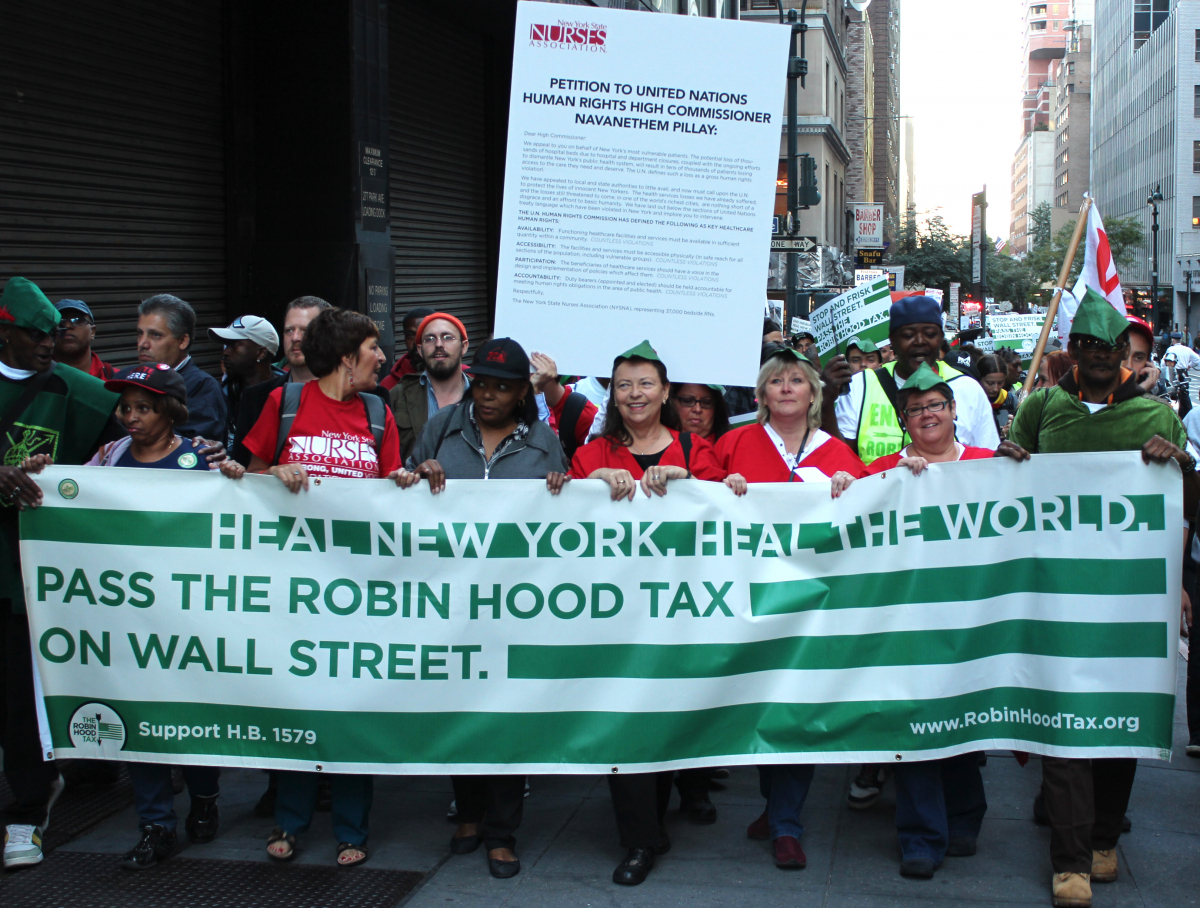 On a historic New York anniversary—two years since Occupy Wall Street's takeover of Zuccotti Park—unions and activist groups marched through the city demanding the Robin Hood Tax, a ½-percent tax on Wall Street financial transactions which could generate up to $350 billion annually.
Those dollars, the National Nurses Union (NNU) and partner groups say, should be used for housing, health care, infrastructure, fighting AIDS, and addressing climate change. They chanted, "Want to end this deficit? End the war, tax the rich."
Although 2011's Occupy protests focused the national and global conversation on corporate greed and income inequality, the rich and the banks still benefited from the financial collapse—while things got worse for the 99 percent.
The 1% now takes a record one-fifth of the country's income, and the 400 richest Americans have more money to spend than the bottom 50 percent.
"Two years later, we are still talking about the same thing," said Reginald Brown with community group Vocal-NY, speaking of Occupy's original purpose—and "30 years later, we are still talking about AIDS."
Vocal-NY is one of several HIV/AIDS activist groups endorsing the Robin Hood tax. "We could end AIDS in our lifetime," Brown said. Instead, he said, Wall Street executives got bonuses after their bailout.
'Just Pay Your Share'
While the tax may not be priority legislation for many lawmakers or in the media, proponents are trying to change the debate.
Brazil, South Korea, and India already tax financial transactions. Eleven European countries, including France and Germany, will begin similar taxes next year. The half-percent tax would apply to standard stock trades greater than $100, with a lower tax for other trades. In 2008 the total estimated trading volume was $650 trillion, according to the Center for Economic and Policy Research.
The U.S. used to tax financial transactions between 1914 and 1966.
Rep. Keith Ellison of Minnesota reintroduced the Inclusive Prosperity Act, which includes the Robin Hood Tax, in Congress in April.
Marchers included union nurses, transit workers, and electrical workers. They were joined by health care activists, particularly HIV/AIDS activists. Vocal-NY had a large and lively presence, along with ACT UP and Health GAP. It was part of a global day of action around support for the financial transaction tax but also against austerity and health care cuts; protests took place in Australia, Brazil, and Canada.
The march stopped at symbolic targets, beginning at the United Nations General Assembly, where delegates had convened to discuss poverty and public health.
Protesters wore Robin Hood costumes: a few were even in tights, and many wore the signature green cap.
Robyn Pegues, a nurse at a Veterans Administration hospital and an NNU member, was involved in the Occupy Wall Street activities two years ago. "We were there for occupiers," she said. "We volunteered in their makeshift clinics."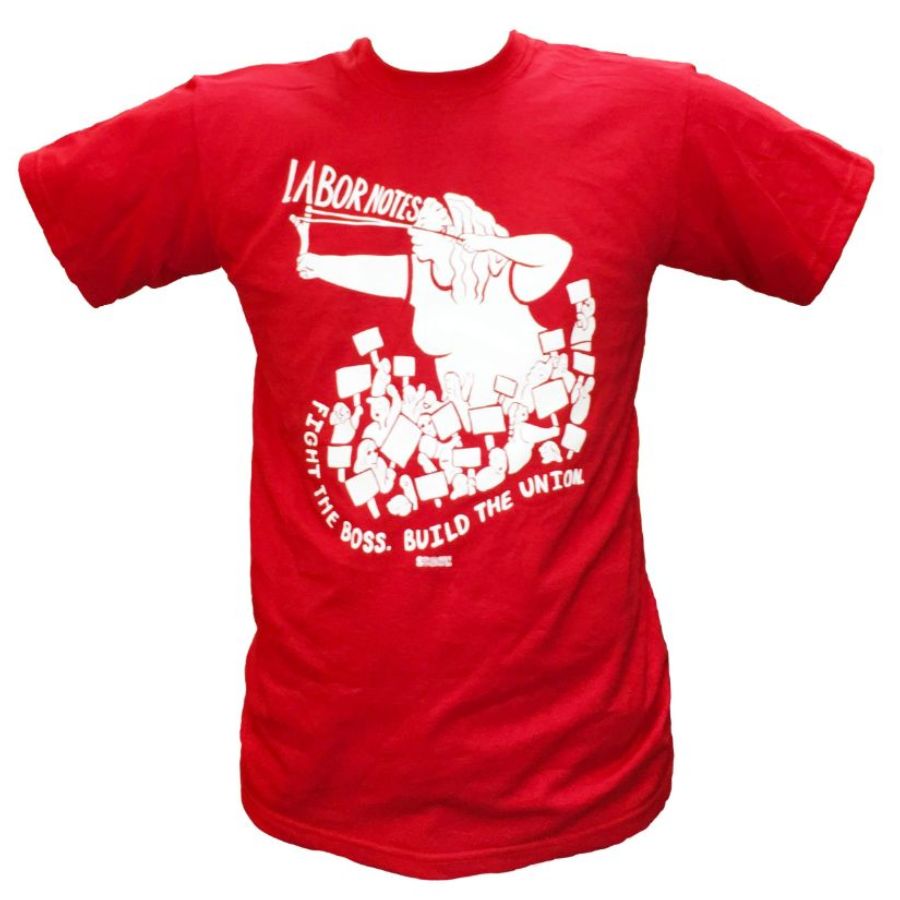 Pegues would like to see revenue from the transactions tax go to alleviate poverty and the short-staffing she fights at work.
Bailed-out Wall St. bankers, she said, are "one of few groups that are not taxed. Let's put that money back in the community, for housing, health care. Just pay your share."
''Swap Rates' for Transit
The march stopped at JP Morgan Chase—one of the world's largest banks, and a center of financial scandal even after its bailout by the federal government—and the Metropolitan Transit Authority, which runs New York's bus and subway system.
Union leaders have pressed the Transit Authority to renegotiate a raft of "interest rate swaps" between the MTA and various financial institutions. These deals have been a boon to Wall Street but have cost municipalities millions in interest payments—money that should be benefiting workers and the city as a whole, said Charles Jenkins, organizing director for Transport Workers Local 100.
According to Jenkins, the Transit Authority could use the savings to avoid fare increases, restore bus routes, and allow TWU members to settle their contract, which expired in early 2012.
After all, elected officials have been more than willing to pressure public sector workers to "renegotiate" their pensions. The transit union is simply trying to apply that logic to the banks—a move few politicians have embraced. "It would take a willingness to not pay $100 million to Wall Street," Jenkins said.
"We see a bigger picture than our contract," he added, pointing out that transit workers and their family members ride public transportation, too, and "we think there is a solution" to the service reductions, longer waits, and security concerns riders have endured.
'Occupy Woke Us Up'
The march ended at the State University of New York chancellor's office. Nurses are in the midst of a battle with SUNY over its efforts to close Brooklyn hospitals.
"We refused to let them close Long Island College Hospital so that more luxury condos for the super-rich could be constructed in its place," said New York State Nurses Association President Judy Sheridan-Gonzalez.
Occupy activities began in the early morning and continued throughout the day.
Like the original activist gathering, Tuesday's events focused on workers' rights and income inequality. Fast food workers' struggle and the fight to continue postal services were among the issues addressed.
"Thank Occupy Wall Street for waking us up," Jennifer Flynn of Health Gap told the crowd. "It showed us that we do not have to stand for draconian budget cuts, that we can actually do something about it."
And Robyn Pegues, the VA nurse, said she is committed to carrying out what Occupy started.
"We are not going to let it die," she said.