Show Some Real Employee Appreciation, Say Walmart Strikers this Week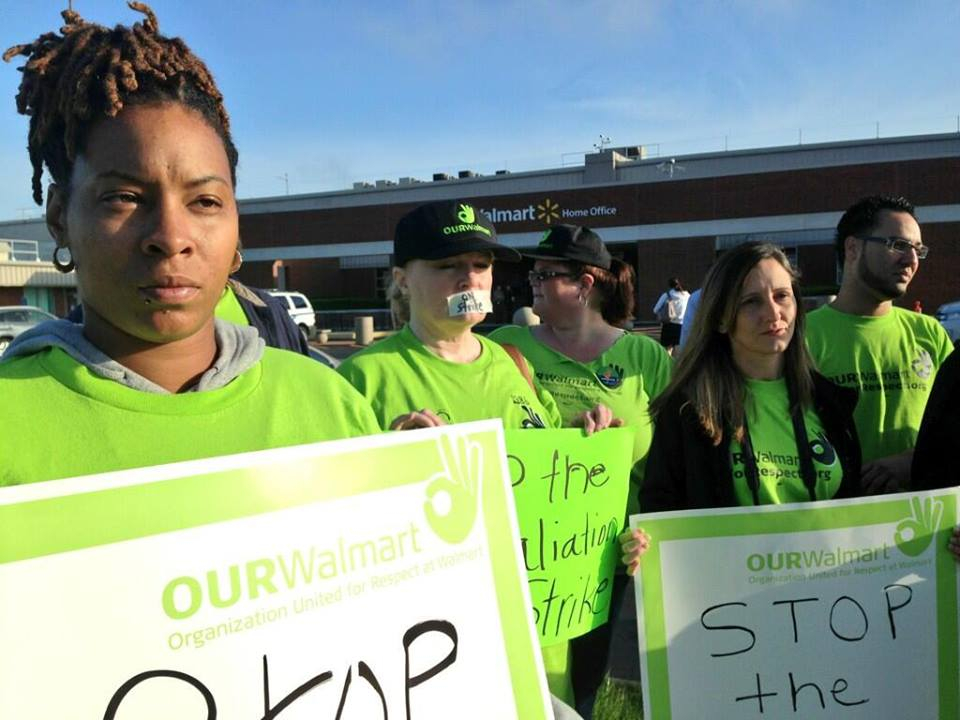 Walmart store workers have launched their most ambitious effort yet to improve conditions at their giant, stubborn employer. More than 100 walked out of dozens of stores this past week, in the longest strike attempted so far. Previous strikes at Walmart have lasted one day.
The protest coincides with the company's Walmart Shareholders Week, when hundreds of company-picked workers attend company-boosting events, including an Elton John concert, near the corporation's headquarters in Bentonville, Arkansas.
Although they were not invited, the strikers, members of Organization United for Respect at Walmart, converged on Bentonville anyway by bus, joined by fired California warehouse workers, unionized workers at Walmart stores in Latin America, and even a Bangladeshi garment worker leader.
OUR Walmart's week of events will culminate Friday in protests outside—and inside—the shareholder meeting. Kalpona Akter of the Bangladesh Center for Worker Solidarity will address the shareholders to push Walmart to pay for garment factory safety improvements in her country and create a worker-led inspection process. Dozens of companies have already agreed to the plan.
The buses headed to Arkansas made stops at Walmarts in several states, leafleting stores and picking up a few more strikers on the way. Buses visited 30 cities in a "Ride for Respect," hosted at union halls and by community groups. In Chicago, supporters pursued Walmart board member Linda Wolf and confronted her with a letter asking that she meet with workers in Bentonville. In Palo Alto, California, OUR Walmart picketed two other board members' fancy homes.
In Bentonville, the strikers have held events and protests all week. On Thursday, they delivered checks for $8.81 to billionaire Walton heir Jim Walton's house, indicating the average hourly wage at Walmart. The strikers want Walmart to pay $13 an hour. They carried a banner reading "Walton Billionaires, Hear Us Now."
Retaliation
The U.S. Walmart workers are in Bentonville to protest retaliation for their activism. OUR Walmart member Dominic Ware of San Leandro, California, said his hours were cut two weeks ago. In protest, he walked out and got on the bus.
Two workers were recently fired, too—but the story has not been all negative. In some stores, OUR Walmart has already been able to extract changes from management.
In Laurel, Maryland, the OUR Walmart chapter convinced managers to post open shifts so that workers can get the hours they want, said member Alan Forrest. It's a big change. When the organization first started at his store, managers retaliated by forcing Forrest to hand out sales leaflets outside, during a summer heat wave, and an activist co-worker had her hours cut.
Overall, though, working conditions in the stores have only gotten worse since OUR Walmart was founded in 2011 as a project of the United Food and Commercial Workers. According to Bloomberg, Walmart has added 455 stores in the U.S. in the last five years, while cutting its workforce by 20,000. The resulting short-staffing has led to empty shelves and chaotic stores with long checkout lines.
Each shift gets more stressful, and workers cannot get enough hours to survive, they say. OUR Walmart members blame a system that provides bonuses to store managers who keep labor costs down.
Barbara Andridge, an eight-year store worker from Placerville, California, said management there promised to fix a broken scheduling system so that workers who wanted more hours could get them. But "now, six months later, it has made another announcement about what it's going to do."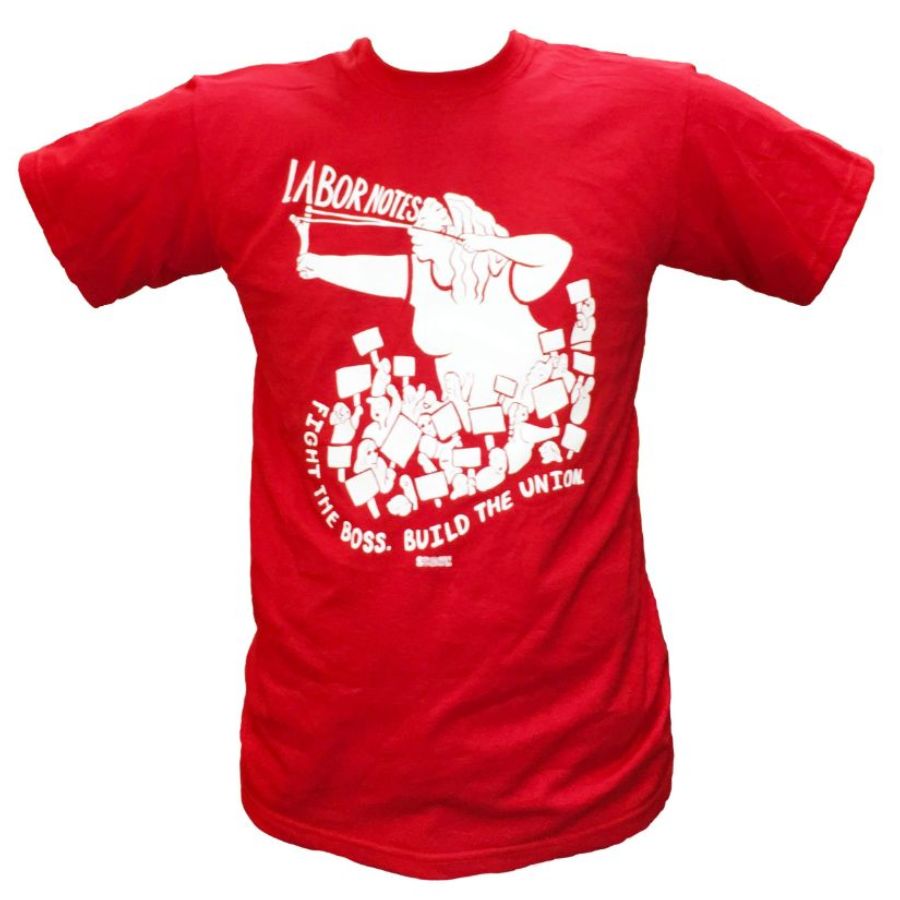 Andridge says she lives in low-income housing, needs public assistance, and can't afford health care. "One week I may get eight hours and another week 40… But the health care costs don't change," she said.
Carlton Smith has worked for Walmart in Paramount, California, for 17 years, moving up from overnight stocker to department manager. He was an employee-of-the-month last year, but was fired May 8 because of his activism, according to OUR Walmart.
Two California warehouse workers who move goods for Walmart were also fired recently. Forklift driver Javier Rodriquez went on strike with co-workers last year to protest extreme heat and broken equipment at a Riverside County warehouse.
Since then, he said, he has been teaching co-workers about their rights to minimum wage and overtime pay, and how to report injuries. In March, he was fired by the Walmart subcontractor he works for.
Safety in Bangladesh
In the wake of the worst factory accident in world history in Bangladesh, when a building collapse killed 1,239 garment workers, Bangladeshi worker organizations have convinced more than 40 brands and retailers to sign an agreement to pay for fire and building safety with independent auditing.
U.S. firms Abercrombie & Fitch and Phillips-Van Heusen have signed on, as has the Swedish company H&M, currently the largest clothing buyer in Bangladesh.
Walmart is the second-largest, but along with Gap, it has resisted signing, complaining that it might become legally liable if more workers die.
That's not the real reason Walmart won't sign, said Akter, a former child garment worker and now a leading voice for workers in the country's garment industry. In reality, the company doesn't want to spend the money for safety improvements, and it doesn't want to work with worker organizations—because then workers could learn about their rights, she said.
Walton family members own a controlling share of the company, but Akter and supporters are pushing the shareholders to support a proposal "which would allow shareholders to call a meeting on critical issues affecting the company," according to OUR Walmart. The issues could include Bangladesh safety accord and conditions in stores and warehouses.
Coinciding with actions at Friday's shareholders meeting, OUR Walmart supporters will visit Walmart stores around the country, talking to managers about fair scheduling policies, and leafleting workers. The Corporate Action Network lists dozens of events.
Walmart planned for this week's demonstrations by getting a local judge to issue a restraining order. Unless you're a current Walmart employee, the order says, you're not allowed on Walmart property in Arkansas, except to buy something.