Strong Words against Wal-Mart at New York Rally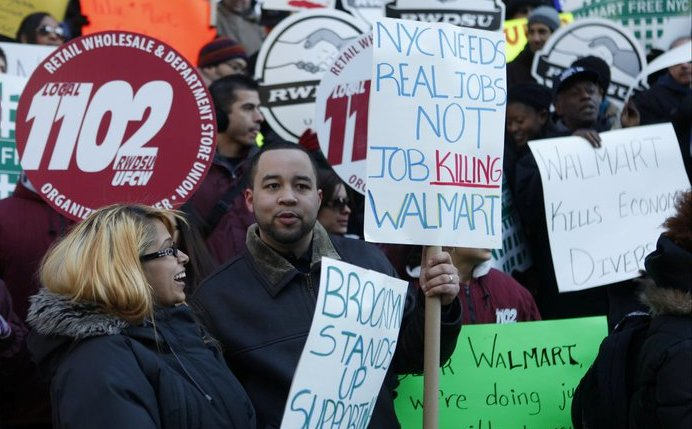 Retail worker unions gathered with an association of small supermarkets and city officials Thursday to denounce Wal-Mart as a "job killer" for New York.
"For every two jobs, three jobs lost!" was the chant at the City Hall rally opposing Wal-Mart's renewed attempts to crack the New York City market. About 500 attended.
The jobs argument came from a study by a New York college that looked at more than 50 reports written in the aftermath of Wal-Mart's entrance to a new market.
One of those new markets is Chicago, where the retail monster split the labor movement in two last year. Wal-Mart broke labor's unity by agreeing to use union labor in constructing the stores, winning support from the building trades. Chicago's powerful mayor backed the expansion, too.
Wal-Mart is attempting the same trick in New York, renewing its public relations offensive in the city, hiring Mayor Michael Bloomberg's former campaign manager, placing ads in ethnic newspapers, meeting with community leaders, and donating money to local charities. Wal-Mart conducted a poll purporting to show that 71 percent of New Yorkers would welcome the low-wage retailer.
Wal-Mart must campaign for support because big chain stores need city zoning approval, although smaller stores and stores on existing sites don't require it.
After a Wal-Mart opened in Chicago, 25 percent of small businesses in the area were shuttered, said Christine Quinn, the speaker of the New York City Council.
"Wal-Mart captures spending from existing stores, driving them out of business and replacing existing retail jobs with lower-paying Wal-Mart jobs," said Hunter College's Brian Paul, who worked on the study of the retail chain's effect on employment.
Wal-Mart is planning to build 55 stores in the Chicago area in the next three years.
BUILDING TRADES SPLIT OFF
As part of their new charm offensive, Wal-Mart officials have met with New York building trades leaders, and they recently announced an deal to use union labor to build any stores they manage to place in the city in the next five years.
The famously anti-union employer may be benefiting from recent acrimonious splits in New York's labor movement over a development in the Bronx. Developers promised to use union labor for the renovation of the Kingsbridge Armory into a mall, but refused to promise a living wage for the workers who would staff its stores.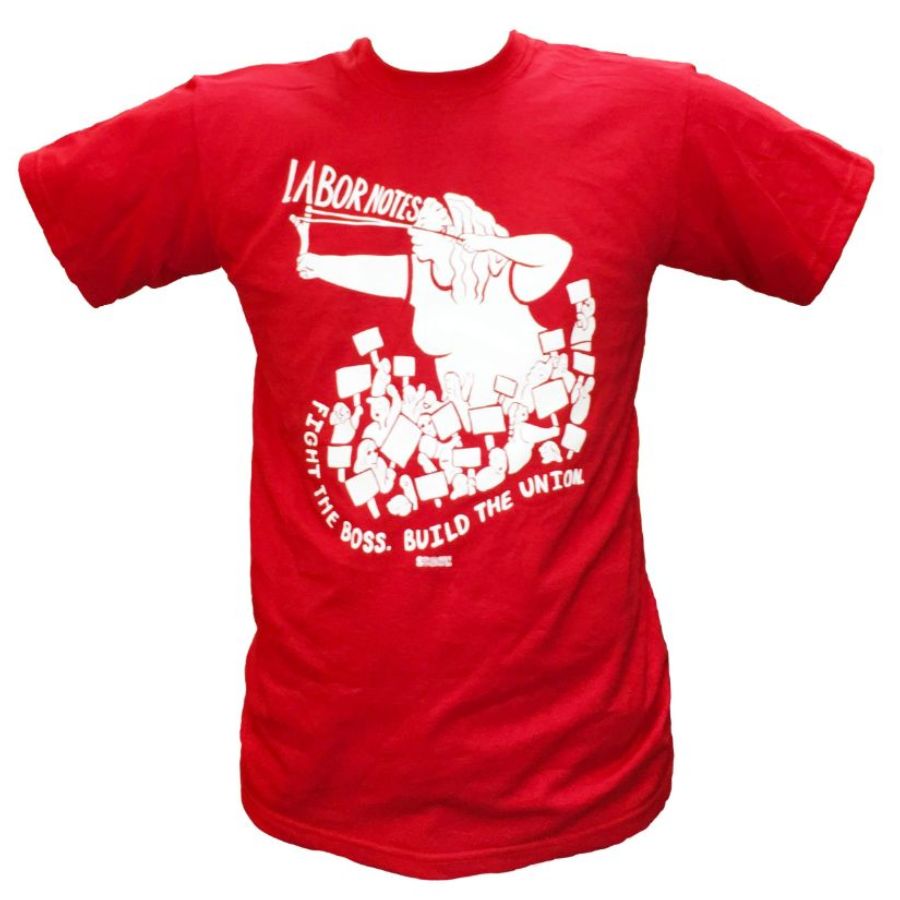 In response, retail unions and community groups mobilized to push the City Council to unanimously reject the project in December 2009. Building trades leaders, noting unemployment in the trades is 17 percent nationally, mourned the lost jobs.
Thursday's rally was a warm-up for an oversight hearing by the city council. Wal-Mart declined to send a representative, leaving council members irritated. "Why are they afraid to answer questions?" asked Quinn, "If you know you're lying, you hide in the background."
African-American council member Charles Barron denounced the store's reported negotiations to lease part of an already approved mall in Brooklyn. The deal would evade a city council zoning vote.
The company thought the location "was an easy target," Barron said, "but it's not." He noted that Wal-Mart is counting on the desperation for jobs in Black and Latino communities. "Keep your plantation," he said. "There's no more slaves."
WAGE THEFT AND DISCRIMINATION
In addition to paying lower average wages than its competitors—$11.75 compared to $19.76 at Costco—Wal-Mart has also shelled out hundreds of millions in penalties for wage theft.
The company paid the largest settlement on record in a wage-and-hour suit, $640 million, for stealing wages from workers by forcing them to work off the clock, illegally denying them overtime pay and meal breaks, and removing work hours from time cards. But the company managed to delay payouts for as much as a decade, tying up workers' claims in court.
Wage theft appears to have been practically corporate policy. Workers in 43 states brought 63 class-action suits. With the settlement in December 2008, Wal-Mart officials claimed they'd turned over a new leaf.
Wal-Mart also paid $17.4 million to settle a class-action racial discrimination lawsuit, promising to enact anti-discriminatory safeguards. The federal suit was initiated in 2004 by an African-American man, Daryal Nelson, who applied to drive a truck for a Wal-Mart distribution center in Mississippi. The suit involved applicants for truck-driving positions in 12 states across the South.
Still pending against Wal-Mart is the largest class-action sex discrimination suit ever leveled against a company. The suit is on behalf of a million women who, plaintiffs say, were discriminated against in promotions and raises. The company appealed, asking the U.S. Supreme Court to deny the women class action status, saying the suit covers too many workers in too many different stores. The Supreme Court is expected to hear arguments this spring.
Sonia Ossorio, president of New York City National Organization for Women, accused the company of setting a standard of discrimination against women employees, "showing other companies that you can make huge profits" by paying women less.