Tour Calls on Dems to Get to Work on Climate and Jobs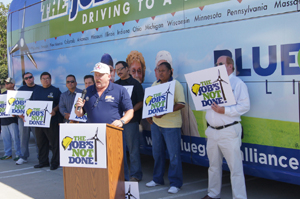 Mark Mullholand counts himself one of the lucky few. He's a member of Steelworkers Local 1915 and has a job at a factory in Fremont, Ohio, that makes components of solar panels. He and his co-workers "waved off the recession," he said.
But Mullholand's witnessed "absolute devastation" all around the country first-hand from the bio-diesel-powered bus that's been his home for three weeks. Fourteen others have signed up for a leg of the trip.
The bus is the keystone of "The Job's Not Done" 17-state tour, a ramping up of efforts by the Blue Green Alliance—a coalition of labor and environmental players including the Steelworkers—to get the Senate to take up a comprehensive climate change bill to provide funding for jobs in new energy technologies.
Along the way, Mullholand said he's seen boarded-up factories, closed-down shops, and people living under bridges, holding cardboard signs begging for work. "A sad situation," he said.
From LA to Minnesota, Mullholand and crew are pulling up to union halls and community centers to ask for support, particularly by targeting senators.
"We're trying to get these guys to get off their duffs and get a leg up for clean, green jobs," said Mullholand.
Lawmakers' failure to reach agreement on climate change legislation is hurting green-energy financing in the U.S., say tour participants. They point to a Reuters interview with Deutsche Bank executive Kevin Parker, who said this month his company has $45 million in U.S. clean-energy investments—and another $7 billion going to other countries with climate policies already in place.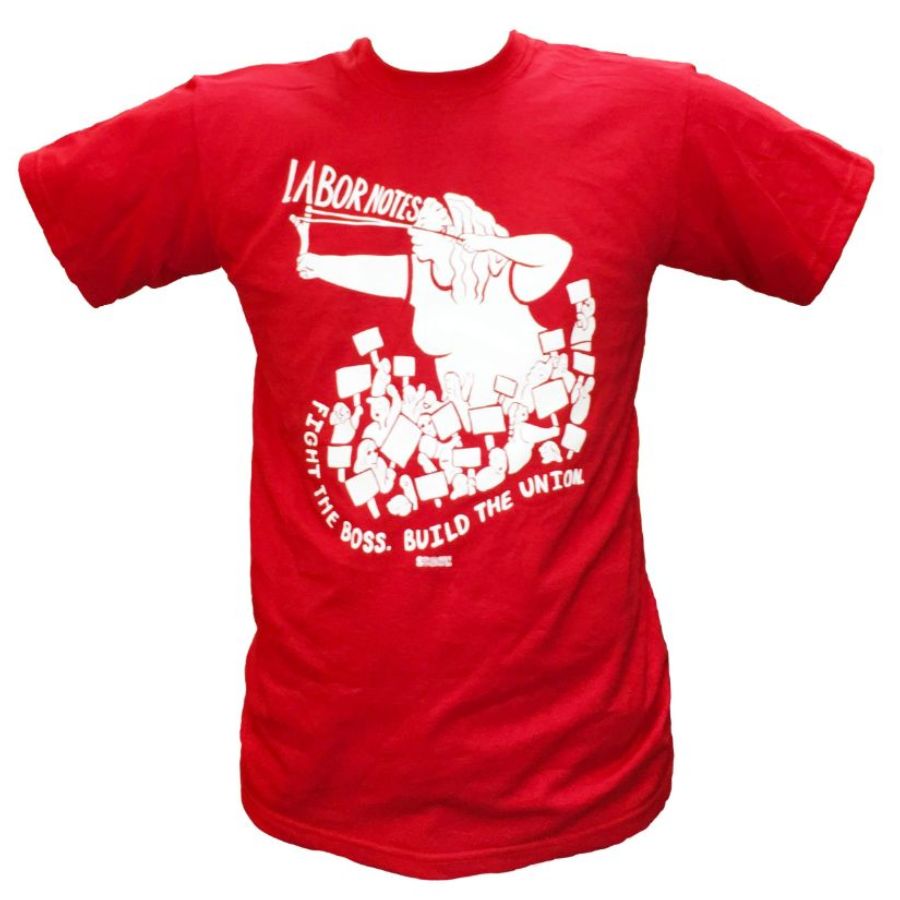 "We can't keep exporting our jobs overseas. We have the capabilities to build wind turbines," said Dona Schock, political coordinator for the Steelworkers in Michigan, who attended the tour's Detroit-area tour stop Monday night.
Schock said the coming November election is more important than 2008's for labor and "jobs, jobs, jobs" is the rallying cry. Agreeing that the "Senate isn't doing anything," she said the only way to move forward is to "get people in office that are labor friendly and want clean energy and new technologies."
NEW BEDFELLOWS
As the bus toured Michigan, the Blue Green Alliance announced that the UAW was joining its ranks, which already include the Sierra Club, the Communication Workers, Service Employees, Laborers, and Bus Drivers (ATU).
The UAW has long been criticized for fighting against stronger fuel-efficiency standards for cars. While it's easier for a union of bus drivers to cozy up to environmental allies, how will the union of car producers—the source of tremendous pollution—choose to act? New UAW President Bob King has not shied away from projecting a broad vision when it comes to ending wars and human rights violations in Latin America, but imagining a shift to mass transit—and the role tens of thousands of laid-off UAW members could play in manufacturing all those buses and trains—still seems a bridge too far.
King's statement on joining the Blue Green group said the union is going to work with the Big Three on fuel-efficient models.
In the meantime the Communication Workers have been using the tour to tout its proposal to increase access to high-speed broadband internet services. The union estimates the U.S. is 28th in broadband access worldwide. A report authored by the union and environmental partners, "Networking the Green Economy", says that building a stronger digital infrastructure could reduce carbon dioxide emissions by 22 percent by 2020, and of course, create hundreds of jobs to build the network. The union says the reductions could be achieved by using hi-speed tech to make the grid and buildings more efficient, and to avoid travel.
Today, the bus is rumbling through Wisconsin for yet another press conference. When asked how convenient bio-diesel is in the country's wide open places, Mulholland admitted that sometimes they have to drive a little out of their way to get it. But, he said, the extra travel was worth it to show that the union movement's going to be consistent on environmental issues.