Minnesota Nurses Win Big, Then Walk Back Winning Model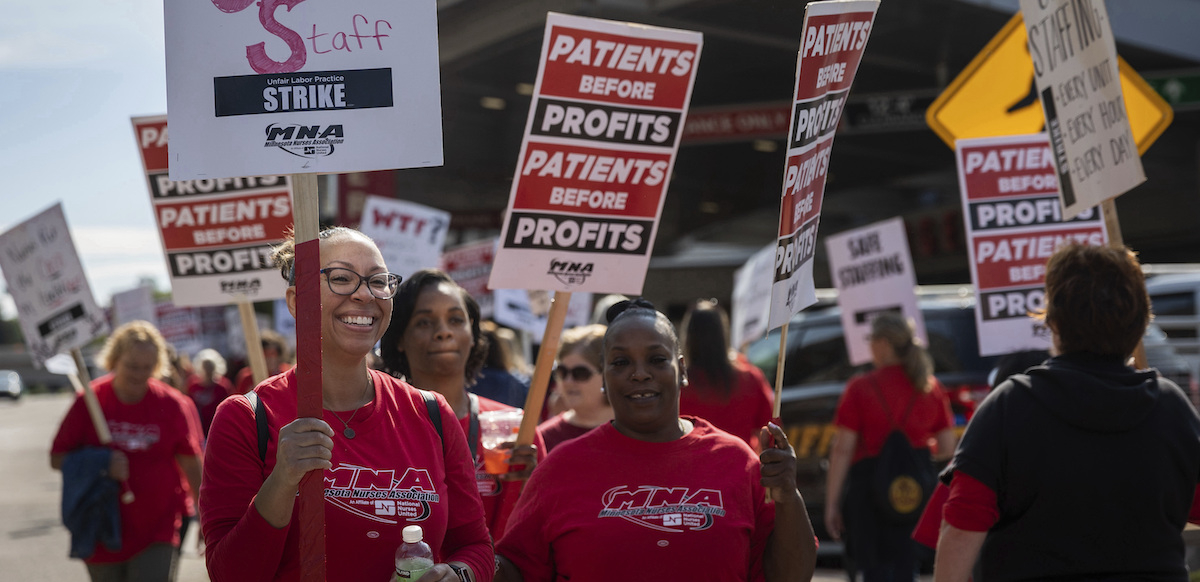 Last fall, 15,000 nurses were part of a creative coordinated bargaining effort to reshape health care in Minnesota. They won new contract language on safe staffing and substantial raises—things they hadn't thought possible.
But a year later, the Minnesota Nurses Association is riven with conflict. Members are being investigated on charges like "acting against the interests of the bargaining unit." A candidate for vice president was removed from her elected positions and had her membership suspended, making her ineligible to run for office.
How did one of the most exciting rank-and-file union efforts in health care take such a turn?
HOW IT STARTED
The massive bargaining campaign covered 16 hospitals in the Twin Cities region plus Duluth, a few hours north. Nurses were fighting to control nurse-to-patient ratios, a battleground that health care administrators don't want to give ground on.
MNA members coordinated their demands and actions across seven corporations and several hundred miles—building a powerful, bottom-up campaign with the promise that no unit would bargain, or strike, alone.
Such coordination across many contracts and units is exceptional; most coordinated bargaining in health care happens against a shared employer (see sidebar). But the consensus was clear: if Minnesota nurses didn't fight shoulder to shoulder for stronger nurse-to-patient ratios and higher wages, they would continue to lose colleagues to burnout.
Teaming Up Is Rare
Multi-employer bargaining like the Minnesota nurses undertook is no easy feat, and is rarely done, especially at this scale.
There are instances of large coordinated bargaining alliances. Two coalitions representing tens of thousands of workers across many international and local unions bargain with Kaiser Permanente.
In that case, though, there is a shared employer, with a central bargaining committee for a master agreement. Most union affiliates of the Coalition of Kaiser Permanente Unions, representing about 85,000 workers, struck October 4-6 this year. They won 21 percent raises over the four-year contract and a minimum wage of $23 (and $25 in California).
Last winter, the New York State Nurses Association lined up bargaining with 12 New York City hospitals, ranging from smaller community hospitals to behemoths like New York Presbyterian. Each hospital had a local negotiation team, with similar proposals; NYSNA staff and leaders coordinated among them.
Eight local bargaining units took strike authorization votes, but six settled before Mt. Sinai and Montefiore held open-ended strikes in January. "Monte" and Mt. Sinai struck for three days, winning 19 percent raises over three years and unprecedented language that allows arbitrators to award compensation to nurses who work shifts with higher nurse-to-patient ratios than the contract stipulates.
Minneapolis and St. Paul hospitals have a history of lining up their expiration dates and coordinating aspects of bargaining, but not to this extent. This time, hospitals in two other cities joined in, and the represented nurses presented a unified front in their escalating actions, including info pickets, a rally at US Bank headquarters, and eventually strike authorizations.
The committee of negotiation teams met with each other on Mondays, negotiated with management throughout the week, then met again on Fridays to compare notes. At Minneapolis and St. Paul's Children's Hospitals, according to bargaining team member Tricia Ryshkus, each person on the team also picked another bargaining unit to adopt and stay in touch with between meetings.
Parallel to the efforts at the negotiating tables, member leaders and staff organizers worked to develop a vibrant culture of organizing and transparency on the hospital floors. Many made a huge effort to build Contract (or Communication) Action Teams, either building on a previous committee or developing one from the ground up.
The CATs and stewards were responsible for keeping members informed about progress in negotiations, letting negotiating committees know how people were feeling about the proposals, planning actions, and keeping morale and attention high.
INCREDIBLE UPHEAVAL
New CAT leaders dove into the deep end of organizing. Longtime steward Kelley Anaas, already one of the union's three chairs ("tri-chairs") at Abbott Northwestern, began rounding her hospital constantly—talking with members and recruiting the most energetic. She also got involved in a citywide CAT Council that met weekly to share ideas and build solidarity
Many of the bargaining sessions were open to members, first on Zoom during a Covid surge, then in person, reports Ryshkus. At Minneapolis and St. Paul Children's Hospitals, there were Zoom sessions after each bargaining session, and every Sunday an all-member question-and-answer session. Negotiating teams sent out post-session updates to all members on progress and issues outstanding.
"It wasn't just necessarily a mass text that went out," said Tami Andersen, a CAT member at North Memorial. "Even with updates during negotiations it was a lot of one-to-one conversations, and getting to know who our nurses are and what they believe in and how far they are willing to go."
On a local podcast hosted by a former MNA member, Abbott Northwestern nurse Alexia Hitchings said the whole experience was "night and day" from a six-week strike in 2016. Back then, "we were very disorganized and very chaotic," she said. "I had two young children at home. I was just lost. There was a lack of communications from the negotiating team. It was awful. When those six weeks were over we went back to work, and we were very bitter and very angry."
This time, she said, was "the complete opposite. We were so organized, there was so much communication. I got involved with the CAT team; I didn't know you were supposed to show up to negotiation and support our negotiating team. It was such a change in feel. It was nice to be empowered. I want to keep that."
"What I learned the most from that experience [on the negotiation team] is that it really doesn't matter what the leaders want to do. We can't do anything without the rank and file on board," said Shiori Konda-Muhammad, a cardiovascular intensive care nurse at North Memorial Hospital. "Leaders need to know what their members will walk out of the job for."
THREE-DAY STRIKE
Committees had been bargaining ahead of the May and June deadlines, but without significant progress towards agreement, the units agreed on a goal: a three-day strike in September 2022. Members launched into action to set up a dozen different strike preparations and authorization votes.
The plans were almost derailed by a regulatory issue. Several of the hospitals filed complaints arguing the strike would be illegal because MNA should have given a 30-day notice to the Bureau of Mediation Services, which governs public sector employers in Minnesota. All the complaining hospitals were private sector employers, however, and the union had given the required 10-day notice.
MNA denounced the complaint as groundless intimidation. A hearing wouldn't happen before the strike was set to occur; the effect was to get members worried about the consequences of a potentially illegal action. But after conversations with members, leaders felt confident their solidarity would hold.
With 15,000 nurses on strike and not crossing each other's picket lines, hospitals were forced to cancel lucrative surgeries and import expensive traveling nurses, forcing incredible upheaval in Twin Cities hospitals for those three days. The Star Tribune reported that Allina Health alone spent $23 million to cover nurse labor during the three-day strike.
Unfortunately, this action did not significantly move the needle in bargaining, and union leaders set their sights on a longer strike.
'NO ONE IS GOING OUT ALONE'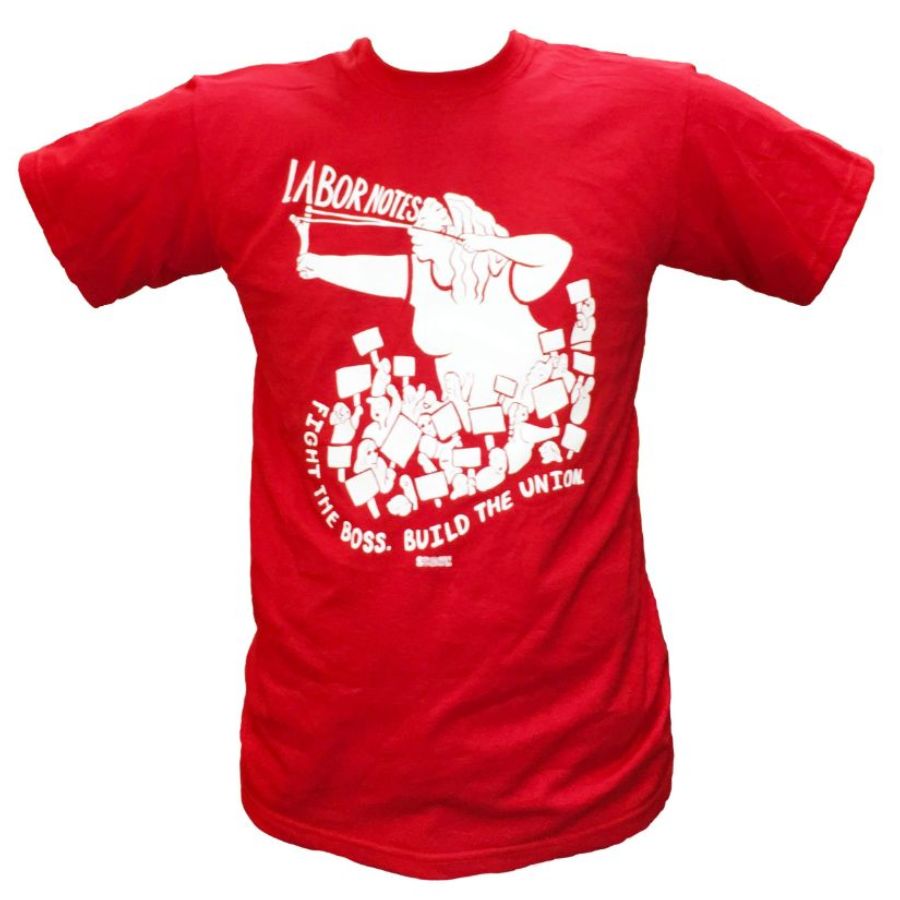 The decision to plan a longer strike was a contentious one. In 2016, nurses at several hospitals in the Allina system in Minneapolis had gone on strike for 37 days to prevent a change in their health care. Allina hired 1,000 replacement agency nurses and eventually MNA called off the strike and took the concessions. Allina spent $100 million on replacement workers and strike costs that year, and still made a profit.
The strike's failure was interpreted as a sign that labor relations were swinging further in favor of management. At the time, Minnesota Public Radio quoted National Nurses United's head of collective bargaining saying, "I think it does set a precedent. All these things always set a precedent," and suggested NNU would reaffirm its preference for short, defined strikes over open-ended ones.
After that experience, MNA members decided that no one unit would go out on strike alone, even if it meant delaying the settlement of contracts.
On December 1, MNA announced that the coordinating hospital committees had authorized a second unfair labor practice strike. Another hospital in Two Harbors, Minnesota (near Duluth), joined the effort since its contract had expired in September. Most of the local committees authorized a strike December 11 to 31; two voted to have an open-ended strike, also beginning December 11.
Five days before the strikes commenced, MNA announced that contracts had been settled. Ryshkus remembers telling a nurse in the Neonatal Intensive Care Unit that their hospital had a tentative agreement. "She started crying, she was so excited! But then she asked, 'Wait, no one is going out alone, right?'"
No one struck alone. All units waited to finalize agreements until they could do so together. They had won 17 to 18 percent wage increases over three years, and changes to staffing language that gave RNs substantial say in staffing decisions in the form of unit committees, though details differ across units.
"Every facility got staffing language they said they'd never get," Anaas said.
They didn't win everything, though, and some members felt they could have won more on staffing at their own hospitals. The incredible effort they had pulled off was supposed to be just the beginning.
HOW IT'S GOING
Newly fired-up members were keen to put their energy into enforcing the new contracts. Fairly soon after ratification, though, Anaas noticed that not everyone was excited to see new leaders emerging in the workplace.
She heard members of the union's state board comment that it wasn't appropriate for there to be active union leaders who weren't elected. When the metro CAT council pushed for a debrief of the campaign, they were disappointed that the majority of the call was led by board members without participation from the dozens of excited new leaders. Although Anaas was an elected leader herself, she was frustrated to hear board members downplay the contributions of the CATs.
Then came the staff shake-up. MNA's longtime executive director retired and a search began for the new one. One candidate was Director of Field Organizing Phil Denniston, who had been "instrumental" to helping "negotiating teams stay in lockstep," Anaas said, and to coordinating the contract action teams that developed scores of rank-and-file leaders.
In 2022 Denniston butted heads with some longtime hospital negotiating team members over campaign decisions, and the staff union submitted a petition to management complaining of mistreatment and mismanagement from Denniston.
The position went to a former MNA staffer, Karlton Scott, who had previously worked under Denniston. A few staffers and members brought up concerns about Scott from his time at MNA, including allegations of inappropriate sexual behavior with a member at a union event and a subsequent coverup. The board directed the HR director to hire an outside investigator, who dismissed the complaints.
Denniston had passed on complaints against Scott from his own staffers, he said because they feared retaliation. Shortly after Scott was hired as the new executive director, Denniston was let go. And according to former staff, the new internal organizing plans were scrapped.
Scott's leadership and Denniston's termination raised alarm bells for many of the strike leaders. Anaas, one of three chairs at Abbott Northwestern, brought her concerns to members of the executive board. She raised two issues: that the allegations suggested Scott was not a good fit for top management of the union, and that firing a key staffer of a powerful and successful campaign suggested a turn away from member-led, democratic organizing. "To let go somebody who helped this historic campaign is a red flag to me," said Konda-Muhammed.
The board responded by sending Anaas a "cease and desist" letter, charging her with publicly smearing a staff person and racism against an African American staffer (Scott).
RUN FOR OFFICE QUASHED
Anaas spoke with other contract campaign leaders who had been galvanized by the new organizing spirit of the union. They talked about the union's direction and the need to build on the recent wins. Anaas planned to run for first vice president as running mate to the incumbent first VP, who was now the uncontested candidate for president.
But a board member from Anaas's hospital escalated to filing formal charges against Anaas for violations of MNA policies and bylaws, and after a board trial, she had her membership suspended for six months and her elected titles of hospital tri-chair and steward revoked. This made her ineligible to run for office. The board-appointed Elections Committee has launched investigations into other members running for board positions as well, though no further charges have been brought.
Meghan Matteson, a nurse at Fairview-Riverside hospital said in the podcast interview that she also received a letter from the board ordering her to "cease and desist" from discussing the matter. Watching Anaas's proceedings, "it brought to light some pretty major systemic issues with our union," Matteson said. "I personally felt they were treating Kelley like our employers treat us—which is exactly what we join a union for, to be able to advocate for ourselves. If rank and file don't have power, then there's no real union. Some basic principles of democracy were bypassed."
A spokesperson for the MNA highlighted the shift to a "member-centered organizing model" and pointed to numerous legislative wins the MNA contributed to, including statewide paid family leave and new regulations designed to curb corporate health care mergers and consolidations. They declined to comment on Board or personnel decisions.
But Ryshkus reflected that nurses led the way on the gains, not staff. "It was us the nurses, rank and file nurses, who were the decision makers. We made the visions, plans and actions, not the executive director, or any other staff, for that matter.
"I'm proud of my part in it and our struggle," Ryshkus said. "I think nurses should take credit for what we have done and will do, not staff or whoever is executive director."
Nurses in the Land of 10,000 Lakes have tough fights ahead. Last year the MNA unit at a Mayo Clinic hospital voted to decertify the union, with the support of the National Right to Work Foundation. Corporate mergers are on the rise, like one MNA fought off between Sanford Health and M Health Fairview, arguing it would lead to hospital closures and worsening care in the state. Hospitals are still losing experienced nurses to overwork and burnout.
Last year's campaign set the stage for a new power dynamic, where trust and transparency helped members build the power to take on corporate forces and win. The nurses I spoke to hope it won't be a one-time thing.
This article has been edited to reflect feedback from union members.