Ford Caves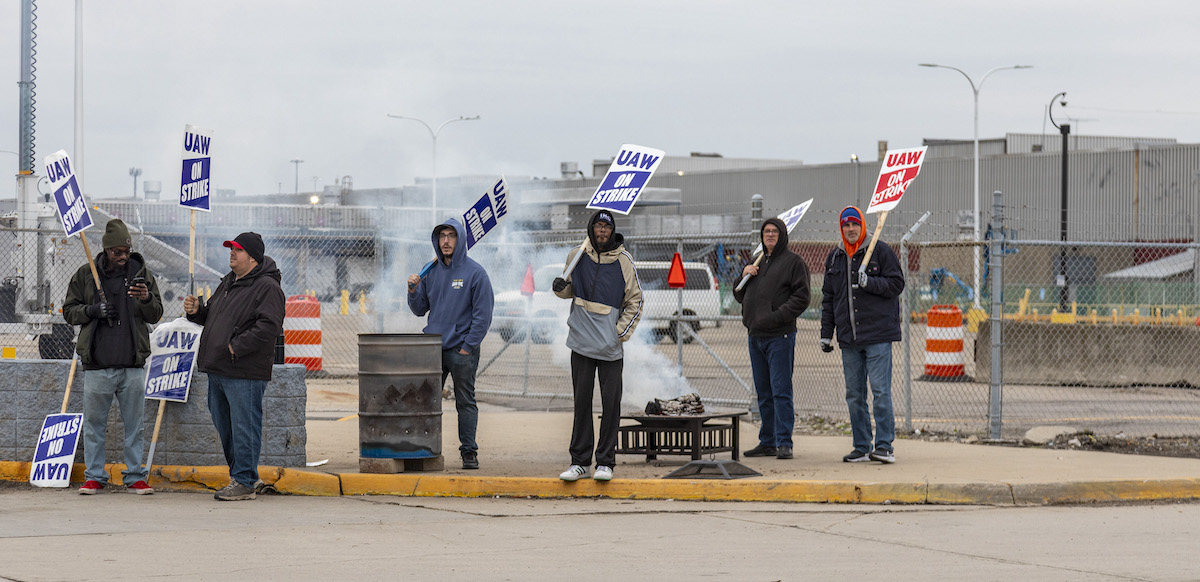 Since 1979, union auto workers have endured round after round of concessions. That era is over. On Wednesday, the 41st day of the union's Stand Up Strike against the Big 3, Auto Workers (UAW) President Shawn Fain announced a deal with Ford. The contract gains are substantial.
The union added the straw that broke the camel's back this week when it hit General Motors's and Stellantis's two biggest moneymakers, SUV and truck assembly plants in Texas and Michigan, on Monday and Tuesday. Workers at Ford's top cash cow, Kentucky Truck, had gone out October 11.
Ford caved on Wednesday rather than see the next domino fall at "the Rouge," its F-150 plant in Dearborn, Michigan, which builds the country's best-selling truck.
Throughout, the union's strategy has been to play the Big 3 automakers against each other. The strike began September 15 with just one plant at each company called out. The union has escalated weekly, with negotiators rewarding a company that had made concessions to the union, by sparing it more strikes, and punishing those tardy to the table.
REGAINING LOST GROUND
In 1979 the UAW kicked off the modern era of concessionary union contracts when it reopened its contract with Chrysler and accepted mid-term givebacks. Emboldened employers lined up for more, and union contracts over the entire labor movement have been on a downward course ever since.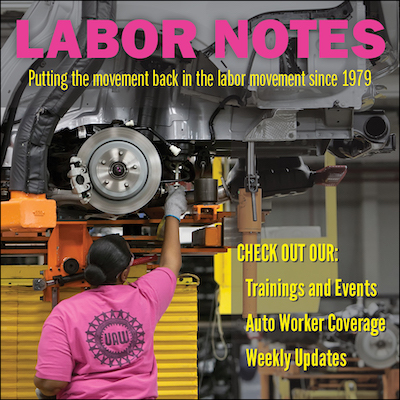 With a few upticks, the UAW's history since 1979, and especially since 2007, has been one of concession after concession, even when times were relatively good. This year, under a new leadership, the union finally began to recoup lost ground.
The union's demands were ambitious, such as a 40 percent wage increase to match CEOs' own salary hikes, and it even floated a demand for 32 hours' work for 40 hours pay. Fain appeared often in an "End Tiers" T-shirt (when he wasn't rocking "Eat the Rich")—the now radical demand for equal pay for equal work.
Although it is a "permissive subject of bargaining," meaning the companies could not be forced, under labor law, to address it, Fain talked about bringing the Big 3's new electric vehicle (EV) plants under the master agreements—essential to the union's future. The union appears to have won this at GM.
DEEP HOLE
Yet as large as the union's monetary demands appeared, it was actually only playing catch-up. Over and over on the picket lines, auto workers explained, "We're just trying to get back what we gave up." It is a very deep hole to dig out of.
Full details of the tentative agreement will be shared on Sunday with the union's Ford Council, made up of local representatives who will presumably vote to endorse it, and then on Facebook Live with members, who will then discuss it and vote on it in local meetings over the course of several weeks. A "highlights" version will link to the actual language of the tentative agreement. It is certain to contain both big wins and disappointments.
UAW Vice President Chuck Browning said that the Ford plants on strike would return to work pending the ratification vote, while GM and Stellantis strikers would remain out. Continuing the strategy of playing the companies against each other, the idea is to let Ford return to making profits while its rivals continue to bleed. "The last thing they want is for Ford to get back to full capacity while they mess around and lag behind," said Browning.
Whatever the shape of the tentative agreement, we know, thanks to Fain's weekly reports to members via Facebook Live, that the strikes have already won a lot. Before this week's escalation, as of October 20, at least one of the Big 3 automakers had agreed to:
Return the wage progression to three years (down from eight)
Raise wages by 23 percent between now and May 1, 2028
Make existing temps permanent (but with the option to hire more)
Reinstate COLA
Raise temps' starting pay to $21 an hour, from $16-$17
Eliminate a lower-paid tier for non-assembly plants, raising them to full pay
Allow two weeks of paid parental leave
Allow the right to strike over plant closures
Increase the company's contribution to the 401(k) to 9.5 percent plus $1.25/hour
Increase pensions by $3/month times years of service for future retirees (those hired before 2007 and still on the job)
FORD DETAILS
Last night Fain announced a 25 percent wage increase over the Ford contract's four-and-a-half years (including 11 percent immediately), plus COLA, profit-sharing, and a ratification bonus. The deal would raise a permanent employee's starting wage by 68 percent, to more than $28 an hour. He promised improvements for retirees, both those with pensions and those with a 401(k), though details will not be revealed till Sunday.
The next step in the ratification process will be on Sunday when the UAW National Ford Council votes on whether to send the tentative agreement to the membership. Image: UAW.
Browning said that over the life of the contract, current temps' pay would rise 150 percent, as they are "rolled over" to become permanent employees. Workers at two axle plants, who'd recently been demoted to a lower tier, would see immediate raises of 85 percent as their tier was eliminated.
A worker with three years' seniority at Ford explained that he's currently less than halfway to full pay, under the existing eight-year progression. When he comes back to work after the strike, he'll immediately jump to full pay of around $32 an hour—plus the 11 percent pay increase.
Still to come is more information about retiree benefits, about the EV plants, about gains for future temps and any restrictions on their future use, about the timing of raises, and about working conditions such as mandatory overtime.
Meanwhile the pace of bargaining at GM and Stellantis should accelerate, especially with their most lucrative plants on strike.