2022 Labor Notes: 'A Special Moment for the Labor Movement'
Despite nationwide flight cancellations due to weather conditions and labor shortages, the 2022 Labor Notes Conference drew a huge and diverse crowd of more than 4,000 workers from across the globe.
They heard daring tales of organizing, learned strategies for getting a first contract, and joined a joyous Juneteenth celebration. Many workshops were packed, standing room only.
"We are in many ways living through a very hard time, and yet the outlook for working people is hopeful," said Alexandra Bradbury, editor of Labor Notes, at the Friday night main session. "The terrain has shifted, and there's a new spirit of resistance. We all feel it. There's hope in the air."
SOLIDARITY AND GRIT
"The stage of the Labor Notes conference tonight is arguably the epicenter of the U.S. labor movement," tweeted New York Times labor reporter Noam Scheiber.
Stacy Davis Gates, the new president of the Chicago Teachers Union, gave a rousing speech on expanding the goals of unions.
"Labor has got to be redefined to include the worker from sun-up to sun-down," said Gates. "Workers suffer from police brutality, workers have their children's schools shut down, workers are facing eviction because housing is unaffordable, workers are suffering under unfair immigration policies… We are workers and we are mothers, we are workers and we are daughters, we are workers and we are sisters."
KEEP IT MOVING
We encourage you to share what you learned at the Labor Notes conference and keep the connections and education going.
In the Bay Area, for example, attendees will hold a Zoom call August 2 followed by an in-person happy hour. Register at tinyurl.com/labornoteslessons.
You can hold a local conference debrief, organize forums or "Secrets of a Successful Organizer" trainings, or order a bundle of Labor Notes for your local. Let us know what you're up to at training[at]labornotes[dot]org.
Sean O'Brien, the new Teamsters president who won on a coalition slate backed by the rank-and-file movement Teamsters for a Democratic Union, spoke at his first Labor Notes Conference.
The crowd roared when he talked about ramping up the fight at UPS, the country's biggest private sector union employer, where he has pledged that 340,000 Teamsters will be ready to strike next year.
"We're gonna make certain that we negotiate the best agreement, with zero concessions," said O'Brien. "We are gonna put that company on its knees if it needs to happen."
Starbucks Workers United organizer Michelle Eisen shared the story of her personal turning point in an anti-union meeting where she saw how her co-workers were being discouraged and manipulated. She had started out as a passive supporter of the campaign.
"That was the moment I realized that I could not take a passive role in this fight," said Eisen, "that not actively working against my co-workers was not the same as standing with them."
Last December her store in Buffalo became the first unionized Starbucks in the United States; today there are 192 unionized locations.
Amazon Labor Union (ALU) President Chris Smalls used his speech as a call to action, asking everyone to show solidarity by joining a Zoom hearing the following Tuesday (Amazon is challenging its union's election victory in the Staten Island warehouse); 300 people showed up.
And U.S. Senator Bernie Sanders spoke, making his first appearance at Labor Notes since 1993.
"Today our economic and political system is working great—if you are a billionaire. It ain't working so great if you are working for a living," Sanders said. "The time is long overdue for us to take on and challenge the uber-capitalist culture of today."
INSPIRING EVENTS
While the headliners included big names like these (and more, too many to quote them all), everyone had their own conference highlight. The hotel was teeming with bus drivers, nurses, teachers, Google employees, longshore workers, journalists, app-based delivery drivers, strippers, building trades workers, and more. Many participated in union or industry-specific meetings.
Among the big groups attending were 100 Amazon and Starbucks workers from across the country, who participated in panels and workshops and also organized their own meetups. Amazon workers from Canada, Ireland, France, Germany, and Poland also joined the conference, as did the president and general secretary of the Chilean Starbucks union.
As Stacy Davis Gates put it, every attendee at this conference intended to go home and do something with what they learned.
"I have so many phone numbers to bounce ideas and strategies among one another on how we can fight back," said Isaiah Thomas, a union supporter at the Amazon warehouse in Bessemer, Alabama, who attended his first Labor Notes.
"It really felt like I was at home," he said. "Everybody shared the same energy. Everybody wanted to bring about a real fundamental change... I'm bringing that energy back to my workplace at Amazon, to energize the folks that I work with."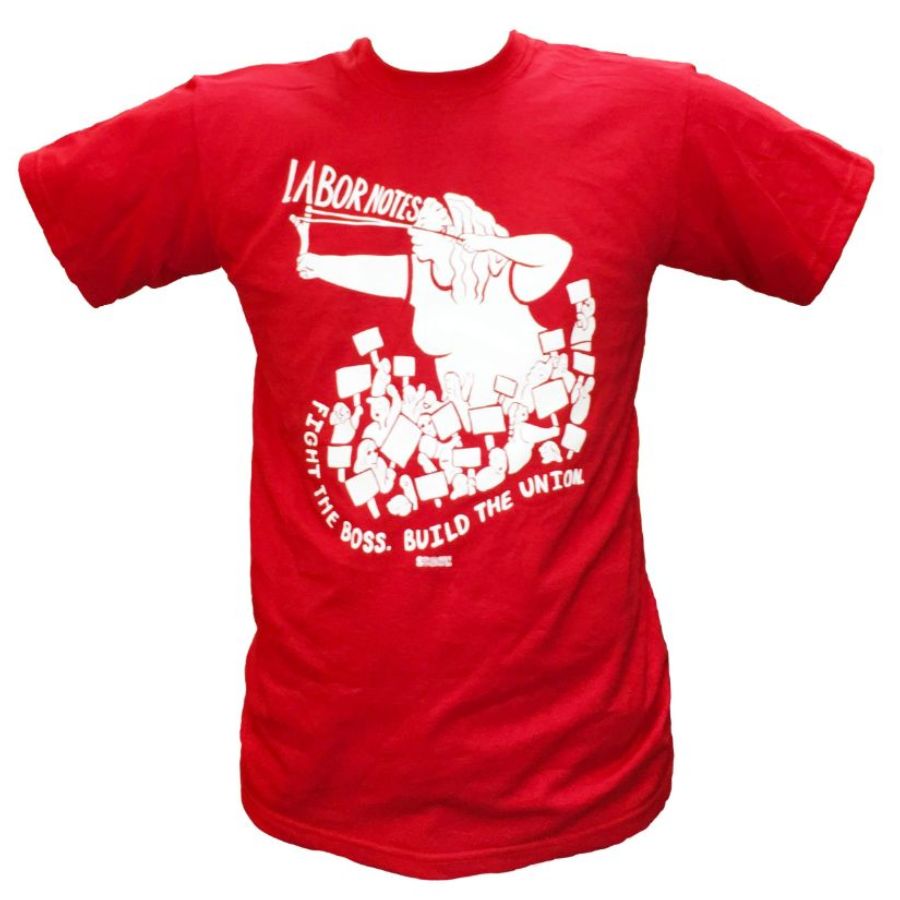 The conference offered more than 250 workshops, on such topics as taking direct action, running for union office, bargaining and negotiations, strikes, and organizing for racial justice and climate justice.
United Electrical Workers Local 1008 member Fred Hatef said he was soaking up not only the bargaining tips he needed but also the energy of a conference that was teeming with new union members. "It is a special moment for the labor movement with so many new organizing efforts, and it feels good to be part of that," Hatef said.
JUNETEENTH
In honor of Juneteenth, which coincided with the conference weekend, the Saturday main session highlighted the links between workplace struggles and Black liberation.
Victor "The Mixer" Bouzi, a member of Theatrical and Stage Employees (IATSE) Local 695, told how he got involved with organizing around racial justice in his union after the murder of George Floyd by Minneapolis police. The union had issued a statement about Black lives but was getting pushback from white members, so Bouzi organized town halls and reached out to other Black sound mixers to talk about the problems they were facing.
"The liberation of Black people comes through organized workers pushing back against the system," he said, riffing on a hook from an Immortal Technique song as he described his own path into politics and union activism.
Marcia Howard, the newly elected vice president of the Minneapolis Federation of Teachers, shared how the George Floyd uprising fueled her union's three-week strike in March. In 2020 she took a leave of absence to help lead the occupation of George Floyd Square, just steps from her home.
The strikers' top demand was big raises for the lowest-paid among them: education support professionals (such as teacher's aides), who are mostly people of color and were making poverty wages, some living in their cars.
"The powers that be see our racialized and gendered occupation, and thought that we would not have what it takes to get out on that line," said Howard. "They were wrong. We had already been out on the streets, we had been out walking the highways… so when we were standing for our profession and our colleagues, they could not make us sit down."
On Saturday evening, some conference attendees packed a special Juneteenth celebration, where storyteller Helen Sims brought to life different points in U.S. history when Black people fought for their liberation. Attendees heard a reading of Maya Angelou's poem "And Still I Rise" ("You may write me down in history / With your bitter, twisted lies / You may trod me in the very dirt / But still, like dust, I'll rise"). Jerome Scott, a co-founder of the League of Revolutionary Black Workers, famous for organizing wildcat strikes by Black workers in Detroit auto plants in the late 1960s, shared lessons from that history.
"We laughed, cried, sang, and danced together. We learned about how our ancestors fought for us to be here and left the room feeling reinvigorated to fight for future generations to come," said Labor Notes staffer Courtney Smith, who helped organize the celebration.
'LABOR'S COACHELLA'
In The Nation, Rand Wilson called the conference "Labor's Coachella" (Smalls had nicknamed it "Laborchella"), capturing the thrill of gathering so many rank-and-file leaders in one space.
Many conference-goers stayed up late talking, as Saturday turned into Sunday. After midnight, dozens crowded around the hotel piano in a jam session that lasted for hours; Transit (ATU) Local 689 member Otis Price led his 2019 Transdev strike anthem "Don't Play With My Money" with Smalls and other ALU members, John Deere strikers, and British teachers.
As Alex Press wrote in Jacobin, "It was a scene that could have only happened at the Labor Notes Conference."
"The vibes were immaculate," labor journalist Kim Kelly said on the Alabama podcast Valley Labor Report. "Everyone was so excited and enthusiastic and fired up. It made people feel like, 'Oh, I'm not alone—I have friends, I have comrades, and there's a lot of us.'
"There's this baseline of militancy that is not something that you experience in every other labor gathering. This was a place where everyone was ready to throw down."
Being able to gather in person meant more than ever, after the isolation of the pandemic. "I've had a rough couple years, and my organizing has had more downs than ups, more defeats than victories," said Alabama teacher Adam Keller, co-host of the podcast.
"To be surrounded by folks who believe a better world is possible, and actually are willing to fight for it—that's something that can't be replaced via Zoom."
Caitlyn Clark contributed reporting to this article.
MUSIC AND ART
The annual Great Labor Arts Exchange was for the first time merged into the Labor Notes Conference as a featured track.
Arts and culture workshops were offered throughout the weekend, and musicians featured in all the plenaries. Motown Diva Lynn Marie Smith brought the crowd to its feet Saturday morning to dance and sing along with her on "Union Funk," her parody of "Uptown Funk."
Conference-goers showed off their talents in the Saturday night concert, from rap freestyling to acrobatics. One songwriter imagined the mindset of a futuristic "space miner" who always sees the boss's point of view. Another rewrote a soulful R&B ballad into a plea for paid vacation.
"Meeting all the brilliant folks from the Labor Heritage Foundation was like finally meeting 'my people' in the movement," said West Virginia teacher Emily Jo Tanzey. "It feels good to know I can use my voice, my music, and my soul to do the fine work of agitating and inspiring a crowd to get up and get rowdy. This is exactly where I'm supposed to be!"
Look for the Great Labor Arts Exchange to team up with Labor Notes again in 2024. But if you don't want to wait two years, you don't have to! Find them next June in their usual spot in Silver Springs, Maryland, for a full weekend of labor culture. Email info[at]laborheritage[dot]org to find out more.